Arabic bread with cheese and za'atar is a great Middle Eastern way to greet your guests, for breakfast, lunch or snack. Manakeesh is considered the cousin of Sfiha as they both share the same base with different delicious topping.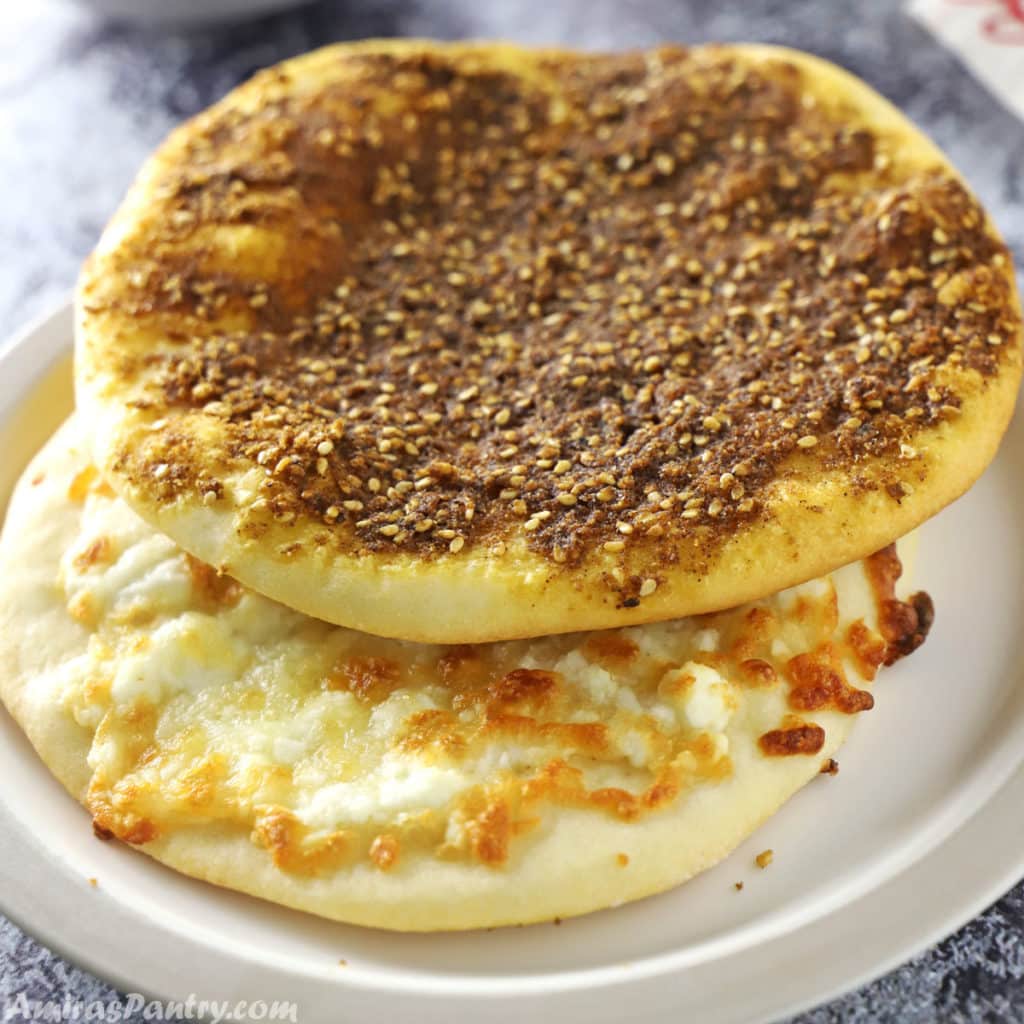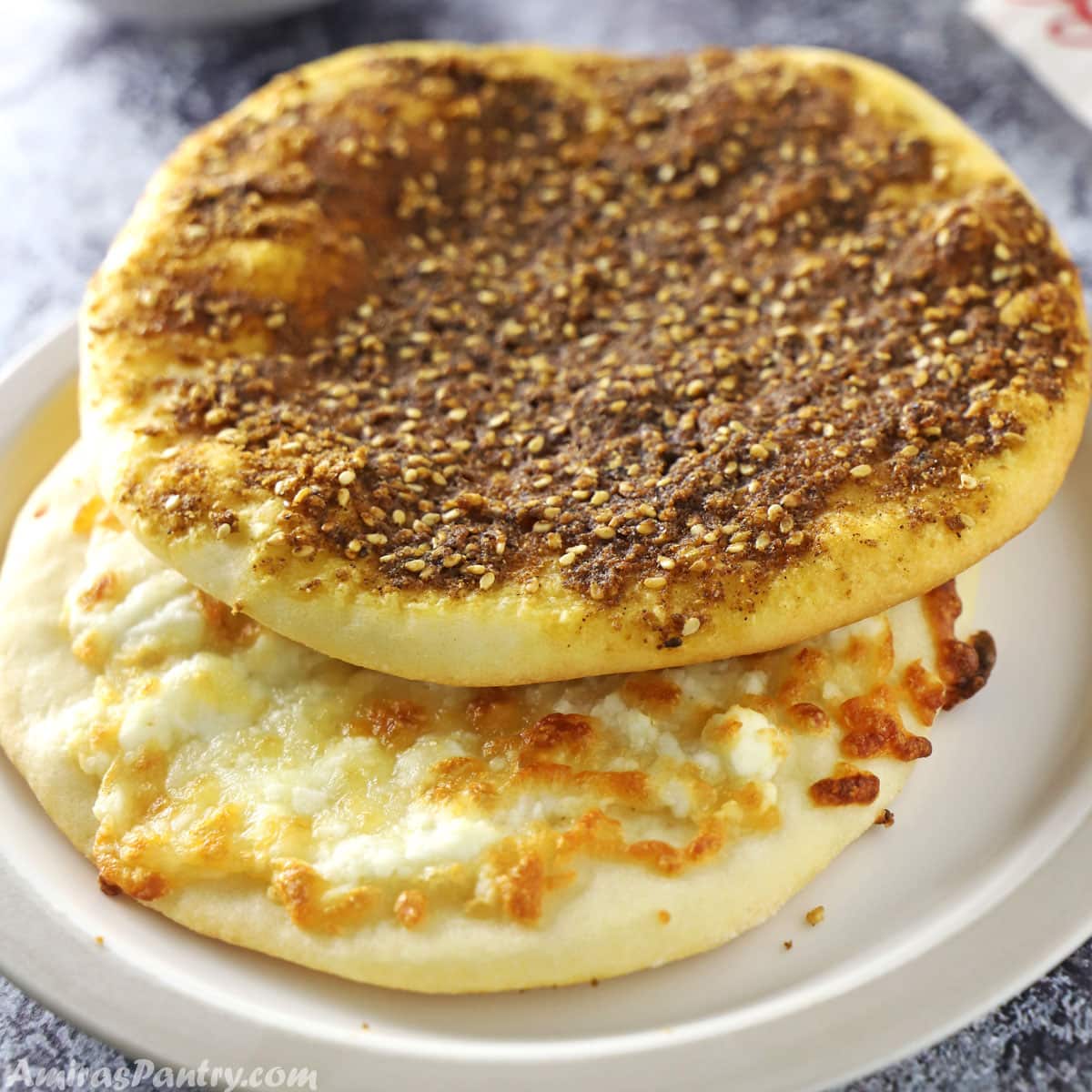 Za'atar Manakeesh
You've probably tried manakeesh with za'atar before in a Lebanese restaurant. Manakeesh is the Arabic flat bread topped with a mixture of olive oil and za'atar. Manakeesh can also be topped with cheese, and this type is my kids favorite.
I remember when I made my first manakeesh we had a friend of my husband over and I wanted to make something special. I made manakesh and it was too crunchy, delicious but seriously hard. My husband's friend looked at me and said " I think Manakeesh should be soft Amira, but nice try". I actually did not know if manakeesh should be hard or soft, I just liked them that way🤣.
For the dough you will need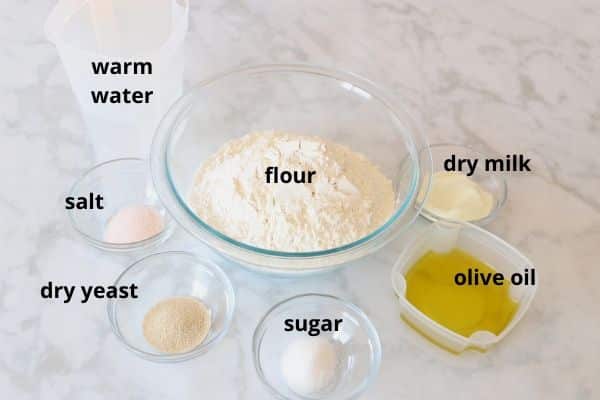 You can use any dough that you feel comfortable with. You can also try your hands in this super quick 10 minutes dough. But this dough which I got for Sfiha was my favorite one.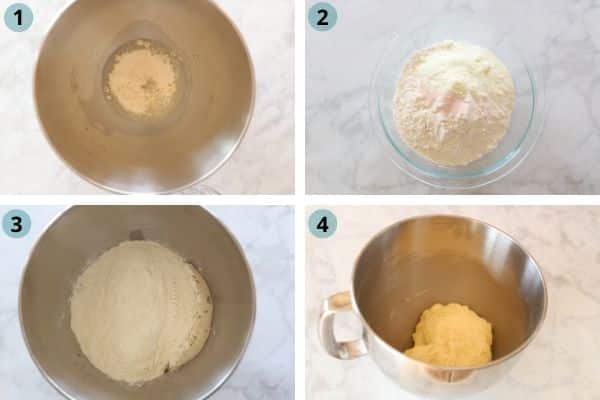 In the mixer bow, combine yeast, sugar and warm water. Set aside for 10 minutes.
In another bowl mix flour, dry milk and salt.
Add oil and flour then start kneading adding the water little by little until a dough forms.
Cover and let it rise for an hour or more until double in size.
Za'atar and cheese mix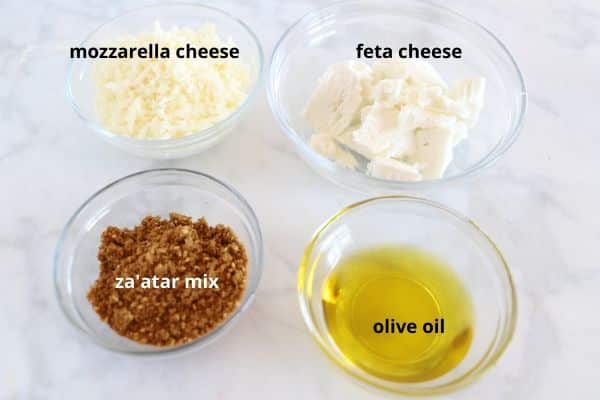 For the cheese manakeesh, I've used a mix of Mozzarella and feta cheese. For the Za'atar manakeesh used a mixture of olive oil and za'atar.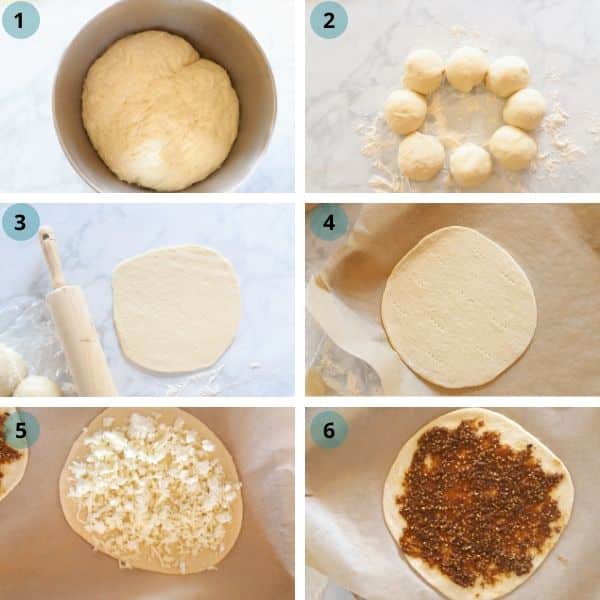 When the dough has doubled in volume, turn on a lightly floured surface.
Divide the dough into 8 equal balls. Set the balls aside covered with plastic wrap or a clean kitchen towel.
Roll each ball into an 8 inch disc.
Place the rolled dough on a baking sheet lined with parchment paper and make some holes using a fork to prevent it from rising in the oven.
Make cheese and za'atar mixtures then spread over the rolled dough.
Bake in a preheated oven according to directions. When they have cooled a bit place on another baking sheet covered with plastic wrap to keep them soft.
Tips for a soft Manakeesh
Add water to the Za'atar mix. Yes you read this right. This is a tip I got from a Palestinian fried who told me that every one knows this in her village. If you add water it prevents the za'atar mixture from getting burnt easily and keeps your manakeesh softer.
Cover them after they have cooled a bit. Like what we have done in Sfiha, you'll need to cover your manakeesh with plastic wrap after the have cooled down a bit.
What cheese to use?
Traditionally manaeesh is made with Nabulsi or akawi cheese, practically any white cheese or a combination would work. Here I've used a combination of feta and mozzarella, I've people use cream cheese with mozzarella, queso, ricotta, and halloumi.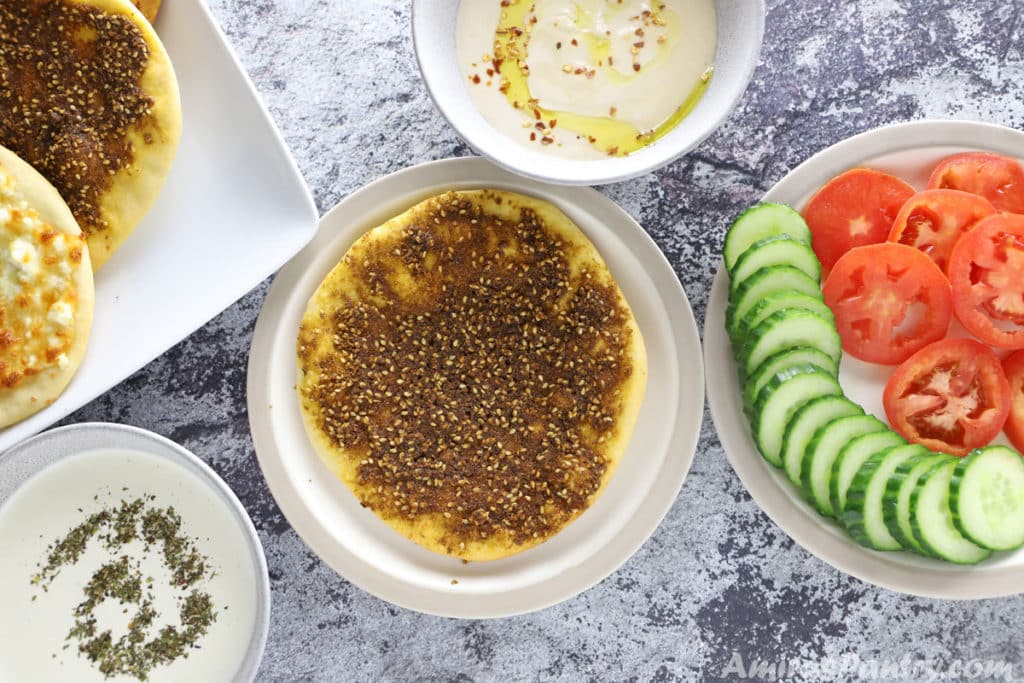 My little one has told me that "this is the best cheese pizza the world." Although this was his first time eating this kind of manakish. I think you might just agree.
If you like this recipe do not forget to give it a ⭐⭐⭐⭐⭐ star rating and attach a photo of your finished dish. It is always a pleasure of mine to see your photos and check your own take of the recipe. Thank you.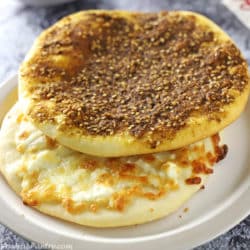 Manakeesh (manakish) zaatar recipe
Manaqish is the Arabic pizza. This pizza style dish is usually topped with an exotic za'atar or cheese mix. Perfect for parties, as an appetizer or for lunch/dinner.
Print
Pin
Rate
Ingredients
For the dough:
2

teaspoons

active dry yeast.

1

teaspoon

granulated sugar.

1

cup

(240ml) warm water.

3

cups

(405g) all purpose flour.

2

Tablespoons

dry powdered milk. Note1

1

teaspoon

salt.

1/4

cup

olive oil.
For the cheese topping: (enough for 4)
You can choose any white cheese combination you like and here is what I've done

100

g

Mozzarella cheese.

100

g

feta cheese.

1

Tablespoon

olive oil.
For the za'atar mix (enough for 4)
1/4

cup

olive oil

1/4

cup

za'atar mix.

1

Tablespoon

water.
Instructions
Make the dough:
In your mixer bowl, combine yeast, sugar and half a cup of the warm water. Stir to combine and leave it to proof for 10 minutes.

In a separate bowl, combine flour, dry milk and salt.

After the 10 minutes add oil and flour then start kneading adding the water little by little until a nice consistent dough is formed.

Cover the bowl with plastic wrap and let it rise on you countertop until it doubled in size or for 1 hour depending on your kitchen temperature.

Preheat oven to 375F. Place a rack in the middle of the oven.

Line two large baking sheets (enough to hold two 8inch circles) with parchment paper.

Lightly flour your work surface and turn the dough in, divide the dough into 8 equal balls.

Work with one ball at a time and cover the rest with plastic wrap.

Roll the dough ball into a 8inch circle, lightly dust with flour while rolling so it will not stick to the work space.

Place the rolled dough on your baking sheet and work with another one then place it on the same baking sheet.

Top the circles with your za'atar or cheese mix and level the surface.

Bake for 12-15 minutes ( or longer for a crispier mannish if that's what you like) or until the bottom of the manakish turns golden brown.

If you want them to stay soft place while hot on a plate and cover with plastic wrap.
Notes
Note1: Adding dry milk to the dough makes it softer, highly recommended but you can certainly do without.
Serve with:
Tahini dip, slices of tomato and cucumber, and try it with Lebanese garlic dip.
Values based on pink salt and is for cheese Manakeesh.
Please check the nutrition disclaimer policy.
Nutritions for Manakeesh with Za'atar:
Calories

277.6

Total Fat

14.0 g

Saturated Fat

1.8 g

Polyunsaturated Fat

1.1 g

Monounsaturated Fat

9.9 g

Cholesterol

0.0 mg

Sodium

42.8 mg

Potassium

66.1 mg

Total Carbohydrate

33.7 g

Dietary Fiber

2.5 g

Sugars

0.7 g

Protein

4.6 g
Nutrition
Calories:
352.4
kcal
|
Carbohydrates:
35.4
g
|
Protein:
14.2
g
|
Fat:
17.2
g
|
Saturated Fat:
7.3
g
|
Polyunsaturated Fat:
0.9
g
|
Monounsaturated Fat:
8.1
g
|
Cholesterol:
36.8
mg
|
Sodium:
433.3
mg
|
Potassium:
102.6
mg
|
Fiber:
1.5
g
|
Sugar:
2
g
Sign up and learn more about Mediterranean flavors