A pizza like dish from the levant area. Sfiha also called " Lahm bi ajin" which means meat with dough. You can find versions of it in Jordan, Syria, Palestine, Lebanon, Turkey and Armenia. Here is my Palestinian's fried recipe.
Total time
2
hours
30
minutes
When was the last time you've had a fun baking project? Homemade Lahmacun (lahmajoun) meat pie or sfiha is a pizza like recipe topped with an amazing ground beef mixture. This is recipe from a Palestinian friend of mine who makes the best sfiha in her entire family.
I used to make sfiha in a much simpler way when I do not have time. But this one was a really fun way to spend time with my kids in the kitchen.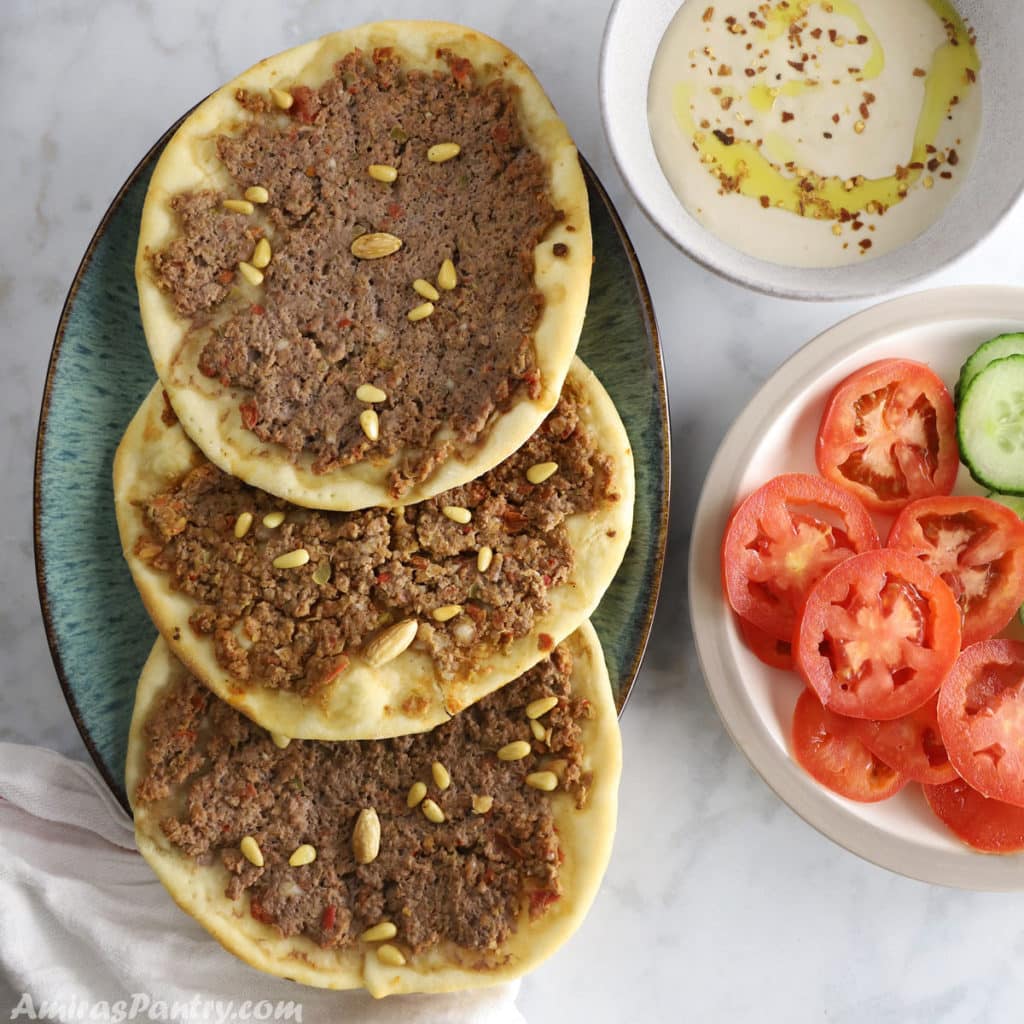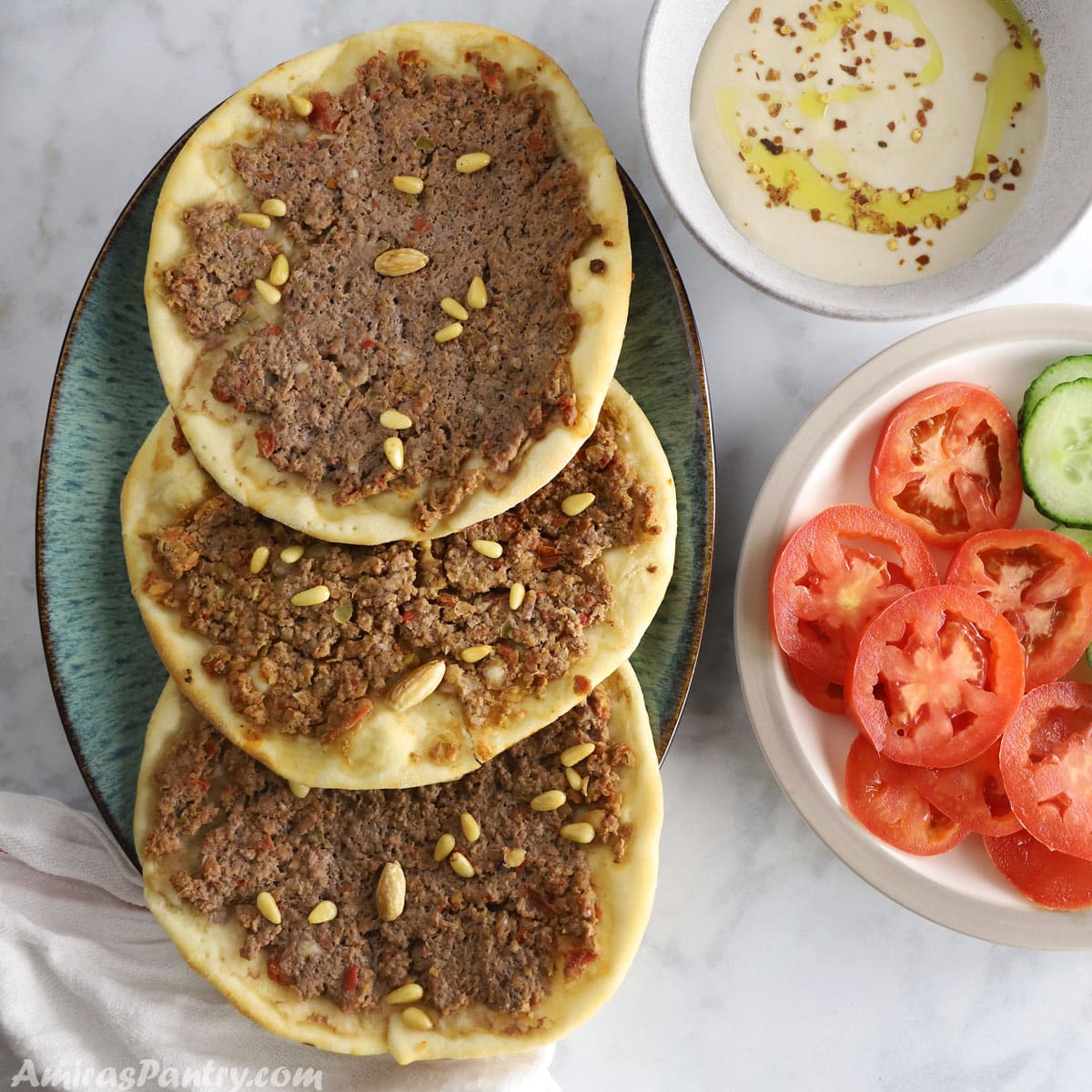 What is Sfiha (Lahmacun)?
Sfiha also known as lamacun ( pronounced lahmajoun) is a popular Mediterranean pizza like dish. It is also known as Armenian pizza, Turkish pizza and also called Arab pizza. It is crisp at the edges and softens as you reach the center. It is think, topped with an amazing ground meat mixture that is spiced up using all the good things.
Sfiha holds a special place in my heart, the smell of the dough reminds me of my early days coming to the US. I've barely baked anything before in Egypt except for this marble cake, and that was it.
I discovered this passion for baking in my first kitchen here in Colorado, my boys were barely 4 and 2 and the third one was not even born yet. I used to spend hours baking with my two boys in the tiny apartment's kitchen. They also developed a love for baking since those days and until now. Even my 17 years old still hurries to the kitchen when he seems me making dough and jump in to help. Baking with the boys has always been fun but bread dough has a special place in our hearts.
So I encourage you to make it a family fun Saturday or Sunday project and make this sfiha, you are going to love it.
How to make Sfiha?
Making Sfiha or Esfiha has two parts: First part is making the dough. Second comes the topping. Then assemble and bake so here is what you'll need for the dough.
What goes in the dough?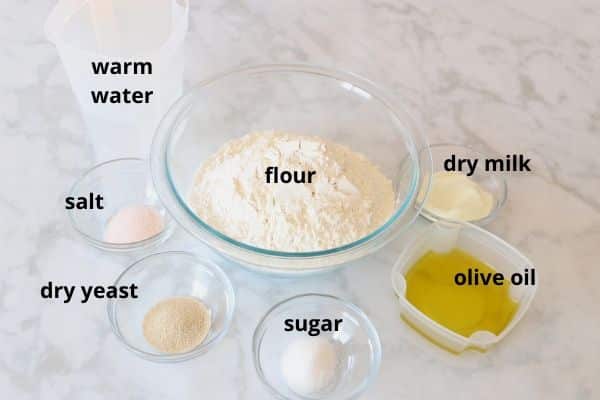 Ingredients are the basic for a yeast dough. Dry milk is often used to make the dough softer. You can skip but it would be nice to add to your dough.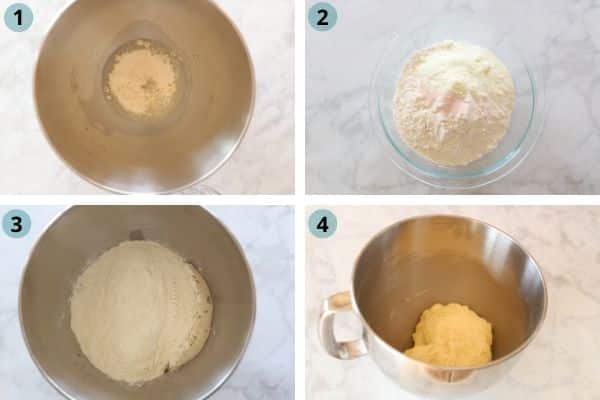 Make the Sfiha dough:
In the mixer bow, combine yeast, sugar and warm water. Set aside for 10 minutes.
In another bowl mix flour, dry milk and salt.
Add oil and flour then start kneading adding the water little by little until a dough forms.
Cover and let it rise for an hour or more until double in size.
Meat topping ingredients: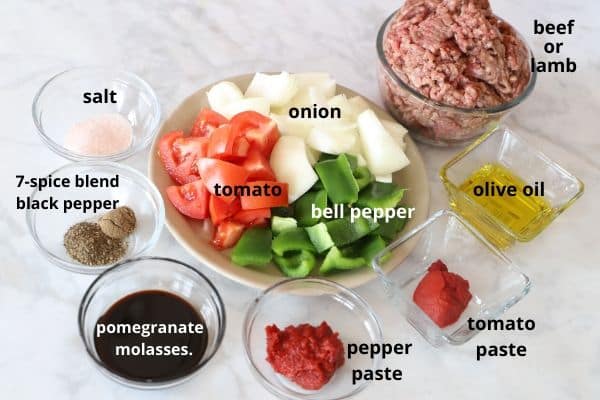 Sfiha can be made with ground beef or lamb or a combination of both. Along with onion, tomato and bell pepper. Then comes a nice combination of flavors which makes all the difference in this recipe.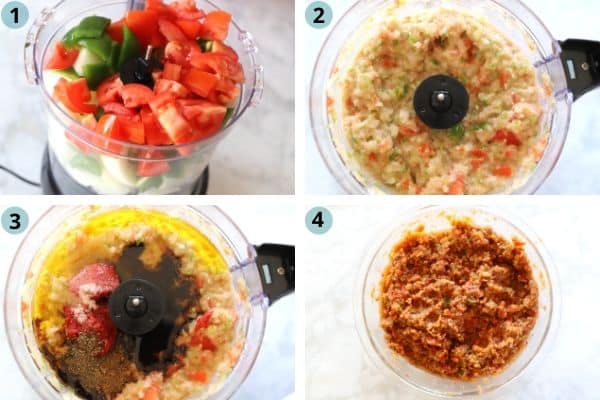 Make the meat mixture
In your food processor add onion, tomato and bell pepper.
Process until a little chunky.
Add the rest of the spices and pulse a couple of times.
Pour the mixture in a deep bowl and mix in the ground meat.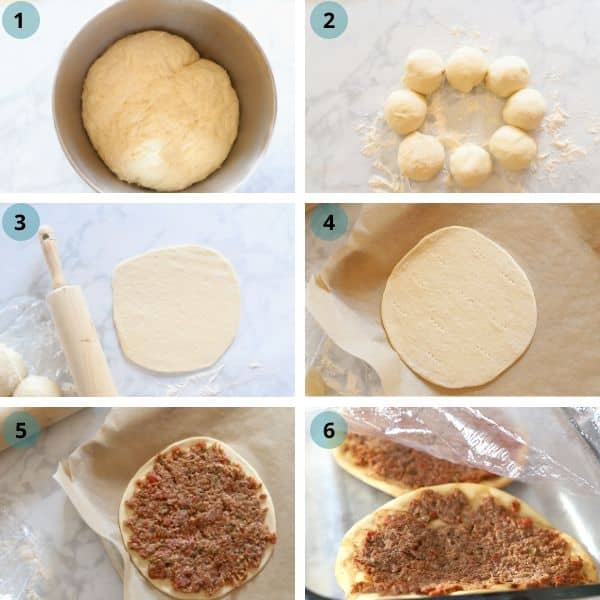 Assemble and bake Sfiha
When the dough has doubled in volume, turn on a lightly floured surface.
Divide the dough into 8 equal balls. Set the balls aside covered with plastic wrap or a clean kitchen towel.
Roll each ball into an 8 inch disc.
Place the rolled dough on a baking sheet lined with parchment paper and make some holes using a fork to prevent it from rising in the oven.
Divide meat mixture into 8 equal parts and take one part and spread it over the rolled dough.
Bake in a 400F preheated oven according to the directions down. When the Sfihas has cooled a bit place on another baking sheet covered with plastic wrap to keep them soft.
I was also surprised when doing my research for this recipe that there is actually a Brazilian Esfiha version that is so close and some people say that it actually came through immigrants from the Levant area.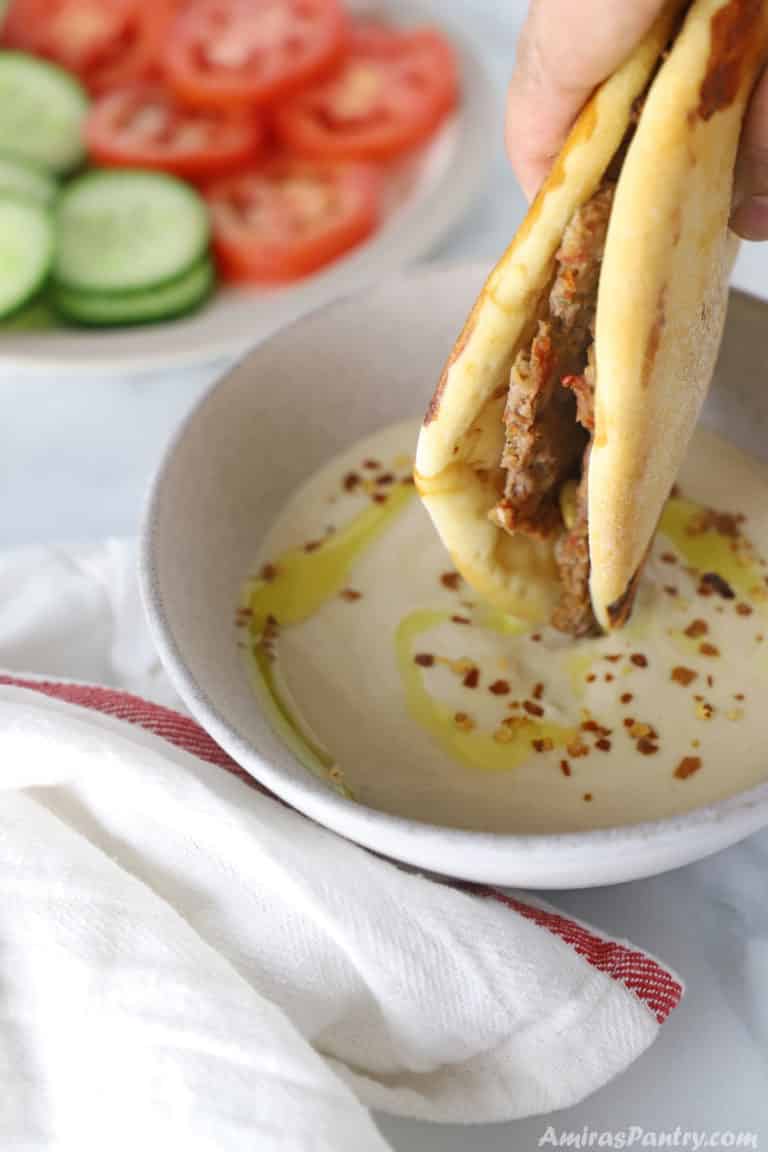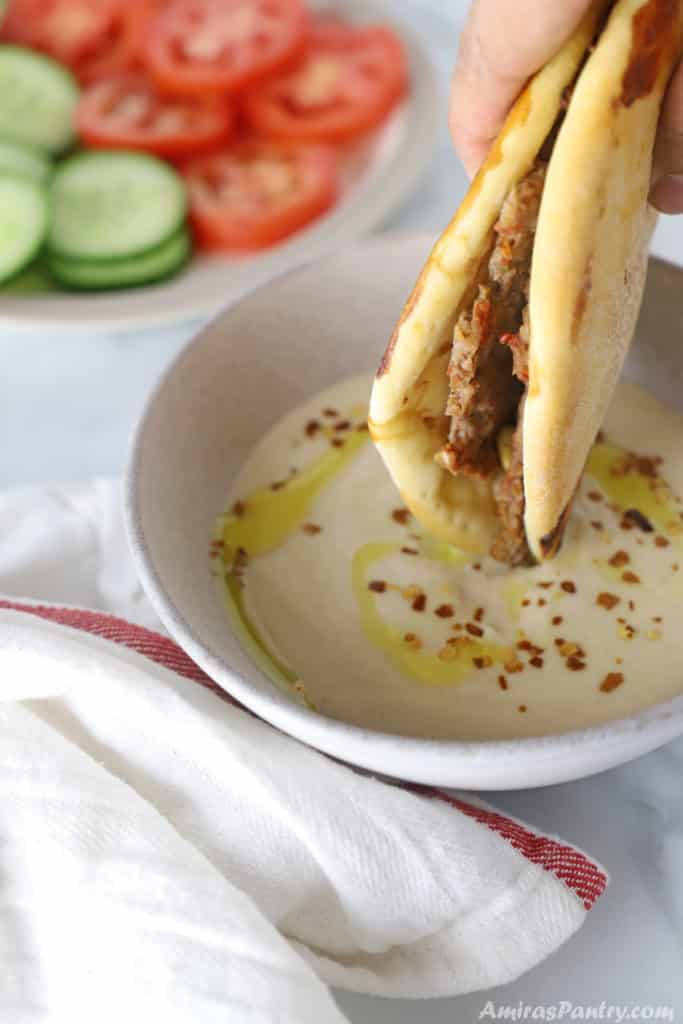 Related Recipes
Spice up your dinner tonight with this Garlicky, savory Sujuk Sandwich. Ground meat mixed with aromatic spices, onion and garlic then stuffed into sandwiches, this easy recipe will sure deliver a rich and satisfying meal.
You might need
The following are affiliate links. We are a participant in the Amazon Services LLC Associates Program, an affiliate advertising program designed to provide a means for us to earn fees by linking to Amazon.com and affiliated sites.

This Nordic baking sheet is a must for your baking projects.It is super sturdy and does not bend under any circumstances.
I've been asked about the pepper paste I used for this recipe. I've picked up this mild pepper paste from the International store and I like it. In fact I've been using it all over.


If you like this recipe do not forget to give it a ⭐⭐⭐⭐⭐ star rating and attach a photo of your finished dish. It is always a pleasure of mine to see your photos and check your own take of the recipe. Thank you.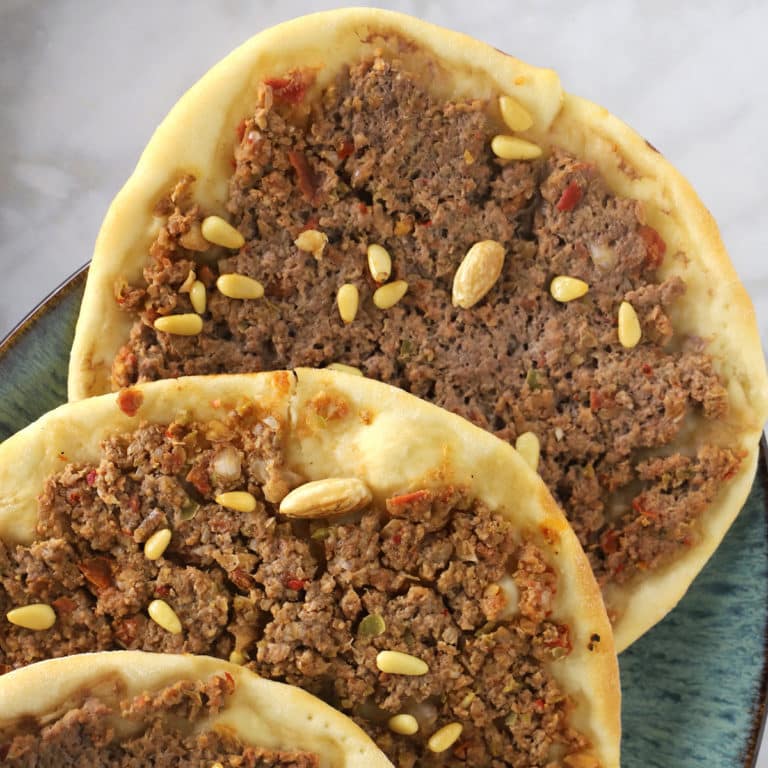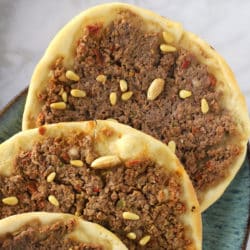 Sfiha
A pizza like dish from the levant area. Sfiha also called " Lahm bi ajin" which means meat with dough. You can find versions of it in Jordan, Syria, Palestine, Lebanon, Turkey and Armenia. Here is my Palestinian's fried recipe.
Print
Pin
Rate
Ingredients
For the dough:
2

teaspoons

active dry yeast.

1

teaspoon

granulated sugar.

1

cup

(240ml) warm water.

3

cups

(405g) all purpose flour.

2

Tablespoons

dry powdered milk.

Note1

1

teaspoon

salt.

¼

cup

olive oil.
For the meat mixture:
1

(300g) Large onion, quartered.

2

(280g) medium tomato, quartered.

1

(200g) green bell pepper, chopped.

1

Tablespoon

tomato paste.

1

Tablespoon

pepper paste.

2

Tablespoons

pomegranate molasses.

1

teaspoon

salt.

½

teaspoon

7-spice blend.

Note2

½

teaspoon

black pepper.

2

Tablespoons

olive oil.

1

pound

ground beef.

Note3
Instructions
Make the dough:
In your mixer bowl, combine yeast, sugar and half a cup of the warm water. Stir to combine and leave it to proof for 10 minutes.

In a separate bowl, combine flour, dry milk and salt.

After the 10 minutes add oil and flour then start kneading adding the water little by little until a nice consistent dough is formed.

Cover the bowl with plastic wrap and let it rise on you countertop until it doubled in size or for 1 hour depending on your kitchen temperature.
Make the filling:
In you food processor, add the first 3 ingredients and pulse until the desired consistency. Note4.

Add the next 7 ingredients and pulse to combine.

In a deep bowl, pour above mixture then add the meat and mix well.

Preheat oven to 400F. Place one oven rack in the upper third and one in the lower third.

Line two large baking sheets ( enough to hold two 8inch sfiha) with parchment paper.

Lightly flour your work surface and turn the dough in, divide the dough into 8 equal balls.

Work with one ball at a time and cover the rest with plastic wrap .

Roll the dough ball into a 8inch circle, lightly dust with flour while rolling so it will not stick to the work space.

Place the rolled dough on your baking sheet and work with another one then place it on the same baking sheet.

With a fork make some holes in each circle, scoop about ⅛th of the meat mixture and level to make an even layer.

Bake on the lower rack for 12-15 minutes or until the bottom is lightly browned. Lift the bottom with a knife or anything to check it. Move the baking sheet up to the upper third and broil on high for 2-3 minutes.

Take the baking sheet out and let it cool down for a minute so you can handle it.

Place you baked sfihas on a tray and cover with plastic wrap while hot so it will stay soft and not get hard.

Continue with all the dough balls until you are done.

Store any leftover sfiha in a zip lock bag in your fridge or freezer for longer storage.
Notes
Note1: Adding dry milk to the dough makes it softer, highly recommended but you can certainly do without.
Note2: you can use any meat spice blend that you like or simply substitute allspice. Note3: Use lamb, beef or a combination.
Note4: I like finely chopping my ingredients for my kids' liking. Many people like to make it roughly chopped.
Serve with: tahini dip, slices of tomato and cucumber or try this easy Mediterranean salad.
Values based on pink salt and using 80% lean beef.
Please check the nutrition disclaimer policy.
Nutrition
Calories:
423.7
kcal
|
Protein:
16.2
g
|
Fat:
20.9
g
|
Saturated Fat:
6.4
g
|
Polyunsaturated Fat:
1
g
|
Sodium:
132.6
mg
|
Potassium:
266.4
mg
|
Fiber:
3
g
|
Sugar:
5.6
g
Sign up and learn more about Mediterranean flavors
Time to show you off!