Easy Marble cake recipe is one that has been in my family for generations. Buttery, moist and fluffy kind of marble cake. The best part is, it is so forgiving.
This super moist marble cake recipe was handed down from my late grandma and my whole family loves it. Chocolate and vanilla cake swirled into this delicious cake so you get the best of both worlds. Very simple to put together, fill and frost for an amazing birthday cake.

This post has been updated from the December 2012 original. Last updated March 2019.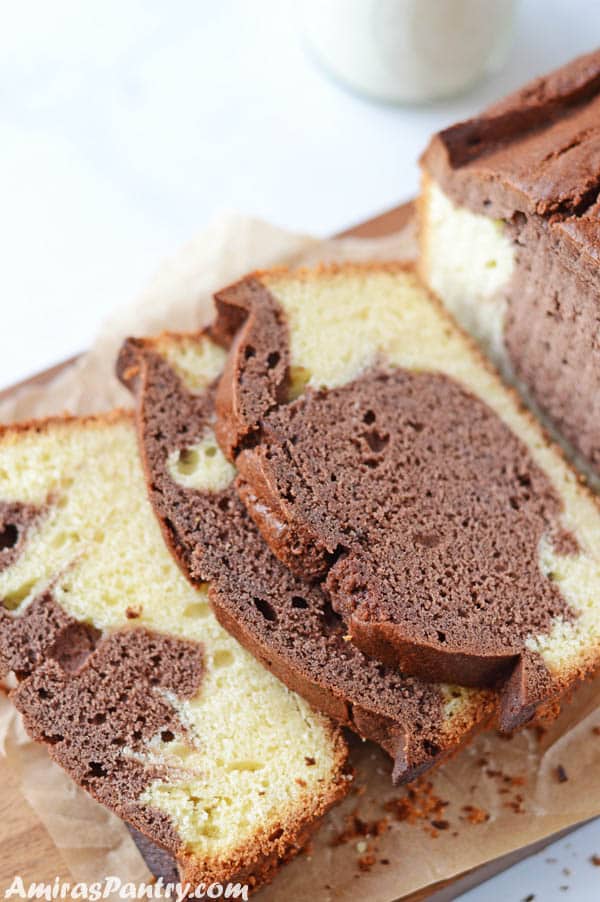 Easy Marble Cake Recipe
Let me just start by saying this is my most requested recipe. My kids, my friends and my husband's co-workers all go crazy over this sort of pound cake. It has the just right amount of sugar, very balanced and you can never go wrong with it.
When I hear the word "grandma", I remember her sweet smile, round full white face and warm hugs. I remember the yummy smell coming out of her kitchen. Whatever she was cooking, she was doing it the right way and better than anyone else … even her daughters :). It is once said that grandmas are moms with frosting, I could not agree more.
If you have been following me long enough, you might as well know that I did not discover my passion for cooking until I cam here to the USA. I was a 9-5 corporate girl, and I only cooked the basics when I was in Egypt, sometimes even less. When I had my first baby, he was so stubborn and did not eat well. One of my girlfriends suggested that I try to feed him simple plain pound cake with milk to encourage him to eat, that was of course when he was over 18 months.
Talking with my sister, she suggested that I make grandma's cake, I was so overwhelmed. I was like " WHAT?", for a girl who cooks the bare minimum, baking is a no no.
I dropped the idea thinking my sister has gone crazy and I was content with store-bought pound cakes with all its wonderful preservatives 🙄. When I came here, I had plenty of time and I though.. ok why not try and it was a success from the first time. This is HUGE guys H U G E, I mean for a person who never baked anything before. This encouraged me a lot and I started venturing out to other baked goods.
This marble cake has never turned me down, people always get excited when they see my loaves and it is the first to disappear from the dessert table.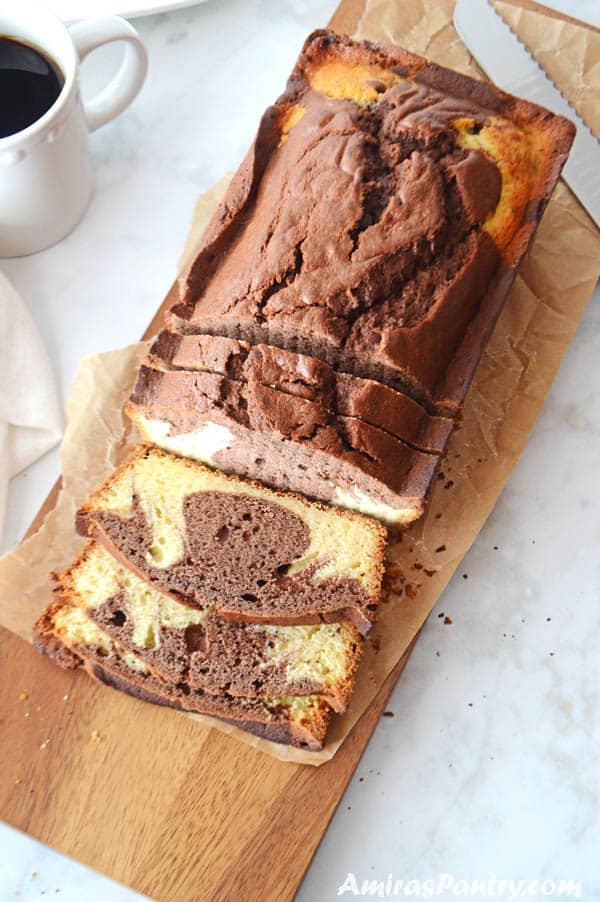 Marble cake FAQs
Why does my pound cake sink in the middle?
There are several reasons for sinking cakes starting from too much baking powder, not enough moisture, not the right temperature...etc. The most common two reasons that happened to me personally were a) over mixing and b) opened the oven door before 30 minutes. The latter can be easily fixed, just be patient and do not ever open the oven door before 30 minutes. For over mixing, I usually divide the dry ingredients into 4 parts, mixing the first two with the electric mixer as usual then switching to a spatula or a wooden spoon to finish of the batter.
What is the difference between a sponge cake and a pound cake?
Both are irresistible and delicious. Mainly sponge cake is airy and made with eggs, sugar and flour. Pound cake is made with the same three ingredients but adding butter and leavening to the mixture.
Why is my pound cake heavy?
Beat butter and sugar and eggs at medium speed. When you cream the butter and sugar do not do it on high speed and be careful, just used medium or lower than medium speed.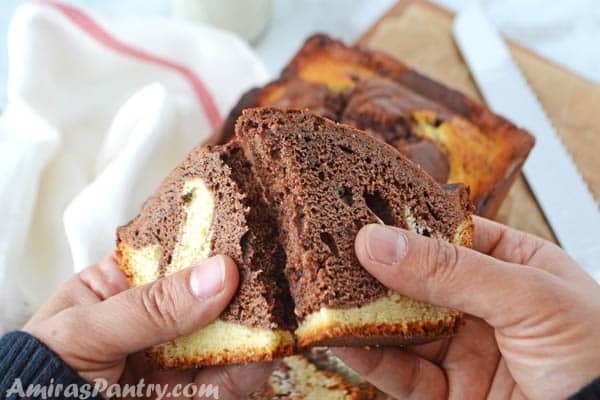 Marble Cake: step by step guide
Very easy, straight forward method is what separates this easy marble cake than any other marble cake recipe.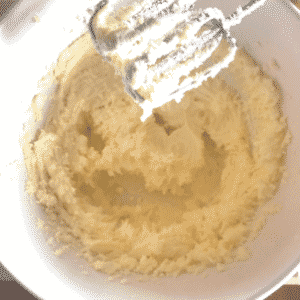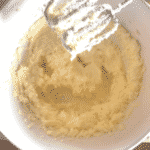 Start by cutting the butter into 1 inch cubes, then cream the butter for about 1 minute on medium speed. Add sugar and continue to beat on medium for another 3-4 minutes until light pale and fluffy.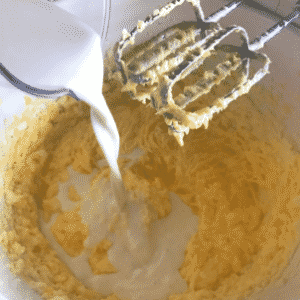 Add eggs one at a time with vanilla extract and mix well after each egg. Pour milk and mix to combine .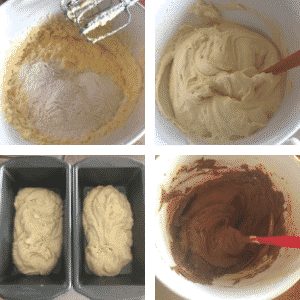 In a separate bowl, sift flour, baking powder and salt. Add one cup at a time to the wet ingredients and mix until just incorporated. Divide half the batter into prepared loaf pans. Add cocoa powder to the remaining half and mix well.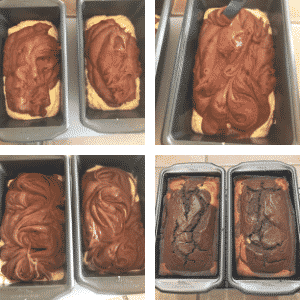 Add chocolate batter , make a marbling effect using a butter knife, wooden stick or a spoon. Bake in a preheated oven until done and do not open the oven before 30 minutes.
Marble Cake Recipe notes:
I've played with the recipe content of sugar, so I've decreased the sugar to 2 cups and even 1 cup. The 2 cups were really good and did not affect the texture and structure of the cake. When I reduced it to 1 cup it was too bland and we did not like it.
My sister, on the other hand, played with the fat content. She actually made this recipe with all oil and half oil and half butter. She reported it was still delicious and moist. I did try the half oil and half butter and it was ok , I am a butter girl though.
I've baked this recipe in a bundt cake and it turned out beautiful, just adjust the baking time.
Make your favorite chocolate frosting, fill and frost the cake for a delicious no fail birthday cake.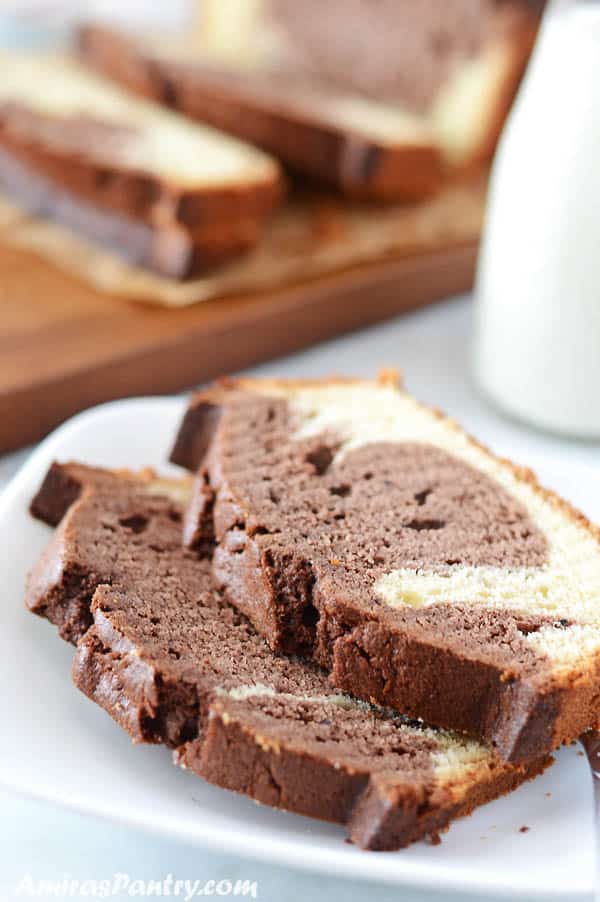 You may need:
The following are affiliate links. We are a participant in the Amazon Services LLC Associates Program, an affiliate advertising program designed to provide a means for us to earn fees by linking to Amazon.com and affiliated sites.

This Wilton loaf pan are sturdy, bakes evenly and does not peel after a couple of uses like many others.
Other cake recipes we love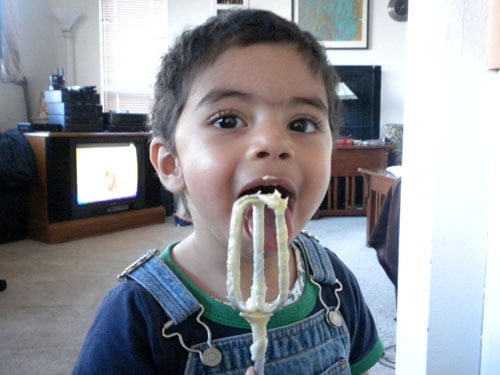 Easy Marble Cake Recipe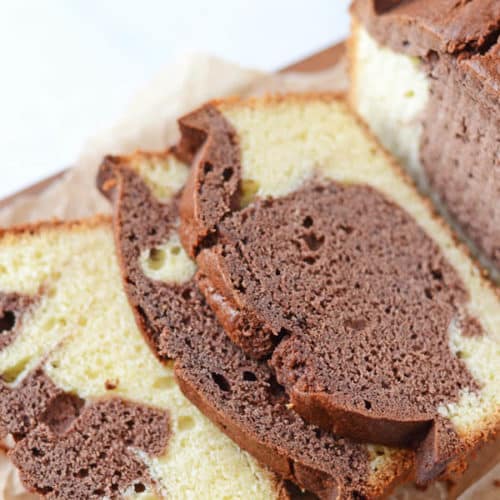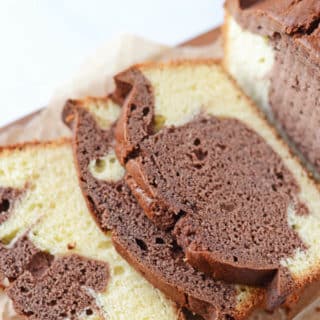 Marble Cake Recipe
Super moist marble cake recipe that has been in my family for generations.Fill and frost for an amazing birthday cake.
Print
Pin
Rate
Ingredients
2

cups

4 sticks/ 454g unsalted butter, room temperature. (Note1)

3

cups

300g granulated sugar.

6

345g large eggs, room temperature.

1

teaspoon

vanilla extract.

1

cup

235ml milk.

4

cups

528g all purpose flour.

1

Tablespoon

backing powder.

A dash of salt.

4-6

Tablespoons

unsweetened cocoa powder.
Instructions
Preheat oven to 350°F (177°C). Spray or lightly butter two 9x5" loaf pans.
Make the cake:
In a large bowl, beat the butter for about a minute until smooth and creamy, about 1 minute.

Add the granulated sugar and beat on high speed for 3-4 minutes until creamed.

Beat in the eggs one at a time then mix in the vanilla extract.

Then pour in milk and mix well.

Sift the flour, baking powder, and salt together in a large bowl.

Add the dry ingredients, 1 cup at a time and mix well on low. Do not over mix.

Divide half the batter in the two loaf pans.(Note2)

Mix the cocoa powder with the rest of the batter and mix with a wooden spoon.

Spoon the chocolate batter equally into the two loafs on top of the white batter.

With a stick/wooden spoon or a butter knife make waves in the batter so as to create the marble effect.

Bake in the oven until done, will take anywhere from 35-50 minutes. Do not open the oven door before 30 minutes have passed though. Test the donnas by sticking a toothpick in the middle of the batter if it comes out clean then the cake is done. (Note3)

Remove cakes from the oven and allow to cool completely.(Note4)
Notes
Note1: If you are short on time, cut the butter into 1 inch cubes so it comes to room temperature quicker.
Note2: Divide the batter however you want. If you like more chocolate then feel free to increase the chocolate batter.
Note3: Check your cake after 35 minutes have passed. loosely cover the cakes with aluminum foil if you find the tops are browning too quickly while the center is still runny.
Note4: this cake is freezer friendly. In fact we find it tastier when frozen then take it out, slice let it come to room temperature then serve.
Nutrition Facts
Marble Cake Recipe
Amount Per Serving
Calories 324
Calories from Fat 152
% Daily Value*
Fat 16.9g26%
Sodium 87.1mg4%
Carbohydrates 41.1g14%
Protein 4.4g9%
Vitamin A 670IU13%
Calcium 57mg6%
Iron 1.2mg7%
* Percent Daily Values are based on a 2000 calorie diet.
Nutrition
Calories:
324
kcal
|
Carbohydrates:
41.1
g
|
Protein:
4.4
g
|
Fat:
16.9
g
|
Saturated Fat:
10.2
g
|
Polyunsaturated Fat:
0.8
g
|
Monounsaturated Fat:
4.9
g
|
Sodium:
87.1
mg
|
Fiber:
1
g
|
Sugar:
25.5
g
|
Vitamin A:
670
IU
|
Calcium:
57
mg
|
Iron:
1.2
mg
Sign up and learn more about Mediterranean flavors