When I hear the word "grandma", I remember her sweet smile, round full white face and warm hugs. I remember the yummy smell coming out of her kitchen. Whatever she was doing, she was doing it the right way and better than anyone else … even her daughters :). It is once said that grandmas are moms with frosting, I could not agree more.
Today I'm gonna share with you a recipe that has been in the family for ages. It has never turned me down, and I always get credit for it. Many asked me for the recipe and friends ask me to do it every time we have a gathering. It is a definitely a KEEPER … trust me in this, after it is grandam's marble cake.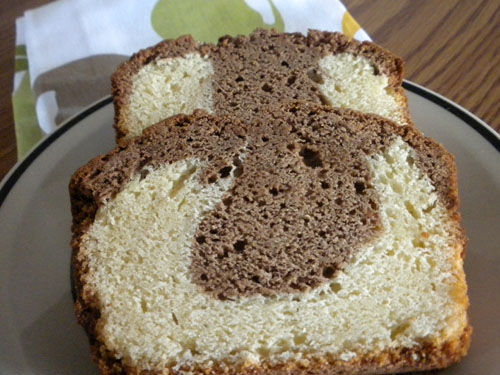 You will need:
6 medium

eggs

– I used 5 large ones.
4 cups of all purpose

flour

.
3 cups of granulated

sugar

.
2 cups of

butter

.
1 cup of

milk

– I used 2% Kirkland.
1 Tbs of

backing powder

.
a dash of

vanilla

powder.
6 Tbs of

unsweetened coco powder

.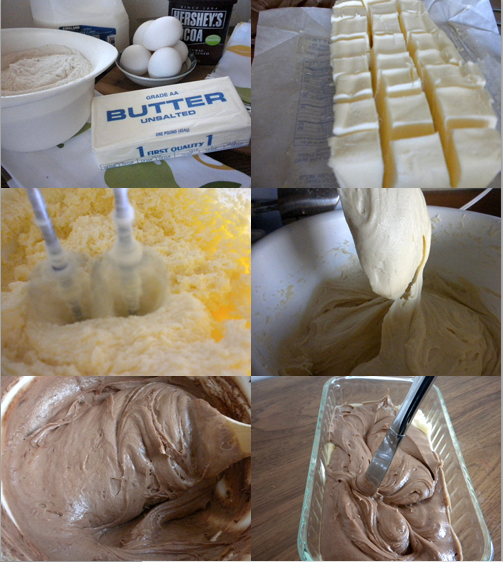 First

cream the butter

and the sugar until light and fluffy- I've cut the butter in cubes to make it easier -,

beat in the eggs

one at a time then add the vanilla.
Beat in the

milk then the flour

one cup at a time and add the

backing powder in

between.
Pour half of the batter – or

more if you want it more white

– into 3 prepared loaf pans. Mix the

coco powder

with the remaining half then pour into the pans. With a

stick or the back

of a spoon make waves in the batter so as to create the marble effect.
Preheat you oven to

350 F

and put your pans in there.

Do not open

the oven door

before 30 minutes

have passed or the outcome will not be as fluffy and moist as it should be. It will probably take somewhere

between 35 to 45 min

to be done which is when a

toothpick inserted in the middle

comes out clean. Let it cool on a rack for 10 min. and serve.
There is

something special about this cake

, I do not know how or why this is happening but this cake

gets tastier as it cools

in the fridge and even better when you

stick it in the freezer for the night

, slice it in the morning and hmmm enjoy. I always make a patch of 3,

freeze 2

and put one in the fridge to enjoy for the week. Actually it does not make it till the end of the week as we have monsters in our house who

lick even the batter

!!!!. Hay… it runs in the family anyway.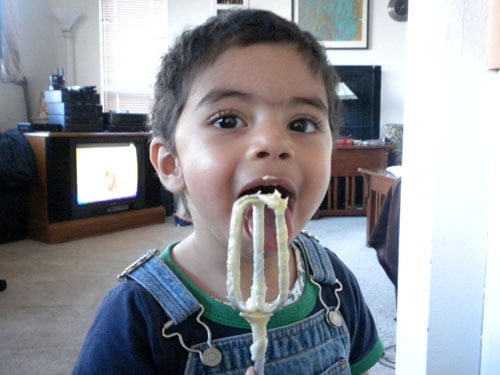 Enjoy 😉