Sujuk Sloppy Joes made with ground beef, tomato gravy and loaded with sujuk spices. Ready in less than 30 minutes.
Beef Sujuk also (Sucuk) is a sausage like recipe that is very popular in the Mediterranean region. Here is a sujuk sandwich recipe that everyone will enjoy.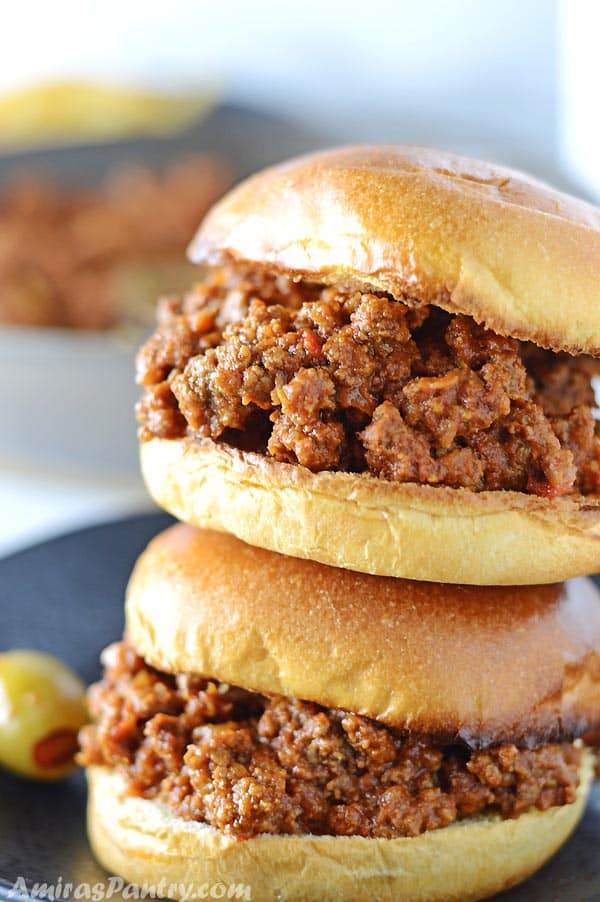 For my husband and I summer is not summer without sujuk but first...
What is Sujuk sausage?
Sujuk is a form of sausage, ground meat spiced and flavored then encased in some sort of casing (usually animal intestines), formed into cylinders and twisted every 3-4 inches. It is said that Sujuk first appeared in Turkey and I believe has spread to Egypt during the Ottoman era.
Sujuk is a very popular meat product in almost all of the Middle Eastern countries and I was surprised to know it is also common in central Asia.
There are a lot of ways to prepare Sujuk, and by ways I mean spices. Spices differ from country to country and from region to another. Today my sausage flavor bomb is coming from the Middle East.
Now, why summers are not summers without Sujuk? well not any summers actually. You see we cannot find Egyptian Sujuk here is Colorado, so we wait until we visit Egypt to fill our bellies with Sujuk, flavored the way we were brought up to. This year though, we had Sujuk only once and we came back to Colorado still craving for more. We had some problems in Egypt, grandmothers were sick and it was totally chaotic so we did not have a chance to properly satisfy our cravings :).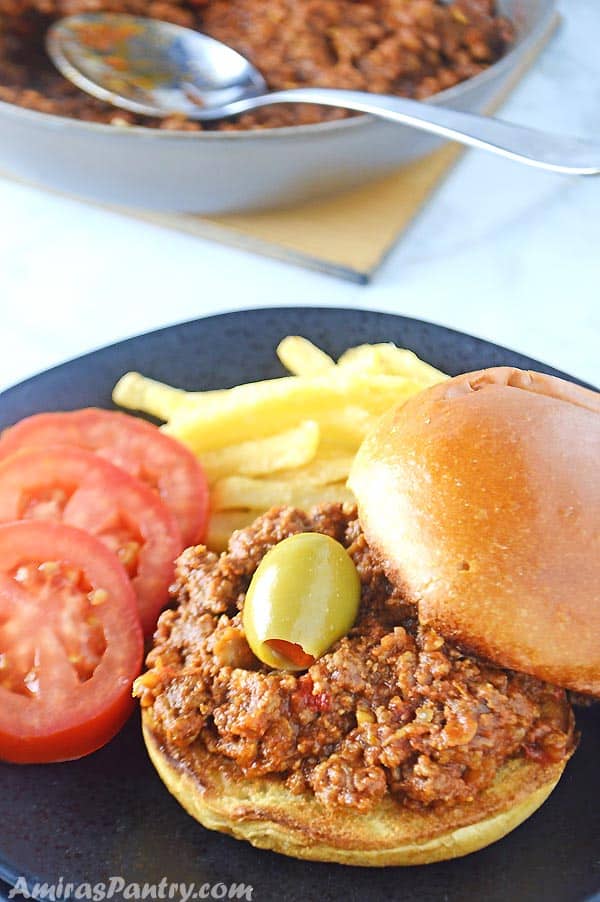 Yumm!!☝️☝️ just look at this pickles green olive sinking in a bed of flavored ground beef.. doesn't this make you wanna take a bite?! This recipe falls into the zero percent hard category. A quick and easy family dinner for those nights when you are too tired to cook.
What meat is Sucuk?
In Egypt, Turkey and all the Middle Eastern countries Sujuk is made of beef or lamb. Lately I've found chicken and turkey sujuk in the Egyptian stores but I haven't tried them yet. Other countries might use pork as well.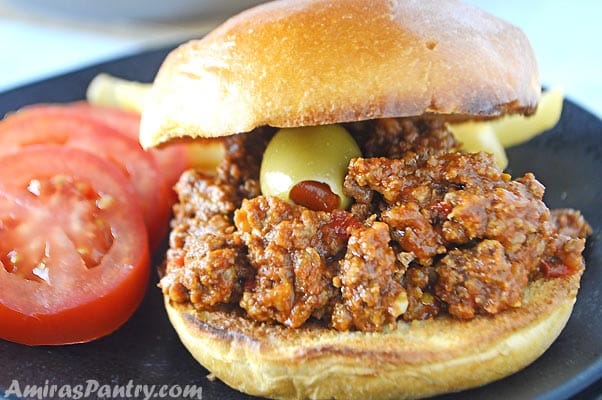 Sloppy Joes Sujuk Ingredients
Simple, just ground beef and some sujuk spices. All the spices are probably there in your spice drawer. You know cumin, paprika, coriander and curry powder. The only spice that you might not have is the ground fenugreek but it is conveniently sold online or you can find it in natural groceries as well.
How to make Sloppy Joes Sujuk?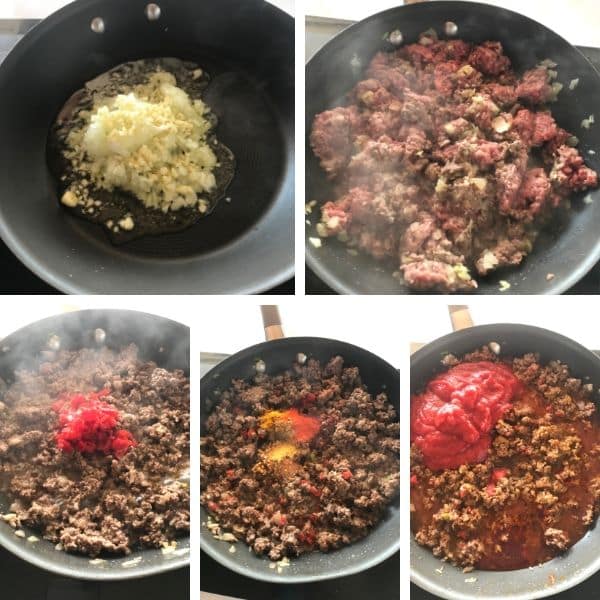 First sautee onion and garlic in olive oil until fragrant.
Add ground meat and brown.
Then you"ll need to add diced red bell pepper and stir for like 10 seconds.
Add all the spices and mix well.
Now pour the broth and tomato sauce, stir well and let it cook until thickened and most of the liquids evaporate.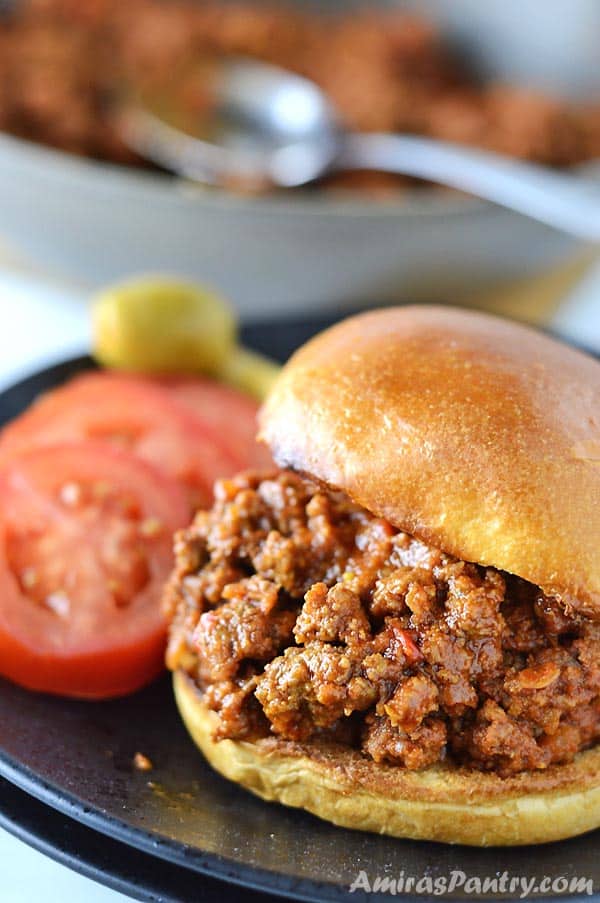 Ways to serve Sujuk meat
One of the reasons that drove me to make this recipe is " the boys". Believe it or not, last time we visited Egypt they did not eat sujuk at all!!. So as a stubborn mom who wants her kids to eat and enjoy food, especially ones she likes, I simply took it out of the casing :). Same flavor but in a form that they relate more to. You can :
Serve it over rice or pasta.
Form it into patties and grill as burgers. Think lamb burgers maybe.
Make a Sujuk pizza.
Mix with some beans and make Sujuk burritos.
How about Sujuk tacos?
Sujuk with eggs for breakfast.
Or you can go to basics and make sujuk sausages if you you have the tool for it. Just mix the ingredients together and stuff the casing.
Sujuk notes:
If you decided to try the patties or the sausages itself do not cook the stuffing. Just mix the spices, garlic, onion and raw ground meat and work with it as is.
Some people add onions and others just use garlic, I like it with both and that's what I did.
Fenugreek is a crucial flavor for this recipe, but I understand that not all people like it. If you do not like it, feel free to skip it. Fenugreek has a powerful smell and I only added ¼ teaspoon but the smell was obvious and it did not bother my family.
Sloppy Joes Sujuk
A less than 30 minutes dinner recipe for those busy days full of Middle Eastern flavors.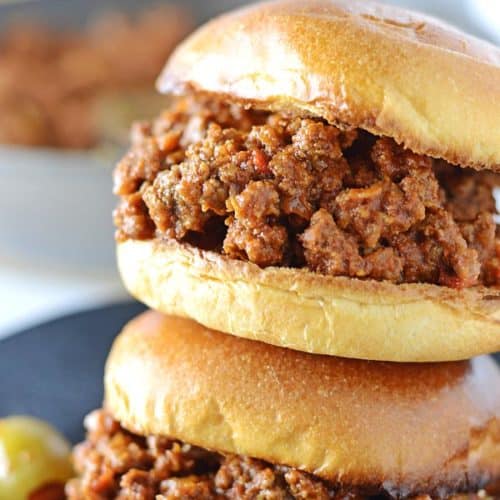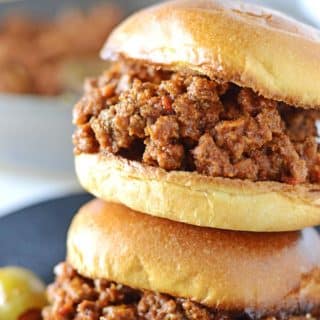 Sloppy Joes Sujuk
Sujuk Sloppy Joes made with ground beef, tomato gravy and loaded with sujuk spices. Ready in less than 30 minutes.
Print
Pin
Rate
Ingredients
1

pounds

ground meat.

3

garlic clove

minced.

½

small onion

diced.

2

Tablespoons

olive oil.

Spice mix:

2

Tablespoons

finely diced red bell pepper.

1

teaspoon

smoked paprika.

1

teaspoons

ground coriander

1

teaspoon

ground cumin.

1

teaspoon

curry powder.

1

teaspoon

salt.

½

teaspoon

chili flakes

optional.

¼

teaspoon

fenugreek.

1

cup

tomato sauce.

½

cup

beef broth.

4

brioche buns.
Instructions
In a large skillet sauté onion and garlic in olive oil until fragrant for about 2 minutes.

Add beef breaking it apart. Cook until browned almost 5-6 minutes.

Add spices, tomato sauce and broth. Continue to cook until the sauce is reduced.

Spoon mixture into buns and serve.
Notes
Please Note: Nutritional values calculated based on a 85% ground beef and the buns are not included.
Nutrition Facts

Sloppy Joes Sujuk

Amount Per Serving

Calories 339.5

Calories from Fat 217

% Daily Value*

Fat 24.1g37%

Cholesterol 70mg23%

Potassium 271.8mg8%

Carbohydrates 8.2g3%

Protein 24.3g49%

Vitamin A 12.6IU0%

Vitamin C 24.7mg30%

Calcium 2.2mg0%

Iron 16.1mg89%

* Percent Daily Values are based on a 2000 calorie diet.


Please check the nutrition disclaimer policy.
Nutrition
Calories:
339.5
kcal
|
Carbohydrates:
8.2
g
|
Protein:
24.3
g
|
Fat:
24.1
g
|
Saturated Fat:
8
g
|
Polyunsaturated Fat:
0.7
g
|
Monounsaturated Fat:
5
g
|
Cholesterol:
70
mg
|
Potassium:
271.8
mg
|
Fiber:
1.8
g
|
Sugar:
3.3
g
|
Vitamin A:
12.6
IU
|
Vitamin C:
24.7
mg
|
Calcium:
2.2
mg
|
Iron:
16.1
mg
Sign up and learn more about Mediterranean flavors