Pizza Burger Recipe, this is pizza and burger at the same time! Not your usual school pizza burger recipe, this is a crazy recipe for how to make a pizza burger.
Total time
1
hour
15
minutes
Pizza Burger Recipe, this is pizza and burger at the same time! Not your usual school pizza burger recipe, this is a crazy recipe for how to make a pizza burger.
For a more pizza innovations, try these quick pizza bites.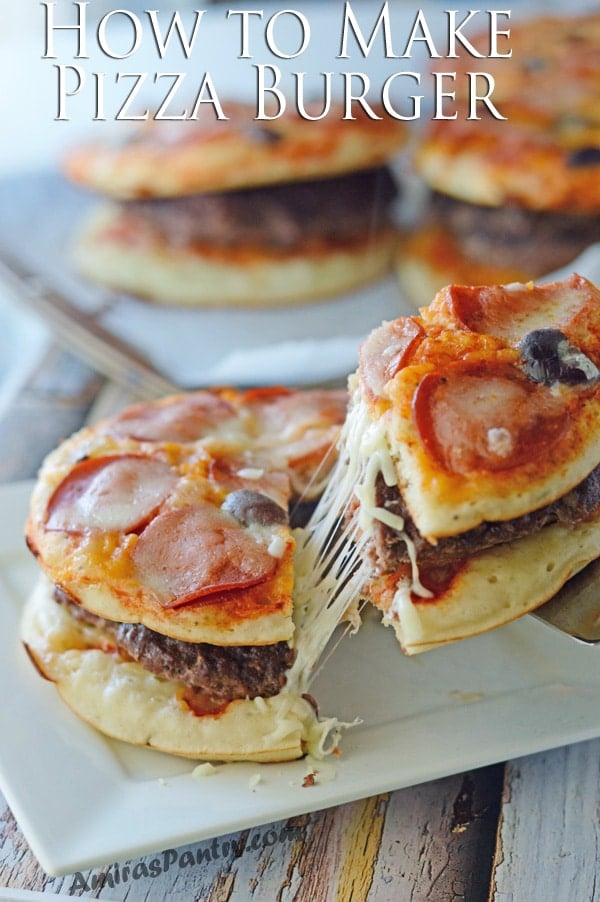 Homemade pizza burgers are burgers sandwiched between two pizzas, how terrifying crazy idea does this sound?! Whether you are a pizza fan or a burger fan, you'll definitely find something to eat.
Have you ever wondered what is it like to have burger and pizza in the same bite? Well, let me tell you it was totally a NEW experience.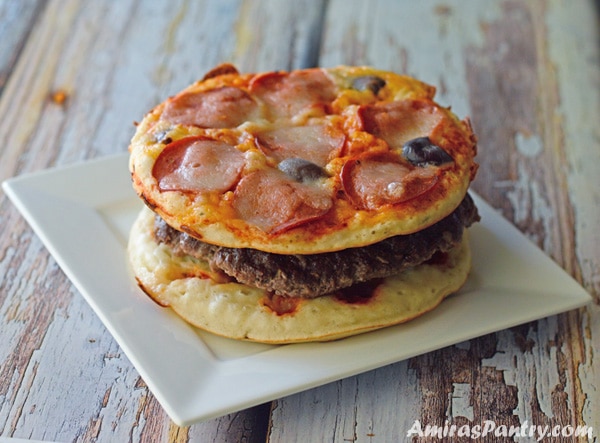 I was introduced to this culinary invention in Egypt, people went crazy over it. I've never imagined myself eating something that huge :), let alone making it. But hay, we are here to push ourselves and try new stuff, new flavors and new combinations. Why not? Whether we liked it or not, it is always a win to try something new.
Of course, for my family, they all went crazy over it. My little boy is not a fan of burgers so he went for the pizza. It was a major hit in my kitchen that I think will show up at least twice in my monthly menu plan. My teen took leftovers to school and his friends said " It was crazy good".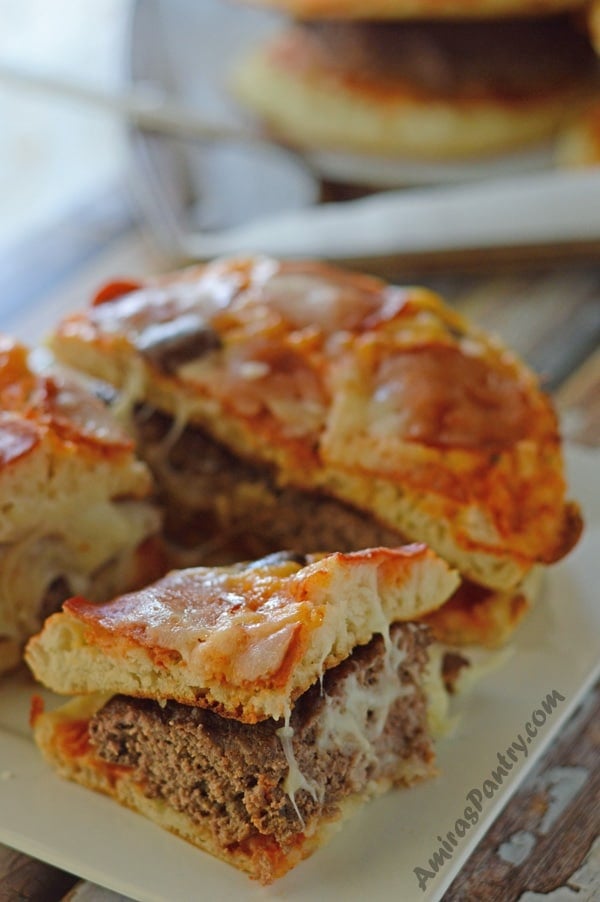 You can even cheat and make it with any store bought pizza (frozen or not) along with store bought burgers. In my case I wanted a somehow thinner crust that is not as heavy as the regular pizza. So I went for a stove top skillet pizza recipe that I saw on Facebook a couple of years ago.
I've tried this recipe many times for quick pizza fix and my kids love it a lot, for me I do not like it as a pizza but it is OK to have it on top of the burger.
So bottom line, use whatever works for you, the idea is you stuff your burger between two pizzas and enjoy. Let's go ahead and start
How do you make a pizza burger?
First of all I need to tell you guys, this is not How to make pizza with burger buns, this is real pizza with real burgers in between. It needs some time and effort but let me tell you it will put a smile on everyone's face, especially when you have a gathering.. Kids go crazy.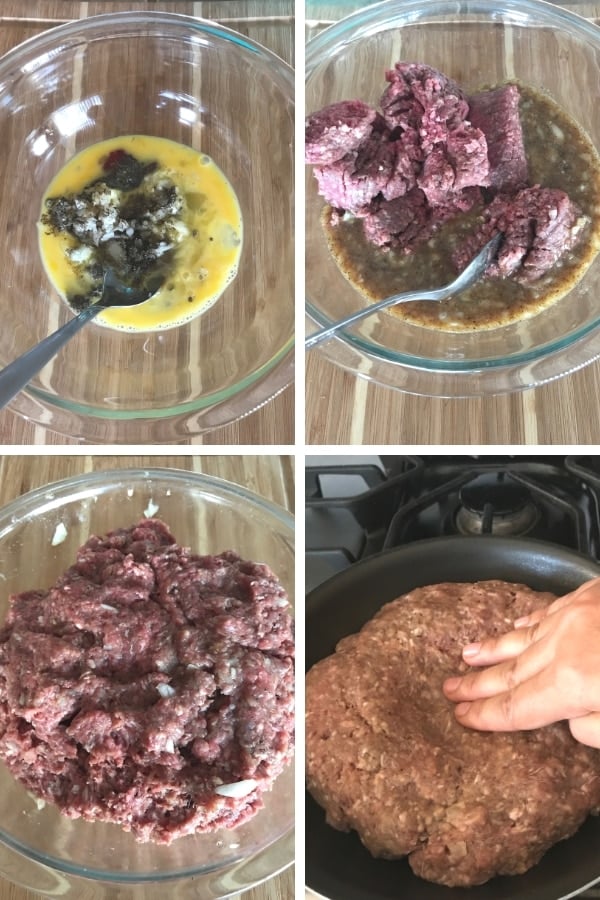 We'll start by making the burgers, mix everything except meat.
Add the meat and mix well. Divide into 4.
Form into 4 big patties with the help of an 8 inch skillet.
Make a shallow depression in the center of each burger to prevent puffing up during cooking. Cook in the oven, on stove top, or grill. Set aside.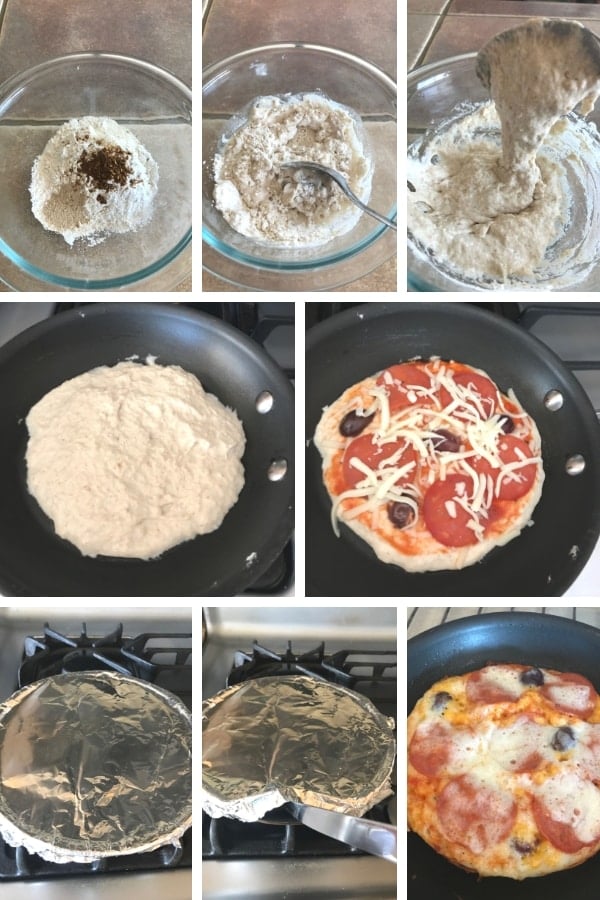 Prepare the pizza mix by first combining the dry ingredients.
Then add water and mix until you reach a sticky consistency like shown above.
Spread the mixture in the same 8 Inch skillet, add sauce, then toppings.
Cover tightly with foil and cook on medium low for 5 minutes.
Then lift the foil a bit and turn the heat down to low, and keep cooking for another 5 minutes. Congratulations, you've made the top pizza of the first burger.
To make the bottom pizza either follow the same directions or do as I did, I skipped any toppings just added sauce and loads of cheese.
You'll end up with 4 pizza tops and 4 bottoms with 4 huge chunky burgers.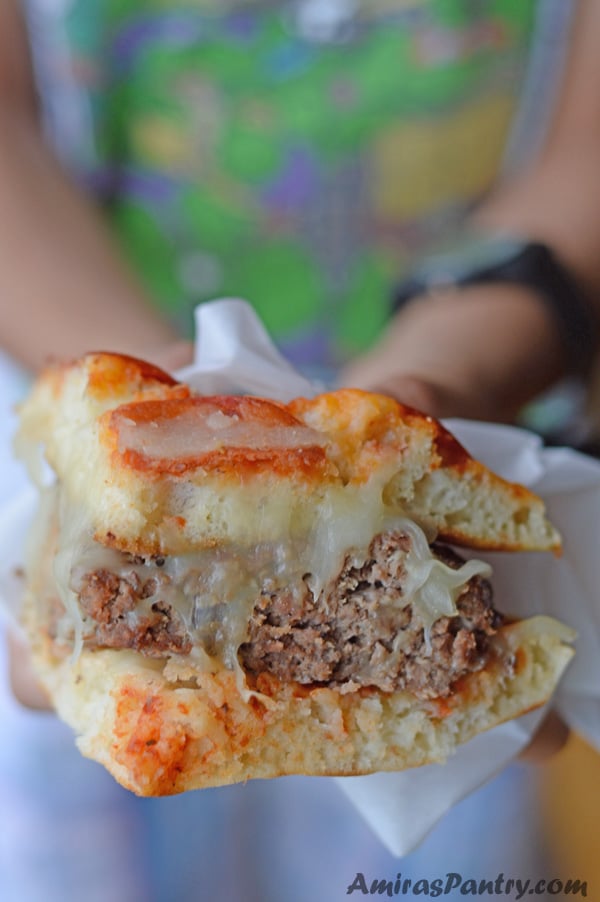 Each burger will serve 2 people with medium appetite, so with a little math done this recipe serves 8 people. You are free of course to scale this recipe up or down according to your crowed.
This is a pizza inside a burger inside a pizza :). This recipe had made me the coolest mom ever 😎 heheheh.
I hope you'll like this recipe and please if you make this recipe, snap a pic and hashtag it #amiraspantry — I love to see your creations on Instagram, Facebook, Twitter!
Don't want to miss a recipe? Sign up for the FREE Amira's Pantry newsletter delivered to your inbox with lots of tips and surprises! And stay in touch with me on Facebook, Twitter, Pinterest, and Instagram for all the latest updates.

Related Recipes
Gluten free meatballs made with fresh herbs, spices and rice flour ans also dairy and egg free. These Egyptian rice meatballs are fried then placed in flavorful tomato sauce for a delicious gluten free dinner.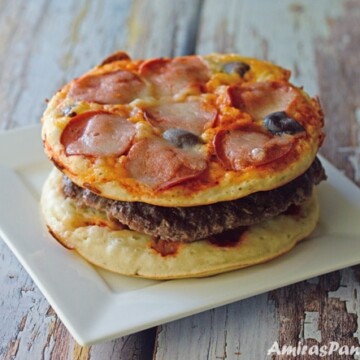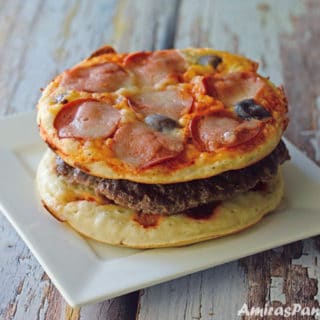 Homemade pizza burgers
Pizza Burger Recipe, this is pizza and burger at the same time! Not your usual school pizza burger recipe, this is a crazy recipe for how to make a pizza burger.
Print
Pin
Rate
Ingredients
For each pizza top(this is just foe one top):
½

cup

all purpose flour.

½

teaspoon

dry yeast.

½

teaspoon

baking powder.

½

teaspoon

sugar

¼

teaspoon

Za'atar.

A dash of salt.

**¼

cup

+1 Tablespoon warm water.
Topping:
4

Tablespoon

grated cheese

any type you prefer.

3

Tablespoons

pizza sauce.

5

slices

of pepperoni.

2

black olives

halved.
‫For each pizza bottom( this is just for one):‬
The same dough as the top part without topping just add some pizza sauce and cheese‬
‫For the Burgers‬ (ingredients for 4 patties):
‫3lb ground beef

‬

3

Large eggs.

1

teaspoons

salt

1

teaspoon 

freshly ground black pepper

3 

garlic cloves

minced

1-½

Tablespoons 

Worcestershire sauce

2

Tablespoons 

ketchup

1

small onion

finely chopped.
Instructions
Make the burger:
In a deep bowl combine the ingredients of the burger and mix well without over mixing.

Divide mixture into 4, and shape it gently so you'll have 4 big burgers. Set aside.
Make the upper pizza.
In a bowl, combine flour, Za'atar, baking powder, sugar, salt and yeast. Mix the dry ingredients well together.

Add water and mix well.

Wipe an 8 inch skillet with a kitchen towel that has some oil in it. Pour the pizza mixture, top with sauce then half the cheese, pepperoni, olives then the rest of the cheese.

Cover the skillet tightly with aluminum foil and turn the stove to medium-low keeping it there covered for 5 minutes then reduce heat to low and make a small opening in the foil to release vapor. Keep it on low for another 5 minutes.

Make the lower crust by following the same directions as the upper crust without all the toppings, I just added cheese.

For the lower crust I cooked it for 4 minutes covered and another 3-4 minutes on low with the vapor release opening.

While the pizza is cooking, shape your patties using a similar sized skillet. Grill them, cook in the oven or stove top. I cooked mine in a 400F oven for 20 minutes.

For the assembly, put the bottom crust first then burger, add whatever burger topping you want then top with the upper pizza crust.****

Cut into halves or quarters for easy handling.

Enjoy!!
Notes
*For each burger you'll need a top and a bottom, that's a total of 4 tops and 4 bottoms.
** For my flour when I added ⅓ cup of warm water it was too runny and was too thick when only a ¼ cup was added. So start with a ¼ cup and try to reach the consistency as shown above by adding 1 Tablespoons water at a time.
*** Toppings are your choice but do not go overboard with it.
**** For sanity purposes, I did not add our usual burger toppings i.e. lettuce, tomato and red onion slices. These would have slipped very easily from the little hands I have at home. So feel free to add whatever burger sauces or toppings you like.
Please Note: Nutrition facts are calculated for turkey pepperoni and assuming that you are using 85% lean ground beef.
Nutrition Facts
Homemade pizza burgers
Amount Per Serving
Calories 716.3
Calories from Fat 306
% Daily Value*
Fat 34g52%
Cholesterol 177.9mg59%
Sodium 815.8mg35%
Carbohydrates 51.1g17%
Protein 51.5g103%
Vitamin A 140IU3%
Vitamin C 2.2mg3%
Calcium 149mg15%
Iron 5.5mg31%
* Percent Daily Values are based on a 2000 calorie diet.
Nutrition
Calories:
716.3
kcal
|
Carbohydrates:
51.1
g
|
Protein:
51.5
g
|
Fat:
34
g
|
Saturated Fat:
11.4
g
|
Cholesterol:
177.9
mg
|
Sodium:
815.8
mg
|
Fiber:
2.7
g
|
Sugar:
3
g
|
Vitamin A:
140
IU
|
Vitamin C:
2.2
mg
|
Calcium:
149
mg
|
Iron:
5.5
mg
Sign up and learn more about Mediterranean flavors