Lentil stew or Ads-b-gebba is one of the frugal vegan recipes in Egypt. Tender lentils in rich tomato sauce very filling and tasty.
Vegan lentil stew is a comfort, rich and easy to make winter favorite for us.
Here is a lentil stew recipe that fills hungry tummies without breaking the bank. This recipe along with ful medames and falafel are every day's frugal recipes in Egypt.
This recipe originally published December 2015. Updated for some housekeeping things on January 2020. No change to the recipe!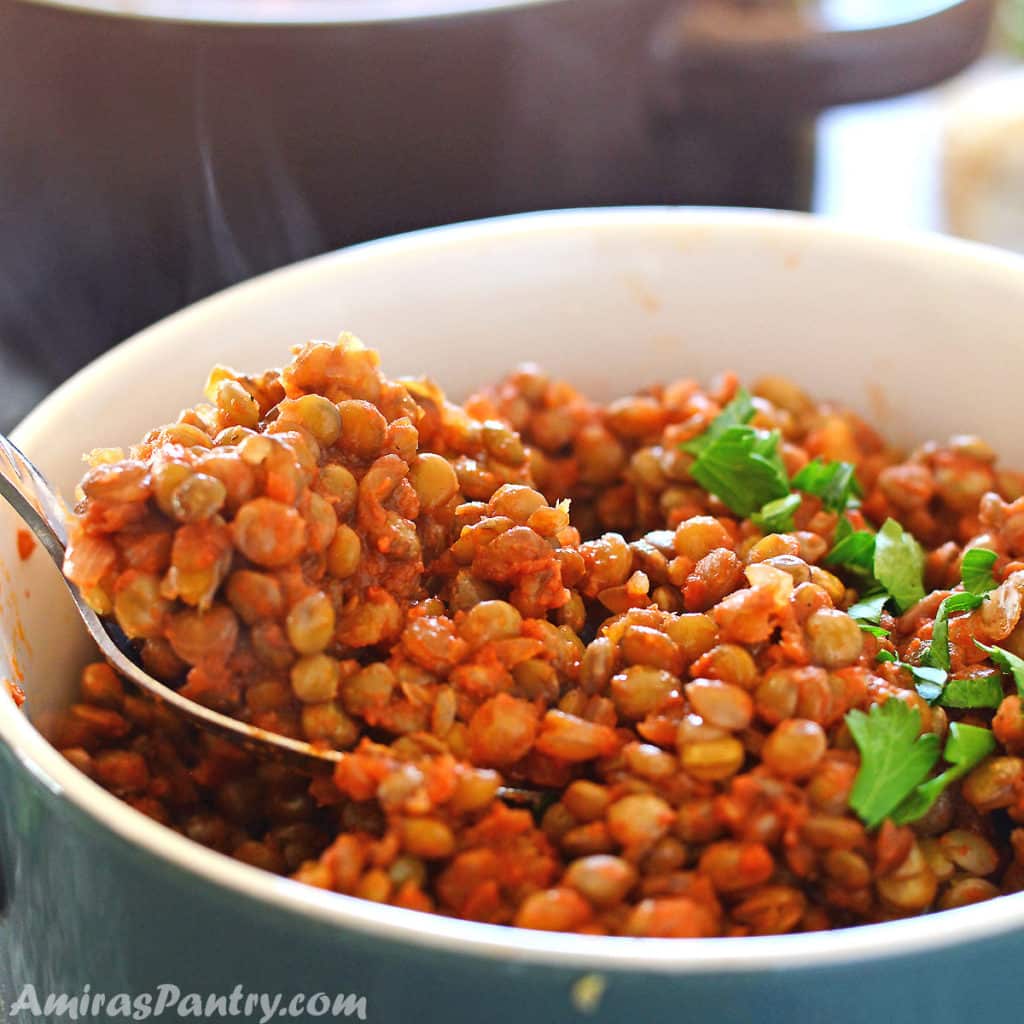 Egyptian Vegan Lentil Stew
When it comes to vegetarian and vegan cooking in the Middle East, lentils are a favorite ingredient. Lentil dishes are considered frugal hence they are very popular in Egypt.
This vegan lentil stew is called "ads b gebbah" in Egypt, and it is one of my favorite lentil recipes. It is rich, lightly flavored, and hearty without the meat.
How to freeze lentil stew?
I always like making big batches of lentil stew then divide into containers and freeze for lunches or emergency dinners. Lentil stew freezes very well for up to 3 months and can stay in the fridge for up to 5 days.
Do you have to soak lentils before cooking?
Do not soak lentils before cooking. Just pick up any debris if any and rinse well.
Can you use canned lentils in this recipe?
Well, yes and no. I actually like using dry lentils for the texture plus it is cheaper.
How to make lentil stew?
First you'll need to partially cook the lentils. Wash dry lentils under cold running water then place in a deep pot and cover with cold water and add a pinch of salt.
Bring to a boil, reduce heat and simmer for 25 minutes. Drain lentils and set aside.
In the same pot, saute onion and garlic in olive oil. Pour in the tomato sauce, paste and water.
Stir in spices then add the partially cooked lentils.
Reduce heat and let everything simmer for another 10-15 minutes until lentils are done to your liking.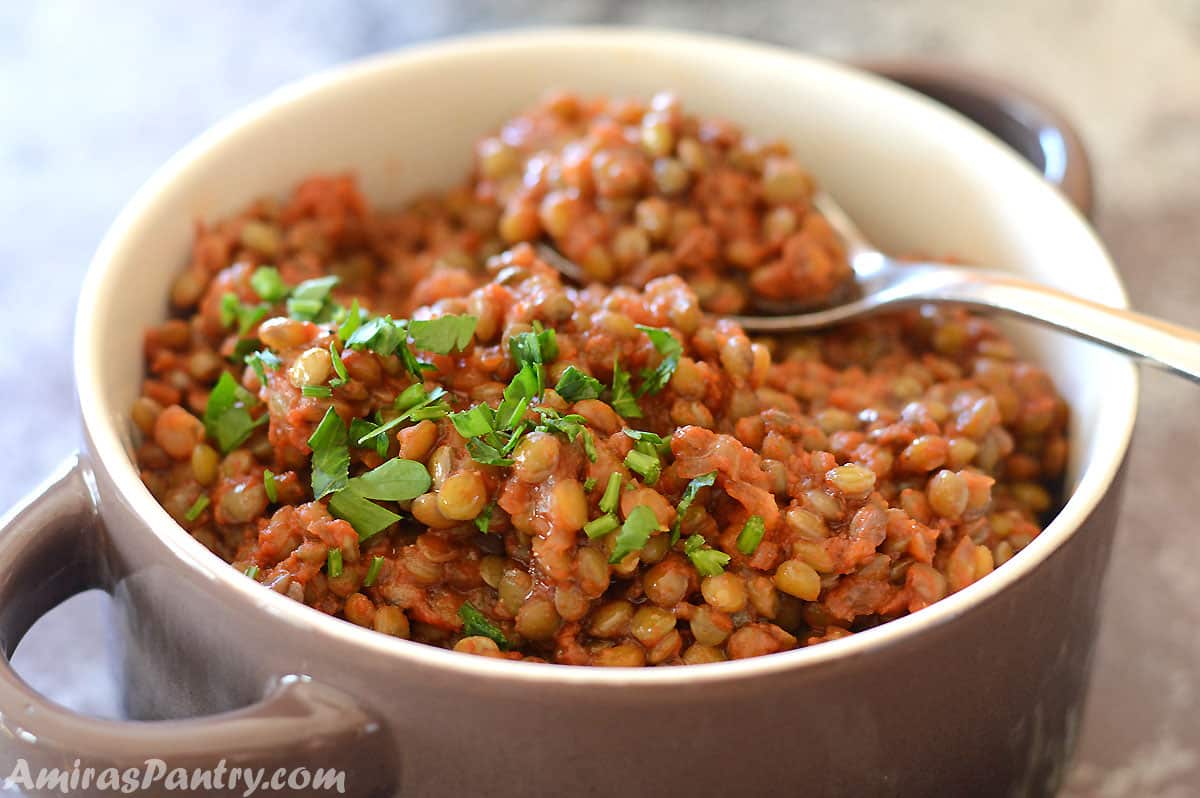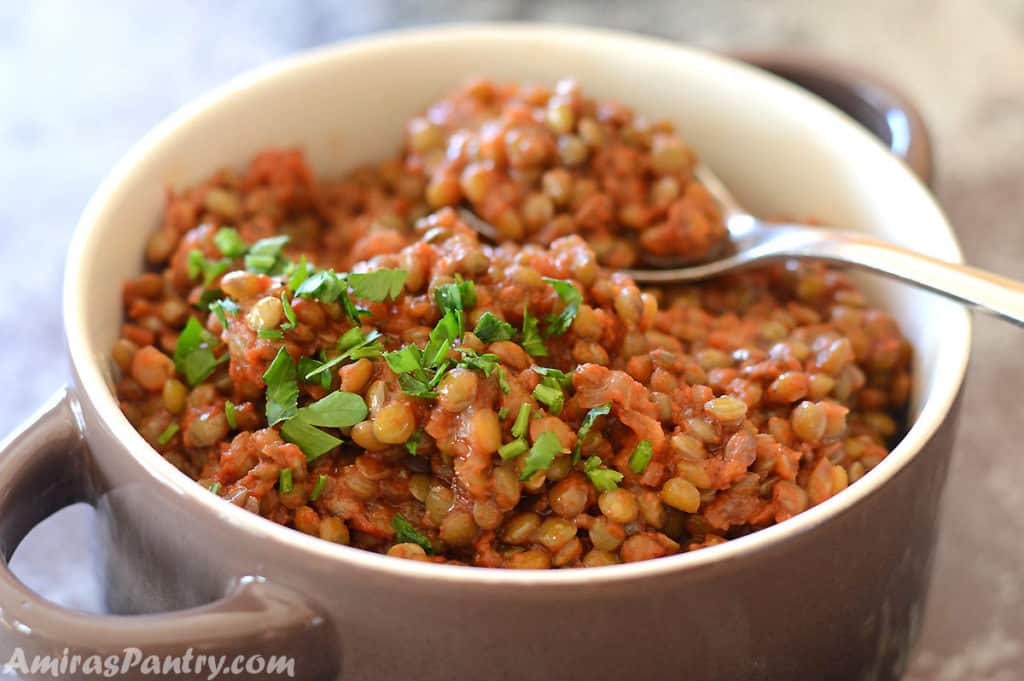 Vegan Recipes to enjoy
Egyptian Koshari
Koshary, koshari or kushari is one of the traditional Egyptian food. This dish is considered the national dish of Egypt and a very popular street food. Egyptian koshari recipe is one of the easy Egyptian recipes.
Check out this recipe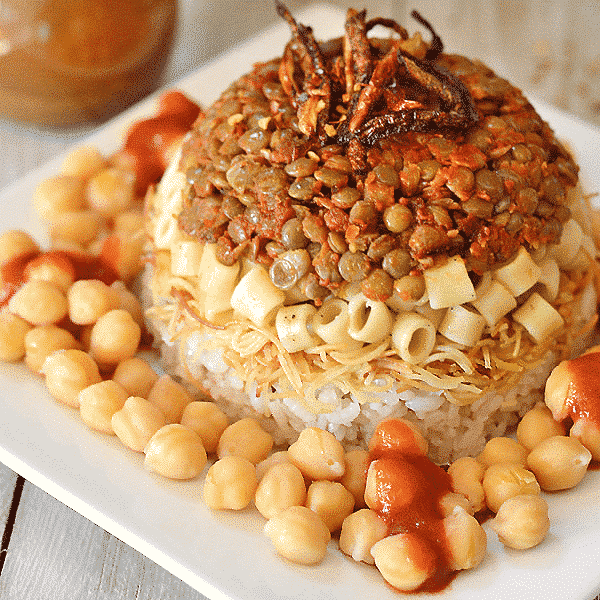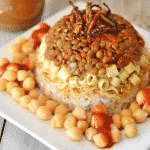 Ful Medammes
A traditional Egyptian breakfast dish that can be prepared in so many different ways. Learn how to make your own Ful Medammes from scratch.
Check out this recipe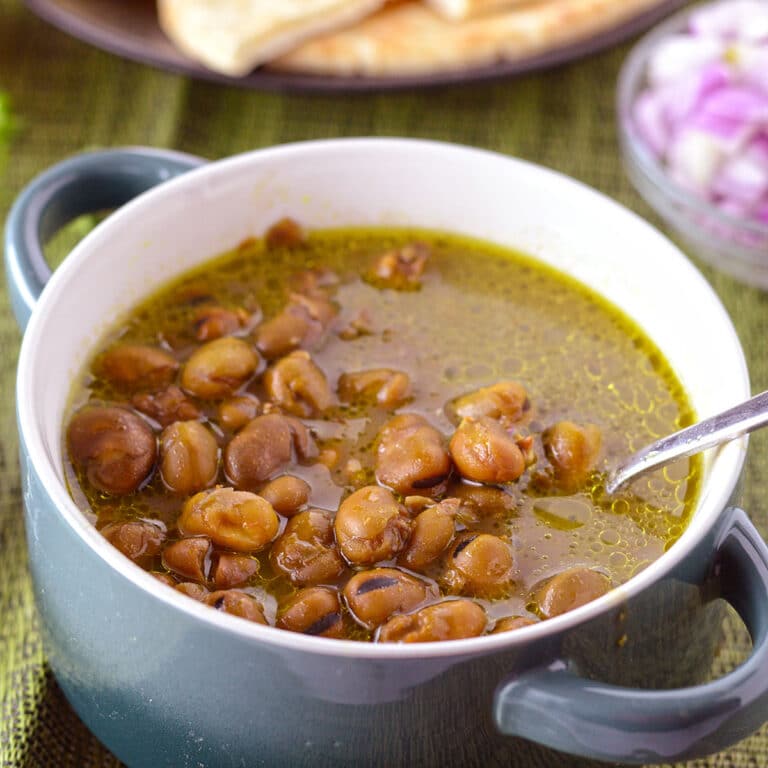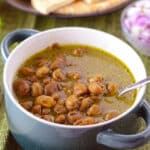 Falafel
Learn how to make airy and fluffy falafel with beans, this is the authentic green falafel recipe with its tips and tricks.
Check out this recipe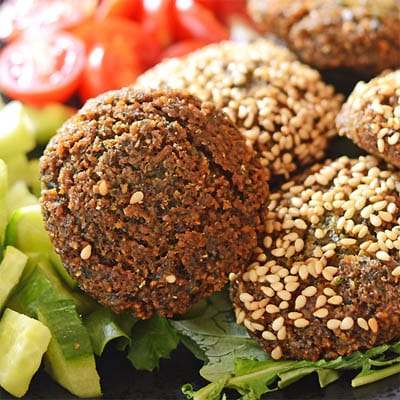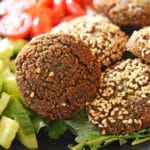 Bissara, fava beans dip
A traditional Egyptian vegan fava bean dip that can be served in parties as a dip or scooped up with some pita bread for lunch or meatless dinner.
Check out this recipe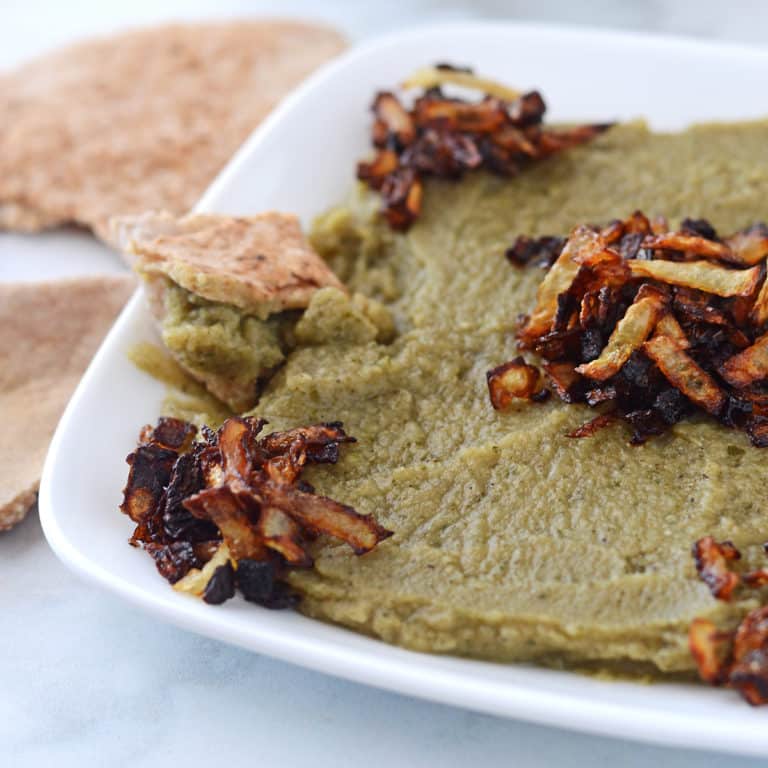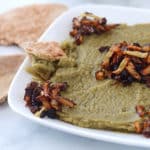 Related Recipes
Molokhia is a traditional Egyptian green soup full of earthy and garlicky flavors. Try the best and easiest Molokhia recipe, it is a fans favorite recipe.
Koshari is a delicious Vegetarian Egyptian dish with rice, pasta and lentils all with a spicy garlicky tomato sauce. Learn how to make Koshari like a pro with this easy recipe.
If you like this recipe do not forget to give it a ⭐⭐⭐⭐⭐ star rating and attach a photo of your finished dish. It is always a pleasure of mine to see your photos and check your own take of the recipe. Thank you.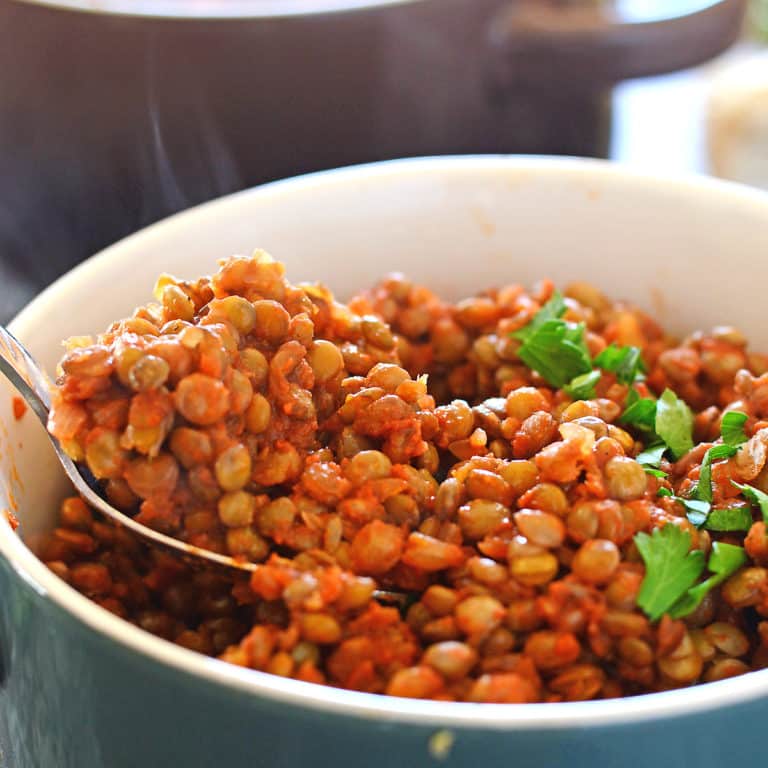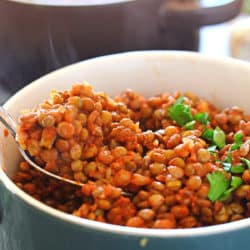 Vegan Lentil Stew
Lentil stew or Ads-b-gebba is one of the frugal vegan recipes in Egypt. Tender lentils in rich tomato sauce very filling and tasty.
Print
Pin
Rate
Ingredients
2

cups

brown lentils.

1

medium onion- roughly chopped.

2

garlic clove- minced.

3

Tablespoon

olive oil.

1

Tablespoon

tomato paste .

1

(14 oz)

can of tomato sauce.

¼

cup

of water.

1

teaspoon

Salt

or to taste.

1

teaspoon

ground cumin

1

teaspoon

paprika

½

teaspoon

coriander.

¼

teaspoon

black pepper
Instructions
Start by rinsing the lentils very well, put lentils in a deep pot, fill with cold water to cover lentils, add a pinch of salt and bring to a boil.

Reduce the heat and let it simmer until almost done, we do not want to completely cook the lentils as it will continue cooking in the tomato sauce later. Drain lentils immediately.

In the same pot -as we do not need more cleaning- heat olive oil, saute the chopped onions, then add the garlic.

Add tomato sauce, water and tomato paste, simmer for 3-4 minutes then add the lentils and the spices.


Continue simmering for more 10 minutes or until lentils are completely done.

Serving suggestion: serve topped with avocado slices, chopped onions, cilantro and eat with rice , couscous or crusty bread.

Nutrition
Calories:
253.7
kcal
|
Carbohydrates:
36.6
g
|
Protein:
11.6
g
|
Fat:
7.7
g
|
Sodium:
497.9
mg
|
Potassium:
351.2
mg
|
Fiber:
13.3
g
|
Sugar:
4.4
g
|
Vitamin A:
10.2
IU
|
Vitamin C:
14.1
mg
|
Calcium:
1.8
mg
|
Iron:
6.1
mg
Sign up and learn more about Mediterranean flavors