Soaked in tomato sauce, flavored with all the necessary spices, this is the best – if not the only- way to make my kids eat veggies. Tomato sauce lends any veggies a desirable taste specially for little tummies. In fact, this is how we usually eat our veggies in the Middle East.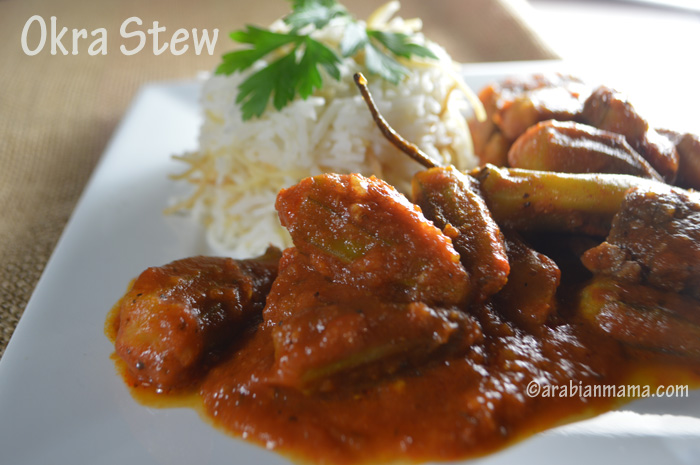 I wanted to introduce you to this way of veggie cooking a long time ago and when Maryam encouraged us at MENA to cook some of the wonderful Iraqi dishes, I've seen the chance I was waiting for.
This way of veggie cooking is almost how we eat our daily veggies in the Middle East, you can use it to cook okra, peas, green beans, zucchini, …. you name it.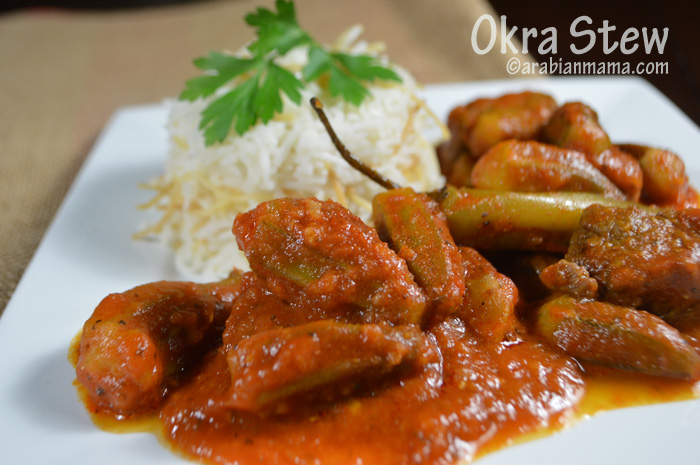 Not only delicious and appealing but also very easy to make. You can skip the beef and make it frugal 🙂 or you can add some minced meat, but this way does not go well with chicken, so I do not recommend substituting beef with chicken.
I was wondering when I first landed in the US, how do people here eat the veggies?, and was so surprised that they do not just put it with tomato sauce.
I hope you'll try this way specially if you are having trouble convincing your kids to eat their veggies. Can be served with white rice or pasta.
Here is a short video on how to prepare okra stew on my youtube channel.

Okra Stew- Bamya
2014-12-10 09:52:27
Ingredients
1 pound of okra- fresh or frozen.
1 pound of beef stew boiled and cooked.
2-3 cups of tomato sauce.
1 medium sized onion-chopped.
2 garlic cloves- minced.
2 chilli peppers- optional.
3 Tbs olive oil ... salt/pepper
Instructions
Saute onions and garlic in olive oil. Add the chili peppers and stir
Add the tomato sauce, the okra, salt and pepper and stir to combine. Cover and let it cook.
Check for doneness and liquid level every 15 minutes.
When it is almost done, after 35-40 minutes, add the cooked beef. Let it simmer for another 10 minutes.
Serve hot with white rice or pita bread.
Usually served with a squeeze of lemon juice.
Enjoy.
Notes
Very important to regularly check the liquid level in the pot. If the liquid level is too low add a cup of water/stock at a time to prevent it from burning as okra tend to burn quickly.
Amira's Pantry https://amiraspantry.com/
Enjoy the rest of the week. Do not forget to check out the other members for this month's Iraqi cooking.