Okra or Bamia is one of the most famous Egyptian recipe. Make it with beef or lamb, it is delicious both ways.
Soaked in tomato sauce, flavored with all the necessary spices, this is the best - if not the only- way to make my kids eat veggies. Tomato sauce lends any veggies a desirable taste specially for little tummies. In fact, this is how we usually eat our veggies in the Middle East.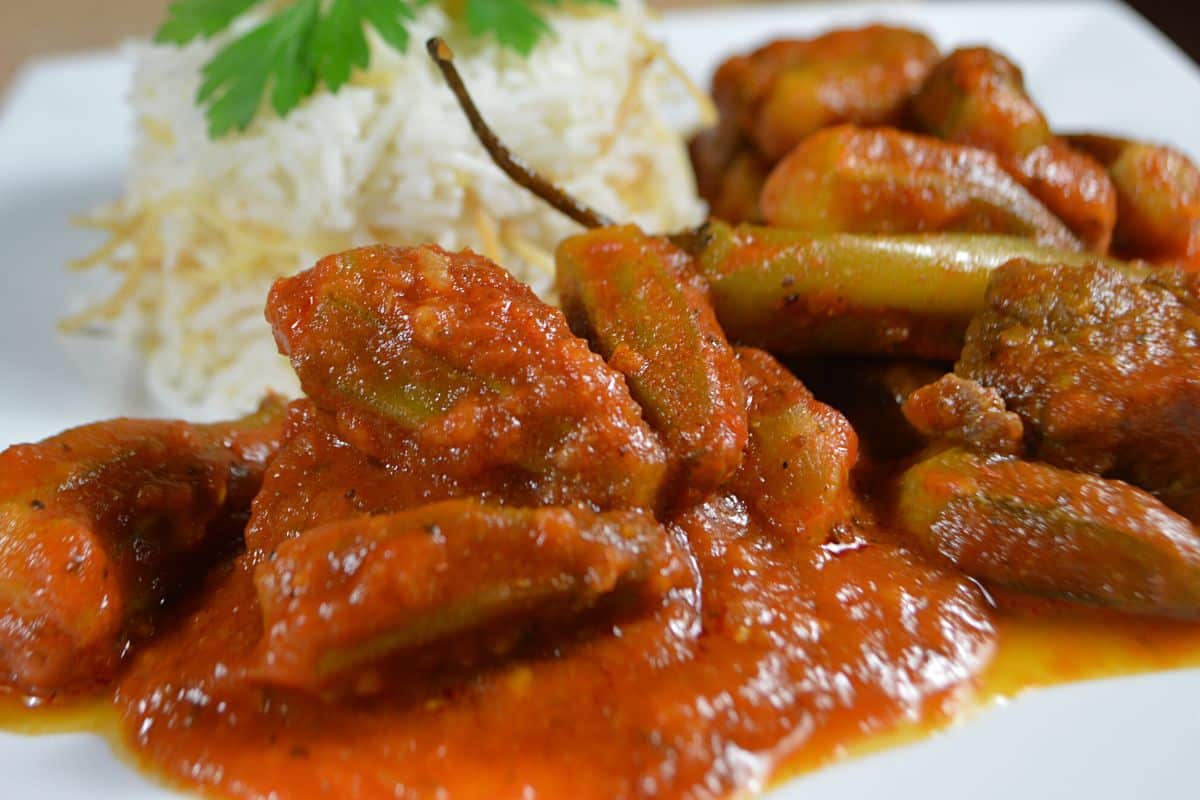 This way of veggie cooking is almost how we eat our daily veggies in the Middle East, you can use it to cook okra, peas, green beans, zucchini, .... you name it.
Not only delicious and appealing but also very easy to make. You can skip the beef and make it frugal 🙂 or you can add some minced meat, but this way does not go well with chicken, so I do not recommend substituting beef with chicken.
I was wondering when I first landed in the US, how do people here eat the veggies?, and was so surprised that they do not just put it with tomato sauce.
I hope you'll try this way specially if you are having trouble convincing your kids to eat their veggies. Can be served with white rice or pasta.
Serve with
Unleavened bread is easy to make and does not require any special ingredients or equipment. All you need is flour, water, olive oil and salt.
Try this delicious and easy to follow Lebanese rice recipe, perfect side dish for any Middle Eastern meal. Garnish with fresh herbs or toasted pine nuts to boost flavors.
Related Recipes
Mulukhia is a traditional soup in Egypt. It's very healthy and easy to cook.
Make this Frozen Okra Recipe for a vegan main dish or a delightful side dish to any meal. Well seasoned okra in rich, tangy tomato sauce with cilantro, this recipe will have you savoring the unique flavors of this popular vegetable.
If you like this recipe do not forget to give it a ⭐⭐⭐⭐⭐ star rating and attach a photo of your finished dish. It is always a pleasure of mine to see your photos and check your own take of the recipe. Thank you.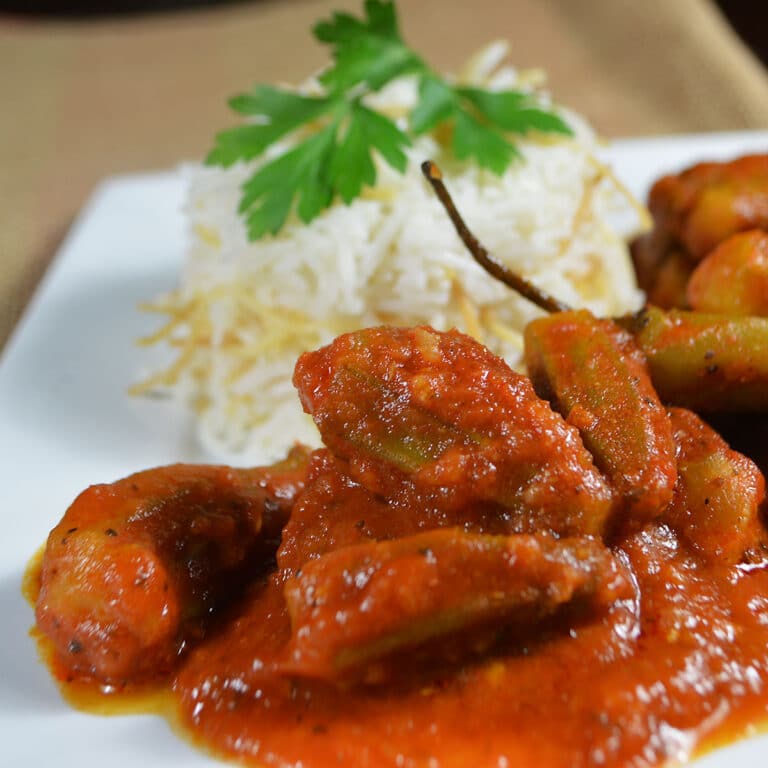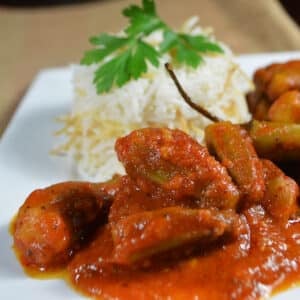 Okra Stew
Okra or Bamia is one of the most famous Egyptian recipe. Make it with beef or lamb, it is delicious both ways.
Print
Pin
Rate
Ingredients
For cooking the beef
1

pound

beef

cut into 1 in cubes, Note1.

1

medium onion

, quartered.

3

cardamom pods

, crushed.

2

bay leaves

Water to cover.
For the okra stew:
2

Tablespoons

olive oil

1

medium sized onion-chopped.

2

garlic cloves- minced.

½ - 1

teaspoon

ground coriander.

2

jalapeño peppers

, optional.

1

cup

broth

Note2

1

bag

(10oz) frozen okra

Note3

1

can

(15oz) tomato sauce.

1

teaspoon

salt

½

teaspoon

ground black pepper.
Instructions
Cooking the beef:
In a deep pot over medium high heat, add water, onion, bay leaves and cardamom pods then bring to a boil.

Add beef cubes continue to boil for 5 minutes skimming the foam from the top. Then reduce heat to medium and keep cooking until beef is done. Note4

Strain the beef keeping the beef and beef broth aside.
Cook the okra:
In a pot over medium heat, heat oil. Saute onions and garlic until fragrant. Add coriander and stir for a minute then add the peppers if using.

Pour the tomato sauce, along with one cup of the beef broth we just made. Bring to a boil.

Stir in the okra, salt and pepper . Adjust seasoning then cover and let it cook.

Bring back to a boil then reduce heat and simmer. Check liquid level regularly as okra scorches easily.

When it is almost done, after 35-40 minutes, add the cooked beef. Let it simmer for another 10 minutes.
Notes
Note1: Basically you can use any beef cut you like with or without bones. Traditionally okra beef stew is not made with bone-in beef but it is really a very forgiving recipe. You can also use lamb, it goes great with okra.
Note2: Use the broth from cooking the meat. If you want to make it vegan skip the meat and use vegetable stock.
Note3: You can also use fresh and trimmed okra. If you only find 1 pound frozen okra bags you can use the whole pound as well.
Note4: Some people like to brown the beef first in the oven or in a skillet before adding it to the water. You can add celery stalks and carrots into your broth to enhance the flavor much like we did in this fattah recipe.
Serve bamia with:
Serve hot with white rice or pita bread. Lemon wedges on the side is highly desirable.
Please check the nutrition disclaimer policy.
Vitamins are in percentage value. Percent Daily Values are based on a 2,000 calorie diet. Your daily values may be higher or lower depending on your calorie needs.
Nutrition
Calories:
324.5
kcal
|
Protein:
34.9
g
|
Fat:
15
g
|
Saturated Fat:
4.4
g
|
Polyunsaturated Fat:
0.9
g
|
Monounsaturated Fat:
7.1
g
|
Cholesterol:
91.9
mg
|
Sodium:
648.5
mg
|
Potassium:
814.7
mg
|
Fiber:
4.2
g
|
Sugar:
5.7
g
|
Vitamin A:
12
IU
|
Calcium:
9.3
mg
|
Iron:
24.3
mg
Sign up and learn more about Mediterranean flavors