A slow cooker beef stew recipe with chickpeas and carrots. Flavored with Middle Eastern spices for the ultimate comfort food meal throughout the year.
Total time
4
hours
10
minutes
Beef stew recipe, this wonderful comfort meal is made even easier in your crockpot. Tender beef and vegetables cooked with heavenly Middle Eastern spices is going to be a year round staple in your kitchen.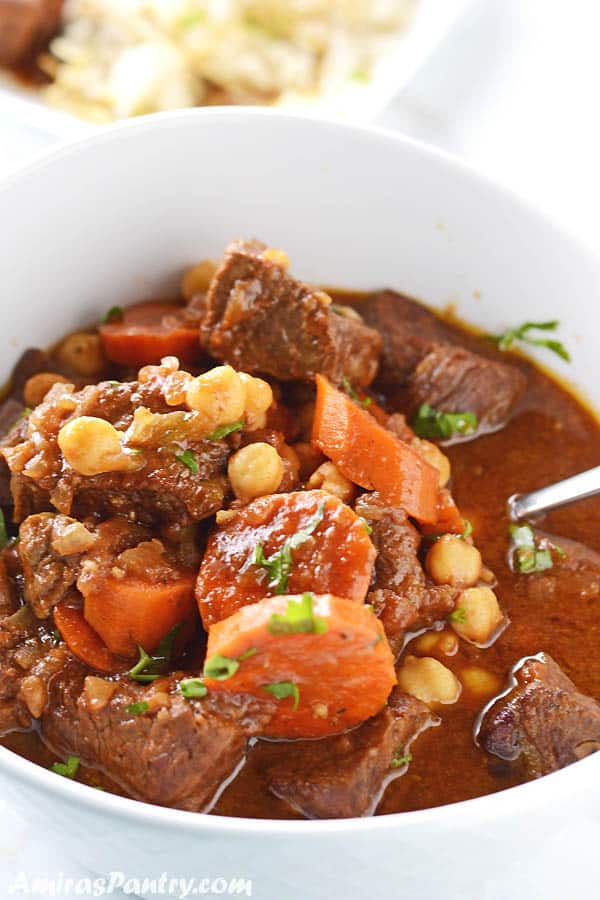 Slow Cooker Beef Stew
I grew up with beef stew with all kinds of vegetables with it, like this okra beef stew. Beef stew was a staple in our home all year round. My mom made beef stew with potato, okra, beans, peas, zucchini, carrots or a combination of them. When I was young I especially loved the okra one yet hated the taro!!
This beef stew here is made with chickpeas. This is called "Tajin hummus bel lahma" which translate to chickpeas and beef tajine.
Slow cooker meals are always a win-win in my home, like this slow cooker chicken. They do not require much work and saves the day. I do not know why I almost always make a slow cooker dinner on Wednesdays. I feel that Wednesdays are always crazy and and when mid-week crisis hits, I turn to my slow cooker or insta pot to save dinner that night.
My mom used to cook the meat first then throw them with vegetables, some broth and tomato sauce in a pot to cook vegetables. Today we are going to brown the beef with onions and garlic then put all the ingredients in the slow cooker and let it do the work. This step of browning the meat is a necessary, I honestly find the more you sear the meat the better. I do not like to throw the meat un-browned in the slow cooker, I did this step before in this slow cooker meatballs recipe and I even tried quick oven browning in this Moroccan inspired crockpot meatballs. It only take about 10 minutes but it makes a whole lot of difference in the flavor.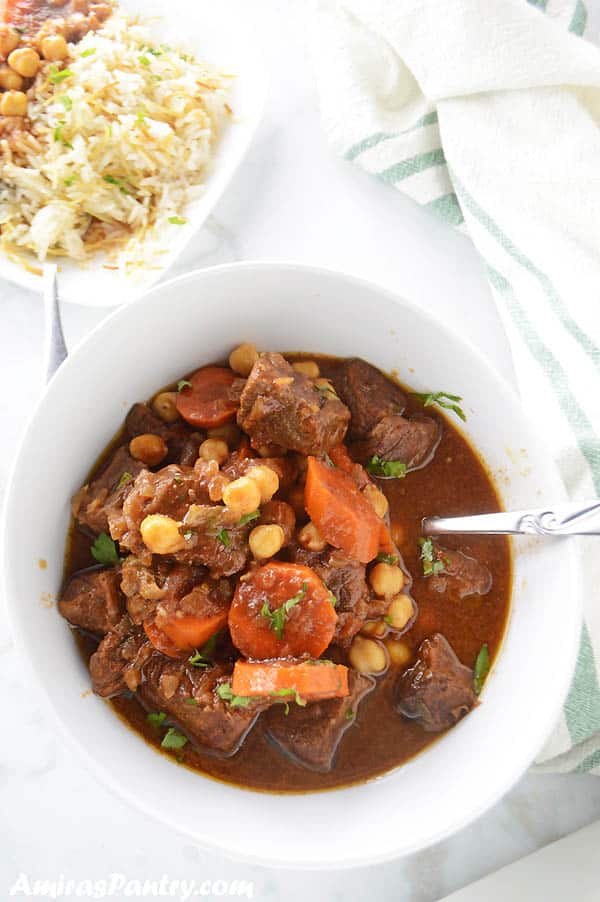 What meat is best for stew?
I usually use beef chuck roast, it is affordable and I can find it on sale pretty much every other week. It is a balanced cut for many recipes and has good beef flavor. Just trim excess fat and cut it into chunks and you are good to go.
Does boiling stew meat make it tender?
This is a slow cooker recipe, so we basically do everything in the slow cooker. Chuck meat is pretty tough cut and needs time to break down and be fork tender, we give it that time in the slow cooker. If you rush the time it will be chewy and tough.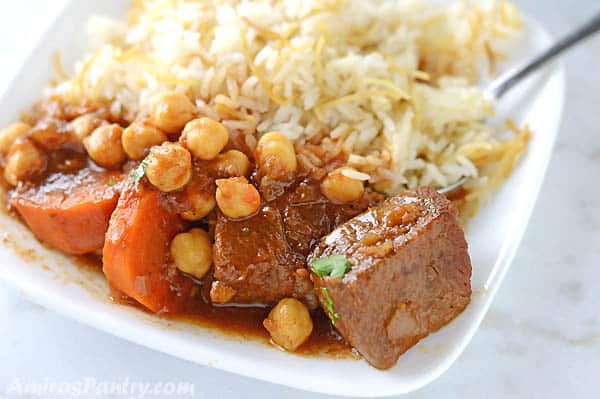 How to make beef stew
Making beef stew has never been easier with your ever lasting friend, the slow cooker. Feel free to make this recipe on the stove top, oven or in your instant pot.
Beef Stew Ingredients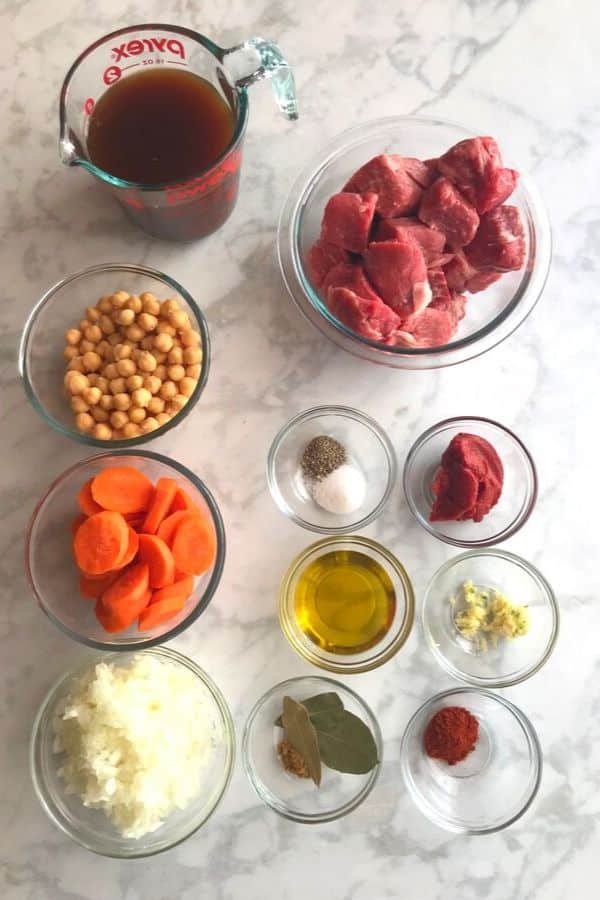 Onions and Garlic: these two are main ingredients and don't you think of skipping them. Giving them a quick round with the beef caramelize the onions and gets the best out of them both.
Oil: Use olive oil or any oil you like, this is used for searing the beef all over in the first step. No more is needed afterwards.
Vegetables: I've used carrots and a can of chickpeas. You can use dry chickpeas. Wash them and put them in the slow cooker right from the beginning.
Broth : for extra meat flavor. You can use homemade or water if you do not like this extra kick.
Spices : aside from ground black pepper and salt we are going to use bay leaves, paprika and cumin. This combination gives a really nice authentic flavor to the stew.
Beef Stew Recipe in Slow Cooker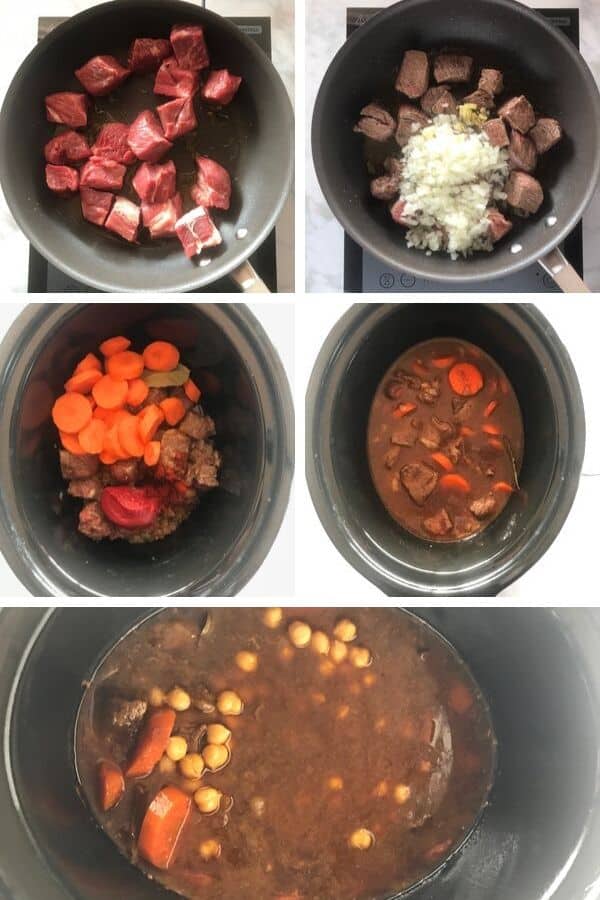 Brown the beef: you'll need to brown the beef well in all directions possible. The more brown is your beef the more flavors you'll get in your stew. I used olive oil for this step, some people use butter or even ghee.
Add the onions and garlic, saute well making sure to get the brown stuff off the pan as well.
Add all these yummy things in the slow cooker. Add the spices, carrots and tomato paste.
Pour in the stock and mix everything together. Cover and let it cook.
When it is almost done, like 30 minutes before cooking ends, add the chickpeas. Cover and let it finish cooking.
Notes on beef stew recipe
For me, this is how I am used to eating beef stew since I was a little kid. You might want to thicken the sauce a bit for a more gravy like consistency. If this is your thing you can make a cornstarch slurry. Mix 1 part of cornstach with 2 parts of cold water well then add to the slow cooker in the last 30 minutes.
Vegetables cook quicker than meat, but I usually add carrots and baby red potatoes from the beginning. If I plan to add peas for example I add it in the last 30 minutes of cooking right from frozen.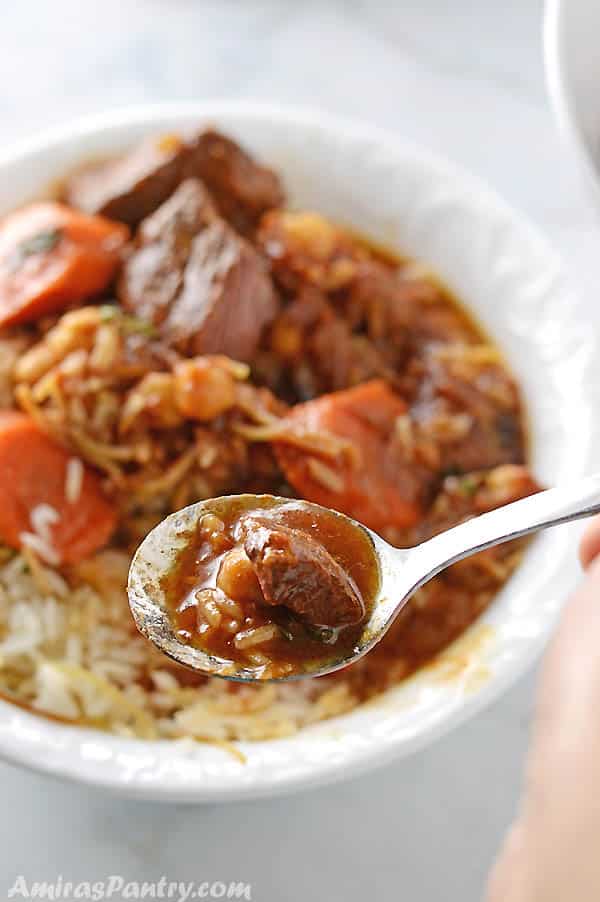 Beef Stew vs Pot Roast
Pot roast is a one piece of chuck roast, usually, cooked and served with gravy. Beef stew on the other hand is what you see here, small chunks of beef cooked with a variety of vegetable low and slow and this is what stew means. Obviously, pot roasts take longer to cook as it is cooked in one big piece.
Serve with:
My kids usually like beef stew with Lebanese rice like pictures above but you can serve it with other starchy items to mop all the great flavors to the last bit. Beef stew and biscuits is one way, or use crusty bread, mashed potatoes, pasta, cornbread... so you choose whatever you like
Related Recipes
These delicious shish kabobs are easy to prepare and they taste great.
Bamya is delicious okra stew in tomato and pepper sauce. Bamya is a middle eastern dish, popular year round.
Beef Stew Recipe
If you like this recipe do not forget to give it a ⭐⭐⭐⭐⭐ star rating and attach a photo of your finished dish. It is always a pleasure of mine to see your photos and check your own take of the recipe. Thank you.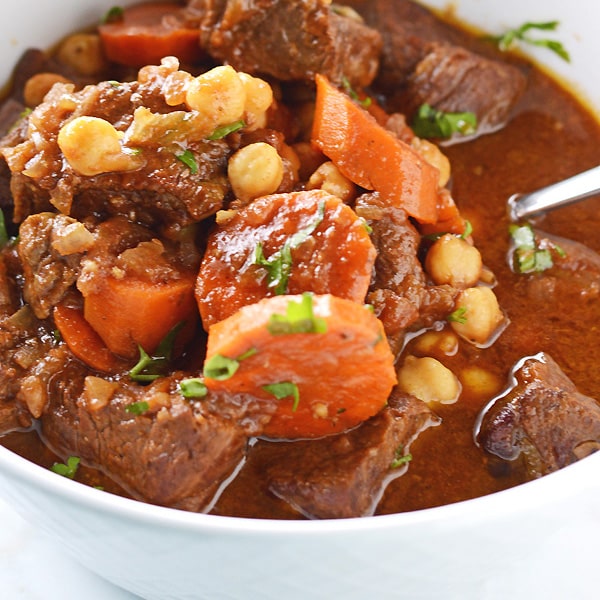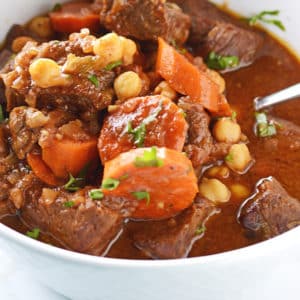 Beef stew recipe
A slow cooker beef stew recipe with chickpeas and carrots. Flavored with Middle Eastern spices for the ultimate comfort food meal throughout the year.
Print
Pin
Rate
Ingredients
2

Tablespoons

olive oil.

2

pounds

chuck roast beef.

Trimmed and cut into 1 inch cubes.

1

medium onion

diced.

3

garlic cloves

minced.

2

carrots

diced or sliced (optional)

2

cups

beef broth or water.

¼

cup

tomato paste.

2-3

bay leaves.

1

teaspoon

paprika.

½

teaspoon

ground black pepper.

1

teaspoon

salt or to taste.

¼

teaspoon

ground cumin.

1

can garbanzo beans

washed and drained. (Note1)
Instructions
In a large non stick skillet over medium heat, add olive oil.

Add beef and brown.

Add onion and garlic to the skillet and keep cooking for another 1-2 minutes.

Place skillet content in the slow cooker.

Add the rest of the ingredients except for the garbanzo beans.

Cover and cook on high for 4 hours or on low for 7 hours.

When it is almost done, uncover stir in the chickpeas.

Cover and let it continue cooking.
Notes
Note1: You can use dry chickpeas put place them from the start. You can also use any sort of vegetables you like.
Nutrition
Calories:
416.1
kcal
|
Carbohydrates:
22
g
|
Protein:
42.3
g
|
Fat:
17.7
g
|
Fiber:
6.8
g
|
Sugar:
3.8
g
|
Vitamin A:
70
IU
|
Vitamin C:
10.8
mg
|
Calcium:
6.5
mg
Sign up and learn more about Mediterranean flavors