Fill the house with amazingly sweet middle eastern aromas with this Moroccan beef tagine recipe . Seriously tasty and easy to make, made it with beef, but you can use lamb, chicken or even make it meatless, the flavors are fantastic.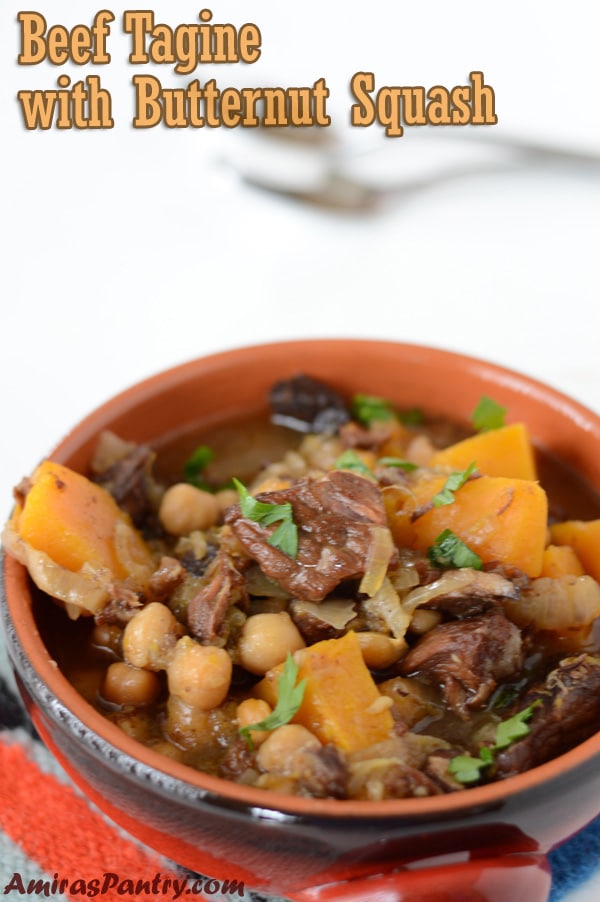 Ok guys, after all these candies from the Halloween and my last post of the death by jello cake, we are all ready for some healthy savory bites and nothing is better than aromatic Moroccan tagine over a bed or buttery herby couscous.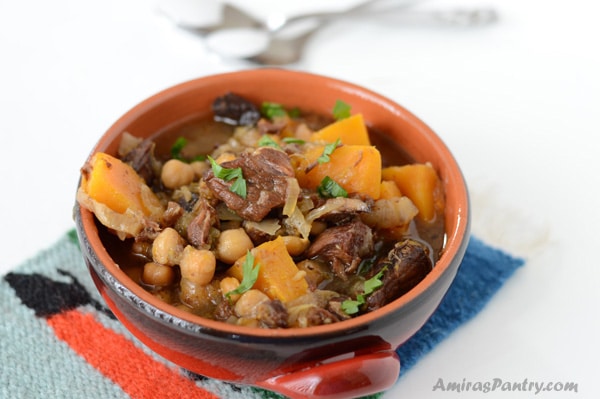 I cannot believe it is November, December is after November, then January!!. So another year is about to start and we'll soon say goodbye to 2016, what? when did this happen? Where has the years gone? I can't believe that it has been almost 11 years since we first stepped here in the United states.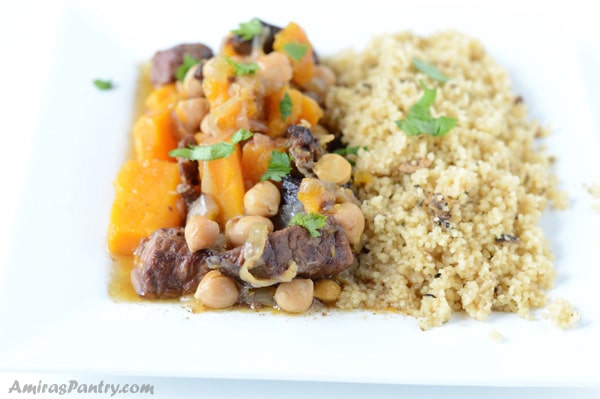 It is really amazing how we change over the course of years, not only physically or that we are aging but also of how our thoughts and feelings might change. I can now safely and honestly say that the United States has become my home. Do not get me wrong I still love Egypt where I was raised and spent most of my life, I still long to the streets, its shining sun and the people there. I still love the moment the plan lands there and I smell the air there.
But you know what is really amazes me, is that the first couple of months was so hard, I felt I am suffocating and was going to die in my sleep for sure 😱. Everything was new to me in a way that I did not like at all, funny that now when I am not here I feel displaced!!! really so hard for me to believe how much the past 11 years have changed me.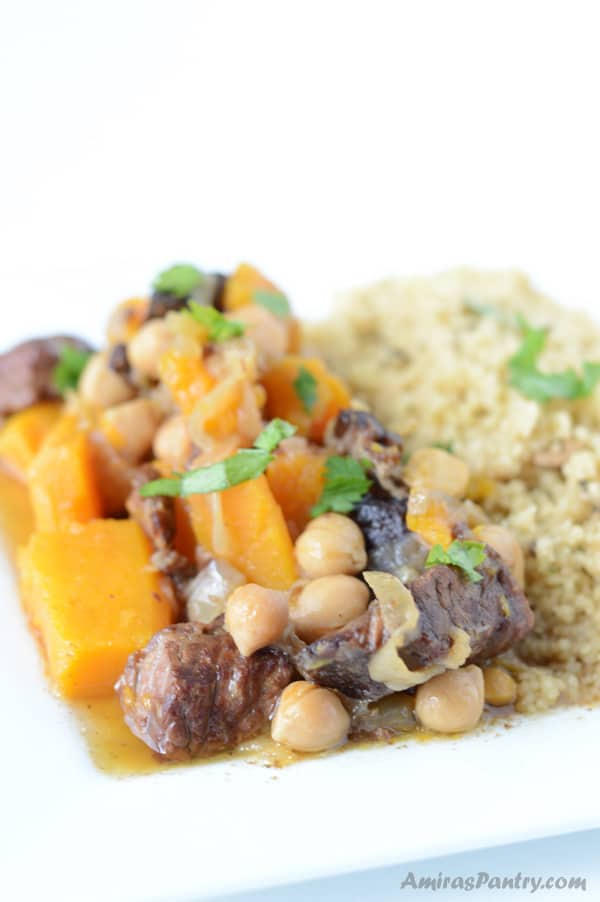 Even my taste buds have changed, not completely , but now I can accept things I was unable to accept before, like a savory dish with butternut squash!!. In Egypt we are not used to savory butternut squash, actually, butternut squash is what we call pumpkins in Egypt, but mostly bigger than the ones you see here in the US.
This dish is made in the slow cooker for more convenience but you are welcome to make it in the traditional tagine or even in a flameproof casserole dish in the oven. Very simple and super easy, I hope you'll like making and eating this dish.. until next recipe enjoy the season.
Slow Cooker Beef Tagine with Butternut Squash
Ingredients
3

Tablespoon

olive oil.

2

lb

beef or lamb stew

1

onion large

1

tbsp

minced garlic

1

tbsp

minced fresh ginger

1/2

tsp

sugar

2

tsp

cumin

1

tsp

cinnamon

1

Tbsp

lime juice

1 1/2

cup

beef stock

1/2

lb

butternut squash

peeled and cut into 3/4-inch cubes

1

can garbanzo beans

drained and washed.
Instructions
In a large skillet over high heat, heat 2 tablespoons oil, two turns then add the beef/lamb stew stirring until liquids evaporates, pour in your slow cooker.

In the same pan, add the remaining olive oil, onion rings, ginger and garlic saute for 3 minutes or until fragrant, pour over the meat in the slow cooker.

In the same pan add the stock and all the spices, bring to a boil then pour over the meat in the slow cooker.

Cover and let it cook on low for 6 to 8 hours.

Stir in the squash and garbanzo beans and cook until tender, about 30 minutes; check the seasoning.

Serve hot with buttery couscous or your favorite side.
Sign up and learn more about Mediterranean flavors
Need more Arabic desserts? check out the beef section.
Meanwhile here are some recommendations 👇