Easy baked ziti with ground beef is a comfort food that you'll go back for again and again. This gorgeous, luscious pasta dish will knock your socks off! I could eat it everyday for the rest of my life.
Baked Ziti with meat is a comfort food dish that you'll go back for again and again. This luscious baked ziti recipe will knock your socks off!
This baked ziti recipe is very versatile and adaptive. We could eat this happily every day for the rest of our lives, it's a major family pleaser. Add some hidden veggies to the formula, think spinach, peas, carrots...etc. Or maybe, use a different cheese mixture, play with the kind of meat, use sausage, spike up the sauce with additional herbs... trust me you can change this recipe and have it every single day with a totally new flavor. Nobody will ever complain.
Next time, try this tasty creamy pasta.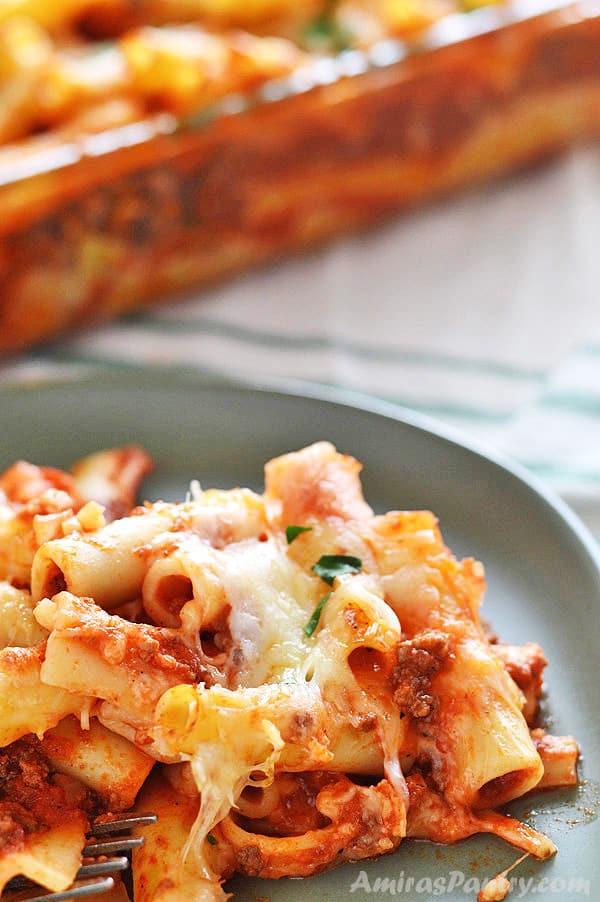 Baked Ziti With Meat.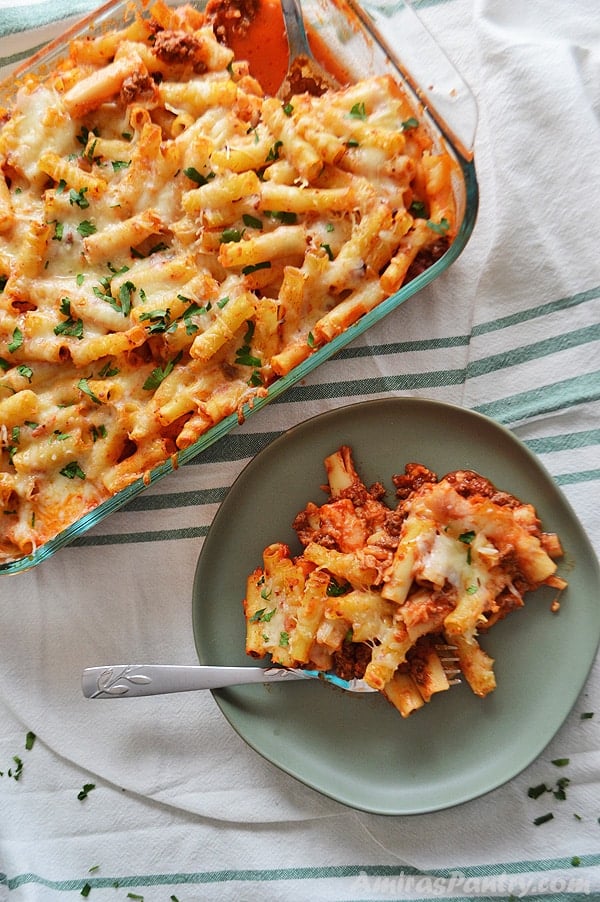 This is a recipe for baked ziti without ricotta cheese. My kids do not like ricotta in fact they've used to hate any kind of cheese on pasta but now they have changed a lot, since I made this chicken tetrazini casserole and they have fallen head over heels. Although they love mac and cheese, they hated any other pasta with cheese in it!!
This simple baked ziti recipes with meat will make everyone come for seconds. Everybody needs a little dose of pasta every now and then, although I try to limit my pasta intake I like pampering myself with a small portion once in a while.

I think I have a very serious problem, which is very embarrassing most of the time, I forget people's faces and names! Last year, we were fairly new in the neighborhood and there was this fine man who lives right next to us. I was used to see him in the patio or in his car, you know like neighbors always bump into each other. He waves and I wave and that was it.
Then I saw him once in a neighbor gathering only to ask him where do you live! The man was like" is she a lunatic?"! He said I am the man living right next to who you wave to a couple of time a day😳.
Last Saturday, in my youngest soccer game, parents were talking together after the game and I stupidly turned to a man asking him and "which one is your kid?". Well, I have to tell you that I've had a 30 minutes long conversation with this man who was so excited to know that I am from Egypt because he stayed in Egypt for about 5 years when he was young.
I really looked like an idiot! 😰.

Back to the recipe, this is a one dish recipe that is kid friendly, freezer friendly but unfortunately not diet friendly😂.
Baked Ziti Recipe FAQs
Does Baked Ziti contains meat?
Baked Ziti is a dish made with .. you guessed it .. ziti pasta, the Italian-American way. Usually the pasta is cooked separately from the sauce then both combined and baked. The sauce can have meat, sausage, mushrooms, pepper, onion and much much more. That;s why I told you it is very versatile and very adaptive to your liking.
Can I make baked ziti in advance?
Baked ziti is not only a family favorite but a crowd pleaser and very suitable for parties and large gatherings. You can make it two days in advance and just stop before baking. When you are ready to consume, continue as directed.
Can I freeze already baked ziti casserole?
Pasta dishes freeze very well, cover with plastic wrap then foil and freeze for up to 2 months. When ready, thaw on countertop and heat it again covered in oven or in microwave.
How long does baled ziti keep in the fridge?
If properly stored, cooked ziti will last for 3 to 5 days in the refrigerator.
Baked Ziti with meat recipe- step by step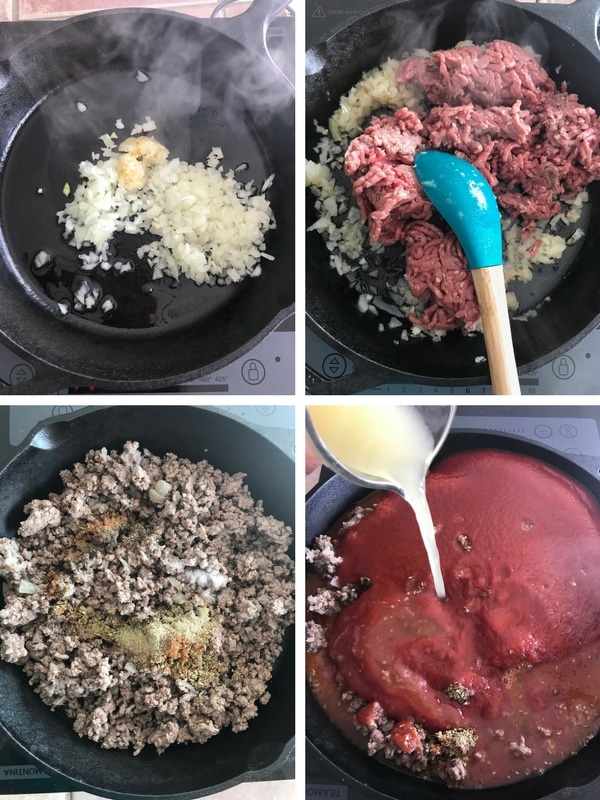 We'll need to brown the ground beef first, I like to saute onion and garlic a bit then add the beef, brown then drain. This way the onions are not so crunchy which is something my kids do not like.But if you are used to browning the beef first then add the onion, it is completely ok.
Add spices, tomato sauce and broth, let it simmer until hot and bubbly.

Meanwhile, cook ziti pasta as directed on the package.Ladle some of the meet sauce in the pasta pot and mix well.
Pour half of the pasta mixture at the bottom of a 13x9 baking dish.
Add some of the cheese then the remaining meet sauce.
Top that with the other half of the pasta.
Bake for 20 minutes covered, then sprinkle the rest of the cheese on top then pop again in the oven for 7-10 minutes until cheese is melted and top is browned if you like.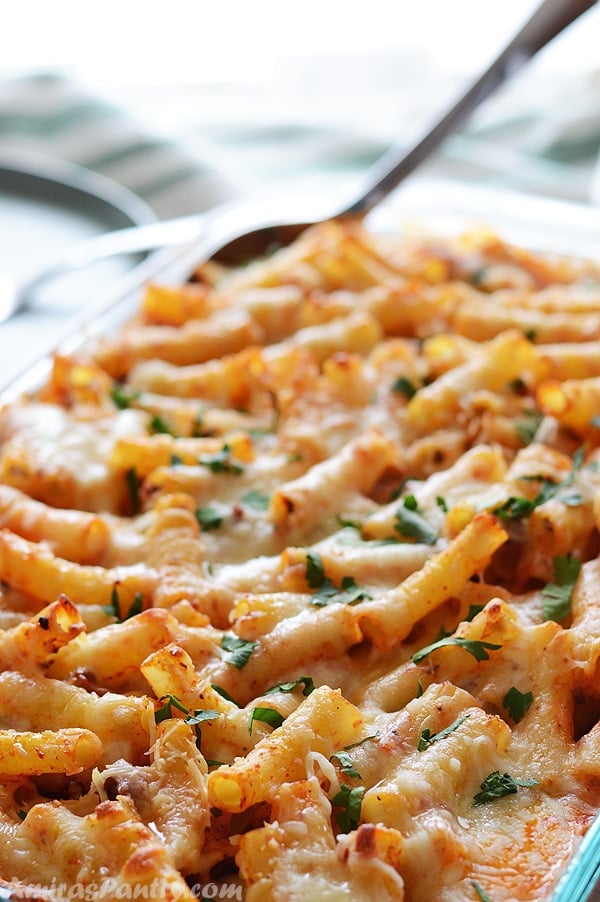 Let it cool down then serve, so delicious and amazingly comforting. As I said before, I did not add ricotta because of my kids 🤷, but if you like it feel free to add in the middle with the other cheese combination or mix with the ziti itself.
Other Favorite Pasta dishes:
Here are some of my favorite pasta dishes that my family like as well, check them out.
I hope you'll like this recipe and please if you make this recipe, snap a pic and hashtag it #amiraspantry — I love to see your creations on Instagram, Facebook, Twitter!
Don't want to miss a recipe? Sign up for the FREE Amira's Pantry newsletter delivered to your inbox with lots of tips and surprises! And stay in touch with me on Facebook, Twitter, Pinterest, and Instagram for all the latest updates.
Baked ziti with meat recipe
An easy week night dinner of baked ziti with meat that your whole family will like. Feel free to play with it for a new flavor every time.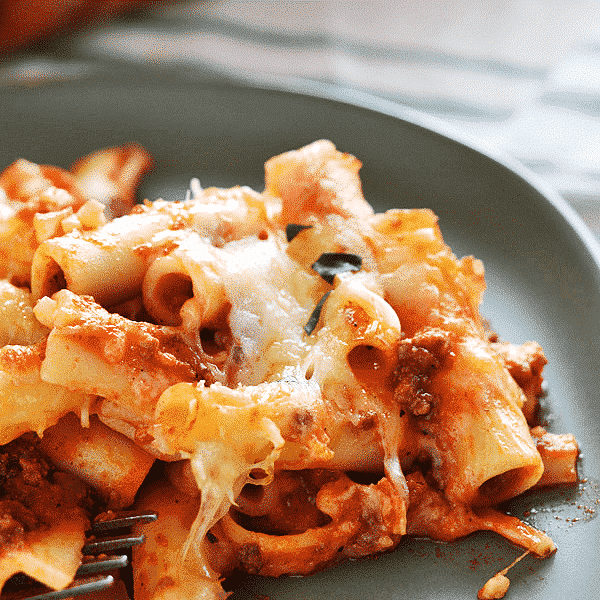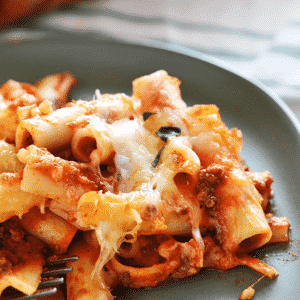 Easy Baked Ziti With Ground Beef
Easy baked ziti with ground beef is a comfort food that you'll go back for again and again. This gorgeous, luscious pasta dish will knock your socks off! I could eat it everyday for the rest of my life.
Print
Pin
Rate
Ingredients
2

Tablespoons

oil.

1

small onion

diced.

2

garlic cloves

crushed

1.5

lb

ground beef.

½

teaspoon

cardamom

ground.

¼

teaspoon

cinnamon

ground.

½

teaspoon

ground black pepper.

1.5

teaspoon

dried oregano.

Salt to taste.

1

29 oz can tomato sauce.

1

cup

broth

I've used chicken.

1

16oz package ziti pasta, cooked and drained.

2

cups

shredded mozzarella cheese.

1

cup

grated parmesan cheese.
Instructions
Preheat oven to 350F.

In a large skillet over medium heat, saute onion and garlic in oil. Add beef and cook until no longer pink.

Drain the fat then return to stovetop.

Add seasonings and mix well.

Add tomato sauce and broth then stir to combine. Cook until bubbly and hot all through.

Stir about 1.5 cup of the meat sauce into the cooked pasta.

Put half of the pasta in the bottom of a 13x9 baking dish. To that with 1 cup of mozzarella and ½ cup of pares am cheese.

Add the remaining sauce then the rest of the pasta, cover and pop in the oven for 20 minutes.

Uncover and sprinkle the remaining cheese on top and put back in the oven for 10 more minutes or until cheese is melting or until it is golden brown if you would like it that way.
Notes
Nutrition Facts
Easy Baked Ziti With Ground Beef
Amount Per Serving
Calories 372
Calories from Fat 148
% Daily Value*
Fat 16.4g25%
Cholesterol 55.3mg18%
Sodium 775.6mg34%
Carbohydrates 34.5g12%
* Percent Daily Values are based on a 2000 calorie diet.
Nutrition
Calories:
372
kcal
|
Carbohydrates:
34.5
g
|
Fat:
16.4
g
|
Cholesterol:
55.3
mg
|
Sodium:
775.6
mg
Sign up and learn more about Mediterranean flavors
Love pasta? we are huge at pasta too. Try this kid-friendly shrimp scampi.
This post has been updated from the original April 2018 . Last updated January 2019.