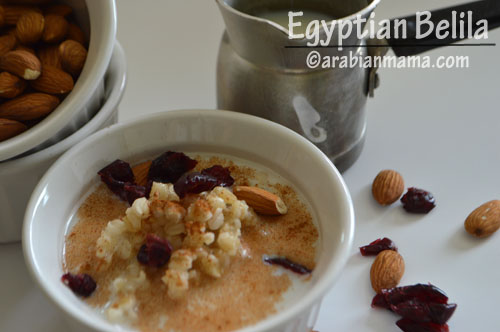 I remember my sweet mom making Belila in cold winter days to warm us up at school and to give us enough energy to go through the day. Belila is the frugal version of the hot cereal that almost everybody can afford in Egypt- without the nuts of course.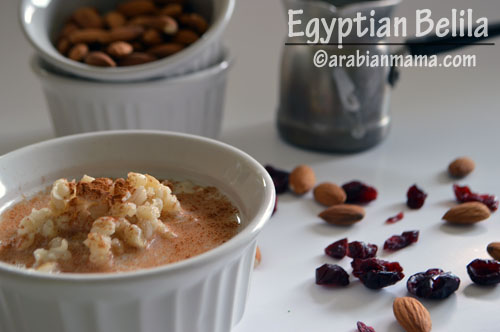 Being so close to the holy month of Ramadan, Belila is also served in the "sohoor" which is the meal we eat before start fasting at dawn. I also remember my late grandmother urging me to take Belila in sohoor – when I visited for sleepover- claiming that it gives energy and keeps you hydrated 🙂 . So Belila for me is not just another Egyptian recipe, it is a recipe I like to make for its sweet memories with the loved ones.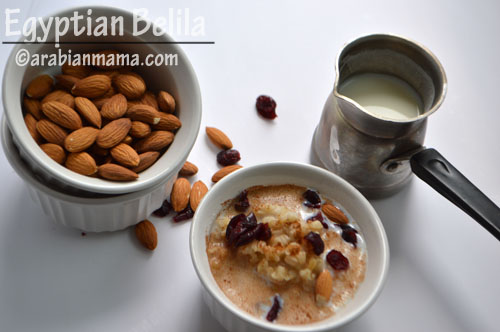 Belila is made from wheat berries which are loaded with vitamins and fiber and have a pleasant chewy texture. The original recipe requires you to soak the wheat first over night, then discard the water and cook for almost 20 minutes, But because we are always in a hurry and forget such things you can just start cooking – although it will take longer about 40 minutes- and it will not affect the outcome at all.
Here is a short video of the process, so easy and nutritional recipe. Enjoy your weekend.