Freezer friendly, garlic cardamoms flavored chicken. An easy , healthy and quick weeknight dinner.
The easiest baked oven baked chicken thighs! These garlic chicken is a quick and easy chicken dinner for those busy nights. It is my go to chicken recipe that I usually double the recipe.
Tender and juicy chicken thighs with just the basic spice mix. Make a chicken wrap or serve on the side with pasta, rice or any grains of your choice and dinner is ready.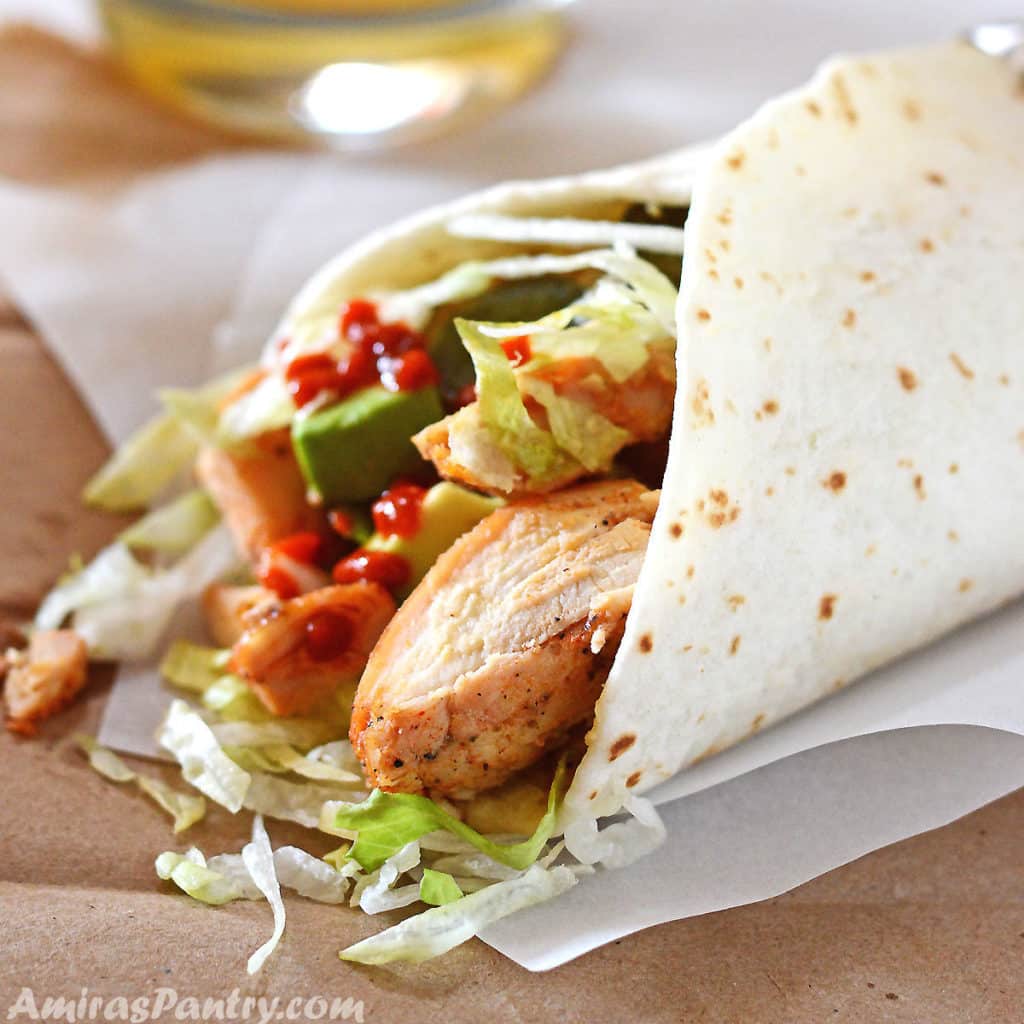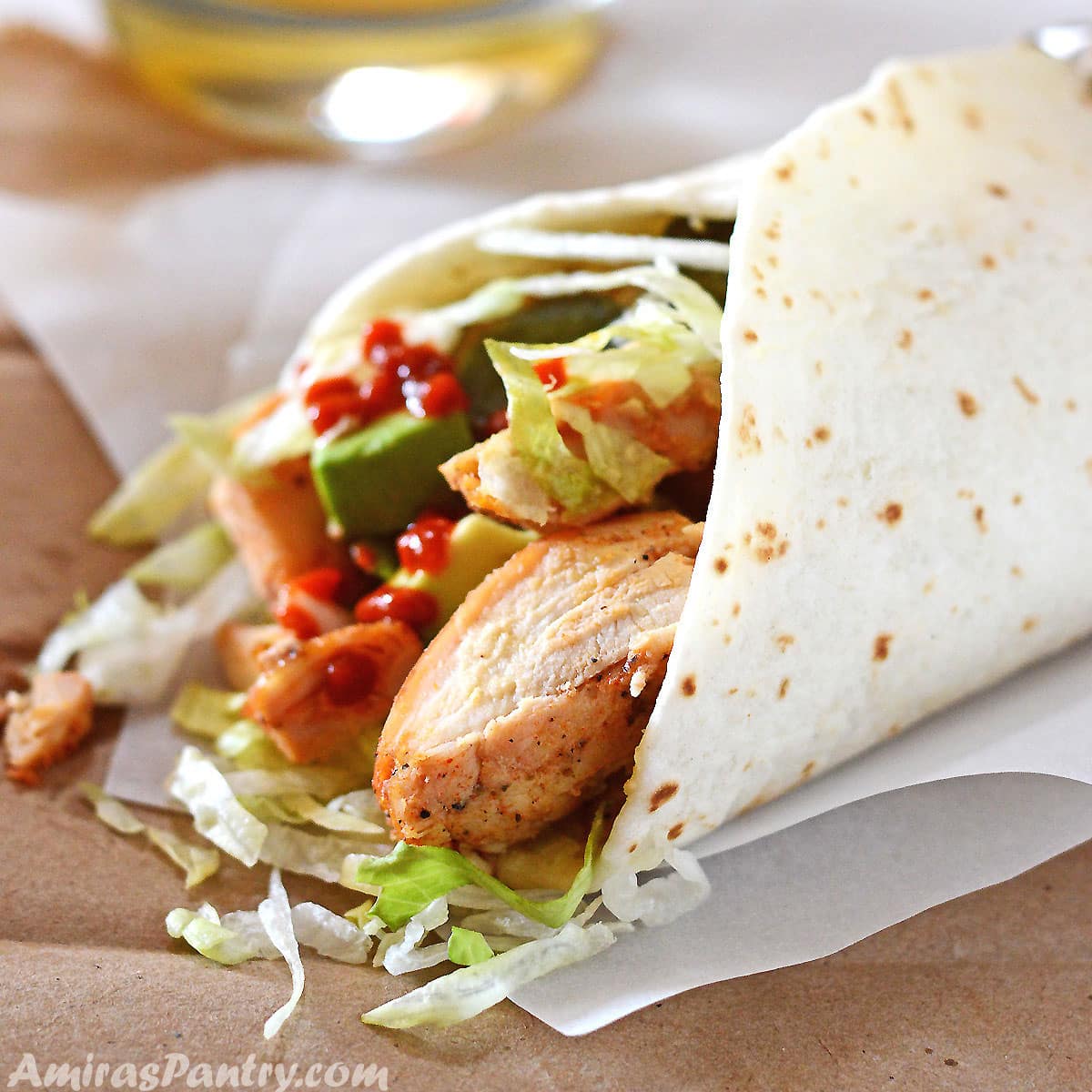 Baked Chicken Thighs
This recipe goes on my monthly menu plan at least twice, if not more. It is a healthy garlic chicken recipe that can be a carrier to even more flavors by adding different spices. I've made it many times before with just salt and black pepper and it was always perfect, yes as simple as only salt and pepper. I also used to dice my chicken to cubes but today I've made the recipe even easier by baking the chicken thighs as is and slice it after it was done.
Back to today's recipe, I like using chicken thighs, but you can make it as well with breasts or tenders. Sometimes I use the chicken spices or 7 spices along with salt and pepper. So as I've said before I've tried it with only salt and pepper but this time I've also added some spices which you can easily get a hold of.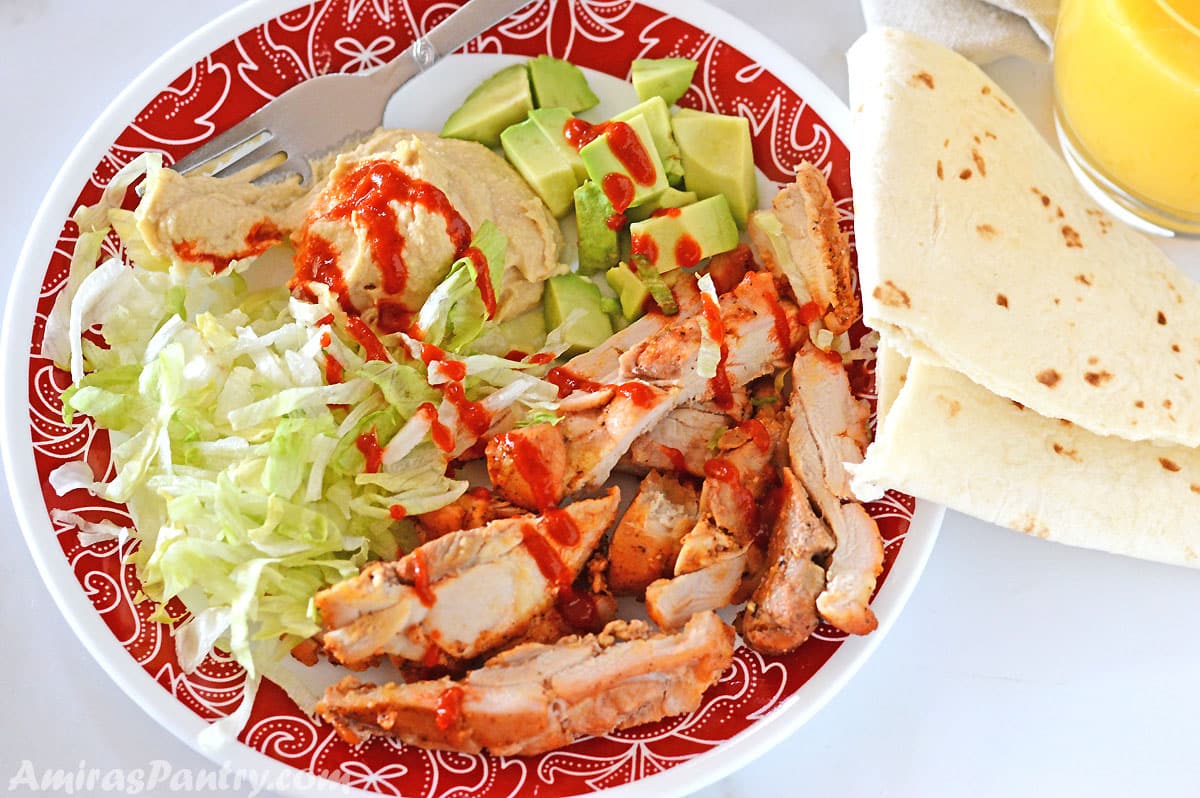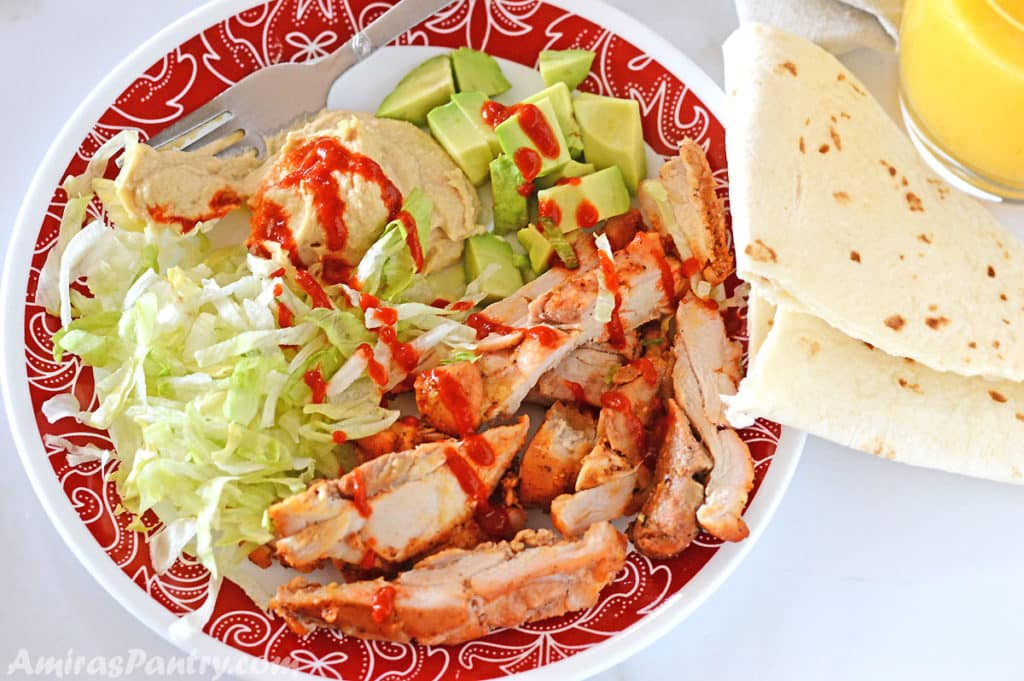 My big family is going through a tough time now and this sorts of situations increases the nostalgic hormones in my body :). A feeling of nostalgia have always lead me to looking at old photos but this time I am doing something different, I am listening to old music and watching old TV shows!!.
One day, I searched youtube for a special song for a very old singer who was dead when I was a couple of years old or so. The song was part of a movie which was black and white then at a recent date was colored. The colors kept coming and going so my youngest looked at me wondering what is happening. Imagine his shock when he knew that back then movies were only black and white! He even thought that there were no colors in the world! Then he looked at me and said " mom, I did not think you are that old"... that brat he does not even know how to talk to a lady hehehehe.
Another day, I was watching something from my college day, so it should be better. The middle guy said " what is that?", then my oldest replied " It is mom, torturing us again with old stuff. This is probably the Egyptian star wars from the 80s". It was actually something called " Fawazeer Ramadan", which are kind of riddles that used to air during the holy month of Ramadan. This was my favorite part of Ramadan as we used to dedicate a notebook for it to write the 30 answers and by the end of the month we would submit them, via mail of course 📮. Google was not even a thing back then so we had to really think and even call friends to solve those riddles.
We used to do that hoping we will win one of those luring prizes. Prizes ranged from apartments, cars, gold bars to kitchen remodeling and cash 💰 💵. It was very tempting to try your luck and everyone was competing. But guess what? I never won, but I never gave up :).
How to Bake Boneless Skinless thighs
I like using chicken thighs because they are my kids favorite. Thighs are easier to eat as they have more fat. Chicken thighs are very forgiving and do not get dry easily as breasts.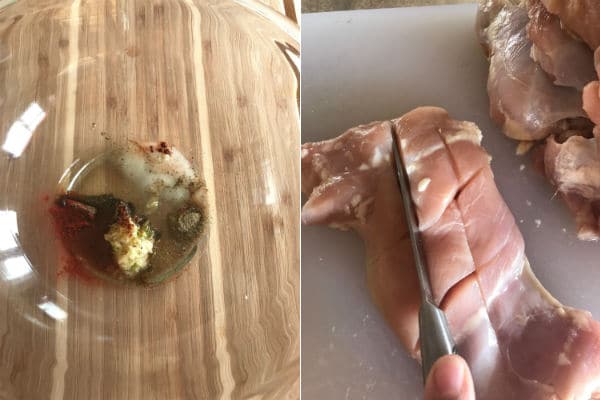 In a deep bowl, add paprika, garlic, salt, pepper, olive oil, cardamom and lime juice and mix well.
Take your chicken thighs and make some slits like shown above. I do this because, I usually do not have time to marinate the chicken. So this actually helps.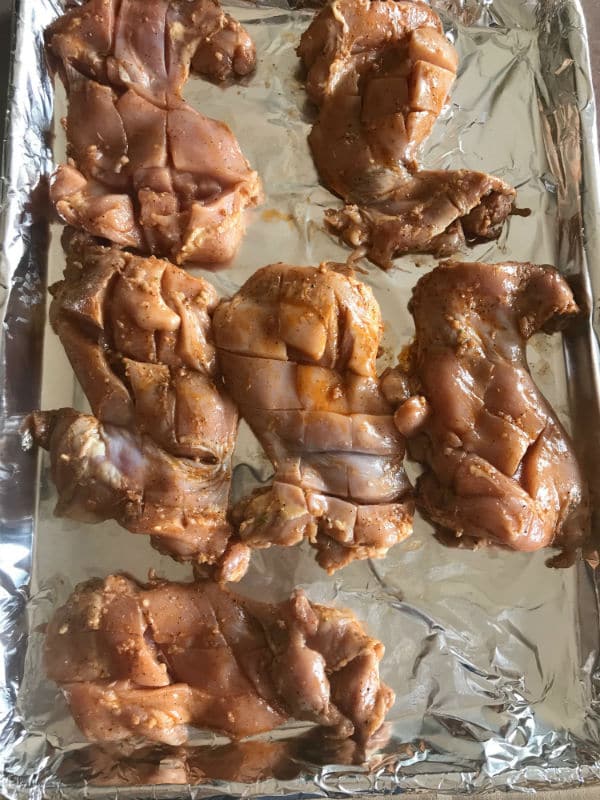 Now cover the chicken with the spices, making sure it goes into those slits we've made. ِArrange on an oiled baking sheet. Sometimes I marinate the chicken overnight or for a couple of hours but many many times I only have just 10-15 minutes so I let them in the marinade until the oven preheats. You can also at this point freeze to user later, so this is an easy freezer friendly recipe. Bake in the oven for 50 minutes or until completely done.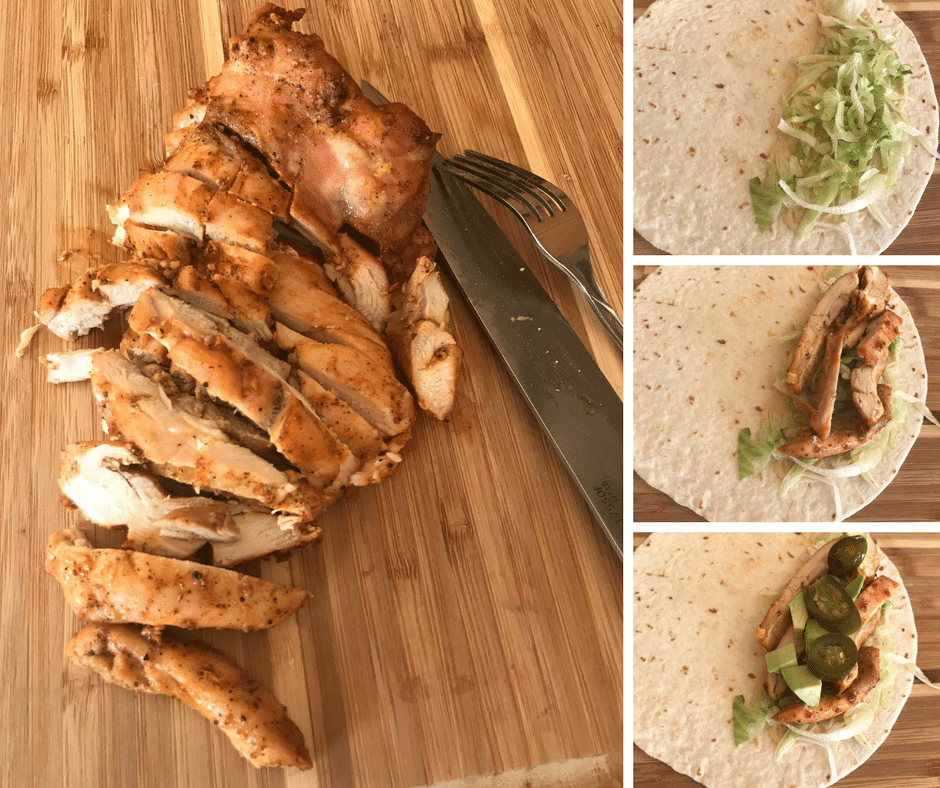 How to serve baked chicken thighs
Slice chicken into strips, serve in tortilla wraps or pita bread. Slather some hummus, top with shredded lettuce, pickles, avocado and the chicken. I also like to serve it in a plate with rice or pasta or just flat bread.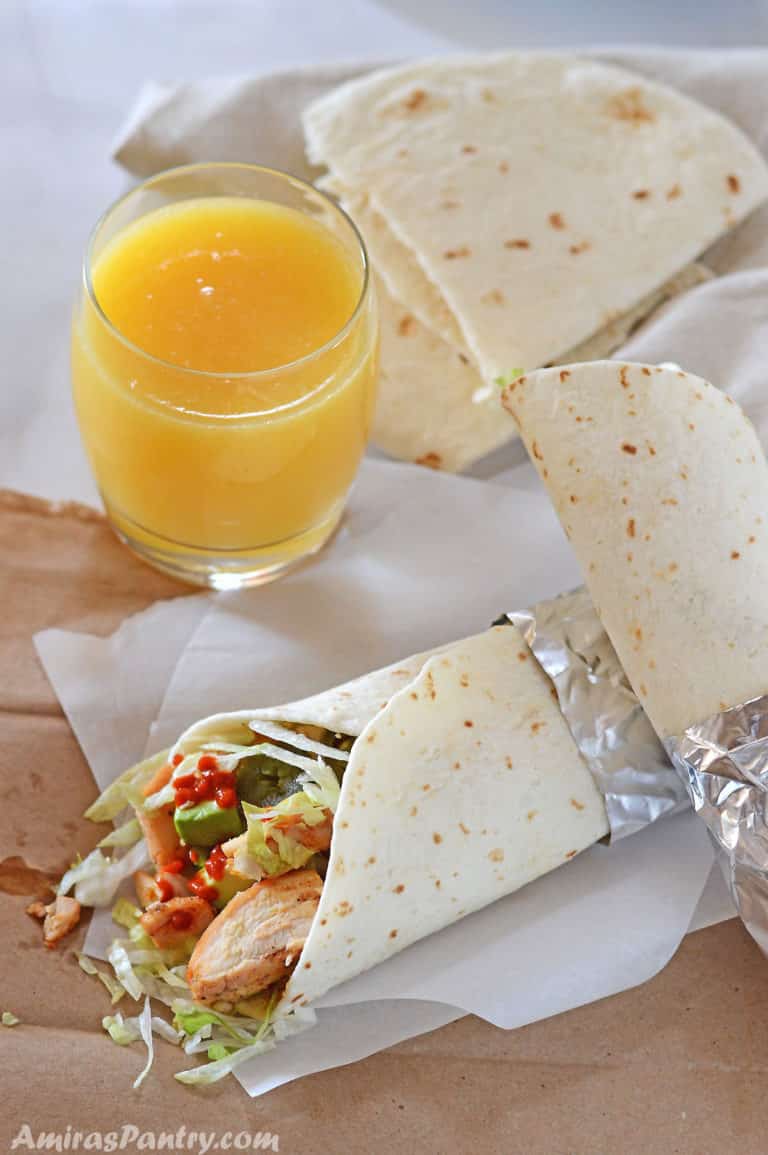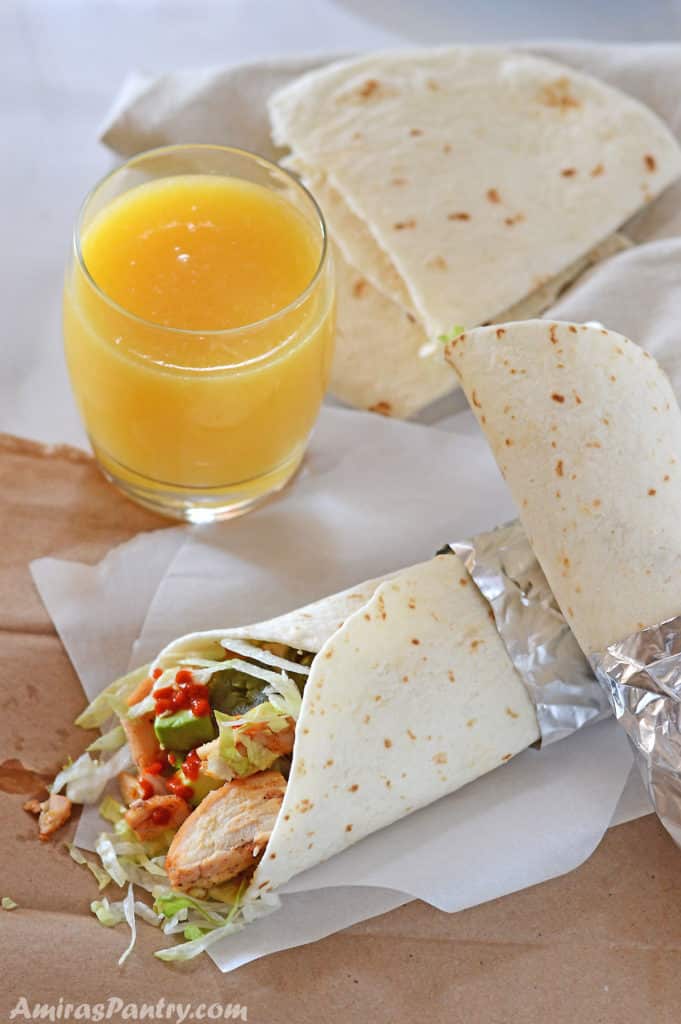 How to make quick chicken thighs
If you do not have enough time to bake the chicken or you are in a hurry, you can always make it on stove top in a skillet. Cut it even smaller for it to cook quickly. It is a real sanity saver especially when you are short on time.
How to season baked chicken thighs
As I said before these chicken thighs can be a vehicle of a variety of seasonings. I like the combination of spices I've included in the recipe but you can use any of the following: Dukka, Italian seasonings, any chicken seasoning that you like (or get one from my cheat sheet here), Za'atar, curry or taco. Just make sure to add olive oil, garlic, salt and a splash of lemon juice.
Other Chicken Recipes on the Blog
Chicken Shawarma Recipe
Thin strips of flavorful chicken make this ever popular Middle eastern dish. This homemade version of chicken shawarma wraps is great for busy night dinner or meal prep.
Check out this recipe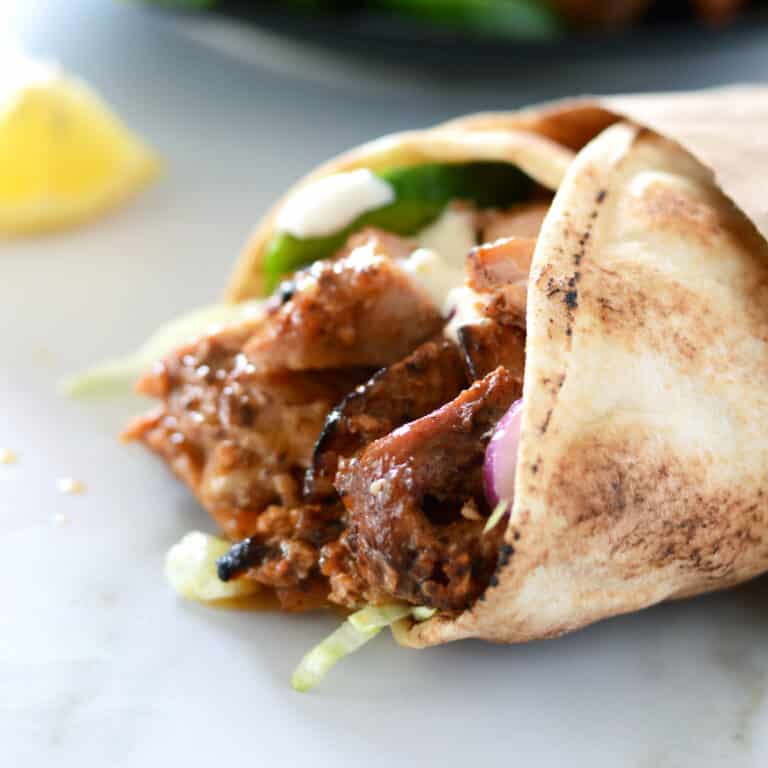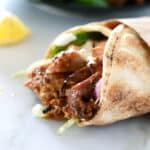 Avocado Chicken Salad:
A simple avocado chicken salad recipe with a 4 ingredient dressing that does not have mayo.
Check out this recipe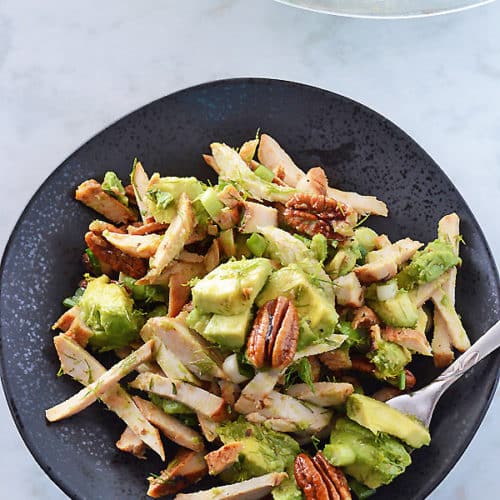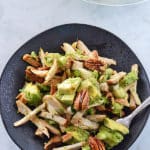 Lemon Artichoke Chicken Breats
A tasty chicken skillet with spinach, artichokes and a ton of other flavors, all ready in just 30 minutes
Check out this recipe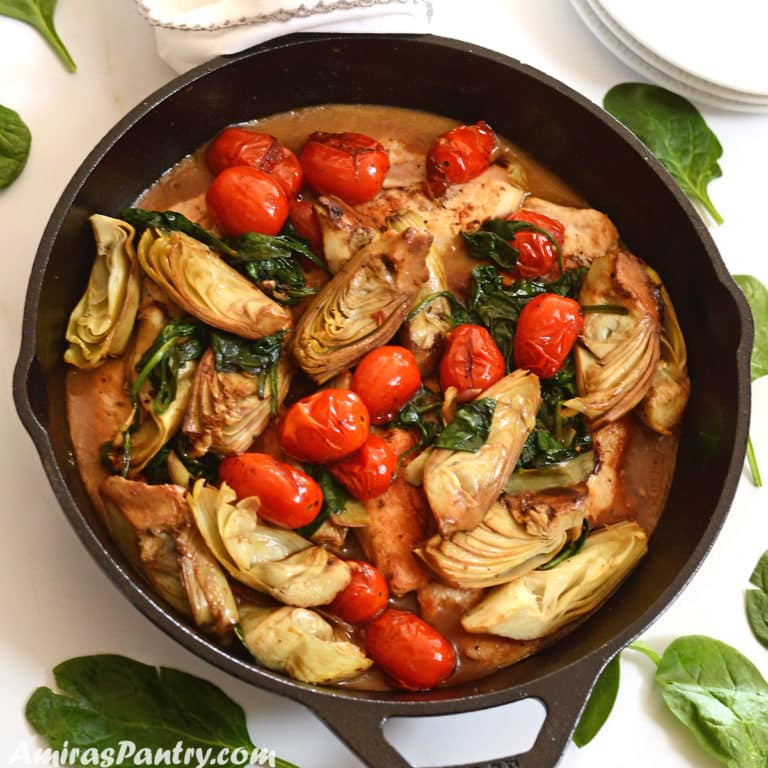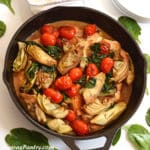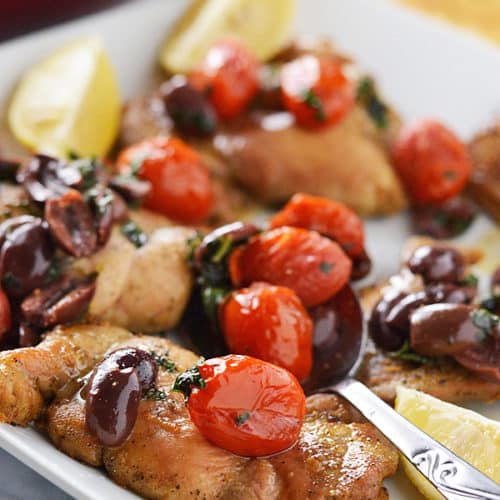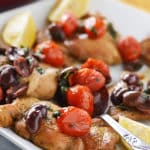 I hope you'll like this recipe and please if you make this recipe, snap a pic and hashtag it #amiraspantry — I love to see your creations on Instagram, Facebook, Twitter!
Don't want to miss a recipe? Sign up for the FREE Amira's Pantry newsletter delivered to your inbox with lots of tips and surprises! And stay in touch with me on Facebook, Twitter, Pinterest, and Instagram for all the latest updates.
Baked Garlic Chicken Thighs
If you like this recipe do not forget to give it a ⭐⭐⭐⭐⭐ star rating and attach a photo of your finished dish. It is always a pleasure of mine to see your photos and check your own take of the recipe. Thank you.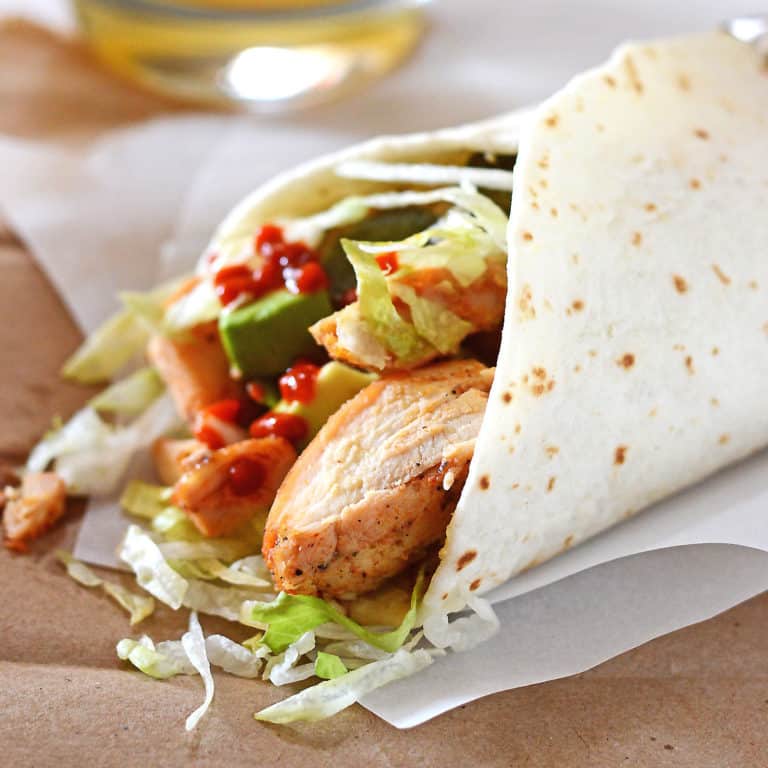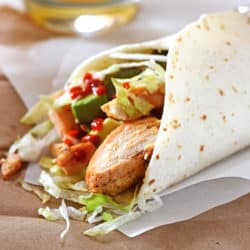 Simple Baked Chicken Thighs
Freezer friendly, garlic cardamoms flavored chicken. An easy , healthy and quick weeknight dinner.
Print
Pin
Rate
Ingredients
For the chicken:
3

large garlic cloves

minced.

½

teaspoon

paprika.

½

teaspoon

ground black pepper.

½

teaspoon

ground cardamom. *

1 ½

teaspoon

salt or to taste.

2

Tablespoons

lime juice.

3

Tablespoon

oil.

3

pound

boneless,

skinless chicken thighs.
For serving, any or all of the following:
Flat bread

Lebanese bread or tortillas, warmed

Finely sliced iceberg lettuce.

Avocado

diced.

Pickled jalapeno.

Chilli sauce.
Instructions
In a bowl combine all ingredients , except for the chicken, well together.

Clean chicken thighs, trim the fat and make slits diagonally or in perpendicular and crossed lines, like the pictures shown above.

Mix chicken with marinade, cover and refrigerate up to 24 hours.**

Put chicken in a rimmed baking sheet and bake for 50-60 minutes until chicken is done and all the liquids evaporate.

Remove from oven, slice and serve in a sandwich or a plate.
Serve in a sandwiches:
Spread a dollop of hummus on one of the bread, top with shredded lettuce, chicken slices, avocado cubes and pickles. Roll up tightly and wrap in a foil.

Serve on a plate:

In a plate, place chicken slices alongside hummus, lettuce, avocado, bread or rice.
Notes
*You can also use the same amount of oregano. Tried them both and it was delicious.
** I usually do not have enough time so  I marinate the chicken for only 10-15 minutes until my oven was ready and I got out all the ingredients for the wraps. You can also freeze in a zip lock bag until ready to cook, thaw and continue the rest of the steps as usual.
*** Calories are calculated for the chicken only not including tortillas, hummus, lettuce for the wrap or pasta and rice for the plate.
Please check the nutrition disclaimer policy.
Nutrition
Calories:
389
kcal
|
Carbohydrates:
1.4
g
|
Protein:
38.6
g
|
Fat:
24.9
g
|
Saturated Fat:
5.9
g
|
Polyunsaturated Fat:
4.3
g
|
Monounsaturated Fat:
13.2
g
|
Cholesterol:
216
mg
|
Potassium:
17
mg
|
Fiber:
0.5
g
|
Vitamin A:
2.2
IU
|
Calcium:
0.2
mg
|
Iron:
0.9
mg
Sign up and learn more about Mediterranean flavors