Lightly sweetened, perfectly spiced, buttery and delicate linzer cookies recipe. These jam filled cookies are a traditional sandwich cookie in holidays.
Next time try these homemade butter crunch cookies.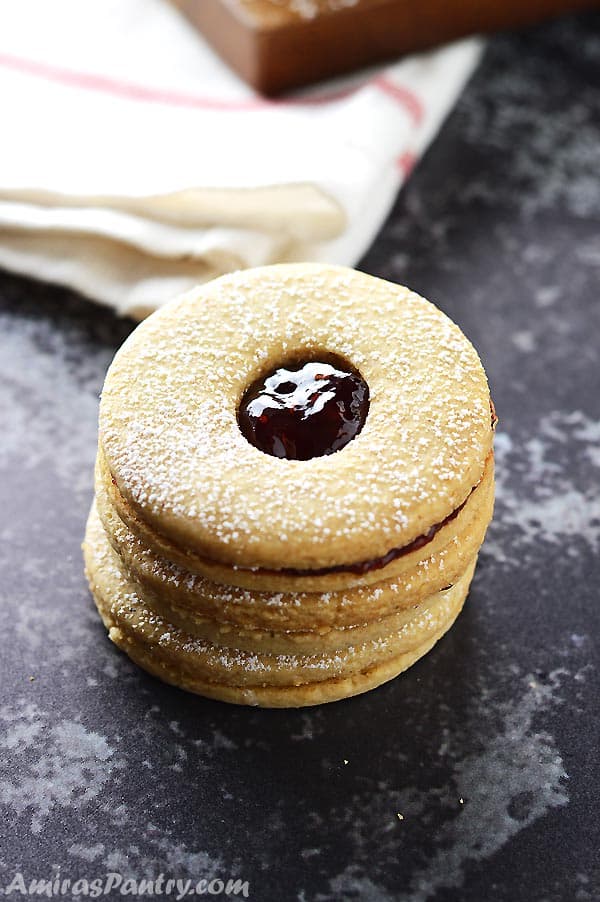 Linzer Cookies
Linzer cookies are effortless and impressive cookies to make during any holiday season. The cookies themselves are not overly sweet as they are filled with jam later. Delicious, nutty and full of flavors.
I've made these cookies then I got sick for a couple of days. I left them in a container on the countertop until I am better so I can photograph. You have no idea how my kids reacted to them and they were not even stuffed. They asked me about these cookies each time they were in the kitchen. Are these done yet?. When will you finish them? I had to give them some without even the powdered sugar or the jam just to tame their eagerness a bit.
Easy Almond Cookies Recipe flavored with cloves, cardamom and cinnamon to give them a special Mediterranean touch. These cookies smells heavenly when they are cooking and literally melt in your mouth. I've made these cookies while I was trying to prove to myself I am able to go on a low carb diet... so I only took one bite just to get a taste. Boy, I've never hated being on a diet than this time.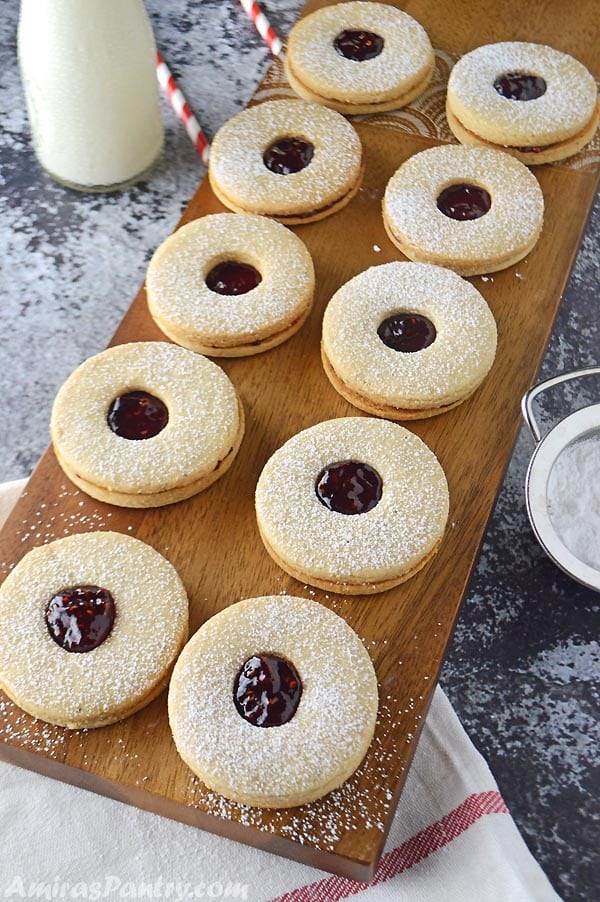 Linzer Cookies FAQs
What nationality are Linzer cookies?
Linzer Tortes come from Austria and the smaller version, Linzer Cookies were made popular in Hungary, Germany and Switzerland.
Do Linzer cookies need to be refrigerated?
No they don't. If you want to refrigerate yours then I recommend filling them them before refrigerating. Cookies tend to get dry in the fridge and the filling keeps them moist. I left mine on the countertop in an air tight container and not filled for 8 days.
Do Linzer cookies freeze well?
They keep well in the freezer without the jam filling. So if you need to freeze the cookies, let them cool completely after baking then place in a zip lock bag and freeze for up to 3 months. Let them thaw completely before serving.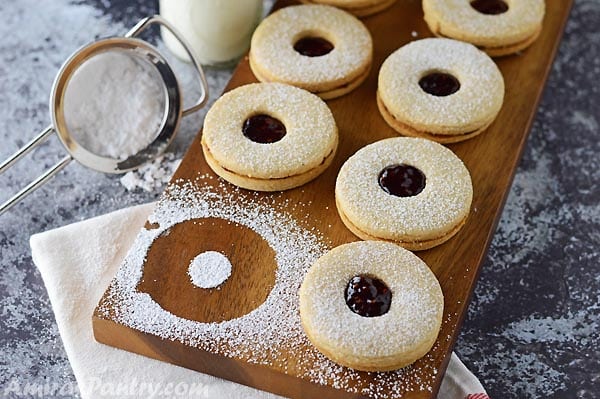 Easy Linzer Cookies recipe: step by step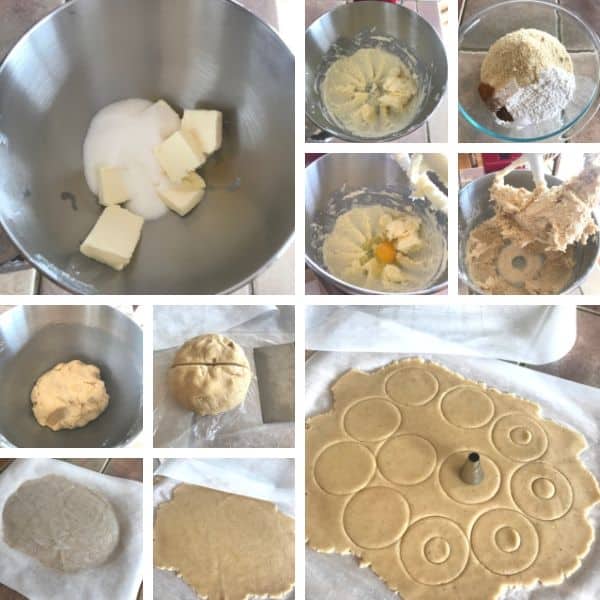 In the bowl of your stand mixer, cream butter and sugar until white and fluffy.
In another bowl, combine dry ingredients well.
Add the egg to the butter mixture and mix. Then gradually mix in the dry ingredients.
When dough comes together, wrap with plastic wrap and refrigerate for one hour.
Take dough out and cut into two equal parts.
Place one part in between two parchment papers and roll, keep the other part in the fridge.
Using cookie cutter, cut circles of dough then using a smaller circle ( I've used the base of a piping tip) cut in the center of half these cookies.
Bake in the oven until edges are golden brown.
Let the cookies cool completely before filling and dusting. Be sure to dust the tops prior to filling with jam.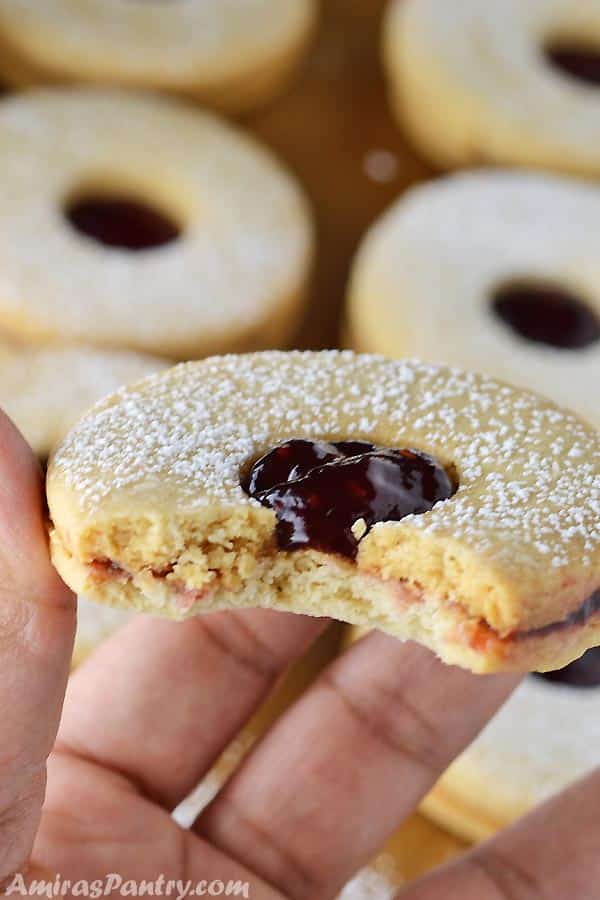 How to store cookies
I do not like filling all the cookies at once. Instead I fill only the ones I am going to serve. These cookies are best eaten within a couple of days from filling as the filling will get them softened. I like my my cookies a little bit crisp so I've filled them just 30 minutes to an hour before serving, but then again it is a matter of personal preference. You can store unfilled cookies in an air tight container from 7-10 days.
You may need
The following are affiliate links. We are a participant in the Amazon Services LLC Associates Program, an affiliate advertising program designed to provide a means for us to earn fees by linking to Amazon.com and affiliated sites.

Wilton cookie cutters are good substitute if you cannot find small circular thing to cut cookies in the middle and they ensure that the hole is exactly in the center plus it comes with different cool shapes.
Related Recipes
Pecan snowball cookies are bite-sized cookies made with pecans, powdered sugar, and butter. A very festive treat that is perfect for any holiday season.
Maamoul is a traditional Middle Eastern cookie made usually filled with date. It has a soft texture and a delicate flavor.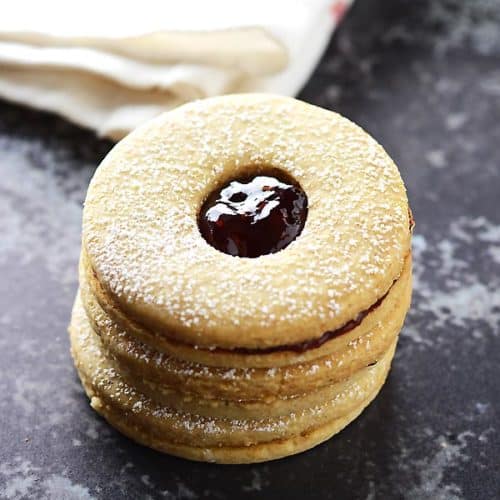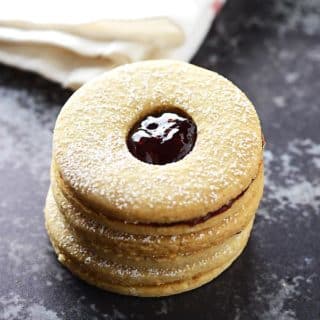 Ingredients
1 ½

cup

(120almond flour.

2 ½ - 2 ¾

(314 - 346 cup all purpose flour.

1

teaspoon

ground cinnamon.

¼

teaspoon

ground cloves.

¼

teaspoon

ground cardamom.

¼

teaspoon

salt.

½

teaspoon

baking powder.

½

cup

(107granulated sugar.

1

cup

227 unsalted butter, room temperature.

1

(63Large egg.
Instructions
In a deep bowl combine the first 7 ingredients and set aside.

In the bowl of your stand mixer fitted with pedal attachment, whip butter and sugar on low until combined then increase the speed and continue until fluffy about 1 minute.

Add egg and mix, then add the dry ingredients gradually.

Keep mixing until the dough comes together. Note1

Wrap dough in plastic bag and chill for one hour.

Roll dough between two parchment papers to ⅛ inch or 3mm.

Using a 2 ½ inch circle cookie cutter, cut out as many circles as possible.

Using another smaller cookie cutter, cut in the middle of half of these circles.

Transfer dough circles to a parchment-lined baking sheet spaced 1 inch apart and bake until the edges are golden brown, 12 to 15 minutes.

Gather any scrapes of dough, combine together wrap in planting and chill if necessary then roll and repeat baking the cookies until you are done with the whole batch.

Let cookies cool completely on a cooling rack.

To assemble the cookies, spread about half a teaspoon of raspberry jam on the larger circle.

Dust the tops with powdered sugar and place over the larger circle. Note2
Notes
Note1: If you feel your dough is too sticky add the remaining ¼ cup of flour one tablespoon at a time.
Note2: The dough can be made up to 5 days ahead and refrigerated. You can also bake the cookies 2 days ahead leave them in an airtight container and assemble them on the day of serving.
Sign up and learn more about Mediterranean flavors