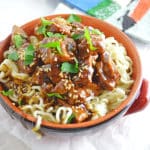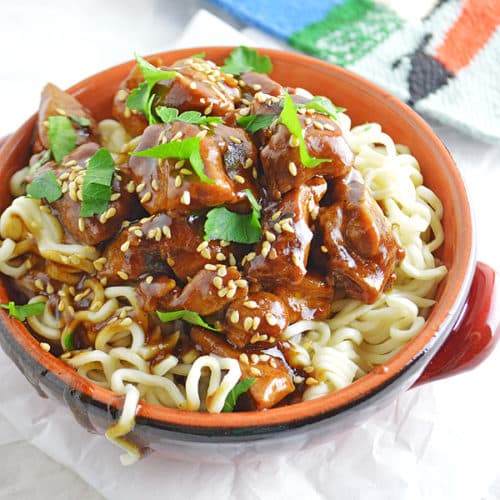 Print Recipe
Tamarind chicken
A delicious, quick and easy chicken recipe.
2

lbs

boneless

skinless chicken thighs- cut into 1-2 inch pieces

3

tablespoon

olive oil

2

teaspoon

minced garlic

1/3

cup

tamarind juice

2 teaspoon tamarind paste + water

2

tablespoon

brown sugar

1

tablespoon

ketchup

1

tablespoon

white vinegar

1/3

cup

soy sauce

1

tablespoon

cornstarch dissolved in 1/4 cup of water
Heat up a large skillet over medium high heat. then pour in the olive oil.

Add the chicken pieces and cook for about 10- 15 minutes, stirring occasionally.

In a bowl combine garlic, soy sauce, brown sugar, tamarind, vinegar and ketchup , mix everything well together.

When all the water has evaporated from the chicken and it is nice and a little brown , pour the sauce into the pan. Stir it around to cover all the chicken pieces.

When it boils, reduce the heat, and add the cornstarch dissolved in water, cover and let it cook for almost 20 minutes until done.

Garnish with some sesame seeds and serve hot with rice/pasta or noodles

Enjoy.