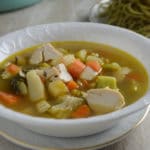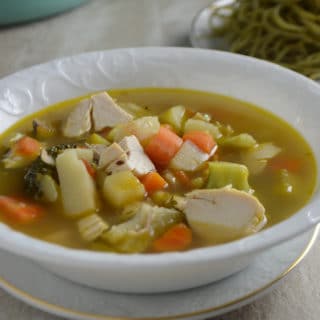 This is a very good recipe to use whatever veggies you have in your fridge/freezer.
1

Tablespoon

butter

1

Tablespoon

oil.

1

small onion - diced .

= 1/2 cup

2

medium carrots - diced .

= 1 cup

2

medium potato - diced .

= 1.5 cup

2

large zucchini - peeled and diced

=2 cup

1

small tomato - diced .

=1/4 cup

1

4 cup celery- diced.

1

medium head of broccoli.

2-3

medium artichoke- quartered.

1.5 - 2

cup

rotisserie chicken

chopped.

Salt and pepper to taste.
In a deep pot over medium-high heat melt the butter and add the olive oil, then saute the onions for 1 minute.

Add the diced carrots and stir for another 2 minutes, then add the potato and keep stirring, after a couple of minutes add the zucchini.

Add the diced tomato then the celery, then add the broth, bring to a boil then lower the heat and simmer for about 20 minutes until all the veggies are about to be done.

In the last 5 minutes, we will add the broccoli and artichoke, simmer for 5 more minutes and season well.

Add the diced chicken and test that everything is done.

Serve with your favorite pasta/rice.

Serve hot and ... Enjoy!!
Please note that there are not specific ingredients in this recipe as it is meant to clean up your fridge and use whatever leftovers you have.