This is a very good recipe to use whatever veggies you have in your fridge/freezer.
Do you find yourself stuck at the end of the week with lots of uncooked vegetables? may be you bought more than you actually needed for the week. Do you have some rotisserie chicken in the fridge and no one is really interested enough to eat. If you are like me and find yourself in this situation almost every Friday, here is a delicious way to use up all these earth goodies before they wilt down.

A hearty Friday - or leftover soup, that I've made with whatever is left there in the fridge. Give them a new life, use your resources well, and let your motto be " Minimize waste". I've added some precooked rotisserie chicken, but you are welcome to add whatever you have or make it meatless. Actually I can hardly call this a recipe, it is just an idea to use your leftover vegetables and meat instead of throwing them away.Skip to recipe.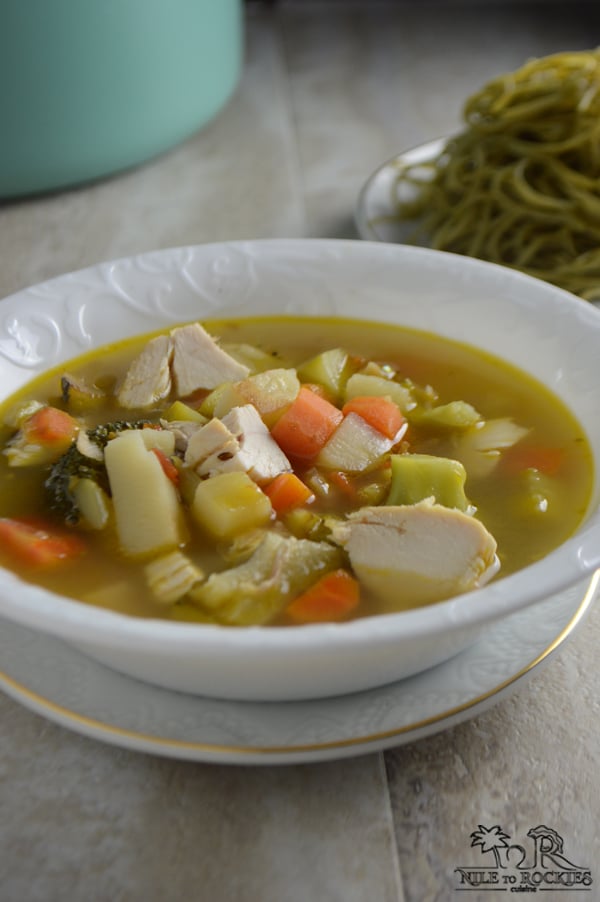 My kids love donuts, who does not, and I have never made them at home, probably due to the fact that I can get a dozen for $1.99 at Walmart when they are a day old!!. Donuts, in general are not expensive here in the US, but in Egypt, it is a pricey treat and not everyone can afford it.
I've had some of those donuts on my counter top for a couple of days and they became so hard that I could not even bite into them!!, so I said ok no one probably will eat those and I was ready to throw them in the trash. Suddenly my 13 years old saw me and he said in a panic voice.. wait what are you doing? I replied carelessly : throwing those away.. when he gave me that look and he started preaching me, do you know that there are people in this world who eat from the trash cans? Have you ever imagined that there are people who are really willing to eat even rotten food? and he seemed very disappointment😞. I was like " really!!!", I've heard those words before from my mom, and to my surprise, I've said them to my kids too, weird how we do exactly as our parents did.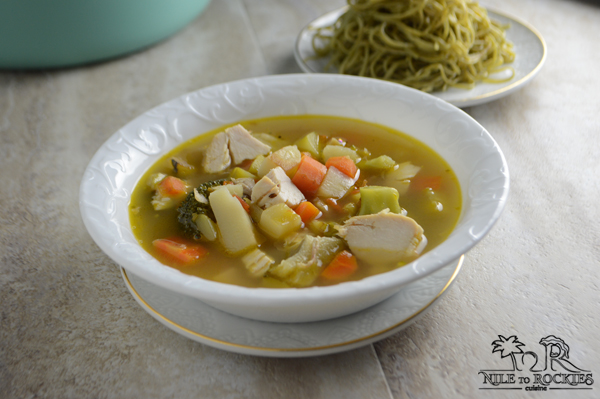 These are exactly the same words that I've used to tell them when they throw food in the trash, and usually all I get from them is ok, ok, mom we know. I think my kid is starting to grow wiser, or may be because lately he has been studying a lot about the Holocaust, reading stories, watching movies and they even had a guest speaker who is a Holocaust survivor, I guess all these things really touched his heart and he began to realize that there are more sufferings in this world than going to school and doing homework. It is good for kids to see such things and to appreciate what they have.
Now I've learned my lesson, and I will not throw anything away with this simple and hearty soup, better yet, buy ONLY what I am sure that I will use.
I've made this soup using some week(s) old vegetables in my fridge along with some months old vegetables in my freezer, I've also added leftover rotisserie chicken. We enjoyed this soup with edamame pasta, which was terrific and very enjoyable.
If you do not know what to cook today I recommend this recipe for dinner instead of going out .... Enjoy!!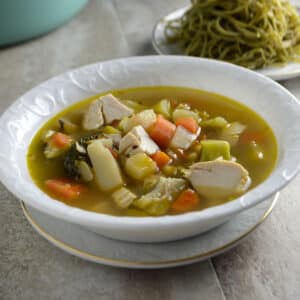 Friday ( leftover) soup
This is a very good recipe to use whatever veggies you have in your fridge/freezer.
Print
Pin
Rate
Ingredients
1

Tablespoon

butter

1

Tablespoon

oil.

1

small onion - diced .

= ½ cup

2

medium carrots - diced .

= 1 cup

2

medium potato - diced .

= 1.5 cup

2

large zucchini - peeled and diced

=2 cup

1

small tomato - diced .

=¼ cup

1

4 cup celery- diced.

1

medium head of broccoli.

2-3

medium artichoke- quartered.

1.5 - 2

cup

rotisserie chicken

chopped.

Salt and pepper to taste.
Instructions
In a deep pot over medium-high heat melt the butter and add the olive oil, then saute the onions for 1 minute.

Add the diced carrots and stir for another 2 minutes, then add the potato and keep stirring, after a couple of minutes add the zucchini.

Add the diced tomato then the celery, then add the broth, bring to a boil then lower the heat and simmer for about 20 minutes until all the veggies are about to be done.

In the last 5 minutes, we will add the broccoli and artichoke, simmer for 5 more minutes and season well.

Add the diced chicken and test that everything is done.

Serve with your favorite pasta/rice.
Notes
Please note that there are not specific ingredients in this recipe as it is meant to clean up your fridge and use whatever leftovers you have.
Sign up and learn more about Mediterranean flavors