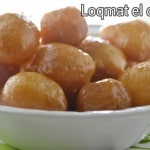 A delicious Ramadan treat.
1

c

AP flour.

1

Tbs

cornstarch.

2

Tbs

semolina.

1

Tbs

sour cream.

1

Tbs

oil - any kind.

1 1/2

tsp

dry yeast.

1

tsp

sugar.

1

tsp

white vinegar.

1/2

c

warm water.

Simple syrup or powdered sugar.

Crushed nuts for garnishing .

optional

Oil for frying.
Mix the dry ingredients well.

Mix in the oil, vinegar, sour cream then gradually add the water until you get a pan cake like batter.

Cover and let it set in warm place for 15 minutes.

After 15 minutes, stir then cover for another 15 minutes.

Do so 3 times for a total of 45 minutes.

*If you feel the batter is too thick add a Tbs of water at a time and mix, if you feel it is thin then add tbs of flour and semolina and mix.

Heat the oil on medium heat and when you are ready to fry, drop the temperature to low until you fill the pan then raise the temperature again.
To form equally shaped rounded balls
In a sandwich bag, add 1tsp of oil and spread evenly, then fill the bag with some of the batter .

Cut a small opening in the bag to form a pastry bag.

Use a measuring spoon, dip it in oil, then fill the spoon with batter from the bag and drop the batter into the frying pan.

Turn the balls to be of uniform golden brown color.

When the loqaymat are golden brown, remove from oil, and place them on kitchen paper.

**Dunk in simple syrup, drizzle with honey, sprinkle with powdered sugar or drizzle with your favorite syrup. Sprinkle with some nuts.

Enjoy in the same day.
* You can run a test if you are not sure, drop a ball and if it did not form a round ball and started to flatten in the oil then it is too thin, if it came out dense from the inside and not as fluffy anf airy then it is too thick.
** Syrup should be at room temperature.