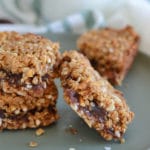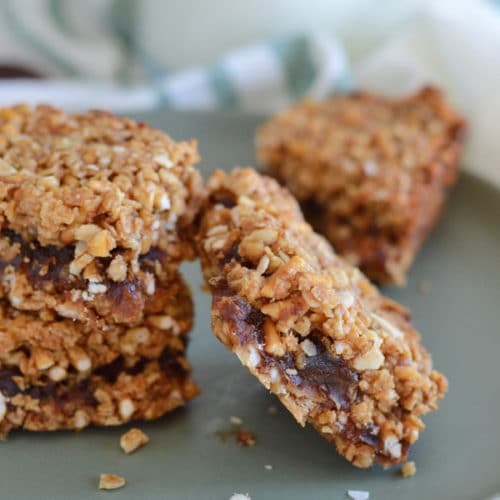 Date coconut pretzel breakfast squares
A great start for any day, packed full with nutrients, flavors and textures.
Print Recipe
For the date layer:
16

oz

pitted dates.

1 1/4

cup

water.
For the crumb layer:
6

cups

of Great Grains Coconut Almond Crunch.

4

cups

of pretzels.

1/2

cup

softened coconut oil.

1/2

cup

honey.

1

cup

date paste

from the date layer that we will make.
Prepare the date layer:
In a sauce pan over very low flame, simmer dates with water for 5 to 10 minutes or until water is totally absorbed, set aside to cool down.

Pulse both the pretzels and the Great Grains Coconut Almond Crunch separately in the food processor until they have a texture that is between whole and finely ground.

In a deep bowl, add both of the pretzels and the grain cereal with coconut oil and honey, mix well with hands.

Add 1 cup of the date paste we previously prepared and mix again.

Pre heat oven to 350F.

Line a 9x9 brownie pan with parchment paper.

Press half of the pretzel/grain mixture in the bottom to form the base of the squares.

Spread the date paste on top evenly then top that with the remaining pretzels/grain mixture.

Press everything tightly together and bake in the oven until it browns nicely on top 25-30 minutes.

Take it out and let it cool completely.

It is also recommended to chill in the fridge for a couple of hours more before cutting for easier handling.

Store leftover in the fridge, keeps well in freezer for few weeks.

Enjoy.
Sign up and learn more about Mediterranean flavors