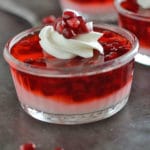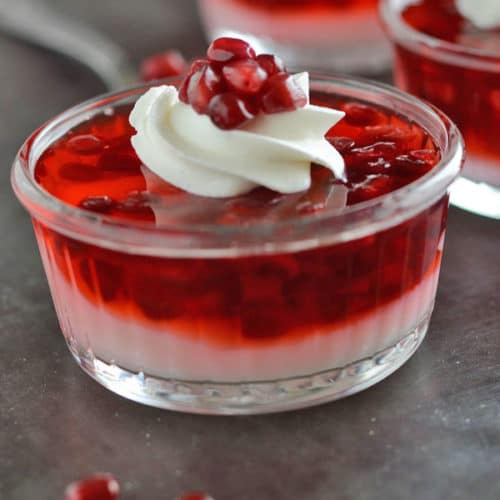 A super easy pomegranate dessert parfait recipe with silky vanilla pudding.
In a saucepan over medium heat pour 1 1/2 cup of milk, sugar and vanilla extract and mix well together until sugar is completely dissolved.

Heat milk for 5-7 minutes until it starts to bubble around the edges.

Meanwhile, mix corn starch well in the remaining milk then pour into the saucepan.

Continue stirring and cooking the pudding until it thickens, will take about 1.5 minute.

Divide the vanilla mixture into 8 (4oz) dessert cups or ramekins.

Let it chill in the fridge for 30 minutes.
Prepare jello:
Dissolve the packet in 1 cup of boiling water then add 1 cup of cold water and mix everything well.

Take the ramekins out of the fridge, put about 2 heaping teaspoons ( more or less if you like) of pomegranate seeds on top of the vanilla pudding.

Now pour the jello carefully over the pomegranate, refrigerate for two hours or until jello is completely set.

Serve cold with whipping cream on top.

Enjoy.
* I've found that 1/2 cup is too sweet and 1/4 cup is barely enough so I went for 1/3 cup.
Nutrition Facts
Pomegranate Dessert; Mini Vanilla Parfaits
Amount Per Serving
Calories 142.9
Calories from Fat 21
% Daily Value*
Fat 2.3g4%
Sodium 31.1mg1%
Potassium 100.5mg3%
Carbohydrates 27.9g9%
Protein 3.3g7%
Vitamin C 4mg5%
Calcium 78mg8%
Iron 0.1mg1%
* Percent Daily Values are based on a 2000 calorie diet.