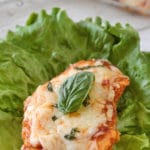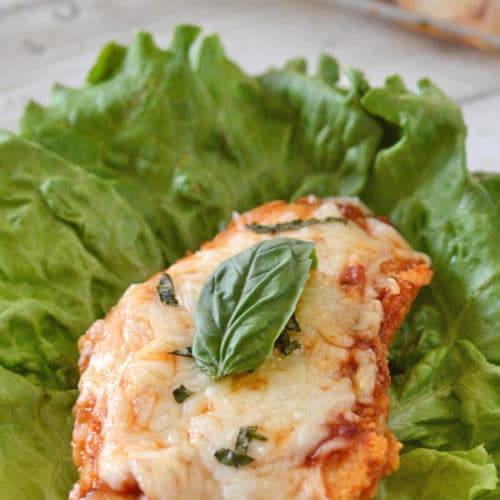 This low carb chicken parmesan casserole is crisp on the outside and so tender inside. Easy healthy chicken parmesan recipe that is one-pan, 30 minutes and kid friendly.
Cuisine:
Italian / American
Start by laying the chicken tenderloin on the cutting board with the smooth side down.

Using a sharp knife, with the edge parallel to the cutting board, begin cutting down the length of the side of the tenderloin. Carefully slice it in half widthwise almost to the other edge. Keep that edge intact and open the tenderloin along the "fold."

Cover with plastic wrap and gently pound with the smooth side of a mallet.

Sprinkle each one with garlic salt and pepper on both sides.

Whisk egg in a separate bowl, and place parmesan cheese on a shallow bowl.

Dredge chicken in egg then place in the parmesan dish to cover with cheese both sides.

Press lightly to get it to stick as much as you can and shake off excess cheese. Place flat on a dish and refrigerate for 15 minutes.

Preheat oven to 350F.

On medium-high heat add butter and oil to a non-stick pan.

Place chicken tenders to cook about 4-5 minutes on one side, lift the chicken slightly to peek and check when it turns golden brown.

Flip to the other side and repeat. *

Place chickens on a baking dish, place about 1 tablespoon of the marinara sauce on each then cover with some shredded parmesan cheese.

Serve with salad or as lettuce wraps.
*My chicken took somewhere from 4 to 5 minutes on each side to brown nicely.
**You can leave the chicken longer if you wish for to brown the mozzarella cheese.
*** You need a good non stick skillet, cast iron will not work even if it is well seasoned.
Inspired by RecipeTinEats.
Nutrition Facts
Low carb chicken parmesan casserole
Amount Per Serving
Calories 332.4
% Daily Value*
Carbohydrates 3.9g1%
Protein 35.6g71%
* Percent Daily Values are based on a 2000 calorie diet.