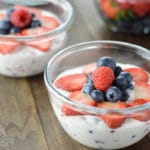 A creamy salad made with seasonal fruits and mixed with creamy sweet sauce.
1

cup

of cream

you can use a can of table cream any brand like Nestle, found at Walmart.

2

cup

of sour cream.*

Simple syrup

adjust the amount to your liking, I've used 1.5 cup. Recipe below

2

Fresh raspberry pints.*

2

Fresh blueberry pints.*

1

lb

of fresh strawberries

washed and cut .**

To make the simple syrup you'll need

2

cup

sugar.

2

cup

water.

a pinch of vanilla powder

optional
Start by making the simple syrup, in a sauce pan over medium high heat add the sugar, water and the vanilla, bring to a boil then reduce heat and continue simmering for 5 minutes more.

In a deep bowel, mix the sour cream, table cream and simple syrup very well together.

Mix in your fruits, leaving some for final decoration of the serving bowls.

Chill in the fridge for an hour.

Scoop in serving bowls and decorate with fresh fruits on top.

Enjoy!!
* The original recipe calls for equal amounts of table cream and simple syrup, to decrease the fat I've substituted sour cream for some of the table cream, but feel free to taste and adjust as you go.
** These quantities and kinds of fruits are all according to your liking so feel free to adjust everything according to your personal taste.