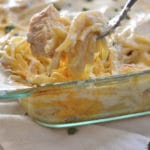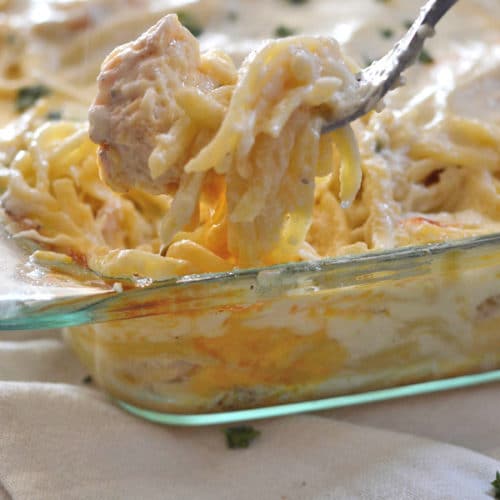 An easy chicken tetrazzini recipe, loaded with cheese and feeds the whole family.
For the white sauce:
4

Tablespoon

unsalted butter.

2

Tablespoons

olive oil.

8

Tablespoons

flour.

1 1/2

cups

milk.

1

cup

heavy cream.

2

cups

chicken broth/stock.

Salt and pepper to taste.

8

oz

mozzarella cheese block

diced.

8

oz

white cheddar cheese block

diced.

8

oz

Colby cheese block

diced.

12

oz

linguine pasta.
Bake the chicken:
In a medium bowl combine, oil, lemon juice, garlic salt and pepper and mix well.

Add Chicken breasts and toss them around to coat well, if you have time cover with plastic wrap and refrigerate for an hour or else let them set until the oven is ready.

Preheat your oven to 450F. Place chicken on a lined baking sheet and bake for 30-35 minutes until chicken no longer pink or the internal temperature is 165F at the thickest part of the chicken.

Set aside to cool and slice.

While chicken is baking:

Cook pasta according to package directions until al dente , rinse with cold water and set aside.
Prepare the sauce:
In a pot over medium heat, melt butter with oil then add flour and whisk until lightly golden.

Pour in the milk, cream and stock whisking the mixture until it comes to a smooth consistency, adjust salt and pepper.
Assemble and bake:
Pre heat oven to 350F.

In a 13x9 inch baking dish combine pasta, cheese and diced chicken.

Pour in the sauce evenly over the pasta.

Bake for 30 minutes or until cheese melts and mixture becomes bubbly and a little golden on the sides.

Let it cool down and bit, plate and serve with a side salad.
To simplify, use any leftover chicken or turkey your have. Make it healthier with the addition of some vegetables and mushrooms.