This is a luxurious presentation of the ordinary pizza and the ordinary Egyptian feteer meshaltet.... Enjoy.
ِAnother dish of my dad's favorite :), actually it is everyone's favorite. This buttery layered stuffed feteer is another version of the famous Egyptian feteer meshaltet, can be enjoyed sweet or savory.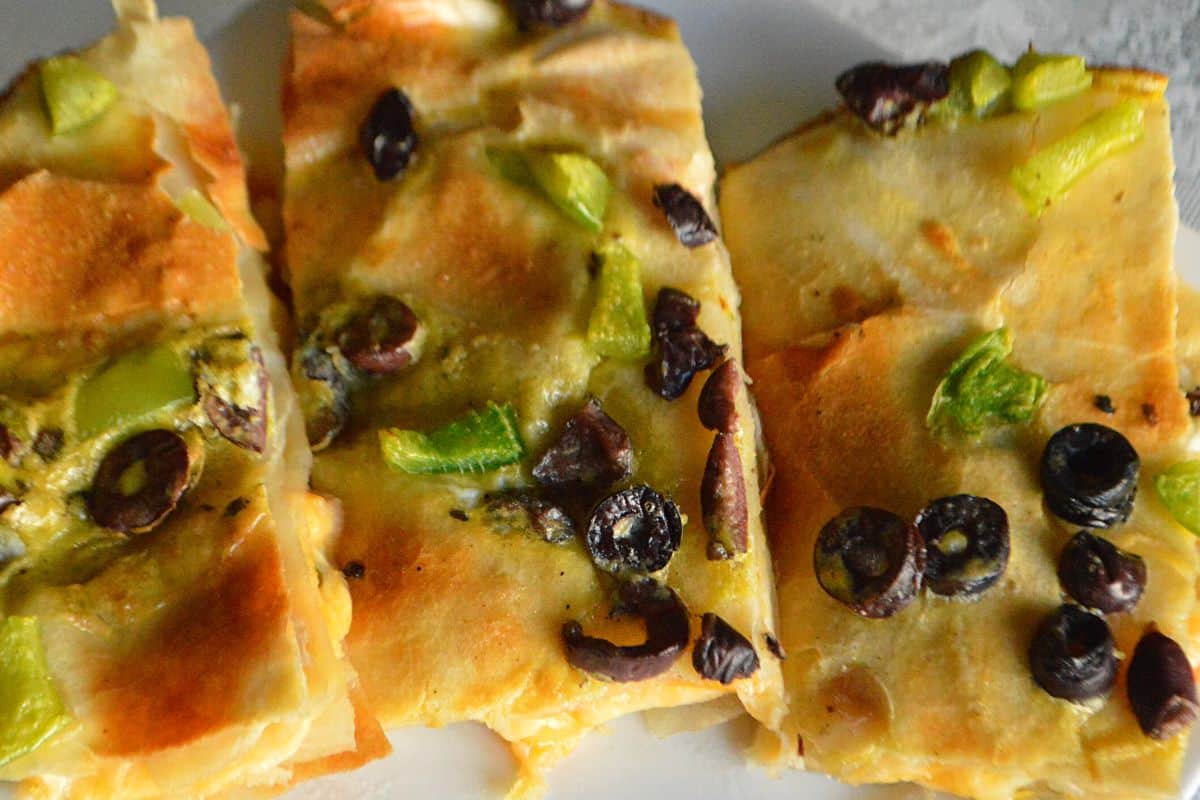 This version of feteer meshaltet can be considered another luxurious way to serve pizza. It can be stuffed with any of your favorite pizza toppings. I'm guessing that this type of pizza was originated in the charming city of Alexandria in Egypt, so that's why it is widely known as the Alexandrian feteer.
Although the sweet version of these was originated in another city called Ras-Al-Bar. My late father loved the sweet ones so much, specially the ones stuffed with custard and topped with nuts and powdered sugar.
For me, I like it savory and I like to stuff it with Nutella for a sweet variation. Can you imagine what is your favorite stuffing?
I do hope you'll try this, next time you think of making pizza. It does require some work but the result is a very luxurious and exquisite taste than ordinary pizza.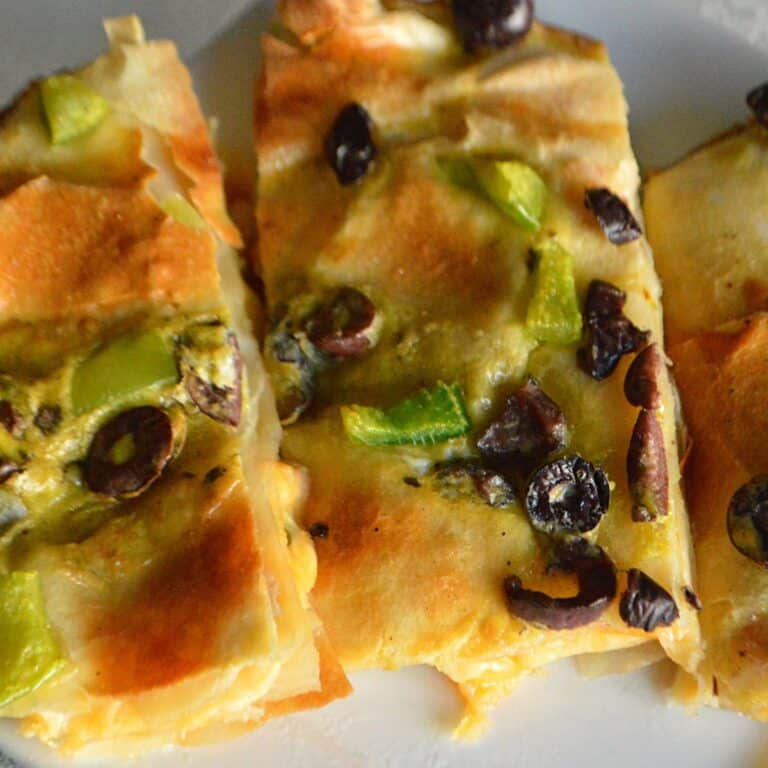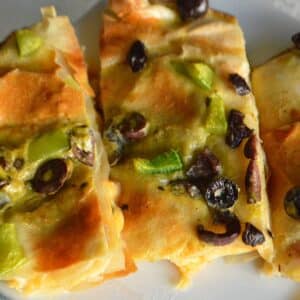 Alexandrian feteer (pizza feteer)
This is a luxurious presentation of the ordinary pizza and the ordinary Egyptian feteer meshaltet.... Enjoy.
Print
Pin
Rate
Ingredients
4

cups

of white all purpose flour.

2

cups

of water

+/- depending on your flour.

A dash of salt.

Melted butter – almost a full cup.
For the savory stuffing
Cheese

canned tuna, vegetables, sausage, chicken, minced beef.... whatever you like as a pizza toppings can go in there.
For the sweet stuffing
Nutella

your fav. jam, custard, nuts and dried fruits.....
Topping for the savory
I like to mix an egg with black olives and bell pepper. But you can skip it and serve it plain.
Topping for the sweet
Powdered sugar is the best.
Instructions
First, mix the flour and salt and add the first cup of water and knead very well then add the remaining bit by bit until you get a dough that is very elastic and sticky.

Divide the dough into 6 balls, grease a deep dish and put the balls in it.

Let it rest for 15 min. and turn your oven on to the highest degree possible, mine was 550 F.

Roll the first ball to be very thin that you can see your counter top through, brush the surface generously with melted butter.

Arrange your stuffing in the middle and carefully fold all 4 sides over the center.

Roll the next ball until very thin and brush as you've done with the first ball.

Place the already done one, folded side down, then fold the outer one and brush with more butter as you fold.

Repeat the process with for a third layer. Brush generously with butter and add the suggested toppings if you would like to.

Place in a pizza pan- or any oven pan- for 10-15 minutes until done.
Sign up and learn more about Mediterranean flavors