A simple and easy apple bread recipe, a Fall delight, filled with fall aromas, for breakfast, dessert or just an in-between meal snack with a cup of coffee watching the golden leaves fall down 🍂 🍂. So warm yourself up with this really delicious apple cinnamon bread with crumb topping.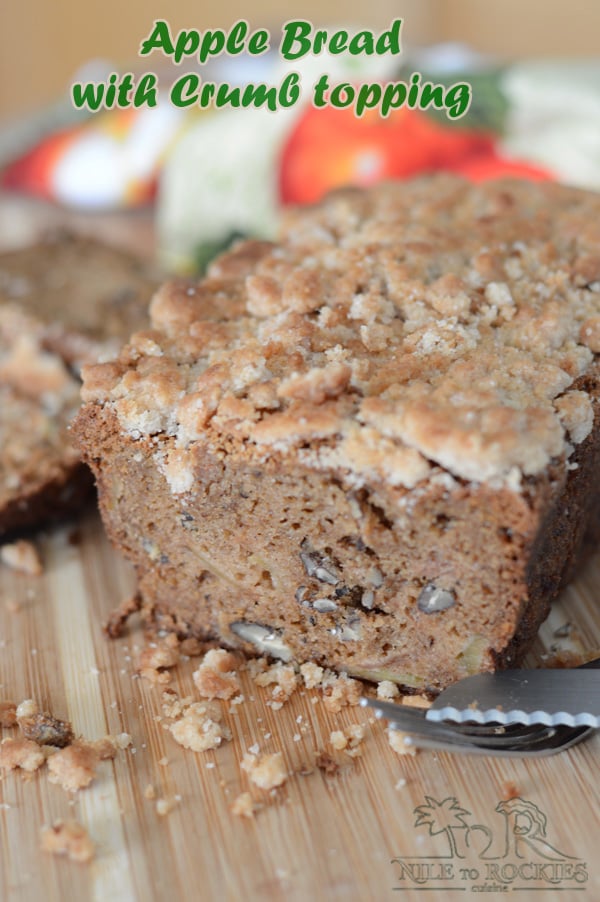 Sooo Fall is officially here, my favorite season in Colorado. For me Fall mean apples, pumpkin, cinnamon and may be apple cider, so nothing is better than a nice cinnamon apple bread specially with lots of crumbs on top. My in laws are here and they are fascinated by the colors they see, you see in Egypt we do not have such seasons, it is either suffocating humidity with high temperatures in Summer or sometimes rainy and gloomy winter days, but almost nothing in between 🙄. Or at least you can say so for Cairo but it gets real cold when you get closer to the Mediterranean.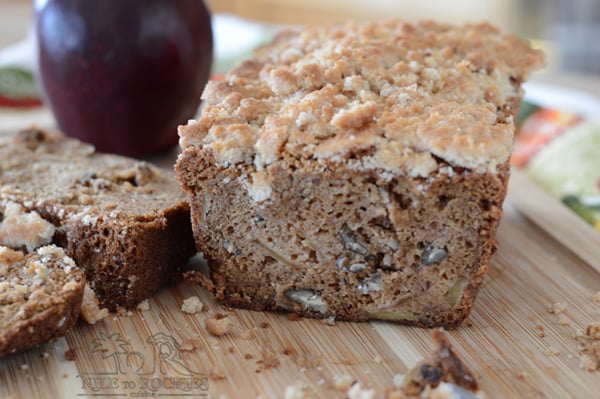 Kids are not used to live day in and day out with their grandparents, as hard as it gets sometimes, I think it is a very good life experience for them and I've always wanted them to have close relatives here to talk to and get the feeling of the big family.
I've always wanted them to have a special relation with their grandparents, unfortunately my dad did not get that chance, so I am hoping this is the time. I want them to have those good old memories with grandparents, talking to them about friends, first love, feelings, life troubles and reaching out for their wisdom and pure advice.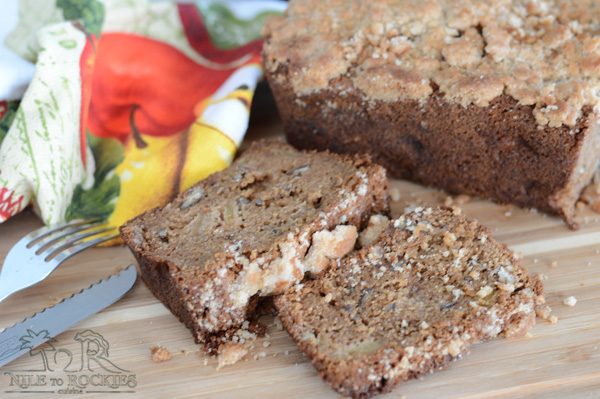 My husband had a very kind, very understanding grandfather whose wife left him early alone in this world and he loved her beyond words can explain. My husband still remembers his words, their conversations together and the old man never gave him a solution to any problem, he just sits there quietly listening to my husband talking and talking then he asks him some questions making him reach the decision on his own!!! he was very very clever. I wish I knew how he did that. His daughter got his talent, she is not like the master but she has it, she is trying hard to do the same with my oldest – who is driving me crazy by the way- he hasn't opened up yet, but I am sure he will. She is just a sweet lovely grandma, may god grant her health and help her beat this monster cancer inside her🙏.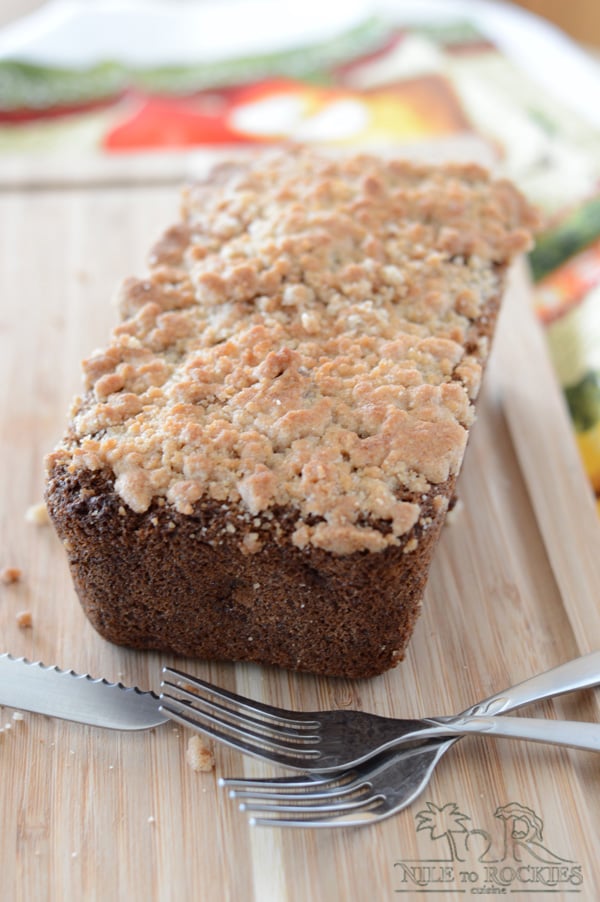 Back to our recipe, this recipe made a wonderful moist apple bread and filled my home with beautiful Fall smell, I've tried it with and without the crumbs, and both are as delicious. I like the plain one without the crumbs as it is a less messy when kids start to eat, but of course my kids liked the one with crumbs as it has more sugar. My in laws liked the cake so much, I even served it once with a scoop of ice cream on top and they raved about it :), so flavorful and easy for them to chew on.
Next time I might try decorating the top with ribbons of sugar glaze or even a cream cheese frosting, kiddos love that too.
I hope you'll like making this simple and tasty apple bread… and until next time .. enjoy the season.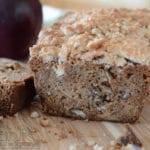 Apple crumb bread
Print Recipe
Ingredients
1.5

cup

AP flour

1/2

teaspoon

salt

1

teaspoon

cinnamon powder.

1

teaspoon

baking powder.

2

large eggs.

A dash of vanilla powder.

1/2

cup

granulated sugar.

1/2

cup

packed brown sugar.

3

Tablespoon

powdered milk.

dried

1/2

cup

oil.

1.5

cup

peeled and shredded or diced apple.

1/2

cup

pecan pieces.
Topping
1/3

cup

flour.

3

Tablespoon

cold butter

diced.

2

Tablespoon

granulated sugar.

2

Tablespoon

light brown sugar.

1/2

teaspoon

ground cinnamon.
Instructions
preheat oven to 350F. Grease a 9x5 inch loaf pan and set aside.

In your blender, add eggs, vanilla, blend then add sugars and blend well.

Add the oil and blend.

Add the milk, blend.

In a bowl, mix flour,cinnamon, salt and baking powder with a fork.

Mix in the apple and pecan until well coated.

Add the egg mixture to the flour mixture.

Bake in the oven for 30 minutes.

Meanwhile make the topping by combining the flour,sugars and cinnamon in a medium bowl.

Cut in the butter with your hand until the mixture resembles coarse breadcrumbs

After the 30 minutes, take the pan out of the oven and sprinkle the crumbs over. Return to the oven and bake for another 15-20 minutes or until a toothpick inserted in the middle comes out clean.

Cool in the pan for 10 minutes then invert onto a wire rack and let it cool completely.

Enjoy!!
Need more desserts? Check out our desserts collection.
Meanwhile here are some of our favorite fall desserts👇.