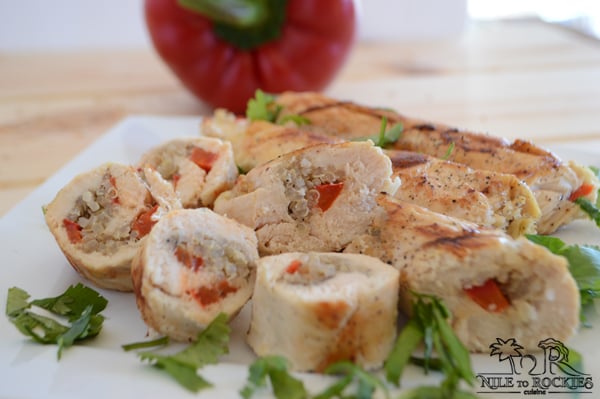 Healthy chicken breast recipe, stuffed with quinoa flavored with black pepper and baked in the oven then may be grilled to give it some color. Perfect for busy weeknights.

Chicken stuffed anything has always appealed to me, whether it is a whole chicken or just breasts, stuffing a chicken and always waiting to see what's inside and how it is done is something that I lvoe doing.
I've shared with you before my spinach stuffed chicken roll, that turned out great and I really like the crispness of the skin, and how tart the filling was. Stuffing just the breast is much much easier and makes a good first impression when you have a party coming over.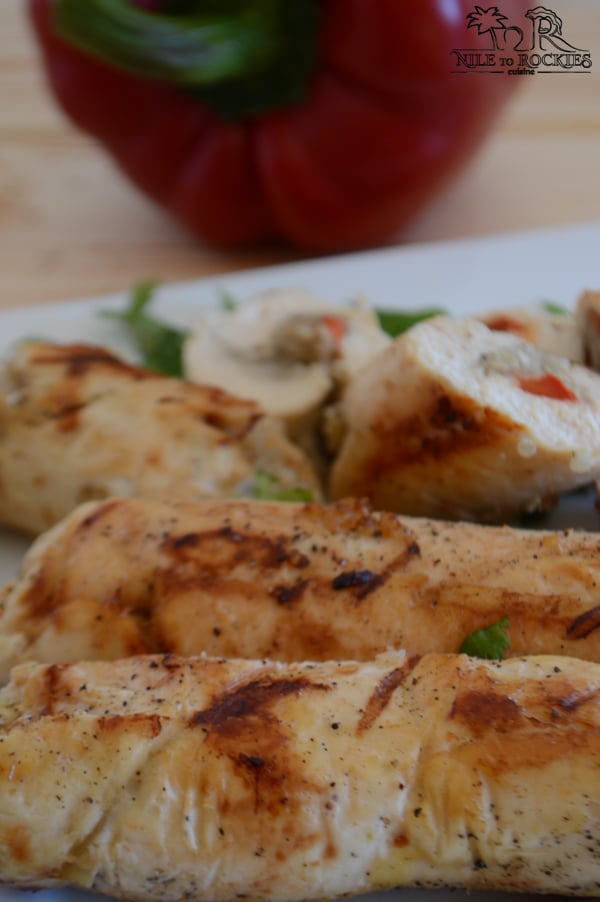 My mom used to stuff chicken breasts or q whole boneless chicken with browned meat, and let me tell you it was/is delicious. I do not know from where she got the idea of stuffing chicken with ground meat, she used to represent it just like a Swiss roll and it always looked so delicious and made a huge hit in gatherings.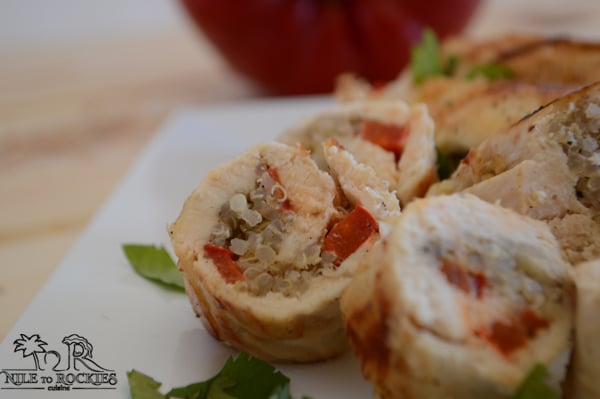 I try to follow but, to make it much healthier I stuff things with vegetables and sometimes rice. Stuffing chicken with rice and pigeons with Frekah is very common in Egypt and the Middle East countries. So today I've decided to replace rice with quinoa and see what will come up, it was good dare I say better than the rice in terms of texture, taste and health benefits.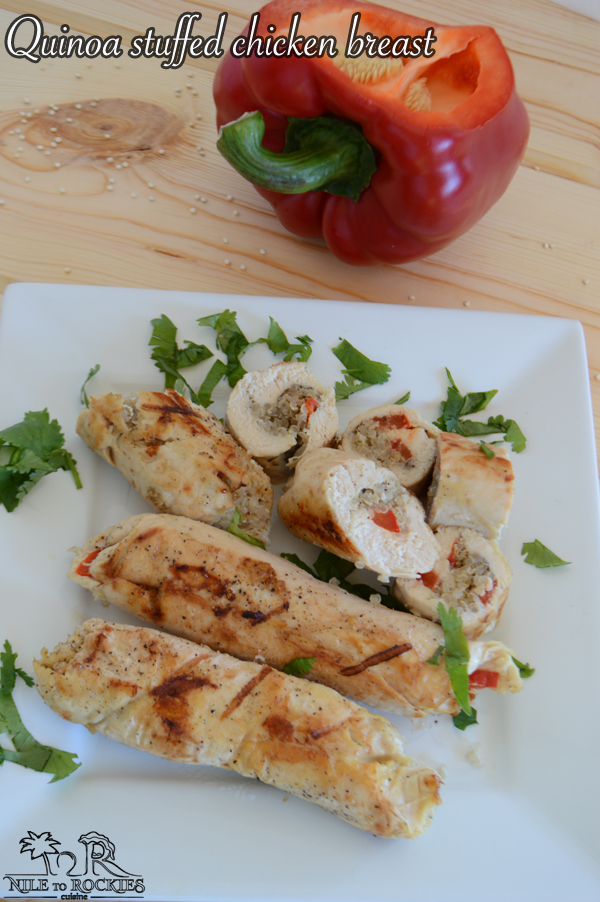 The key here is to add loads of freshly ground black pepper, I've use a whole 1 teaspoon of black pepper or even slightly more, but I've indicated in the recipe to use only ½ because this is what most people can tolerate, but if you like spicy go ahead for sure it makes a whole lot of difference for us spiced food lovers.

Yesterday March 21st, marks the beginning of Spring season and also it is Mother's day in Egypt and some of the Middle Eastern countries. Being a mom for me was not an easy journey, I've suffered from postpartum depression which was left un-diagnosed, untreated and un-helped even by those closest to me, because simply, they had no idea what I was going through, what made things worse, is that in Egypt, everybody is entitled to judge you and start blaming you, which made me feel even worse and cry all the time. These were horrible days, but thank God I'm over it now, enjoying my kids, loving them and trying to do the most I can to help them be better than I am. It is hard, but it does worth every drop of sweat and tear, we really are shaping the future of this world by raising our kids, so let's choose wisely... let's choose love and peace.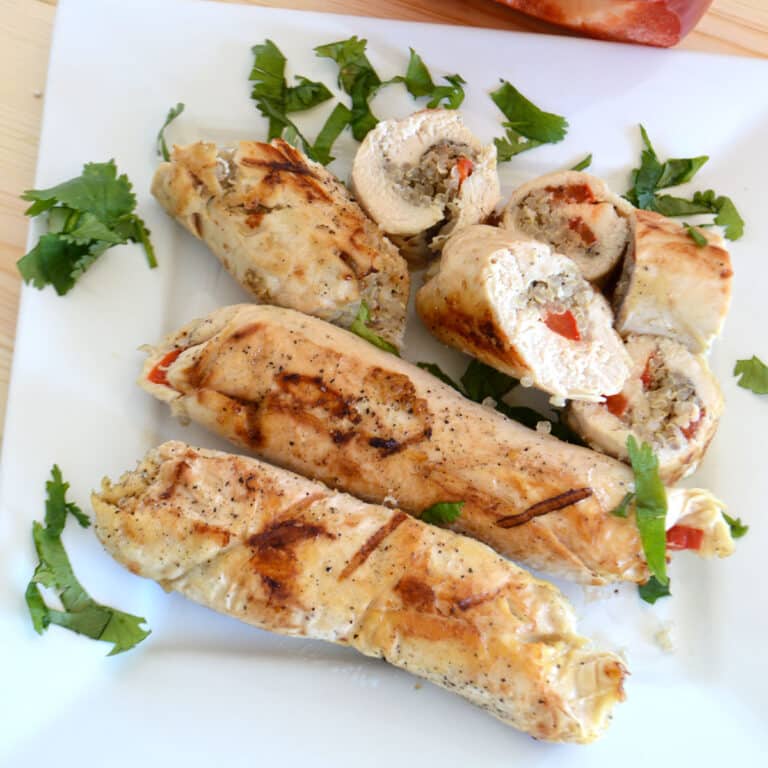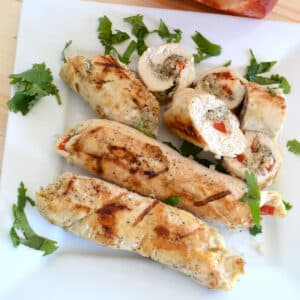 Ingredients
3

Tablespoon

olive oil.

¼

cup

onion - chopped.

⅓

cup

quinoa uncooked

rinsed well and drained,

¼

teaspoon

salt.

*½ teaspoon freshly ground black pepper.

⅓

cup

water.

1.5

lbs

chicken tenders - approximately 9 pieces.

Salt and pepper to sprinkle on chicken.

1

small red bell pepper- julienne.
Instructions
In a small sauce pan, heat the oil , add the onion and stir until fragrant.

Add quinoa and stir for a minute, the add salt and pepper. Add water and bring to a boil, reduce heat, cover and simmer until all water is absorbed, remove from heat and let it cool down.

Flatten the chicken tenders with a meat mallet, sprinkle with salt and pepper.

Arrange some red pepper slices and spread about 2 tablespoon of the quinoa then roll the chicken.

Place the chicken roll in a parchment paper and toll, secure ends, tuck them under and roll again in aluminum foil.

Repeat until all the chicken is done. Place in an oven dish

Bake in a 350F preheated oven for 20- 25minutes.

You can enjoy the chicken now or unwrap and broil or grill.

Enjoy!!
Notes
I've used slightly more than 1 teaspoon of black pepper because we love black peppers a lot so if you can take it, then you are welcome to add more.
Sign up and learn more about Mediterranean flavors