A hearty kale and mushroom salad that has cooked kale with meaty mushroom and fragrant sweet pepper topped with roasted sesame and dressed in garlic and vinegar. A combination of flavors that will appeal to anyone especially first time kale consumers like me :).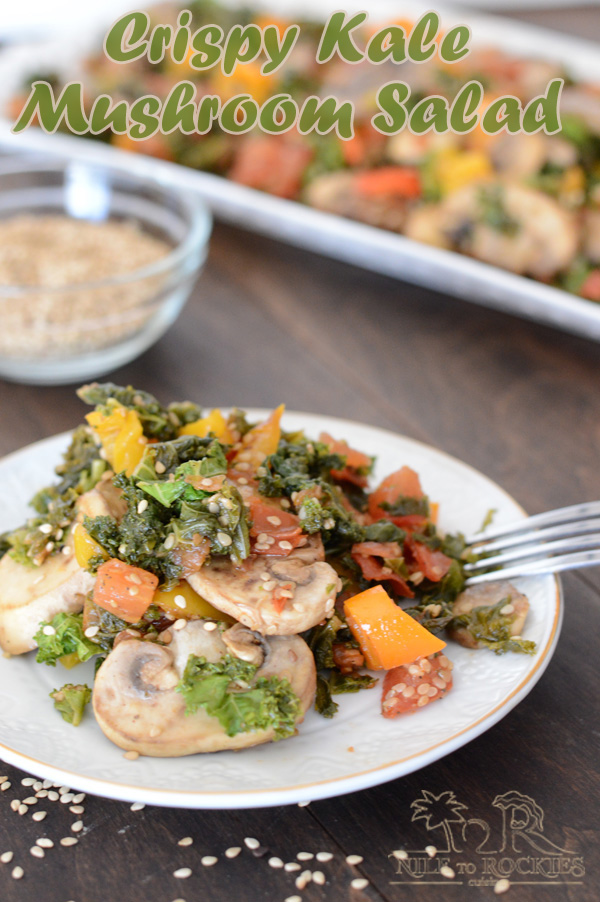 Ok now you hear, kale is good for you, kale is anti cancer, kale helps your body and immune system, kale kale is everywhere. SO i had to find a way to incorporate kale in my diet, I hesitated many times at the local farmer's market to buy it. When I first touched it, it was so tough that I could not believe that this can be eaten raw!!!😱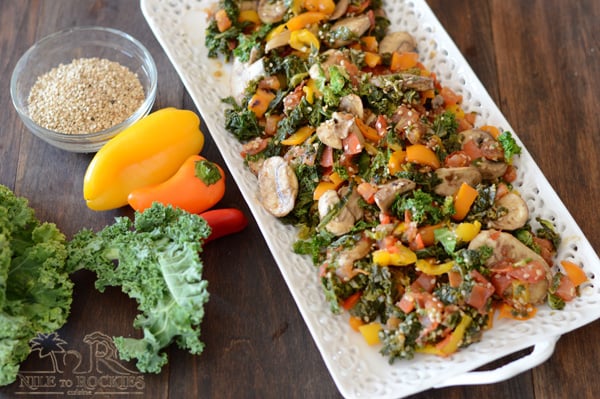 I searched high and low for a startup kale salad that will appeal to beginners like me, but most recipes called for raw kale salad and I was not read for raw yet. But I cannot deny that there are abundant of other recipes for sauteed kale, it is just I needed something for my vegan day of the week (I go vegetarian once a week).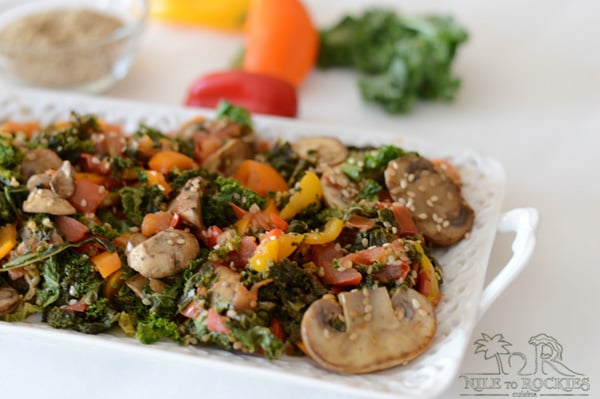 I needed a recipe that does not hide the kale itself among sauces and other flavors, a hearty filling one and no meat included so I thought of mushrooms. It has always been a blessing for me to add mushroom- specially fresh mushrooms- to anything. It is hearty, meaty, filling and makes you feel good about your meal.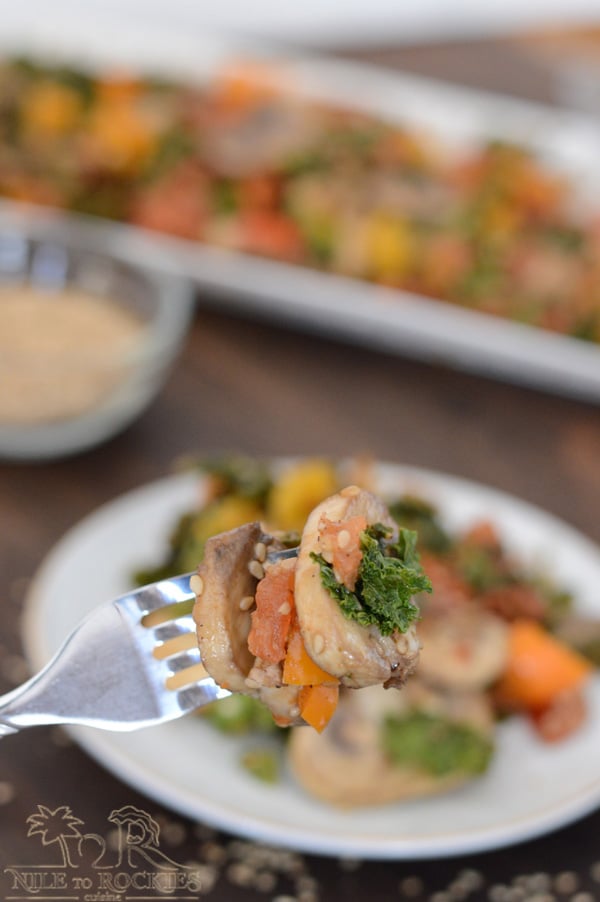 Adding some sesame seeds for an Asian look 🙂 in addition to flavor and texture, also one medium crushed garlic clove and a scant of white vinegar elevated this dish a lot. The addition of diced sweet peppers came from the hubby, as he suggested adding it for more colors and smell.
This dish can be enjoyed as a side dish or a vegan main one. I tried not to wilt the kale that much so as to prepare myself for the next step which is eating it RAW , but feel free to saute it to your level of perfection.
I hope you'll like this recipe and that it will make you try kale, especially if you are a newbie like me…. Enjoy!!
P.S: there is no video today, this is a very easy recipe… trust me.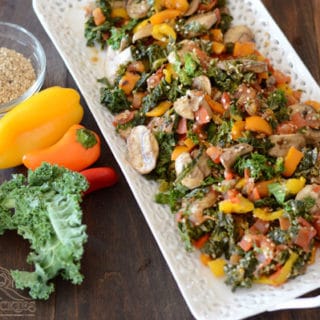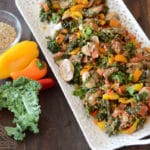 Crispy kale and mushroom salad
A hearty vegan kale salad specially for kale beginners.
Print Recipe
Ingredients
1

Tablespoon

oil - I used sesame oil.

1

medium garlic clove - crushed.

2

Tablespoon

sesame seeds.

1

bunch of kale - well rinsed and chopped.

1

mushroom package.- rinsed and chopped.

1/2

cup

sweet peppers- sliced.

*1/2 cup tomato - diced.

1

teaspoon

white vinegar.

salt and pepper to taste.
Instructions
In a deep pan over high heat saute garlic in oil for 30 seconds or until fragrant.

Add sesame seeds and stir for another 30 seconds.

**Stir in chopped kale , mixing with other ingredients for almost 2 minutes.

Add the mushrooms and saute for 2 more minutes.

Add the sweet peppers, tomato, vinegar, salt and pepper and stir very well.

**Reduce heat and keep stirring for another 5 minutes.

Serve as a side dish or as a vegan main dish.

Enjoy!!
Notes
* The addition of tomato is optional, just needed to add more veggies to the dish.
** I sauted mine for only 2 minutes or less as I did not want it to be completely wilted and the other veggies to be crispy as well, but this is up to you, keep the dish cooking until it reached you level of content.
Need more appetizers?