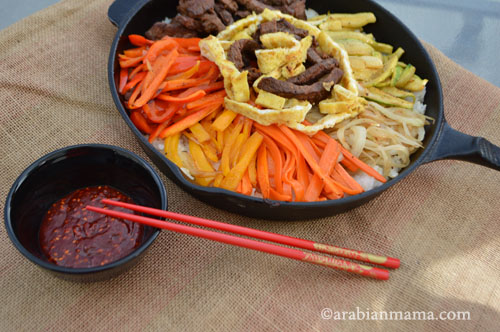 Looking for something special to amaze you family/friends this weekend? yet, you still need a nutritious meal. Korean Bibimbap is the answer. It is a one dish meal that my family marked as one of the champions in comfort food. You can make endless variations of this dish depending on the ingredients you choose, you can even make an amazing vegetarian/vegan dish if you just skip the beef and/or egg.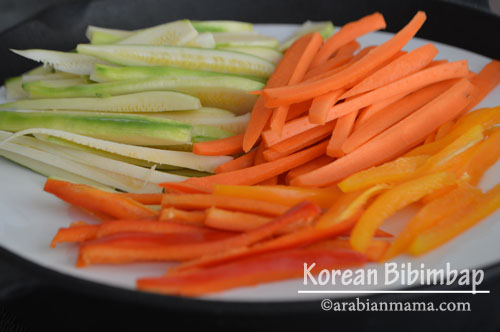 Helloooo from the sunny hot Egypt. We've had a long 20 hours ride from Colorado,USA to Cairo, Egypt last Friday. It was very long, very tiring, very boring trip in the British Airways but the food was very good. Actually it is almost the first time I have a trip with good food that even my boys liked!!!!. What really made this trip easier is this easy, juicy and delicious Melon sandwiches I've made from Lea Ann's blog. Thanks a zillion my friend, we really enjoyed them.

This post should have seen the light a couple of days ago but due to technical problems, I only managed to post this today. This post is part of the daring cooks' challenge of July. This month's challenge Renata from Testado, Provado & Aprovado
challenged us to take a trip to South Korea to make this authentic dish.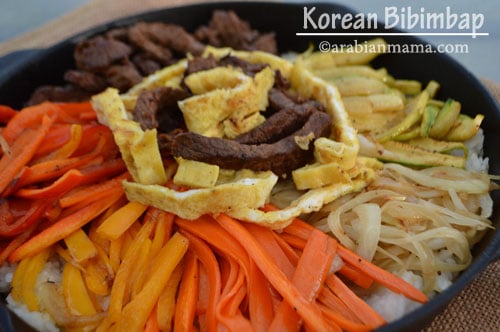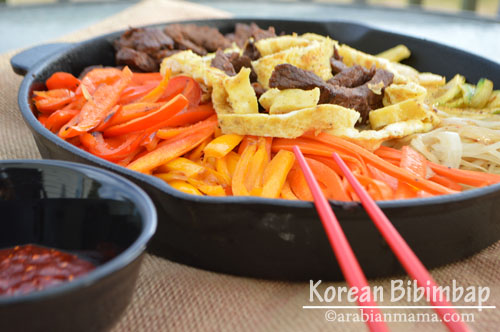 Back to our recipe, this dish is a one dish wonder of steamed rice, topped with julienned crispy vegetables and a fried egg. You can stop there or go to the next level and add beef , chicken or pork cut into strips of even minced. With the nutty taste and the aroma of sesame oil, this dish is heavenly flavored.

This dish is easy to make but it just takes time to julienne all the vegetables included.

I really enjoyed making this dish so so much, but what I did not like is the eating part :(. After all this hard work of cutting and arranging the dish, sadly to eat it the right way you have to mix all the ingredients together with Korean red pepper sauce. You probably think " you could've just throw everything together in a pot", but it really looked so tempting to eat on the dinner table even to the little ones, so mission accomplished :).