Roasted milk dessert that is very rich, smooth and just too tasty and too wonderful.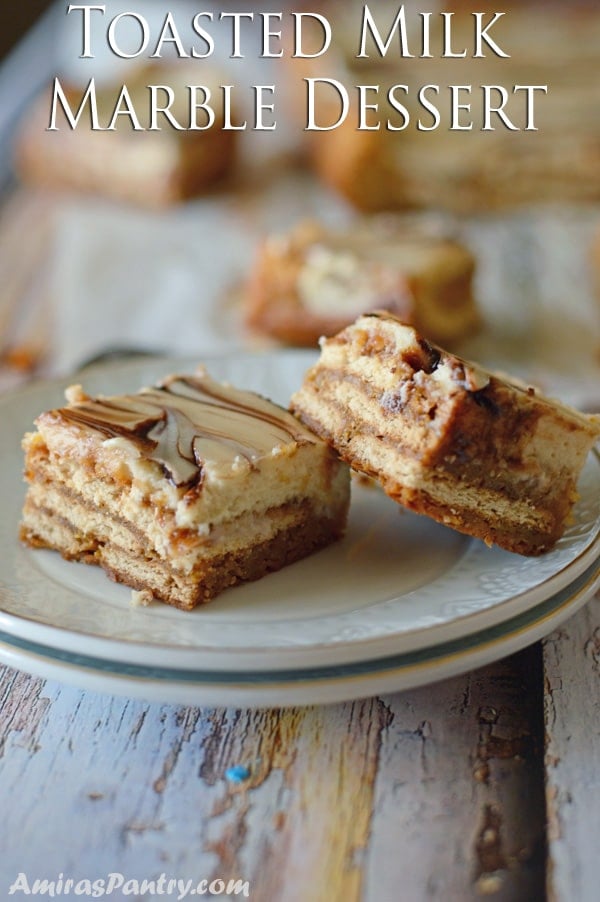 This is a roasted milk dessert that is easy to make and very tasty. This recipe is the answer to your question: what does a person do with a packet of plain tea biscuit, especially when your spouse decides to buy a big one from Costco ಠ_ಠ? and if you have more, you can actually make this for the neighbors or for a brunch.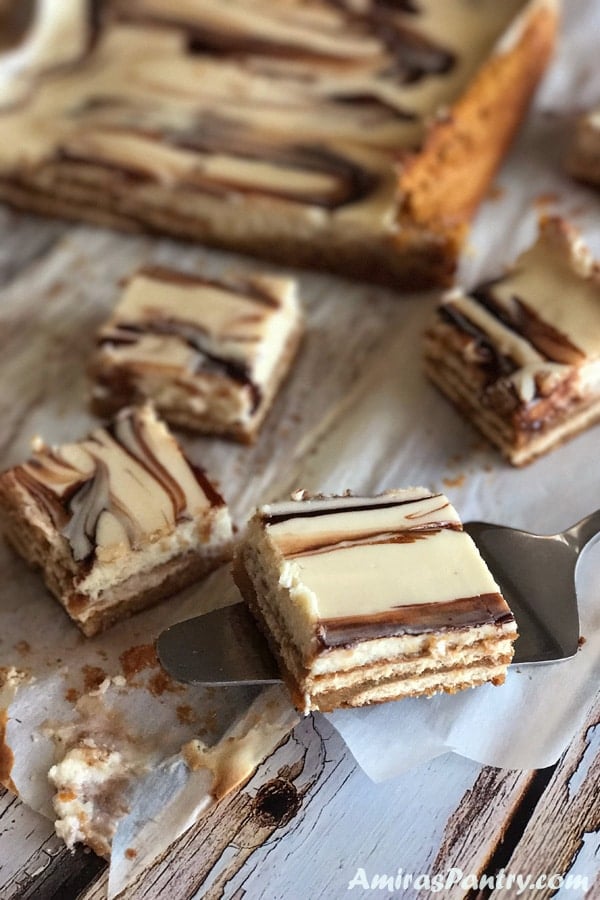 One thing about blogging, it enables you to take work everywhere. No matter where I am in this world, as long as there is internet connectivity, I can do my work. But this time, this was not the case.
I apologize for the delay of posting, it has been very hard last week to get a good internet connection as we were not in Cairo, you might already know if you are following my instagram,
We've been on the north coast and the Mediterranean has been so fascinating. So beautiful and very calming, although I've always feared the sea, I somehow find the waves sound so relaxing at daytime and very angry at night!!. I seriously fear the sea by night, I get this feeling that it is going to swallow whoever dares to come close enough.
We've had a very nice time with the family, lots of food, playing games and reconnecting. A relaxing time that was very much needed by everyone. My sister made many dishes among which was the infamous grandma's marble cake and everyone raved about it as usual.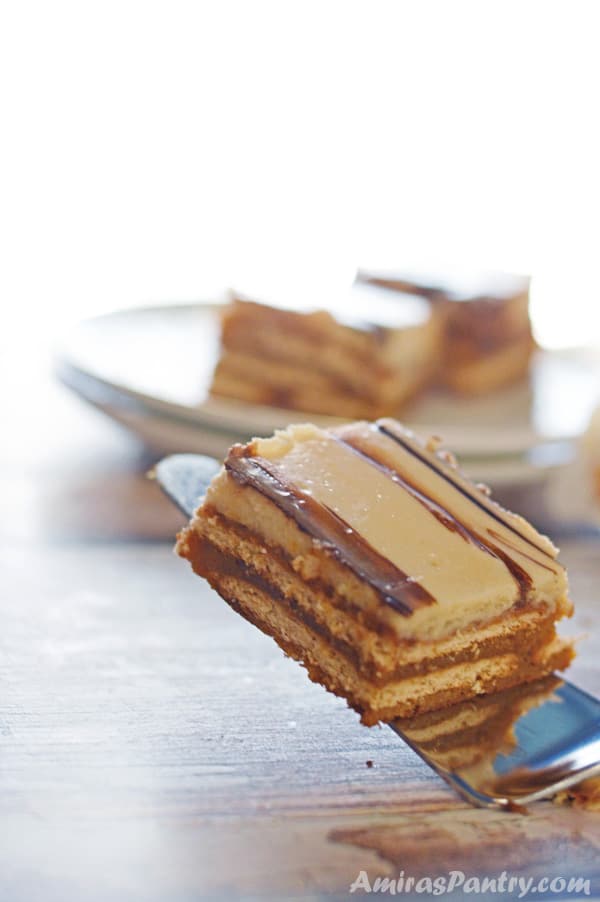 Here is another marble cake but this time made so easy from roasted dry milk, eggs and some biscuits.. let me show you how to.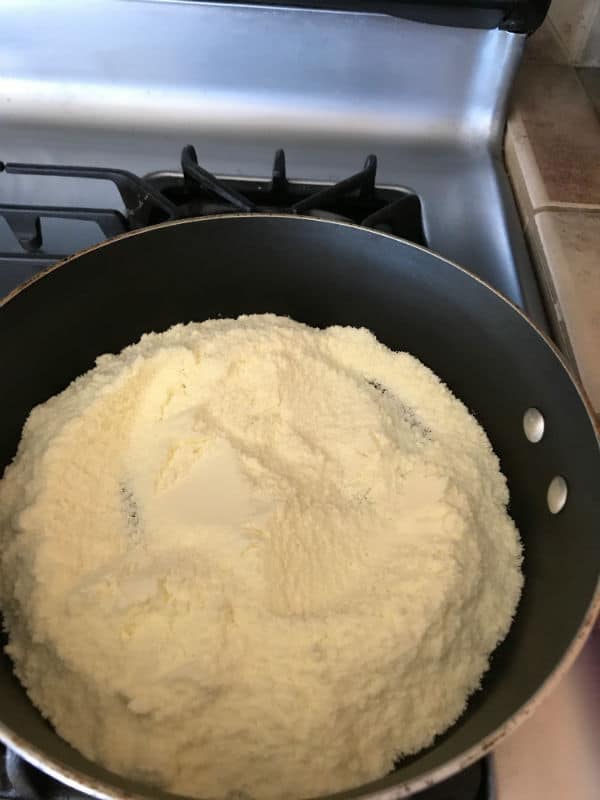 We'll start by roasting the milk like we've done before in the roasted dry milk cake.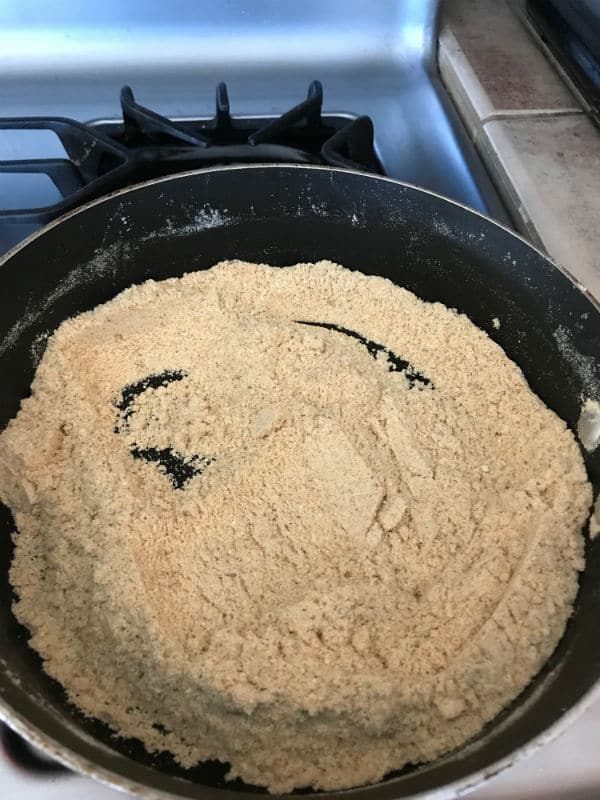 Until it changes color and becomes golden.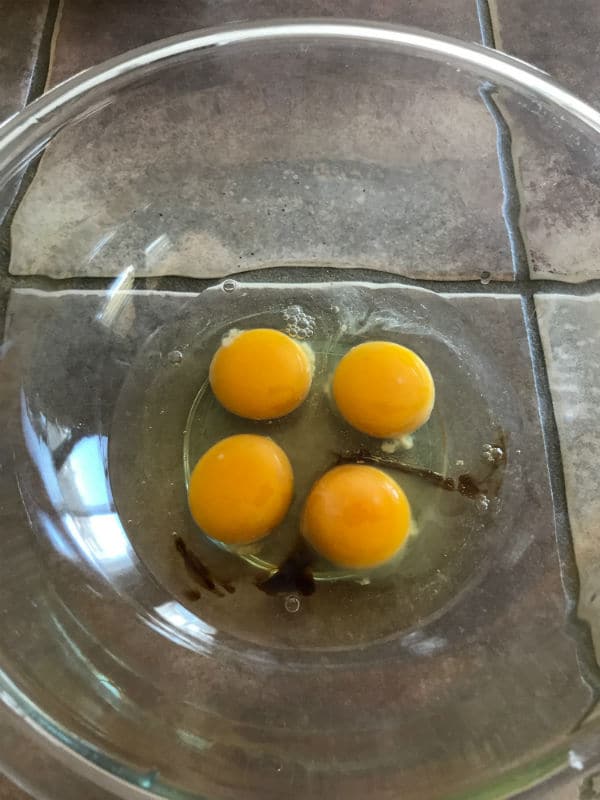 In another bowl mix eggs with vanilla extract.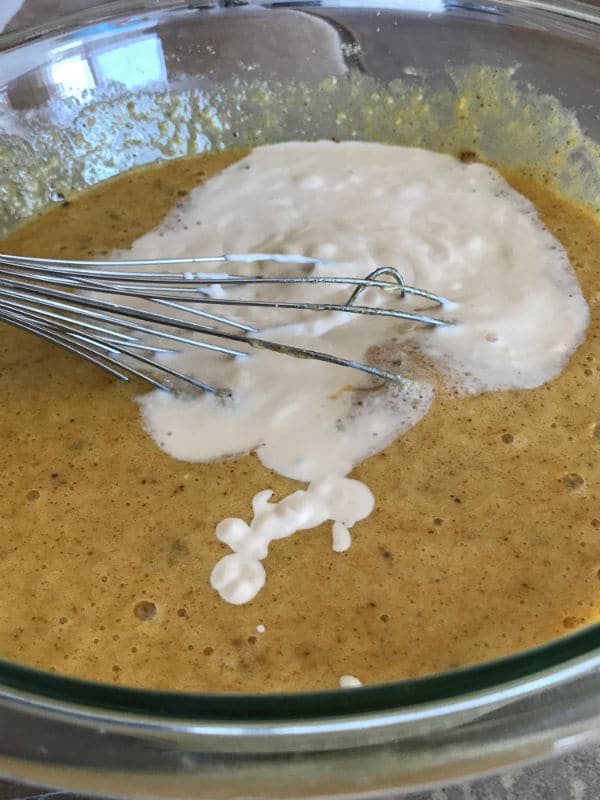 Add roasted milk, dry ingredients and mix well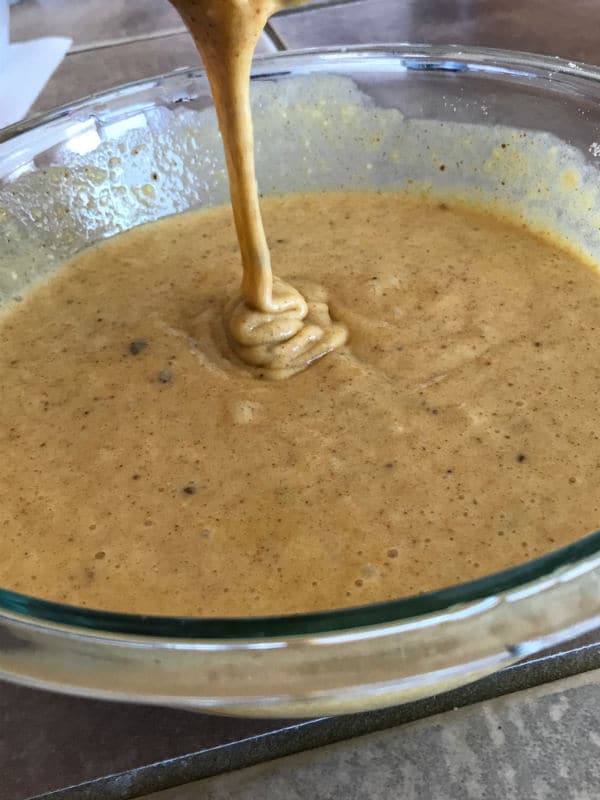 Until you have a batter that somehow looks like cake batter.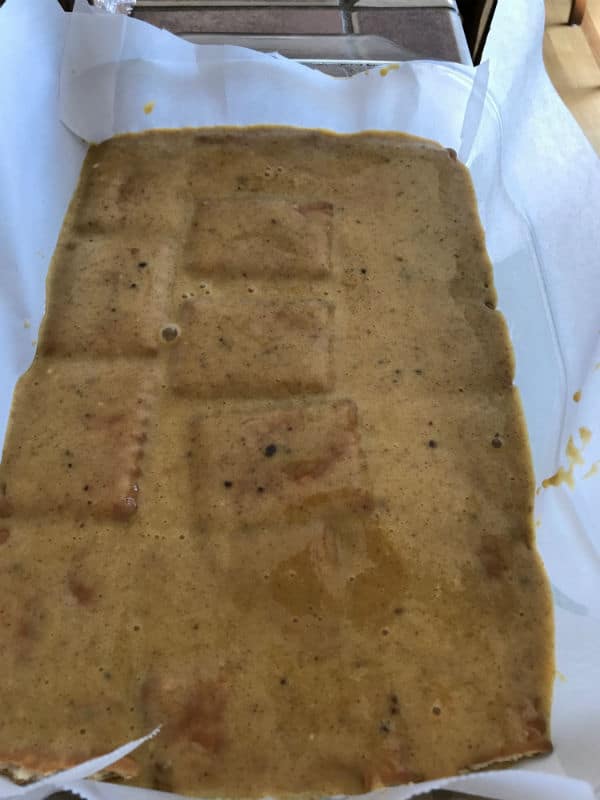 Pout part of the batter in a 13x9 pan, add the biscuits then the rest of the batter and bake for 25 minutes.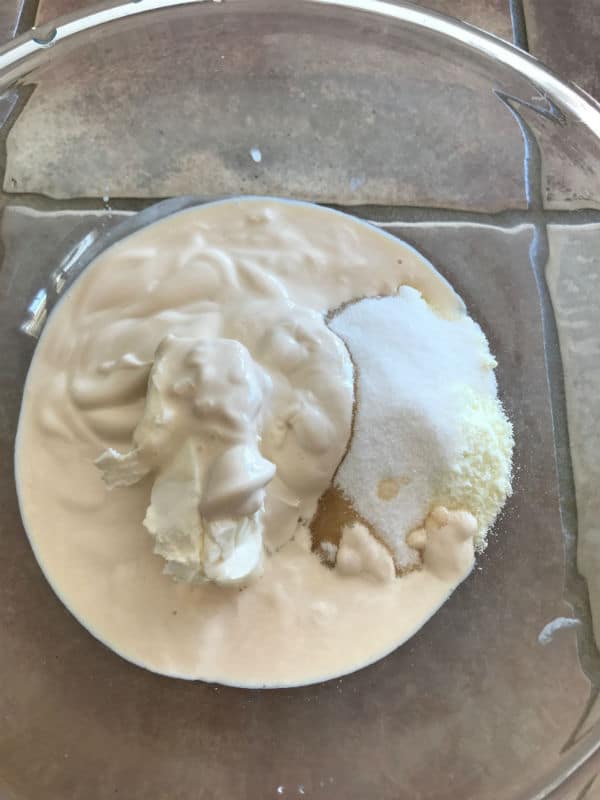 Prepare the top layer by mixing all the ingredients.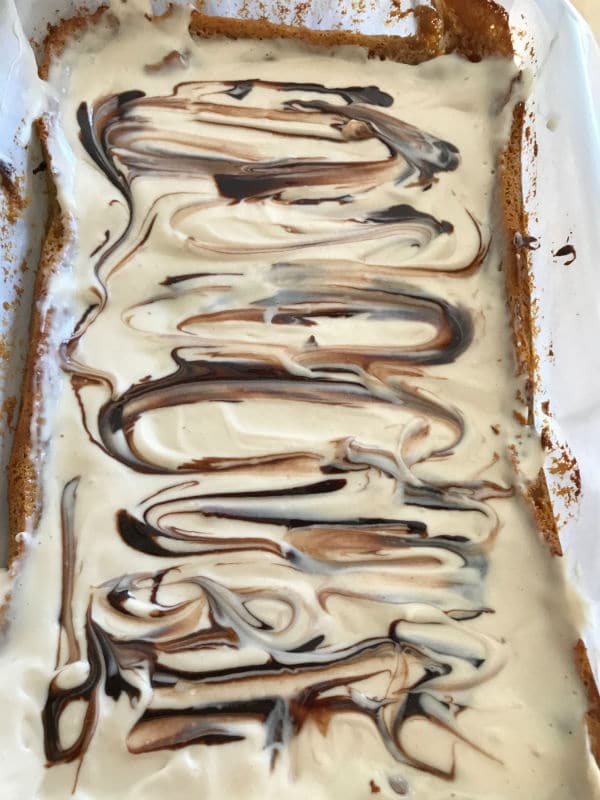 Add drops of chocolate syrup then with a knife make lines to marbleize the top. Return to oven and bake for another 10-15 minutes until set.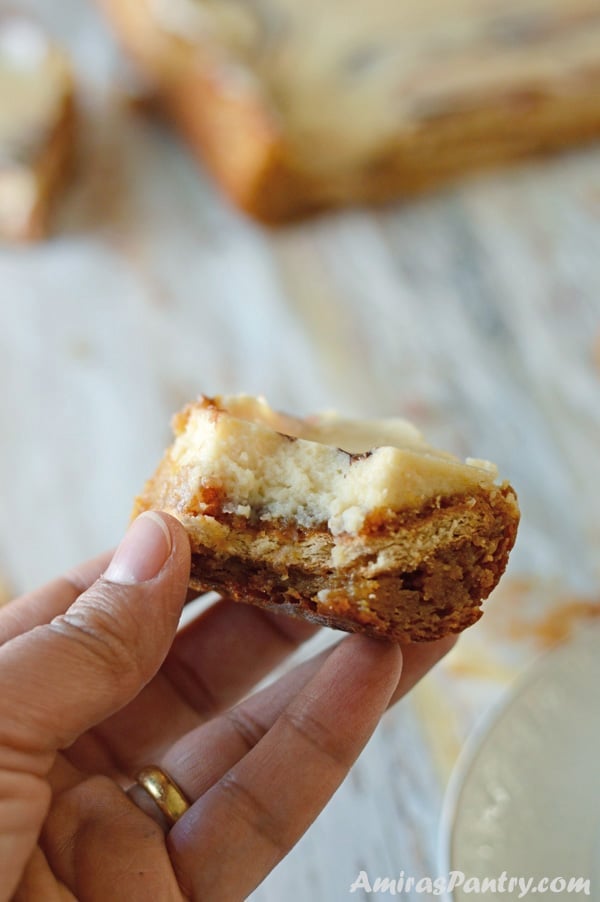 Wait for it to cool completely then cut into squares. Store any leftovers in the fridge.
We're wrapping up our summer trip to Egypt as this is our last week before we start our 20ish trip back to Colorado on the 30th.
I hope you'll like this recipe and please if you make this recipe, snap a pic and hashtag it #amiraspantry — I love to see your creations on Instagram, Facebook, Twitter!
Don't want to miss a recipe? Sign up for the FREE Amira's Pantry newsletter delivered to your inbox with lots of tips and surprises! And stay in touch with me on Facebook, Twitter, Pinterest, and Instagram for all the latest updates.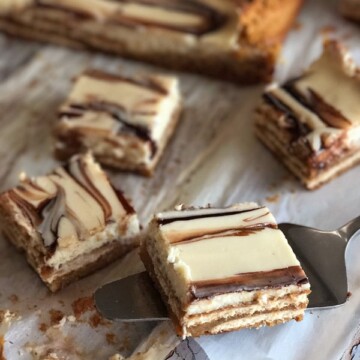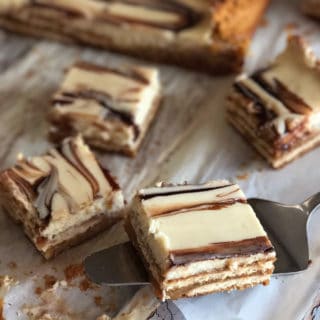 Ingredients
2

cups

powdered dry milk.

4

eggs

Large

1

teaspoon

vanilla extract.

½

cup

oil.

1

cup

granulated sugar.

1

can

7.6 oz table cream.

1

Tablespoon

baking powder.

20

plain tea biscuits/cookies
For the top layer:
4

oz

cream cheese.

1

can

7.6 oz table cream.

½

cup

granulated sugar.

½

cup

powdered dry milk.

Any chocolate sauce/syrup like Hershey's
Instructions
In a deep skillet over medium-low heat, roast the dry milk until light brown. Remove from heat set aside and let it cool down.

Pre heat oven to 350F.

In a bowl combine, eggs and vanilla extract, beat well.

Add oil, sugar and mix well.

Add roasted milk, baking powder and table cream and mix.

Pour ¾ the batter in a 9x13 oven pan lined with parchment paper.

Arrange biscuit on top of the mixture then pour the rest, smoothing the top.

Bake for 20-25 minutes.

Meanwhile mix the ingredients of the top layer.

Take the pan from the oven then top with the cream cheese layer.

Add drops of chocolate sauce. with the help of a fork or a knife, make waves through the top layer so to make a marble like decoration.

Return to the oven for another 10-15 minutes until it all sets.

Let it cool down, cut and serve.

Enjoy!!
Sign up and learn more about Mediterranean flavors