Sweet teriyaki sauce mixed with ground turkey and tossed with spaghetti squash, a healthy and easy dinner idea.
If you are wondering about things to do with spaghetti squash, you are in the right place. The delicious, sweet teriyaki sauce will make you fall in love with spaghetti squash. Turkey spaghetti squash with teriyaki sauce is a dish with a hint of sweetness that is perfect for a healthy dinner.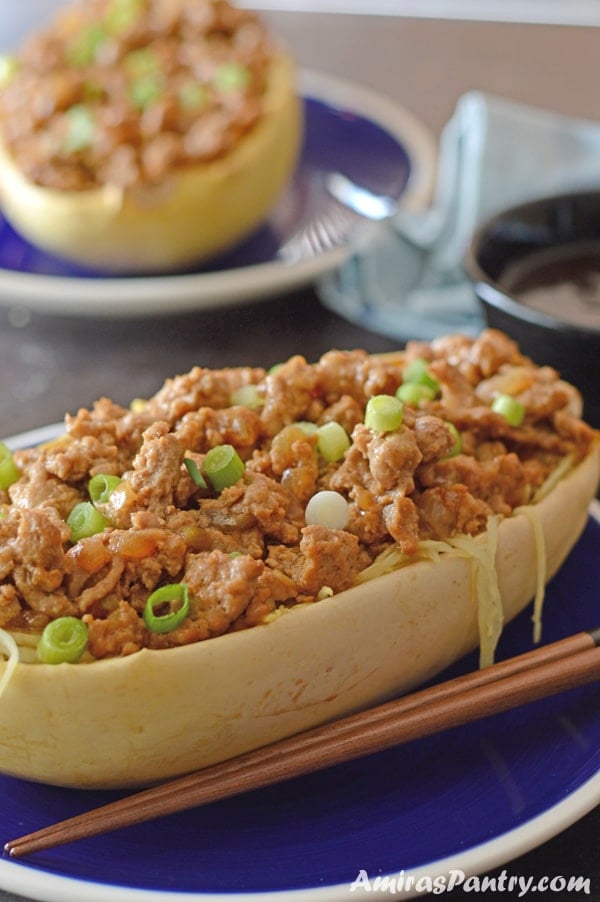 This marriage between spaghetti squash and ground turkey makes a major weeknight meal win after a long day. These bowls consist of spaghetti squash tossed around with ground turkey which in turn, is tossed around with the most delicious teriyaki sauce.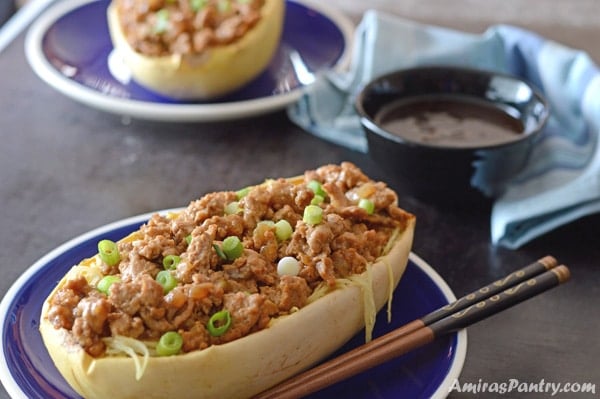 I know what you are thinking... you are like SERIOUSLY!! A spaghetti squash recipe in December ? The season of cookies, cookies and more cookies? Well, I know we are not in January yet , the season of resolutions , but a) I keep getting these healthy recipe visions that I need to share with somebody and b)I am giving you a head start so you have no excuse 😁.
This is actually what we have been eating for the last couple of days, and by WE, I mean me and my husband. Of course you did not expect my kids to eat spaghetti squash. Actually, my little guy tried it and he kept picking up the turkey meat leaving the squash behind saying I would love this over real spaghetti heheheh. A real carb-i-vorous guys 🍚🍕.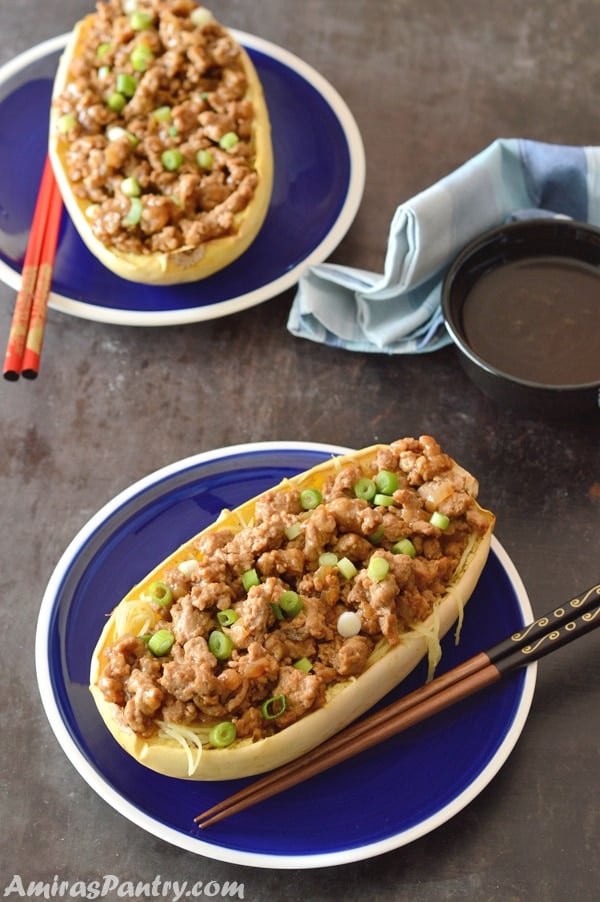 First time I've had spaghetti squash, I was really disappointed. I seriously expected something closer to pasta and it took me a couple of tries to accept it the way it is. I've liked its fruity sweet taste and really felt it will be very good in either a dessert recipe 😉- which I am working on - or a spicy cheesy recipe like the buffalo one I've made before.
One of my kids is lately fond of teriyaki sauce, so the idea💡 was born. To make it even healthier I've made it with ground turkey but for sure use whatever meat you have at home. Think ground beef, pork, chicken, chicken breasts or thighs cut it in cubes, this is a very versatile recipe.
So let's see how to make it.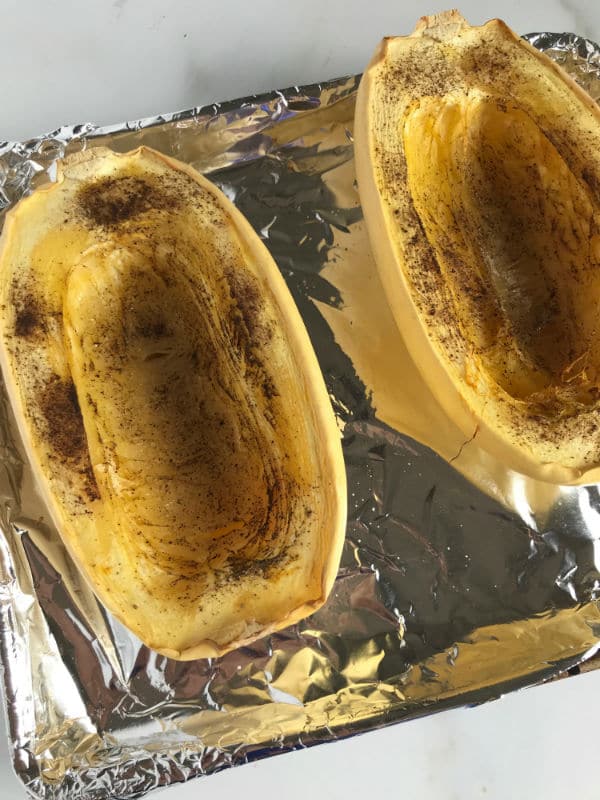 We'll cook the squash first, I like to roast it in the oven. Just sprinkle some salt, pepper and olive oil on top and pop in the oven until done.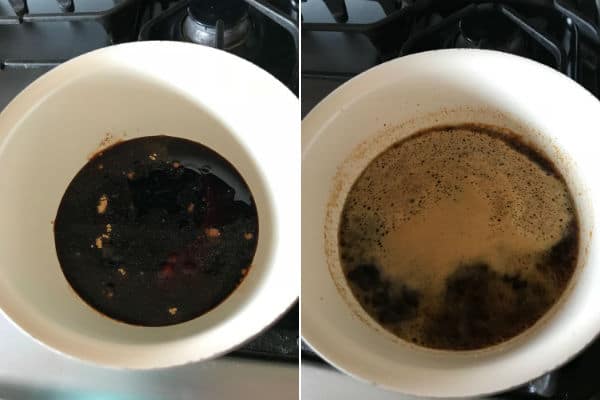 While the squash is cooking we'll make the sauce. This sauce is very good, it has garlic powder, ginger, brown sugar, molasses and honey.All these flavors are combined together and thickened with cornstarch and water.
Next time, I might substitute more molasses for the brown sugar, it really gave the sauce a flavor that I've liked.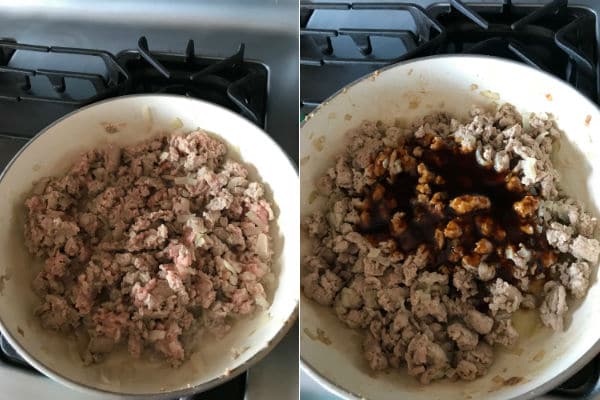 Set the sauce aside and let's prepare the ground turkey. We'll first saute onions then crumble the ground turkey and cook until done. Pour the sauce over and stir to combine. Pretty much, that's it.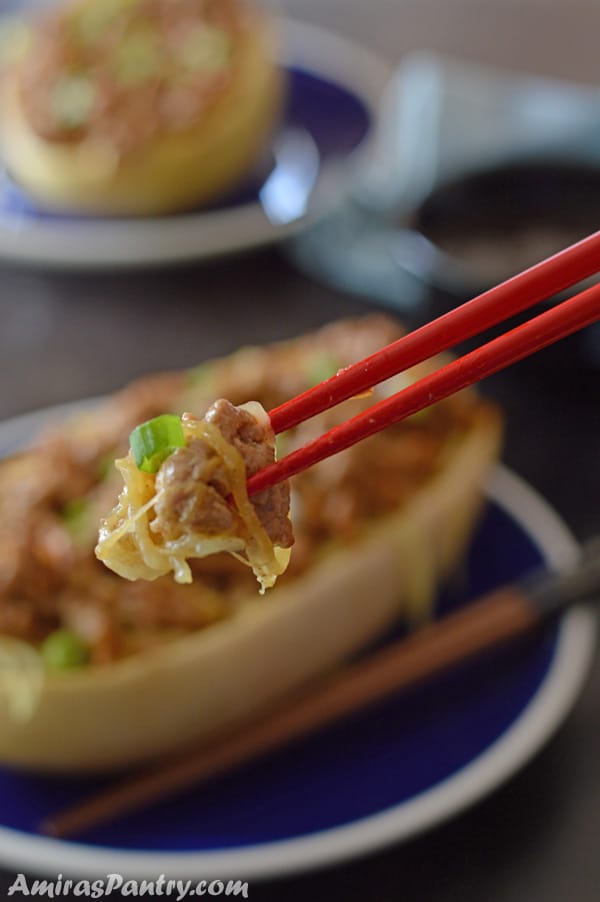 Now with a fork scoop up the spaghetti and now you have two options, either mix the squash with the turkey in a big bowl then serve. Or you can mix the whole thing in and use the squash shells as bowl. I love the idea of serving spaghetti squash in its shells. It gives it that natural look and of course less bowls to clean :).
I've tried many times using the chopsticks in Asian restaurants and I failed, I've even bought the training ones but I could not go past training! Seems that I'll be stuck in this training forever, cool 😎 right? . So Imagine how hard it was for me to take the above photo, give me thumbs up👍 . And if you know a YouTube video or something that can teach me easily to eat with chopsticks, I would appreciate it. I really hate going to Asian restaurants and eat with forks and spoons, I feel ashamed.
I hope you'll like this recipe and please if you make this recipe, snap a pic and hashtag it #amiraspantry — I love to see your creations on Instagram, Facebook, Twitter!
Don't want to miss a recipe? Sign up for the FREE Amira's Pantry newsletter delivered to your inbox with lots of tips and surprises! And stay in touch with me on Facebook, Twitter, Pinterest, and Instagram for all the latest updates.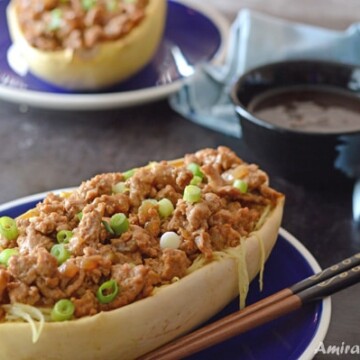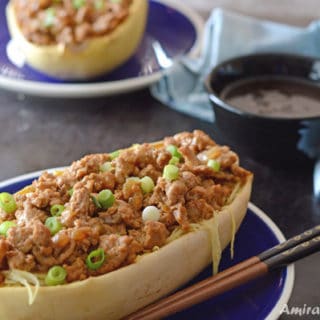 Teriyaki turkey spaghetti squash bowl
Sweet teriyaki sauce mixed with ground turkey and tossed with spaghetti squash, a healthy and easy dinner idea.
Print
Pin
Rate
Ingredients
For the squash:
One spaghetti squash

mine was 2.5 pounds.

About 2 Tablespoons olive oil to drizzle.

Salt and ground black pepper.
The sauce:*
¼

teaspoon

garlic powder.

½

teaspoon

ground ginger.

3

Tablespoons

brown sugar.

¼

cup

soy sauce

2

Tablespoons

molasses.

2

Tablespoons

honey.

2

Tablespoons

cornstarch.

1

cup

cold water

divided.

2

Tablespoons

oil.

one small onion

diced.

1

pound

ground turkey.
Instructions
Cook the squash:
Preheat oven to 375F.

Cut the squash in half lengthwise and scoop up the seeds.

drizzle liberally with oil and shake some salt and pepper on top.

Roast in oven for 40-60 minutes until tender.

Use a fork to scrap the spaghetti and set in a bowl or use the squash as a bowl.
Make the sauce:
Dissolve cornstarch in about ¼ cup of the cold water you have.

In a sauce pan over medium heat, add all sauce ingredients except for the dissolved corn starch.

Mix ingredients well and heat until it boils, turn down the heat to medium low and add the corn starch mixture.

Whisk everything together until it thickens, will take approximately 40 seconds to a minute.

Turn heat off and set aside.
Cook the ground turkey:
Heat oil in a skillet over medium heat and sauce onion until translucent and fragrant.

Crumble ground turkey into the pan , stir and cook until turkey is done.

Pour about ½ to ¾ of the sauce over the turkey and simmer on low for about 5 minutes.

Spoon the turkey mixture over the spaghetti. Garnish with green onions and serve warm.
Notes
* This will make about 1 ½ cup of the sauce, add sauce to the ground turkey depending on your liking. I've added ¾ cup and felt it was enough for us. Calories calculated on that.
Nutrition
Sign up and learn more about Mediterranean flavors