Healthy baked spaghetti squash recipe with a hot kick. A fun and easy way to cook a low carb meal, and no plating is required.
Check out my latest
teriyaki turkey spaghetti squash
that came out amazingly good.
This recipe originally published August 2016. Updated for some housekeeping things. No change to the recipe – I wouldn't dare, readers love it as it is!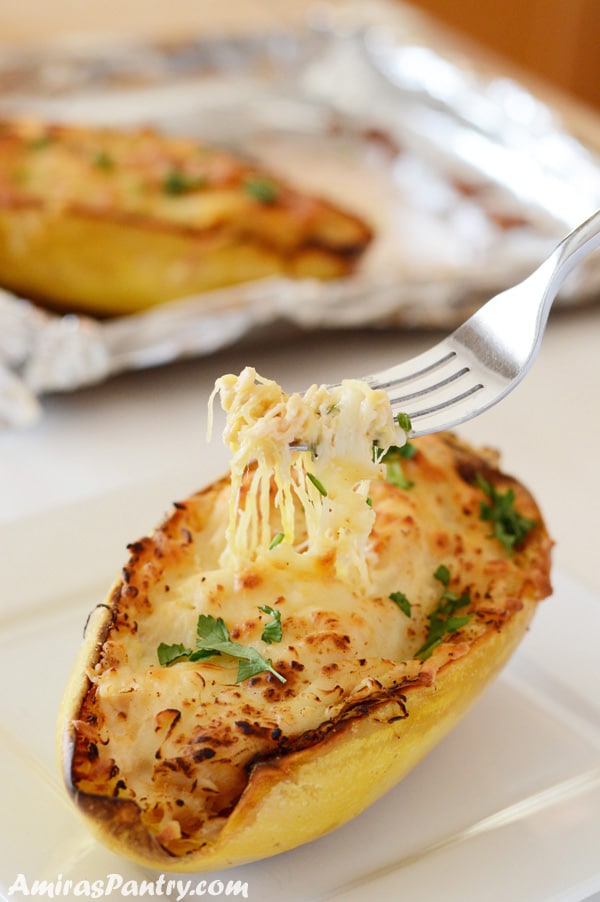 Check out this chicken spaghetti squash recipe. Roasted strands of squash mixed with hot creamy chicken, topped with melting cheese and served in its own shells.
A quick fix lunch or dinner for anyone out there who is looking for easy, yet healthier recipe to make their lives easier.
These spaghetti squash chicken boats are not super spicy, but for my little family they are just right as I have young kids, so feel free to increase the amount of hot sauce to suite your taste.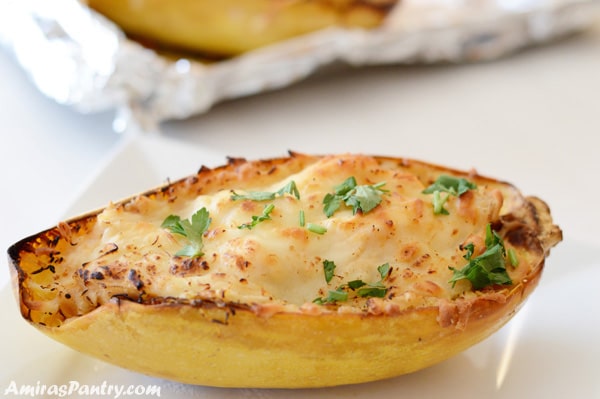 Since we landed here in the USA, one of the first recipes that caught my eye and appetite was buffalo chicken.
We would eat buffalo chicken anything and on everything. It is delicious every time. So why not kicking the flavors in this healthy delicious vegetable by combining it with the buffalo chicken? easy and will please everyone in my home.
I even made it easier on myself and used canned chicken, you can use rotisserie , roasted, boiled, baked … any sort of chicken or leftover chicken.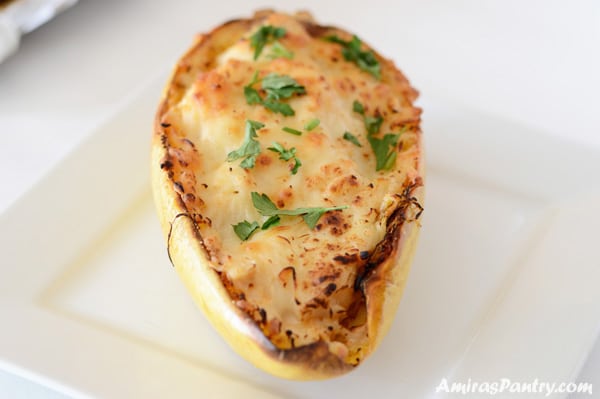 How does Spaghetti Squash taste?
I've never tried spaghetti squash before, but heard about it and how everyone like to use it instead of pasta, so I decided to jump in and try it.
After roasting the squash in the oven I tasted it for the first time, I felt they are more like shredded potatoes but with a hint of sweetness, I like that. But comparing it to pasta felt not right, I mean pasta is pasta loved as is and enjoyed as is with all its calories.
On the other hand spaghetti squash is a delicious vegetable that looks like pasta but has its unique characteristics, so squash is squash, has always been squash and will always be squash and should be enjoyed as squash .. this is just my humble opinion on the matter. I hope that's ok with you.
How to cook Spaghetti Squash in the microwave?
Personally, I prefer roasting spaghetti squash in the oven. But many asked me how to cook it in the microwave without going through the hardship of cutting through its skin. Here is now:
Poke many hols in the skin with a fork, or make small cuts all around with a knife, then place ina microwave safe dish.
Microwave on medium-hight ( I would say 70% power) for 5 minutes.
Rotate the squash and microwave again for another 5 minutes.
Repeat rotating and microwaving until it is done and this depends on the size of your squash.
Let it set for 10 minutes, cut, scoop the seeds out and proceed with the recipe as is.
How to Cook Cheesy Buffalo Spaghetti Squash?
Cooking a delicious meal with spaghetti squash will never be easier let me show you.
First we'll need to cook the squash, I roasted mine in the oven .
Cut the squash in half lengthwise, scoop the seeds, brush with olive oil then sprinkle with some salt and pepper.
Pop in a 450F oven until tender, took me about 40 minutes.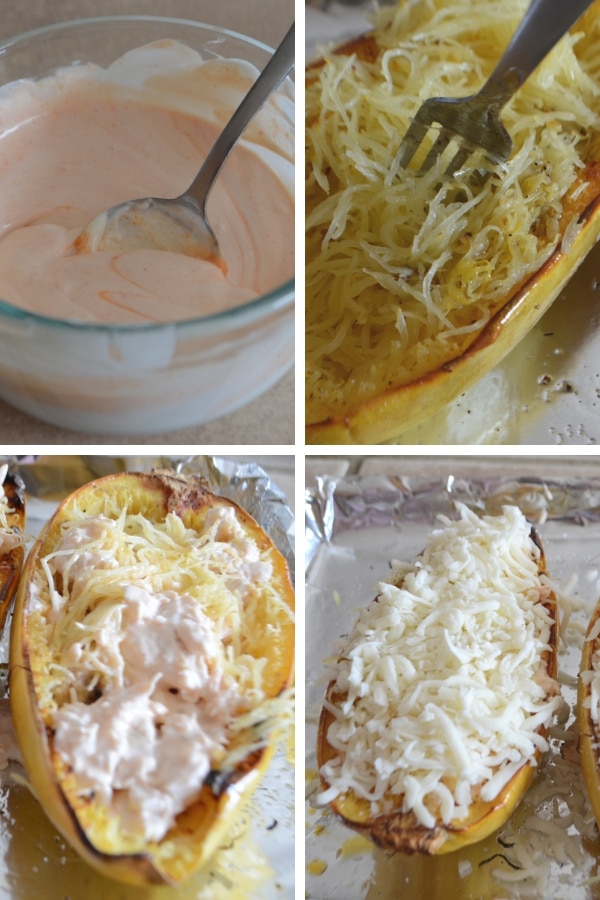 Make the filling by combining the sauce ingredients and mix in the chicken .
Scrape the squash strands from the cooked spaghetti squash and mix it well with the chicken filling.
Return back to the squash boats and top that with a generous amount of cheese.
Bake in the oven until bubbly and hot.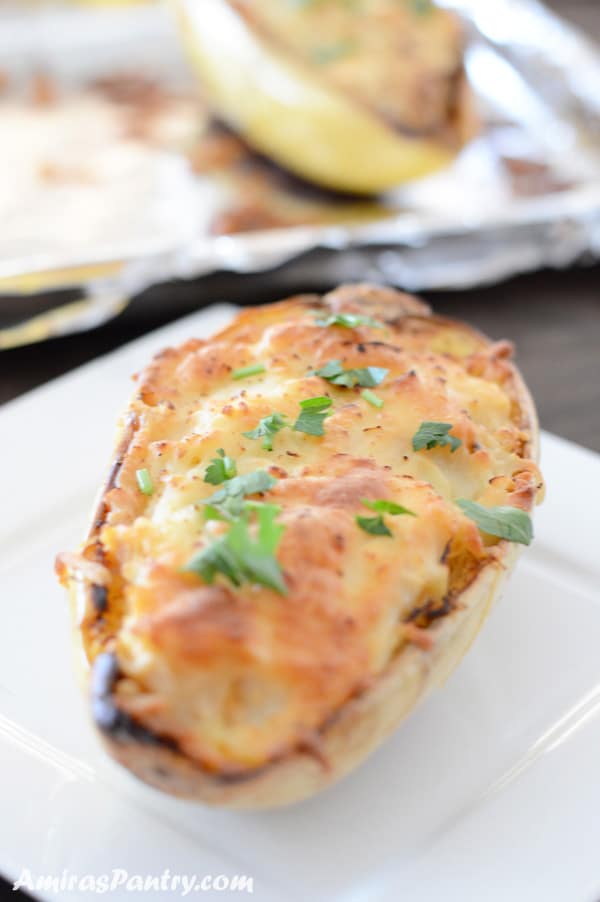 This recipe is so easy to make, really, and tasty as well but in its own unique taste and texture and not imitating anything else :).
I hope you'll like this recipe and please if you make this recipe, snap a pic and hashtag it #amiraspantry — I love to see your creations on Instagram, Facebook, Twitter!
Don't want to miss a recipe? Sign up for the FREE Amira's Pantry newsletter delivered to your inbox with lots of tips and surprises! And stay in touch with me on Facebook, Twitter, Pinterest, and Instagram for all the latest updates.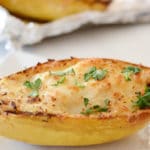 Cheesy buffalo chicken spaghetti squash
Total Time:
1
hour
15
minutes
Healthy baked spaghetti squash recipe with a hot kick. A fun and easy way to cook a low carb meal, and no plating is required.
Print Recipe
Ingredients
1

medium spaghetti squash.

2

Tablespoons

Olive oil for brushing.

Salt and pepper to taste.
For the buffalo chicken
2

(5oz)

cans of chicken breasts *

1/4

cup

mayonnaise.

,used light.

1/4

cup

sour cream

1/4

cup

hot sauce

any of your choice.

1.5

cup

cheese

any kind you like, I used mozzarella.
Instructions
Cut the spaghetti squash in half, lengthwise and scoop out the seeds.

Line your baking sheet with foil and brush with olive oil.

Brush the squash with more olive oil, sprinkle with salt and pepper.

Put the baking sheet in a cold oven and turn the heat on setting the temperature to 450F.

Roast in the oven for 30-40 minutes or might be even less depending on the quash size, so you might want to check it even sooner.

Meanwhile, in a deep bowl, combine mayo, sour cream and hot sauce, then add the chicken. Drain well if using the canned chicken.

After the squash is done, scrape with a fork to get the strands loose then add some of the chicken mixture and mix with the squash strands.

Top with mozzarella cheese and put back in the oven - this time reduce the heat to 350F- until bubbly and golden brown on top.

Enjoy!!
Notes
* You can use any chicken you have and this is a great recipe to use leftover chicken as well.
* You might end up with more chicken mixture than needed, it all depends on the size of the squash you have so you might start with half the amount and see if you need more. Keep any leftover mixture in your fridge and use in any other recipe or even stuff it into some sandwiches.
Nutrition Facts
Cheesy buffalo chicken spaghetti squash
Amount Per Serving
Calories 658.7
Calories from Fat 426
% Daily Value*
Fat 47.3g73%
Cholesterol 139.4mg46%
Carbohydrates 16.2g5%
Protein 44.4g89%
Vitamin A 830IU17%
Vitamin C 3.9mg5%
Calcium 467mg47%
* Percent Daily Values are based on a 2000 calorie diet.
Nutrition
Calories:
658.7
kcal
|
Carbohydrates:
16.2
g
|
Protein:
44.4
g
|
Fat:
47.3
g
|
Cholesterol:
139.4
mg
|
Sugar:
7.6
g
|
Vitamin A:
830
IU
|
Vitamin C:
3.9
mg
|
Calcium:
467
mg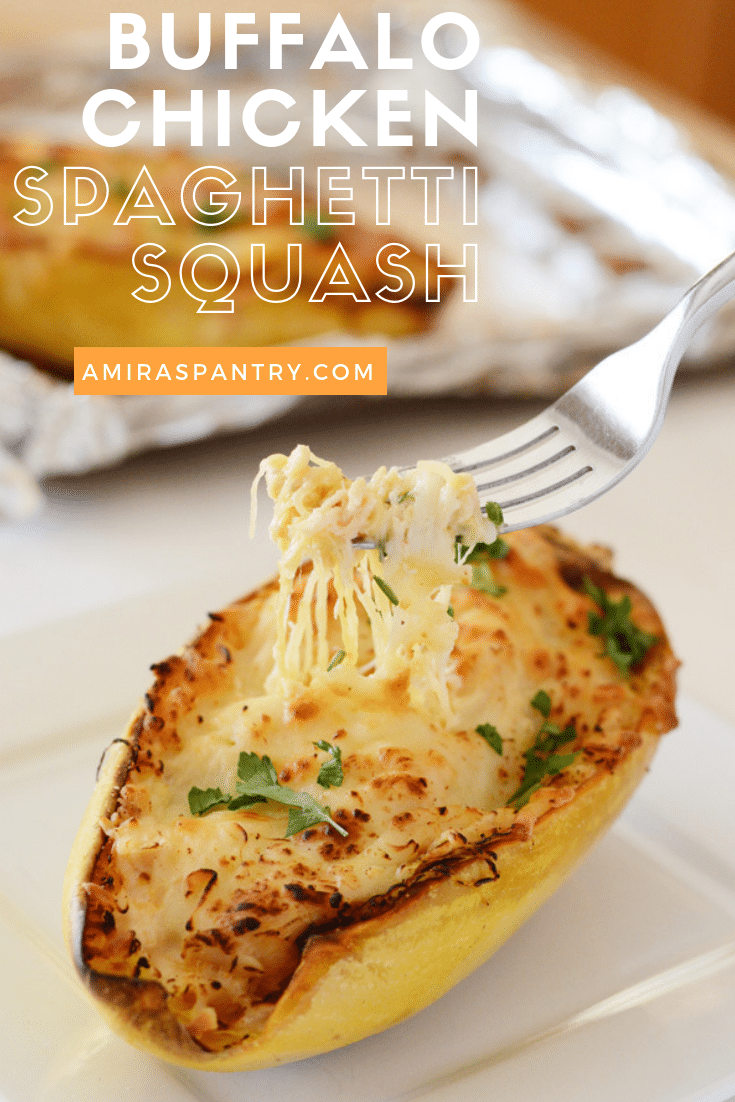 You may also like: