Easy cinnamon cookie recipe, no chilling, no creaming is required.
No chilling, no creaming fool proof cut out cinnamon cookie recipe for all occasions. These African/Moroccan cinnamon flavored cookies are one of the easiest cookies you'll ever make. These heart shaped cookies make for a seriously easy Valentine's dessert too.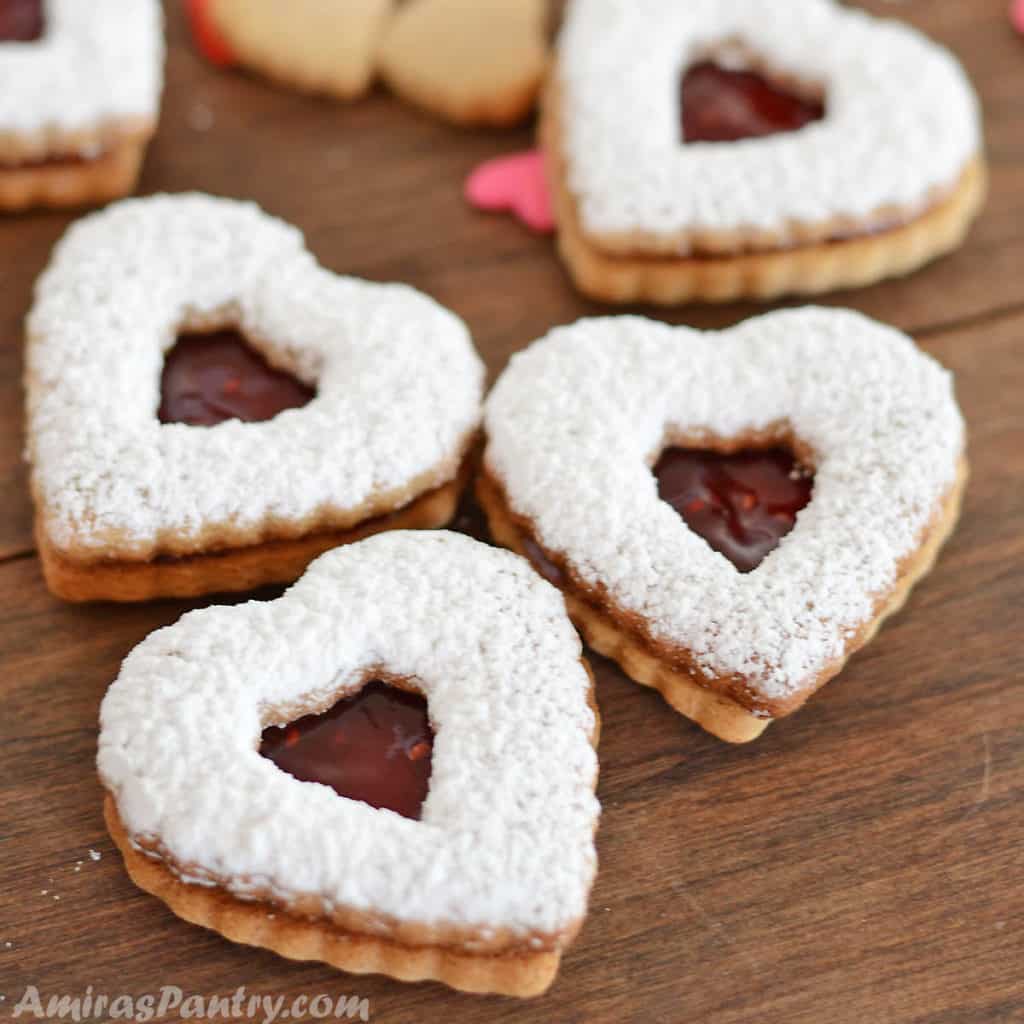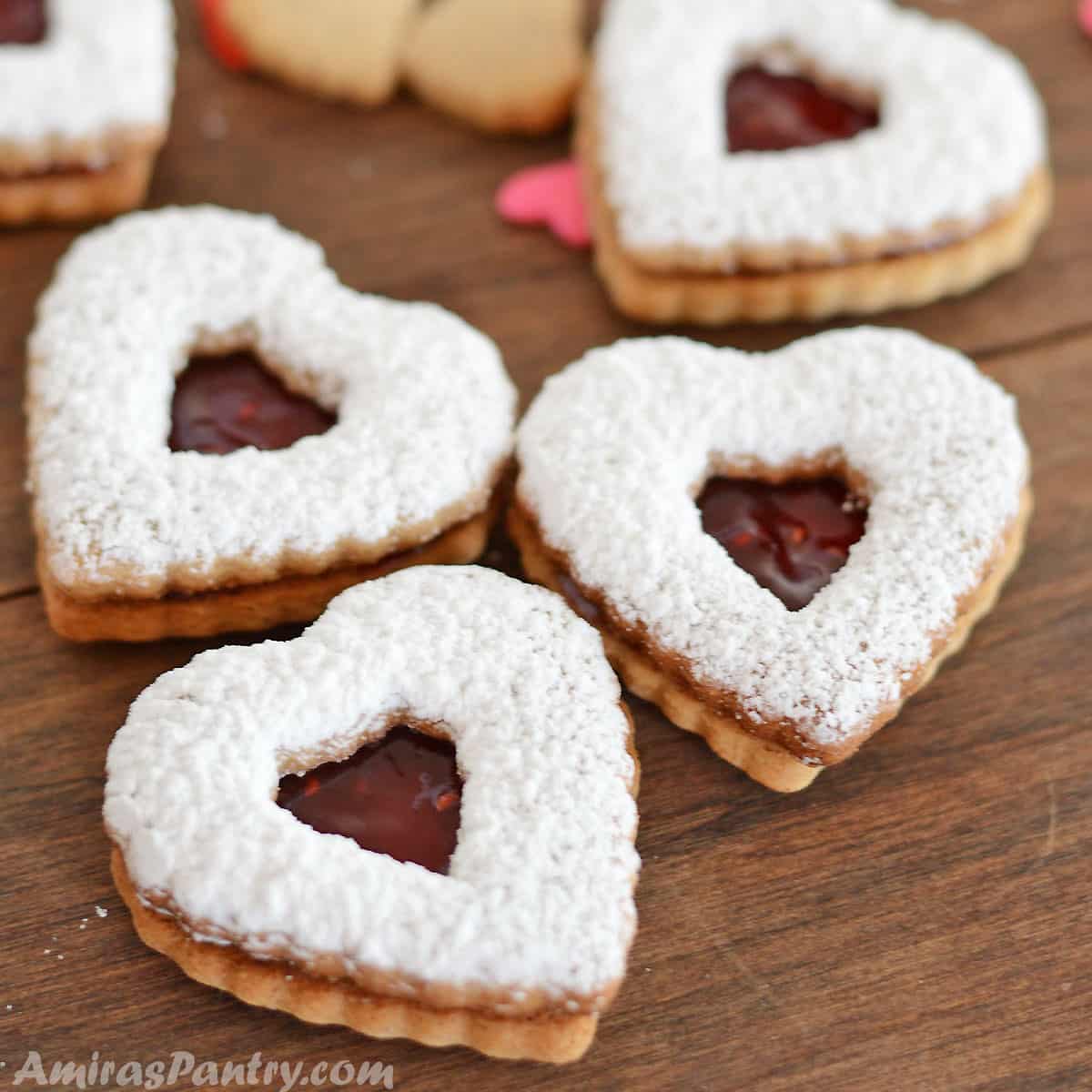 Cinnamon Cookies
Cinnamon cookies are one of the most popular cookies in Egypt. These jam filled cut out cookies are made ridiculously easy that my kiddos actually do them under supervision. They have had loads of fun making shaping and filling them.
This cinnamon cookie recipe has been one that I longed to share with you since I started this blog many years ago. Finally, making them last week made me so excited to share with you guys.
Cinnamon cookies can be cut with different cookie cutters depending on the season. Crescents, trees, gingerbread, bunnies and hearts we've done them all.
This is the season of love, so making these easy cookies as a heart shaped ones seemed second to nature. These are my go to cookie recipe, it is easy and fun to make plus it fills the home with this sweet aroma that makes you feel cozy.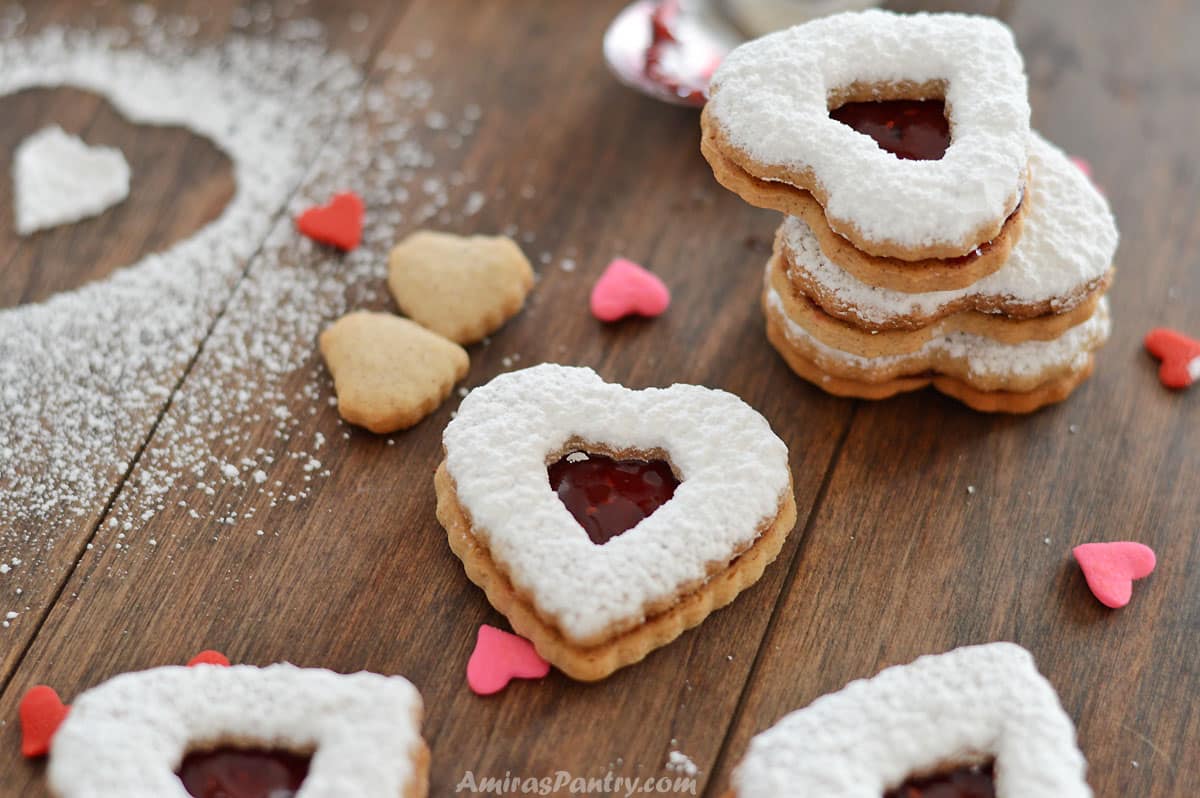 The best cinnamon cookie recipe
What makes these cookies the best?
No need for softened butter, yaaaay. I usually hate this step because, being me- which means forgetful- I usually forget to get it out long enough to be ... softened.
No creaming, many recipes call for creaming butter and sugar until light and fluffy and sometimes you do not even know what does this mean or how this should look like. Other times you never actually get to this point!!!. This recipe does not need that either .
No chilling, after your dough is made: A lot of recipes call for chilling, which means more waiting time for the kids who you've just been promised to make cookies and they cannot wait.
Also, it does not require any special tools for mixing, just use your hands. And also no baking skills is required.
These above reasons qualifies these cookies to be the best, at least around my crazy home.
Cinnamon cookies, step by step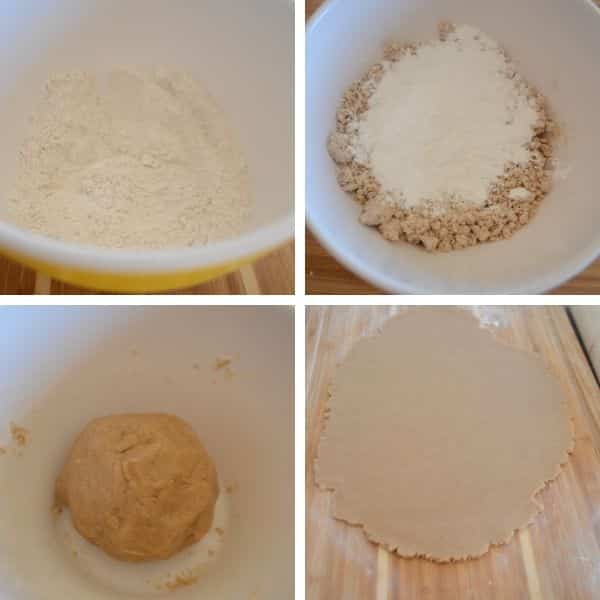 We'll start by mixing dry ingredients well.
Add melted butter and an egg. Mix well with your hands until the dough comes together. If you felt that your dough is a little dry and there are still crumbs in the bowl, you can add a teaspoon of milk or water.
On a floured surface, roll the dough. Thick or thin it is up to you but adjust baking time accordingly. Sometimes I really like to roll these thin which makes them really crunchy like crackers.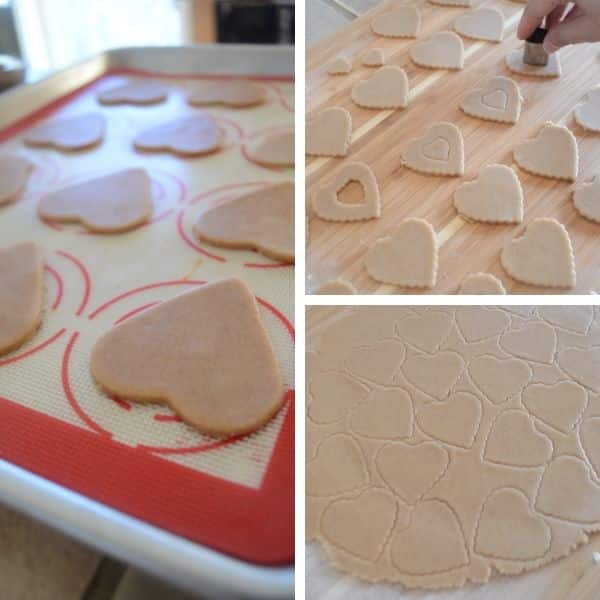 Nowwww for the fun part, kids love this part when they use cookies cutters to make shapes they like.
I made a small heart shaped hole in the middle using a smaller heart shaped cutter. If you do not have that you can make this with a small bottle cap.
Bake in the oven for 10-13 minutes until done.
After it cools down, it is time for more fun. Kids can glue two cookies together with their favorite jam. You can also dust the top part with confectioner's sugar before sticking the cookies together.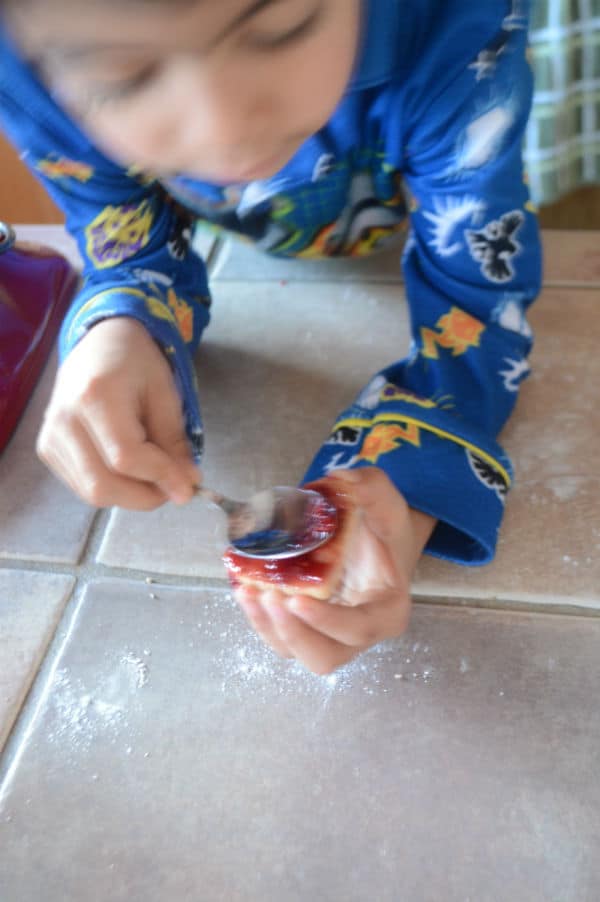 This one ☝️ ☝️got really excited and he kept jumping up and down so I could not get a clear picture for him, cute .
I like to stick the cookies together just before serving. If they are glued then left for like overnight they might soften a bit from the jam. If this is ok with you then no problem.
You may need
The following are affiliate links. We are a participant in the Amazon Services LLC Associates Program, an affiliate advertising program designed to provide a means for us to earn fees by linking to Amazon.com and affiliated sites.

This Nordic baking sheet is a must for your baking projects.It is super sturdy and does not bend under any circumstances.
Related Recipes
Maamoul is a traditional Middle Eastern cookie made usually filled with date. It has a soft texture and a delicate flavor.
Tahini cookies are like enjoying Halva in a cookie form. A delicious and nutty twist on traditional cookies, made with simple ingredients. These cookies are often topped with sesame seeds and have a crispy texture with a slightly chewy center.
If you like this recipe do not forget to give it a ⭐⭐⭐⭐⭐ star rating and attach a photo of your finished dish. It is always a pleasure of mine to see your photos and check your own take of the recipe. Thank you.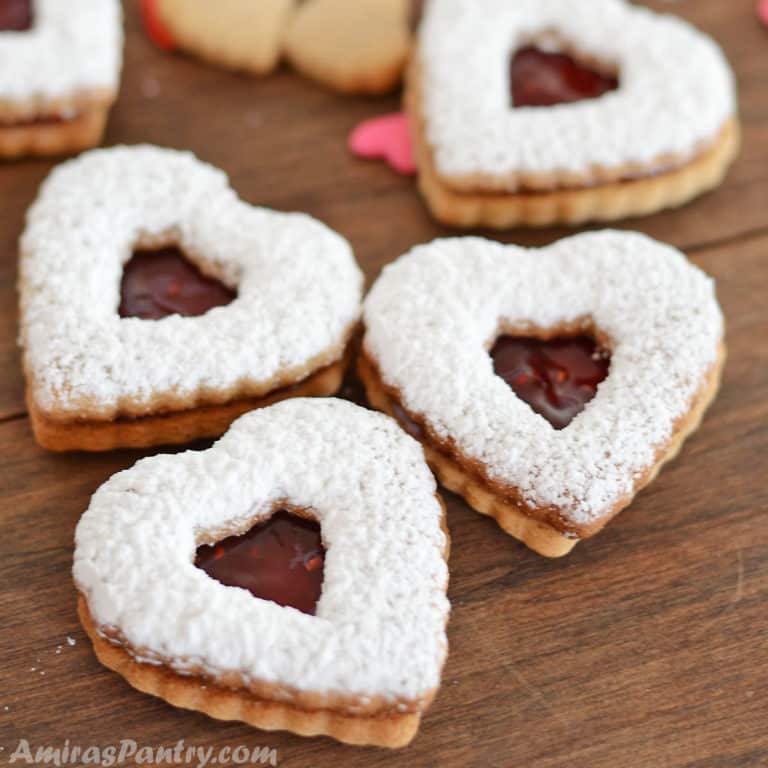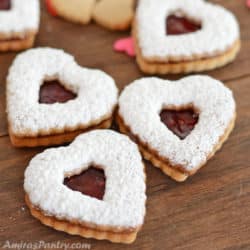 Cinnamon cutout cookies
Easy cinnamon cookie recipe, no chilling, no creaming is required.
Print
Pin
Rate
Servings:
12
Sandwich Cookie
Ingredients
1 ¼

cup

AP flour.

½

cup

confectioners sugar.

a dash of salt.

1

teaspoon

cinnamon powder.

1

teaspoon

baking powder.

1

large

egg

3

Tablespoon

unsalted butter

melted.

Water or milk

if needed, mine did not need any more liquids.

Jam for gluing.

about a teaspoon for each sandwich.
Instructions
In a deep bowl, mix flour,salt, cinnamon,sugar and baking powder.

Mix in the egg and the melted butter.

If your dough did not come together and you felt it is dry, add milk or water by teaspoons until you reach a nice consistent dough.

Preheat oven to 350F.

Line two large cookie sheets with parchment.

Roll the dough into a floured surface ,3-4mm thickness shape.*

Cut with a heart cookie cutter to an even number then cut out the center of half of them with a smaller cutter.

Bake for 10-13 minutes depending on the thickness and size of your cookie.

Let it cook down on a rack.

Sift confectioners' sugar over the cookies you are using as the top.

Spread jam over the bottom cookies.

Sandwich cookies together.

Enjoy!!
Notes
If your kitchen is too hot you might want to consider wrapping up the dough in plastic and stick it in the fridge for 15 minutes to ease rolling.
Nutrition values are calculated on the assumption that each sandwich will contain about 1 teaspoon strawberry jam and without the dusting of powdered sugar.
Please check the nutrition disclaimer policy.
Nutrition
Calories:
110.5
kcal
|
Carbohydrates:
18.8
g
|
Protein:
1.8
g
|
Saturated Fat:
1.9
g
|
Monounsaturated Fat:
1
g
|
Cholesterol:
23.3
mg
|
Sodium:
47
mg
|
Potassium:
24.4
mg
|
Fiber:
0.5
g
|
Sugar:
8.9
g
Sign up and learn more about Mediterranean flavors
First published February 2017 . Last updated February 2020 with important tips, clear step by step instructions and readability.