Heart shaped cookies are a Valentines must. This is a very easy cinnamon cookies which makes for a seriously easy Valentine's dessert.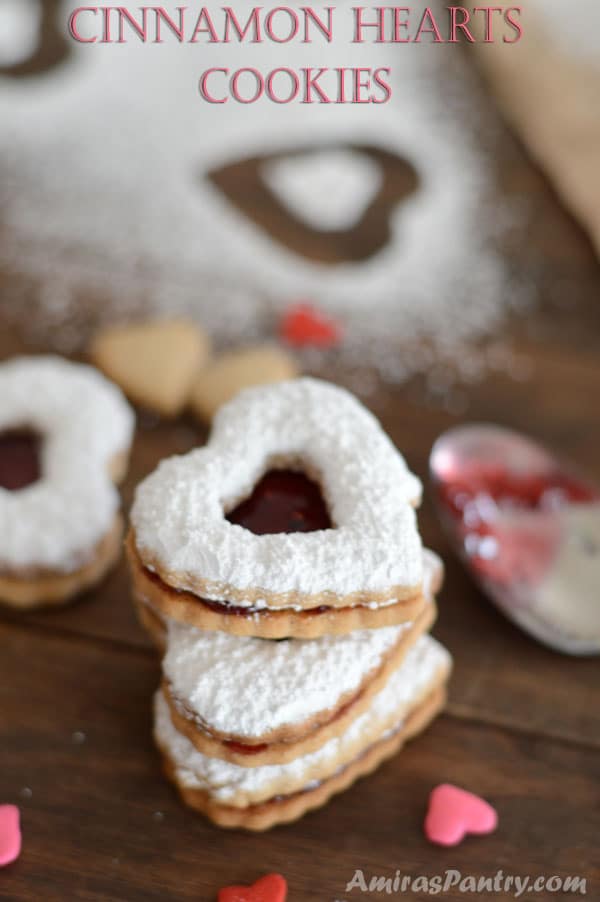 This cinnamon cookies recipe has been one that I longed to share with you since I started this blog many years ago. Finally, making them last week made me so excited to share with you guys.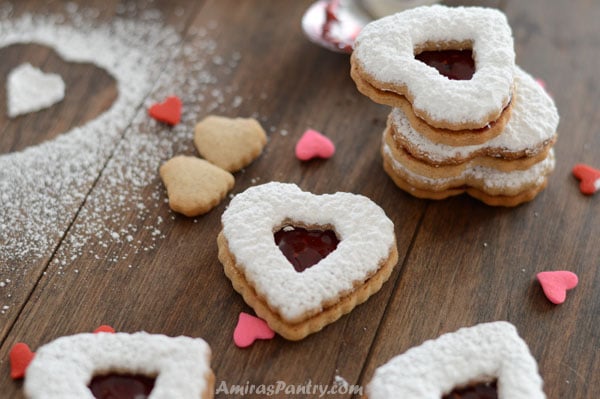 This is the season of love, so making these easy cookies as a heart shaped ones seemed second to nature. These are my go to cookie recipe, it is easy and fun to make plus it fills the home with this sweet aroma that makes you feel cozy.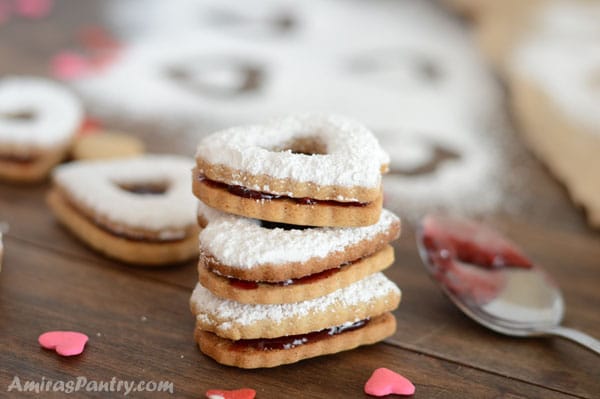 What makes these cookies great are three things, nope actually four:
First: Butter need not be softened, yaaaay. I usually hate this step because, being me- which means forgetful- I usually forget to get it out long enough to be … softened.
Then comes creaming butter and sugar: Many recipes call for creaming butter and sugar until light and fluffy and sometimes you do not even know what does this mean or how this should like. Other times you never actually get to this point!!!. This recipe does not need that either .
And now after your dough is made, it has to be chilled : Which means more waiting time for the kids who you've just promised to make cookies and they cannot wait. If your kitchen is super hot, you just chill it for 15 minutes or so not overnight.
Also, it does not require any special equipments for mixing, just use your hands.
That's why me and my kids, and recently joined by my hubby, really do love this recipe. Here is how I make it.
We'll start by mixing dry ingredients well.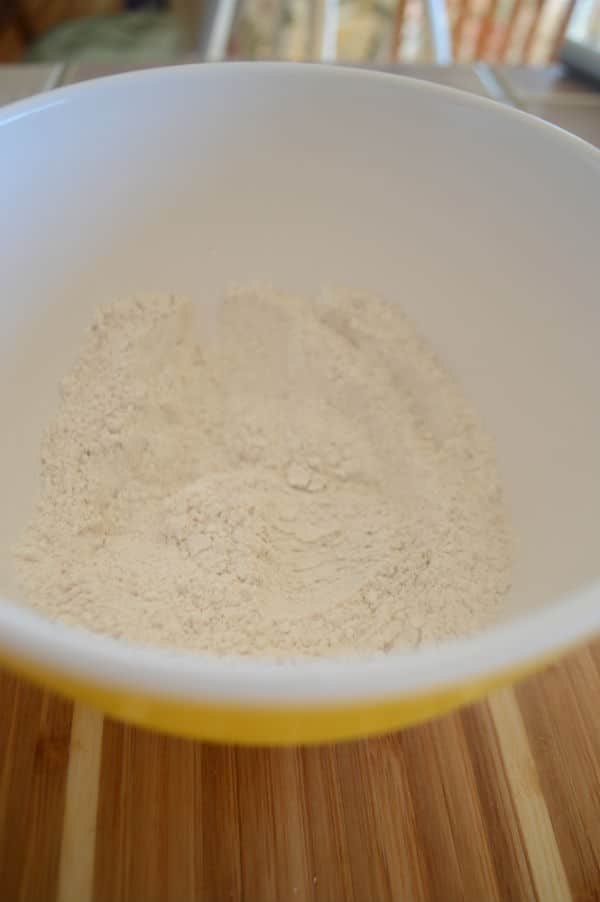 Add melted butter and an egg. Mix well with your hands until the dough comes together. If you felt that your dough is a little dry and there are still crumbs in the bowl, you can add a teaspoon of milk or water.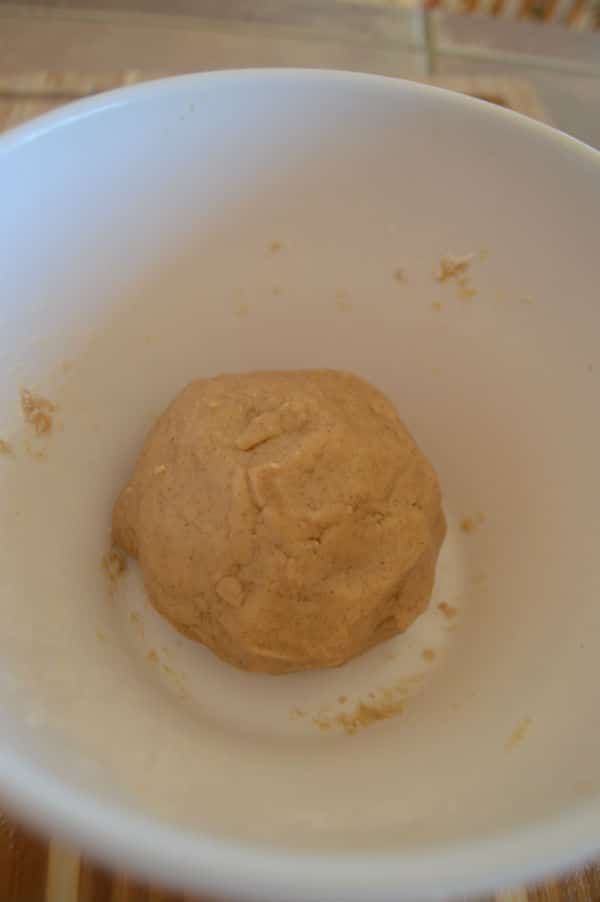 On a floured surface, roll the dough. Thick or thin it is up to you but watch out for the baking time. Sometimes I really like to roll these thin which makes them really crunchy like crackers.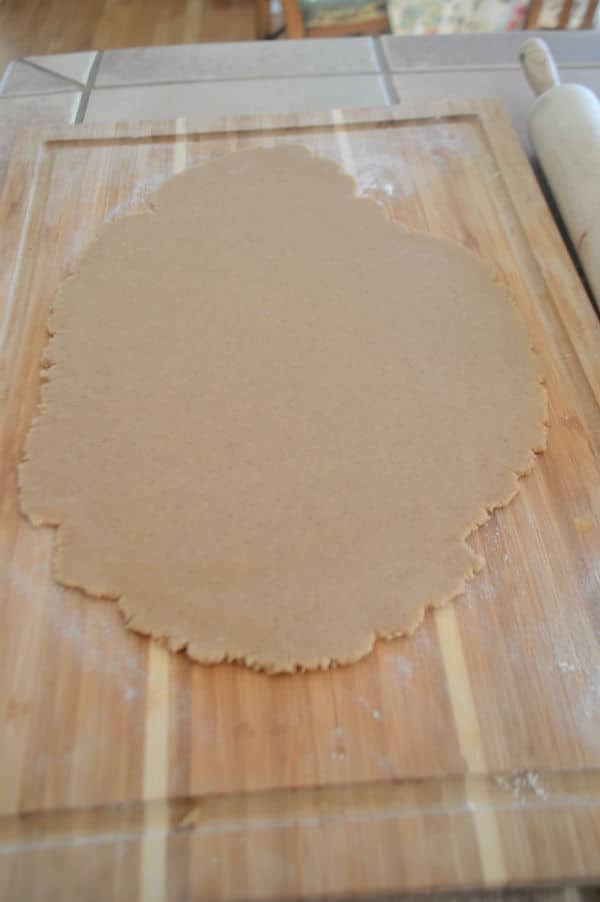 Nowwww for the fun part, kids love this part when they use cookies cutter to make shapes they like.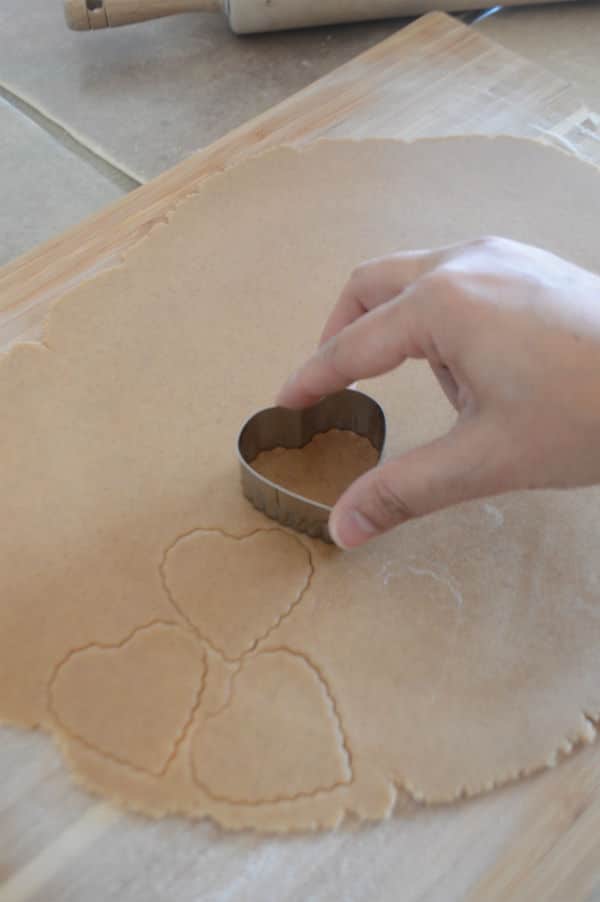 I made a small heart shaped hole in the middle using a smaller heart shaped cookies cutter. If you do not have that you can make this with a small bottle cap.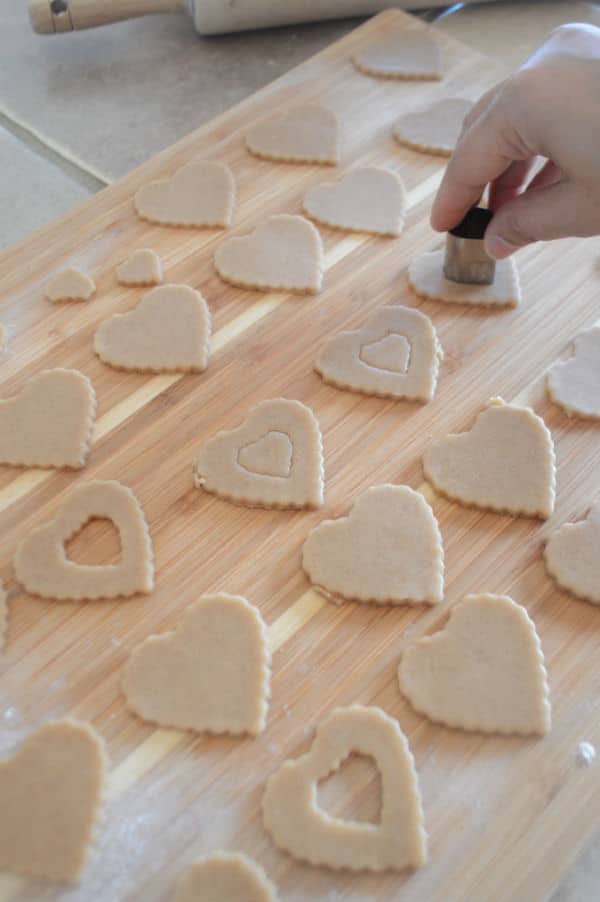 Bake in the oven for 10-13 minutes until done.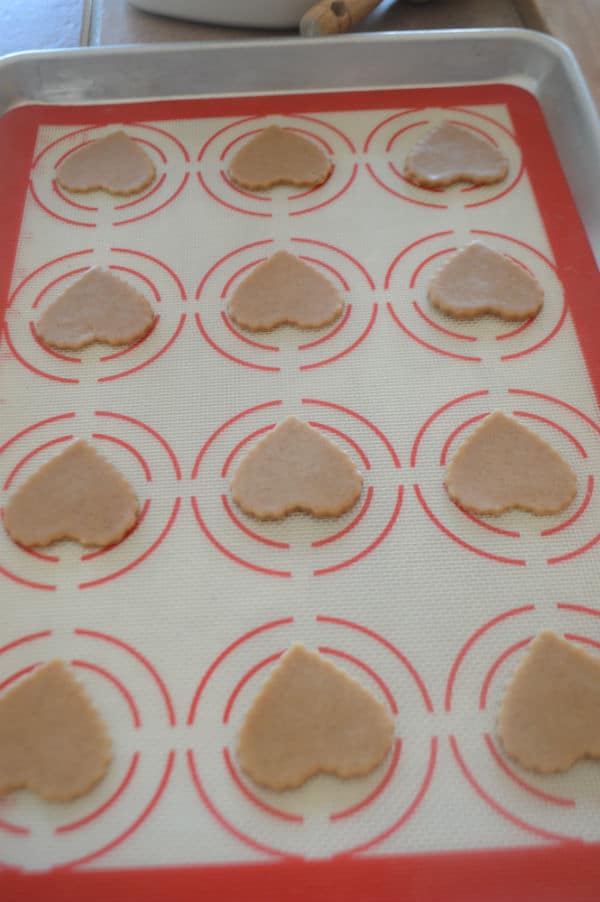 After it cools down, it is time for more fun.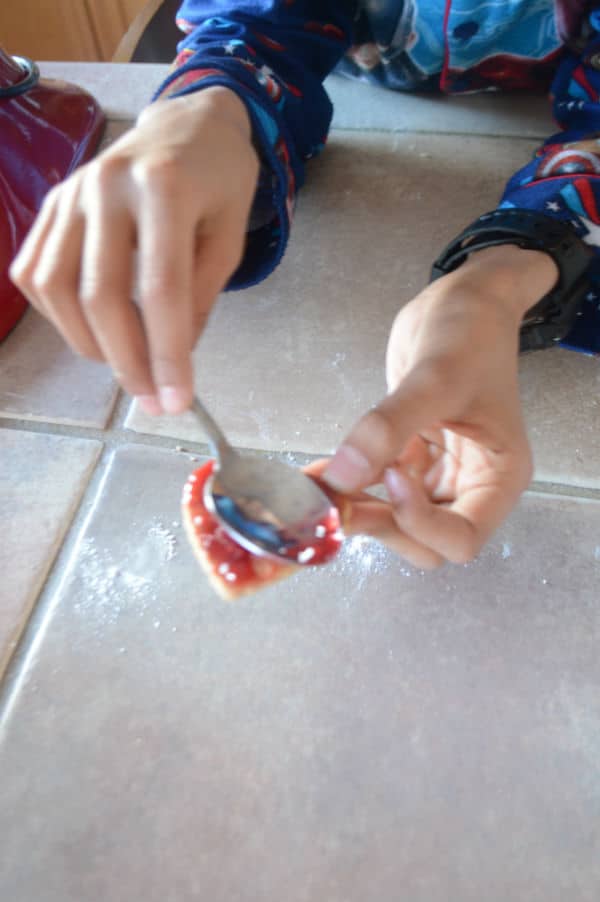 This one got really excited and he kept jumping up and down that I could not get a clear picture for him, cute .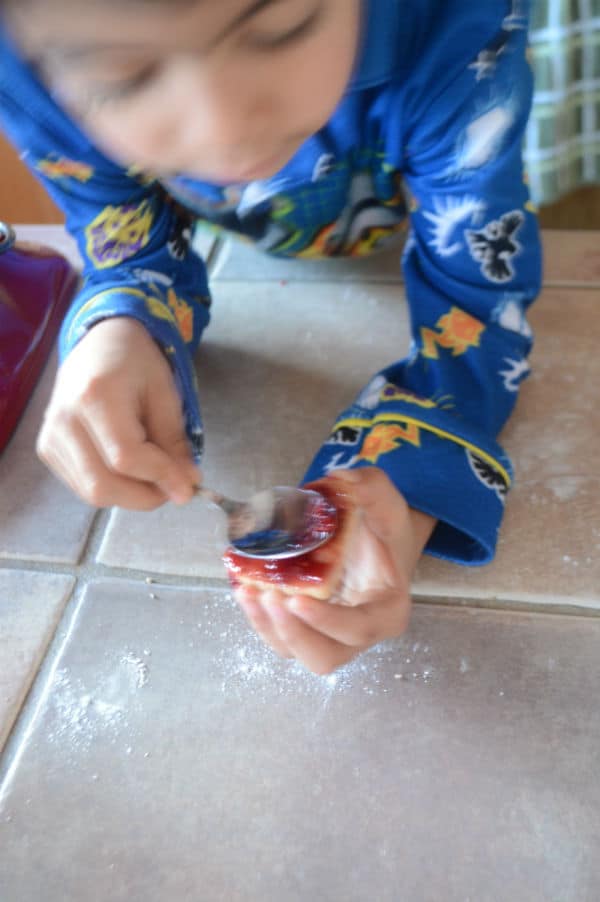 That's it guys, after gluing the cookies with jam you keep them in an airtight container until ready to serve.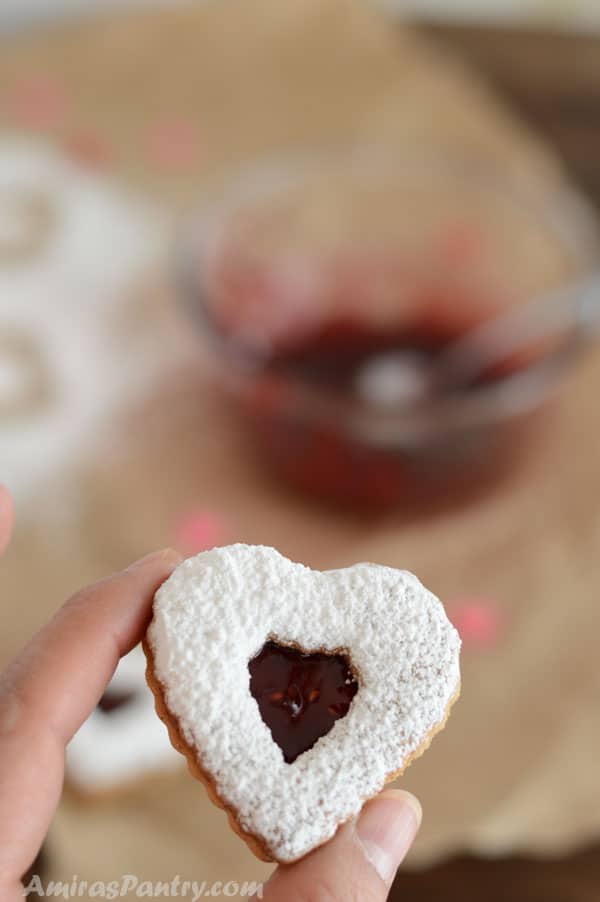 These cookies really do not survive till next day in my home, so I make a huge patch and keep it there for us to enjoy all week long.
I hope you like today's recipe… Happy Valentine's day.
Products I like and used for this recipe: ( nope no one paid me to write this, just stuff I like and recommend)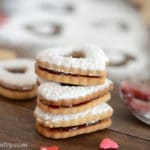 Cinnamon cookies
Print Recipe
Ingredients
1 1/4

cup

AP flour.

1/2

cup

confectioners sugar.

a dash of salt.

1

teaspoon

cinnamon powder.

1

teaspoon

baking powder.

1

large

egg

3

Tablespoon

unsalted butter

melted.

Water or milk

if needed, mine did not need any more liquids.

Jam for gluing.
Instructions
In a deep bowl, mix flour,salt, cinnamon,sugar and baking powder.

Mix in the egg and the melted butter.

If your dough did not come together and you felt it is dry, add milk or water by teaspoons until you reach a nice consistent dough.

Preheat oven to 350F.

Line two large cookie sheets with parchment.

Roll the dough into a floured surface ,3-4mm thickness shape.*

Cut with a heart cookie cutter to an even number then cut out the center of half of them with a smaller cutter.

Bake for 10-13 minutes depending on the thickness and size of your cookie.

Let it cook down on a rack.

Sift confectioners' sugar over the cookies you are using as the top.

Spread jam over the bottom cookies.

Sandwich cookies together.

Enjoy!!
Notes
* If your kitchen is too hot you might want to consider wrapping up the dough in plastic and stick it in the fridge for 15 minutes to ease rolling.
Need more cookies? Check out our cookies here.
Meanwhile here are some of our favs.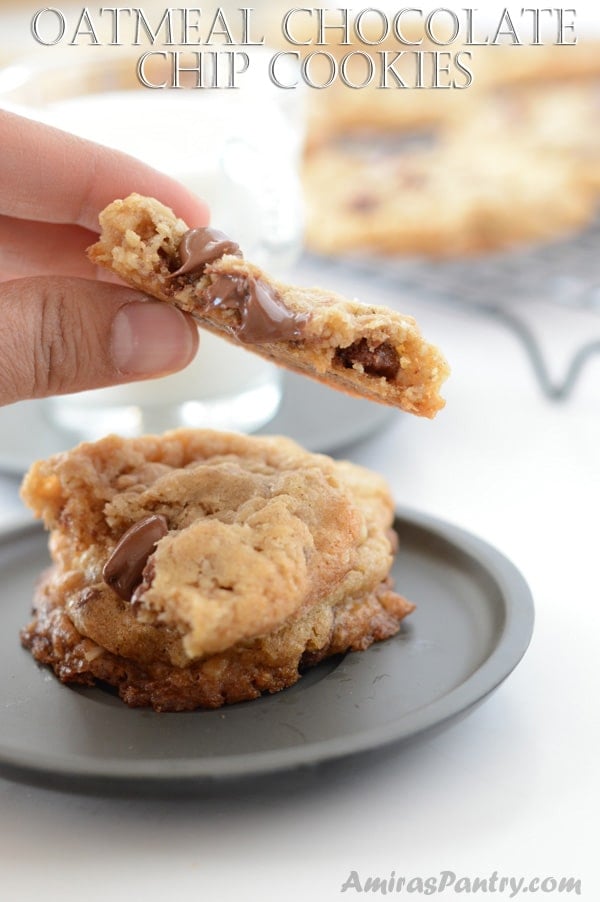 Oatmeal chocolate chip cookies