Baton Sale or bâton salé is sort of salty stick cracker that is very buttery and delicious. It is very common in Egypt and it is used to be served in birthday parties along with other salty baked goods. The Egyptian baton sale version has a nice cumin flavor. You can make it with caraway or nigella seeds but I've made it the traditional way with cumin seeds.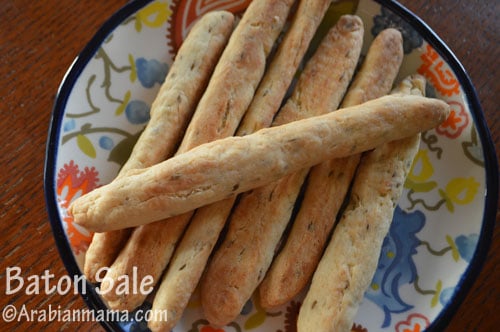 You will need:
3 c of all purpose flour.

1 c of butter or ghee.

2 tsp salt.

2 Tbsp cumin seeds.

1 Tbsp dry yeast.

1tsp sugar.

1/4 plus 2 TBSP lukewarm water.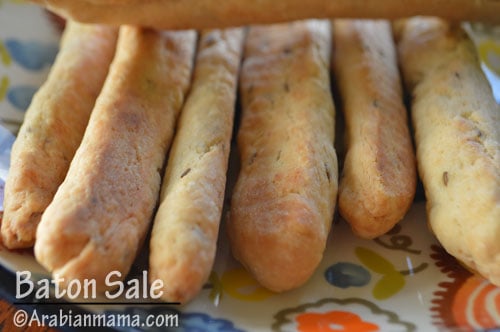 Start by adding all the dry ingredients together then melt the butter and add it to the dry ingredients. Slowly add water until you get a firm dough. Moisten your hands with some oil or butter then take a small ball of the dough and roll into a thin long - 4 to 5 inch- sticks.
Bake for 10-12 minutes in a pre heated 400F oven. You can brush it with egg wash if you would like a more shiny look.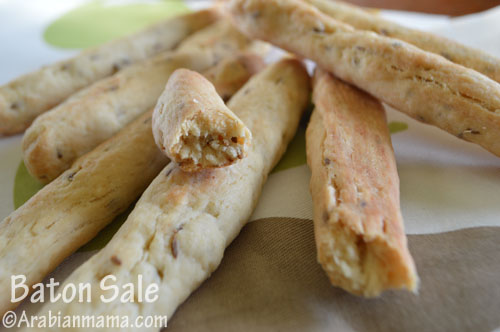 Very very delicious .... aaahhhhh reminds me so much of the good old days :). I miss you mom ♥♥.