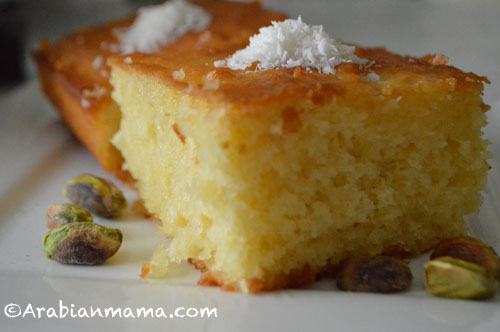 Now I know that sounds weird !!! Well actually it is named that way because it is a mixture of basbousa and cake so they named it besbes cake :). I've learned this yummy cake from a friend of mine who lives in the UAE and I've read once that the origin of this delicious, SUPER EASY cake was the gulf area.
Here is what you will need:
1 cup semolina. I've used the fine grain one.

1 cup milk.

1 cup all purpose flour.

1 cup coconut flakes.

1 Tbsp baking powder.

3/4 cup granulated sugar.

1/2 cup oil- I used canola.

2 eggs and a dash of vanilla.

A dash of cardamom powder - I did not add that.

Crushed nuts or coconut flakes for garnishing.
Simple syrup - a thick one : 2 cups of sugar to one cup of water and off course do not forget the lemon juice and a dash of vanilla.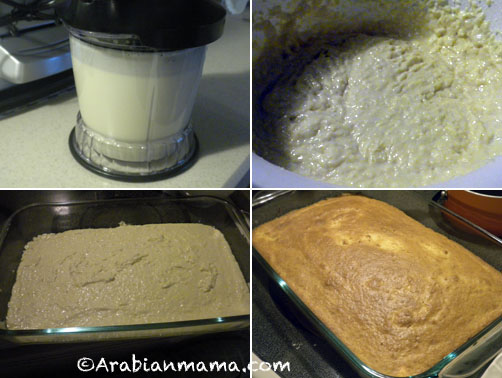 In your blender, mix the eggs with vanilla then add the sugar, milk and oil until they are all blended well together. Add the semolina and continue to mix.
In a separate bowl mix the flour, coconut flakes and the BP then add the liquid mix to the bowl and mix well.
Spread in a 9x13 pan and let it set for about 10 minutes or until you warm up your oven to 350F.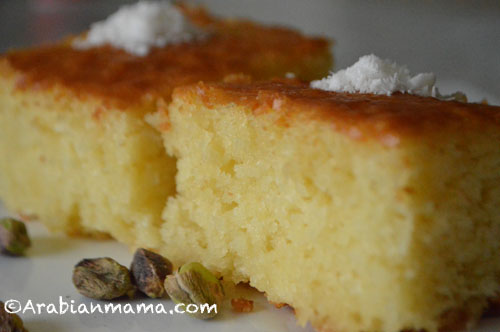 Bake until golden brown- about 30 to 40 minutes- then pour your cold syrup on it while it is hot.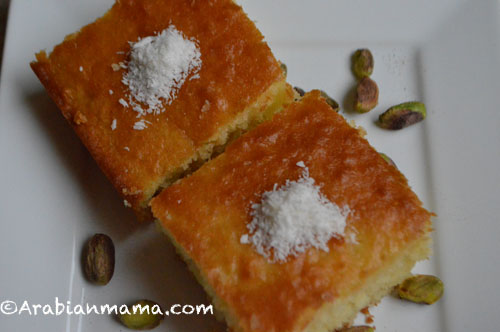 Garnish with whatever you want and serve.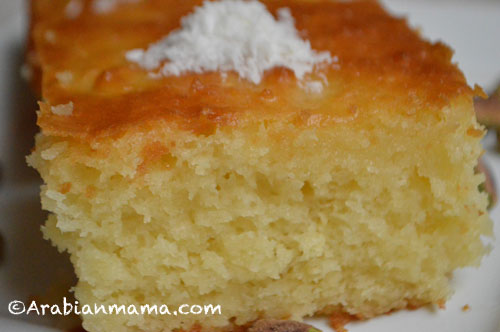 This is really a fool proof recipe that you can almost NEVER mess with.