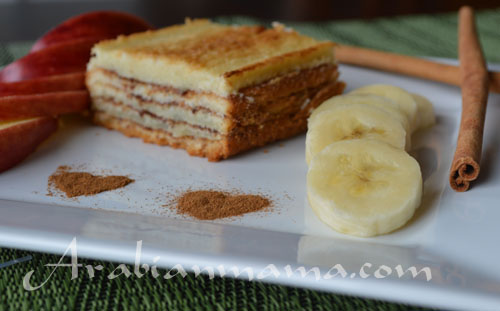 If you are a cinnamon lover and just do not want to miss up with a cinnamon roll, then this cake is for you. It is very easy to make and can be served in may different ways and above all it is super delicious. I've learned this cake from a very popular Arabian forum and since then I've made it several times in different seasons and everyone liked it even my kiddos who are very very picky. So let me introduce you to the perfect fool proof cinnamon layers cake.
You will need ::
1 c of unsalted butter – about 225 gm.

3 medium eggs.

1 c of granulated sugar.

1 c of milk.

A dash of vanilla.

1 c of all purpose flour.

1 Tbs of Baking Powder.

Cinnamon powder.
Here is what we will do::
Let the butter set in room temperature so it will be soft. Put the butter in your blender and bled the butter until it is smooth and creamy add eggs and vanilla and bled well. Then add the sugar, blend well, then the milk and guess what …… blend again!!!

In a mixing bowl, sift the flour and add the BP to it then pour the mixture from your blender and mix well. You will have a batter that is very much the same consistency as a pancake batter.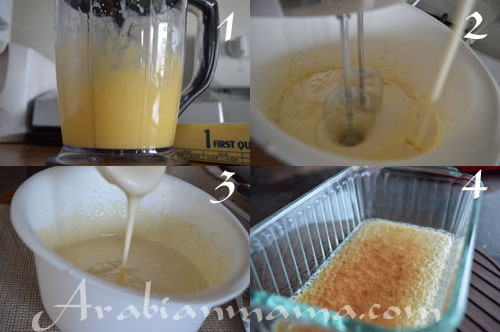 Scoop about 1/2 a cup of the batter in a prepared pan – I like to use a

9 x 5

loaf as I like it to have more layers but you can make it with less layers by choosing a bigger pan- to form a layer then put it in your oven under the broiler for about 3 min or according to your oven. Watch it carefully so it won't burn. Remove the pan when the layer is lightly browned.

Sprinkle cinnamon on top of the layer – according to your liking – then pour another layer of the batter over the cinnamon, put it under the broiler again and keep an eye on it.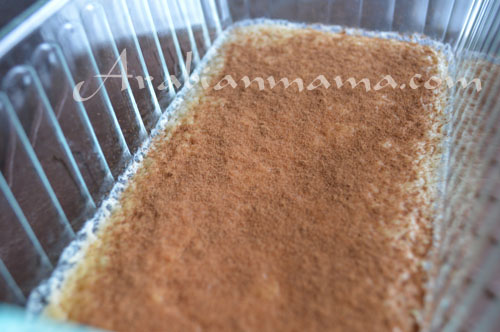 Repeat the process until the batter is finished. After you add the last layer broil it and do not sprinkle the top with cinnamon. Turn off the broiler and bake the whole cake for another 10-15 minutes on a 350°F.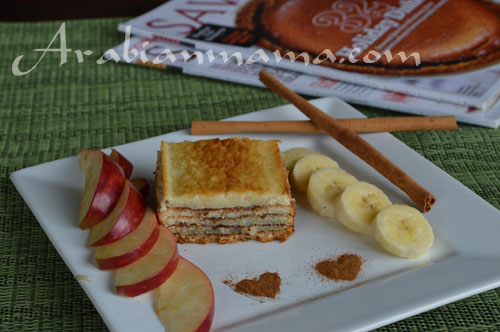 Here are the suggestions of serving::
You can server it with fresh fruit if you are watching your diet – like me these days.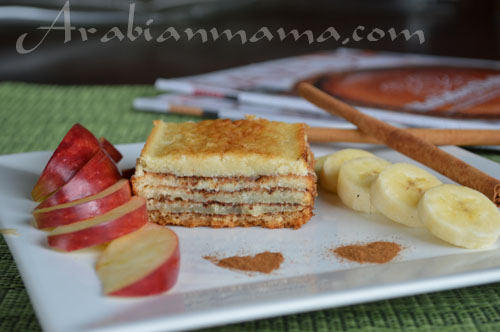 You can also make a cream cheese frosting and top the cake with it.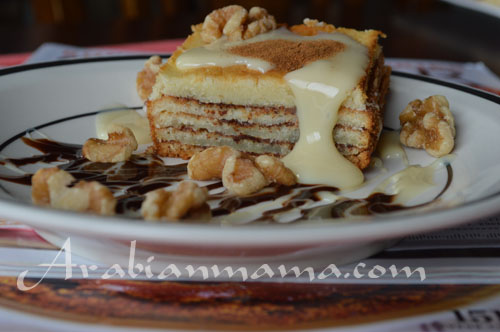 Or you can drizzle with a Tbs of sweetened condensed milk and chocolate sauce topped with some nuts of your choice.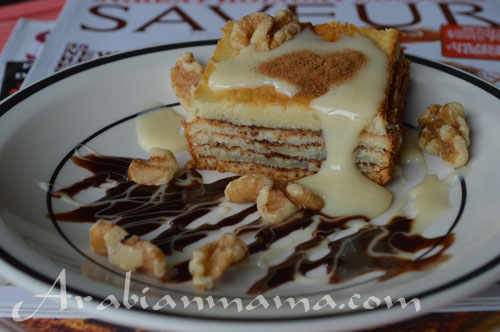 A couple of variations to this cake is substituting the cinnamon with cocoa powder and top it with vanilla ice cream …. OH My God I am drooling just by writing this!!!
It is yummy in all cases 🙂 .