Amar al deen pudding, also known as kamar al deen or qamar aldeen mohalabeya, is an irresistible apricot pudding, creamy, fragrant and sweetened to your perfection. One of the most famous Ramadan food recipes.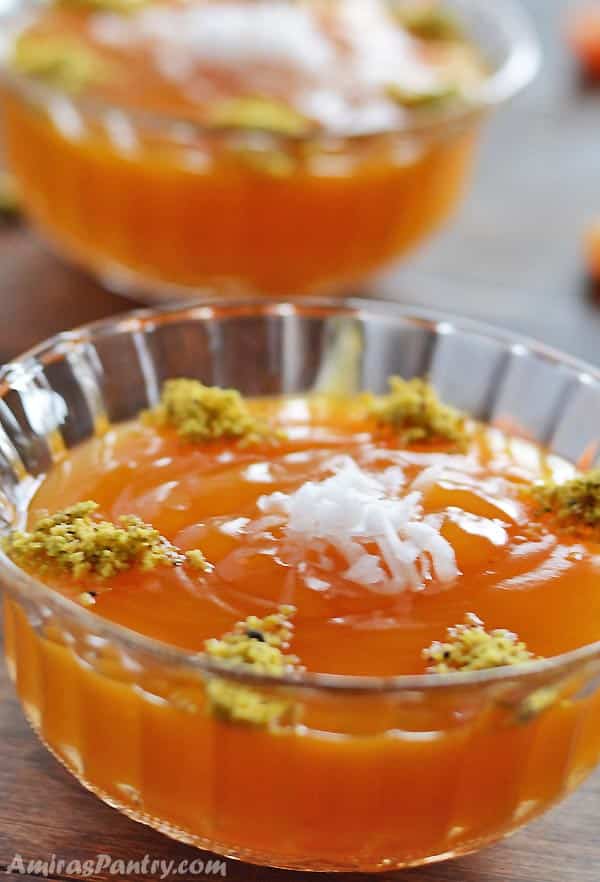 Qamar al deen is a guest that shows up in many different forms on the iftar table during the month of Ramadan. With Ramadan almost two weeks from now, I feel it is time to introduce you to this lovely pudding. I've showed you before how to make the paste and the drink now it is pudding time.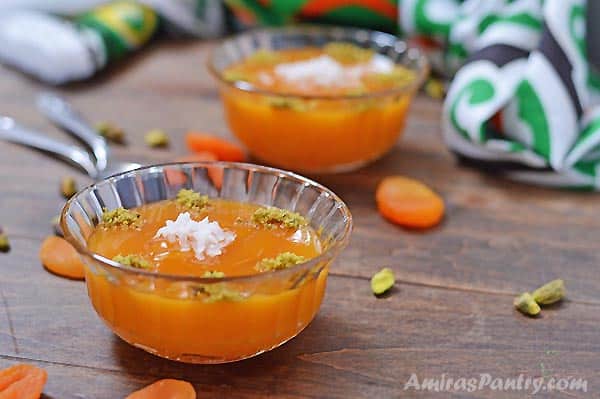 I love apricot, but I do not know why it is hard to find delicious, sweet and fragrant ones anymore . All the apricot I find tastes more like cucumber 😏 . I remember back in the old days, mom used to buy apricot that is literally dropping sugary juice out of it. They were so delicious that it does not survive until the next day.
The best amar eddeen paste is always made in Syria, they are the best and the largest producer and exporter to this delicious apricot roll ups. You can spot it easily in most Middle Eastern stores, but you can make it yourself. When my mom was making this dish back in the old days, me and my sisters used to tear off parts of the leather and eat it. Although I did not like the drink that much, I used to love eating the paste as is.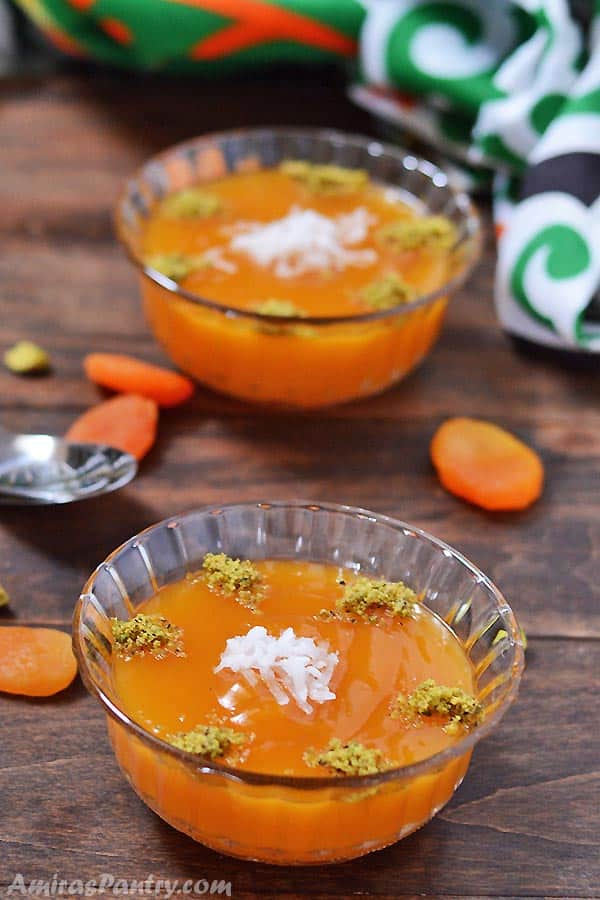 This pudding is based on making the juice out of the paste then make the pudding, but if this is too much for you, then you can make it out of any good quality apricot juice. The only problem I personally face when doing this is that the store bought drinks are usually not as concentrated and flavored as the juice made out of the apricot paste, and of course you'll need to adjust the sugar amount.
Let me show you all about this simple recipe.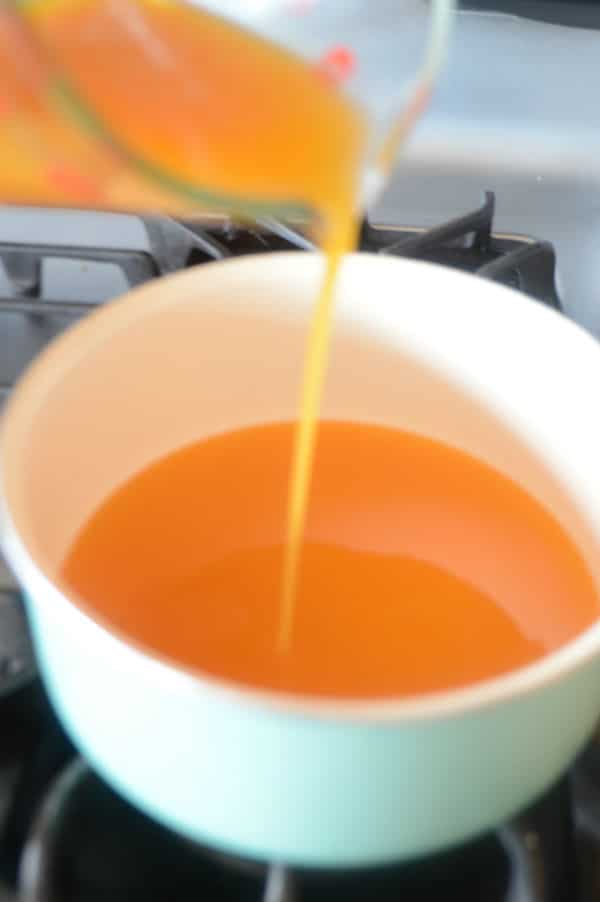 Pour most of qamar adeen drink in a deep pot over medium heat and bring to a gentle boil.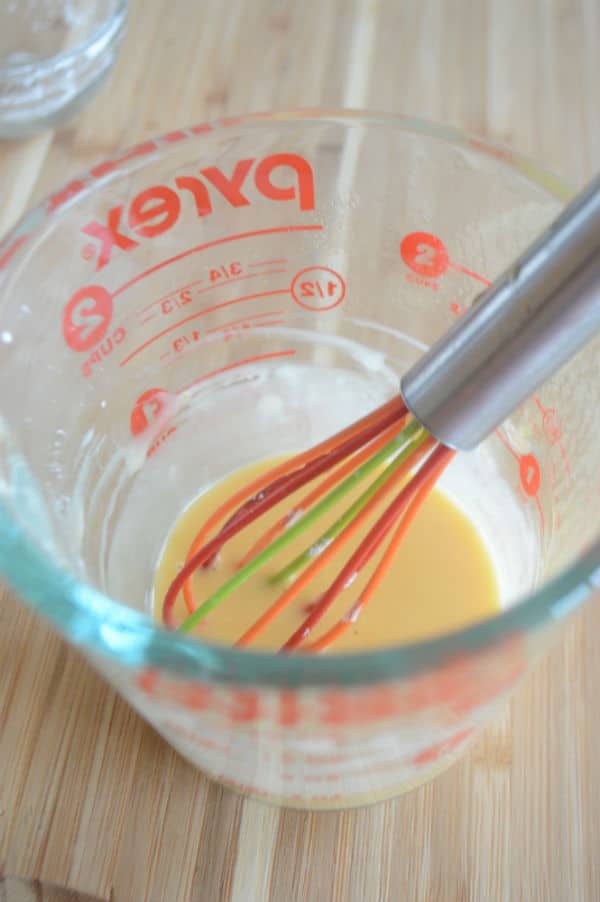 Stir cornstarch in the remaining juice.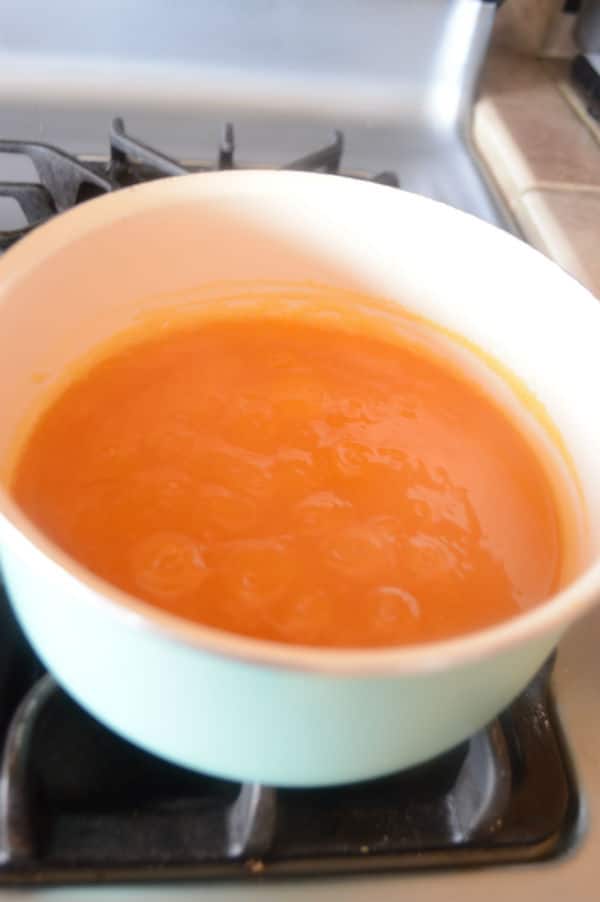 Pour over the hot juice in the pot and quickly stir until it thickens. Remove from heat and pour into serving bowls.
Decorate with nuts and coconut flakes or serve plain, sometimes it is also decorated with raisins. Most pudding style dishes in the middle east are thickened using cornstarch or flour we do not use any eggs in the pudding we make.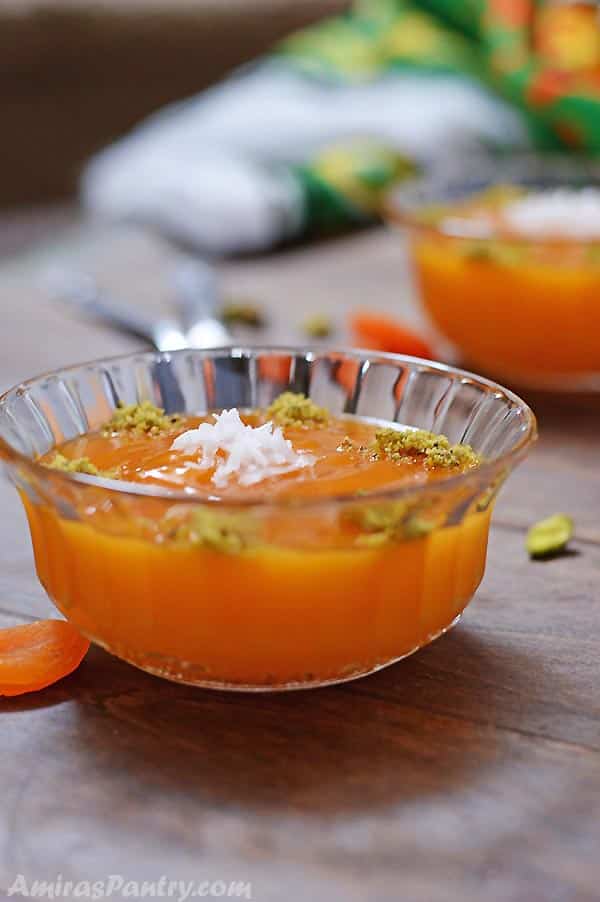 Tangy and sweet, so delicious mohalabeya (pudding). So refreshing especially when served cold.
Related Recipes
Kunafa is a traditional Middle Eastern dessert that is made with a layer of golden shredded phyllo dough, a creamy filling, and a sweet syrup. A popular dessert in many countries that is often served during special occasions and holidays.
I hope you'll like this recipe and if you make this recipe, snap a pic and hashtag it #amiraspantry, I love to see your creations onFacebook, Twitter!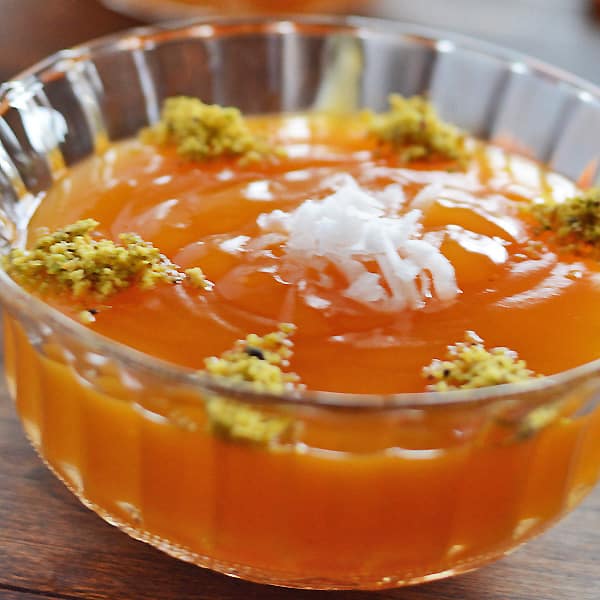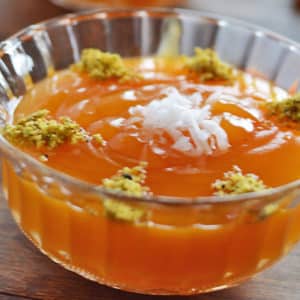 Ingredients
2

Tablespoon

cornstarch.

Nuts and coconut flakes for garnishing

, optional.
Instructions
In a deep pot over medium heat, pour 1 ¾ cups of the juice and bring to gentle boil.

Meanwhile, dissolve the cornstarch in the remaining ¼ cup of juice until no lumps are visible.

Reduce heat to medium low, gradually add the corn starch mixture whisking continuously.

Let it simmer until thickened, usually takes 3 minutes.

Pour in serving plates and garnish with nuts.

Serve cold or at room temperature.
Notes
*Taste the mixture as you go, if you feel it might need more sugar feel free to adjust. ** I like my apricot pudding soft so I add only 1 tablespoon of cornstarch for every cup of juice, however, if you feel the consistency of your pudding is runny add more cornstarch.
Sign up and learn more about Mediterranean flavors