Sticky to the touch, sweet and a little bit sour to the tongue, this is Qamar Eddeen or Kamar Eddeen paste. It is simply a thicker and stickier form of apricot paste.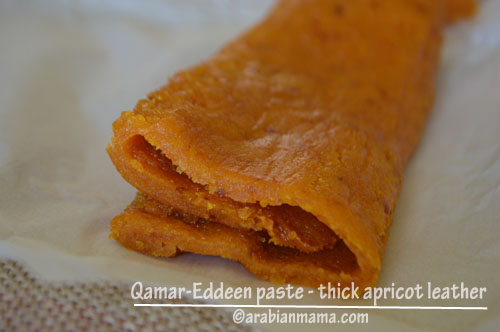 Whenever the holly month of Ramadan is mentioned anywhere in the Middle East, Qamar Eddeen drink is the first thing to pop up in our minds. Cold and sweet drink that cools us down in this heat when we first break our fasting.
We also make a sweet Qamar Eddeen or apricot pudding with nuts that is so delicious. The base of this drink and the treat is the Qamar Eddeen paste.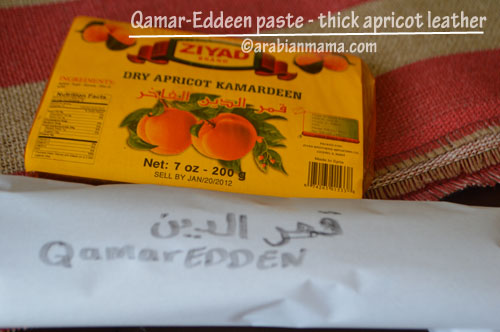 The best Qamar Eddeen paste is usually made in Syria, it is the finest and most expensive one, but you can make it at home with simple ingredients. You can use fresh apricot fruit or use dried apricot as I did.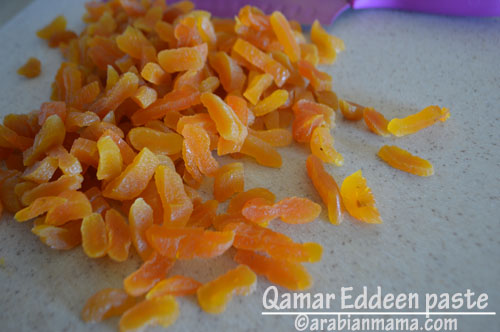 To make this delicious paste you will need:
2 cups of dried apricot - chopped.
1/2 cup of water.
1/4 cup of sugar.
1 tsp of lime juice.
In a heavy sauce pan over medium heat add the dried apricot, water, and lime juice, stir well to combine. Bring the mixture to boil then reduce heat and add sugar one Tbs at a time to reach the desired sweetness.
When the fruit pieces are completely tender, turn off the heat and let it set to cool down. If you feel the pieces are not tender enough add 1 Tbs of water at a time until it is completely done.
Line a 9X9 pan with parchment paper and preheat your oven to the lowest possible temperature.
Mean while, when your apricot mixture is cold enough to handle, transfer it to a blender and bled well until you get a spreadable paste. If you feel it is too thick for you you are welcome to add 1 Tbs of water to the blender and blend.
Place in your oven for almost 4 hours until it is dry but still sticky to the touch.
That's it now you will have almost 300gm of Qamar Eddeen paste.
Here is a video on how to make this delicious paste on my youtube channel. Have a safe 4th of July :).