I promised I would share with you our favorite Eid Al-Adha dishes and here I am with one of the most common dish on BREAKFAST for the first day. Yes you've read it right 🙂 Beef Liver for breakfast!!, well do not be surprised we usually have a somewhat late breakfast the first day may be by noon so it is actually lunch time.
On the first morning families- those who can afford it- usually sacrifice a sheep,goat or a part of a cow then part of the meat goes to the needy anther part goes to friends as a gift and a third part is for the family itself. So they take part of the liver as a start and cook it, that's why it is very common to see liver (beef or lamb) on the breakfast table with salads and french fries. For my small family we do not like lamb that much so I just buy beef liver and cook it with sauce very delicious and spicy too. The credit for this recipe goes to my dear mother in law.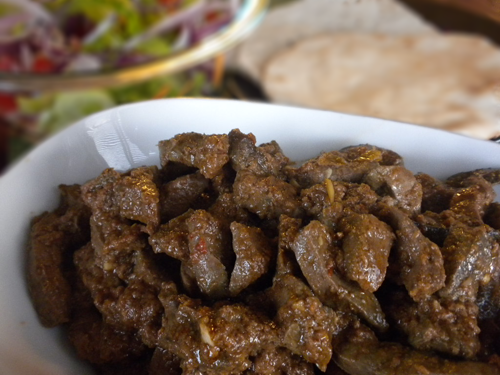 Here what you will need:
2 pounds of

beef/lamb liver

.
1 tsp of

ground cumin

.
1 large

onion

- I used a yellow 12.5 oz one bought from Costco.
1 green

bell/ Anaheim pepper

- I used Anaheim and added a 1/2 Jalapeño as we like it HOT.
3Tbs

Vegetable oil

- I used the Mediterranean blink of Costco.

Salt and Pepper

to taste.
I've also added about

2tbs of crushed red pepper

.
And here is what you need to do:
First put your liver under running

cold

tap water to wash it, drain then

you will need a sharp knife

the sharpest in your kitchen as we need to

cut the liver in strips

of almost 1 inch, be careful not to

hurt yourself

also a tip for cutting the liver

DO NOT GO BACK AND FORTH

several times or you will end up with a

messy bloody cutting board

. It is said that it is always easier and less messy to

cut semi-frozen

or frozen liver but I always buy it fresh and

hate to freeze it

.

Continue

cutting until you are done with the whole thing.
In a deep pan or pot

brown the onions

in the oil on a medium-high heat then add the

pepper

saute for a min. then add the liver.

Stir for 2 min.

then reduce the heat to medium-low

add the seasoning

(salt,pepper,cumin and crushed pepper if you chose to).

Add a

quarter to a half cup

of water if you feel the need to it.

Cover

and cook for about 45 min.

Check

it with a fork until you feel it is

done they way you want it

. We like it very very well done.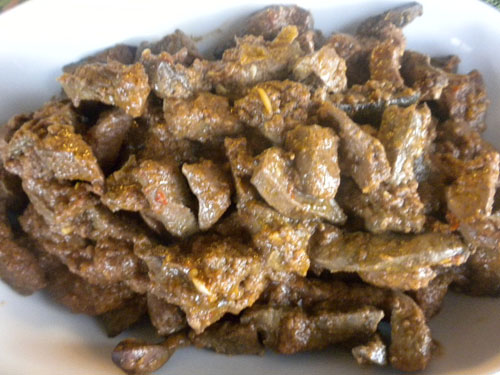 I served it hot with pita bread and green salad. Next day we it as a leftover lunch with Tahini Sauce and french loaf.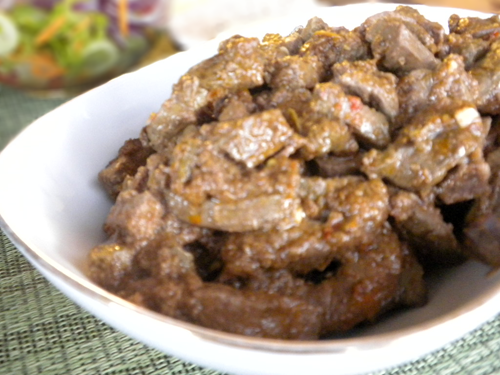 Enjoy.