Buttery onions with perfectly seasoned and fork tender beef liver ready in less than 30 minutes for an out of the norm dinner.
Total time
2
hours
25
minutes
Beef liver is a budget friendly and nutrient packed kind of protein. Liver when cooked right is surprisingly tender and incredibly juicy. No more shoe leather and curly beef liver, and with all these buttery caramelized onions this recipe is sure to please.
My father in law seriously enjoyed this recipe as it was not chewy and easy for him to eat. He said " the texture and flavor of this liver is just right where liver should be". I will share with you a couple of tips at the end of the post so make sure to check them out.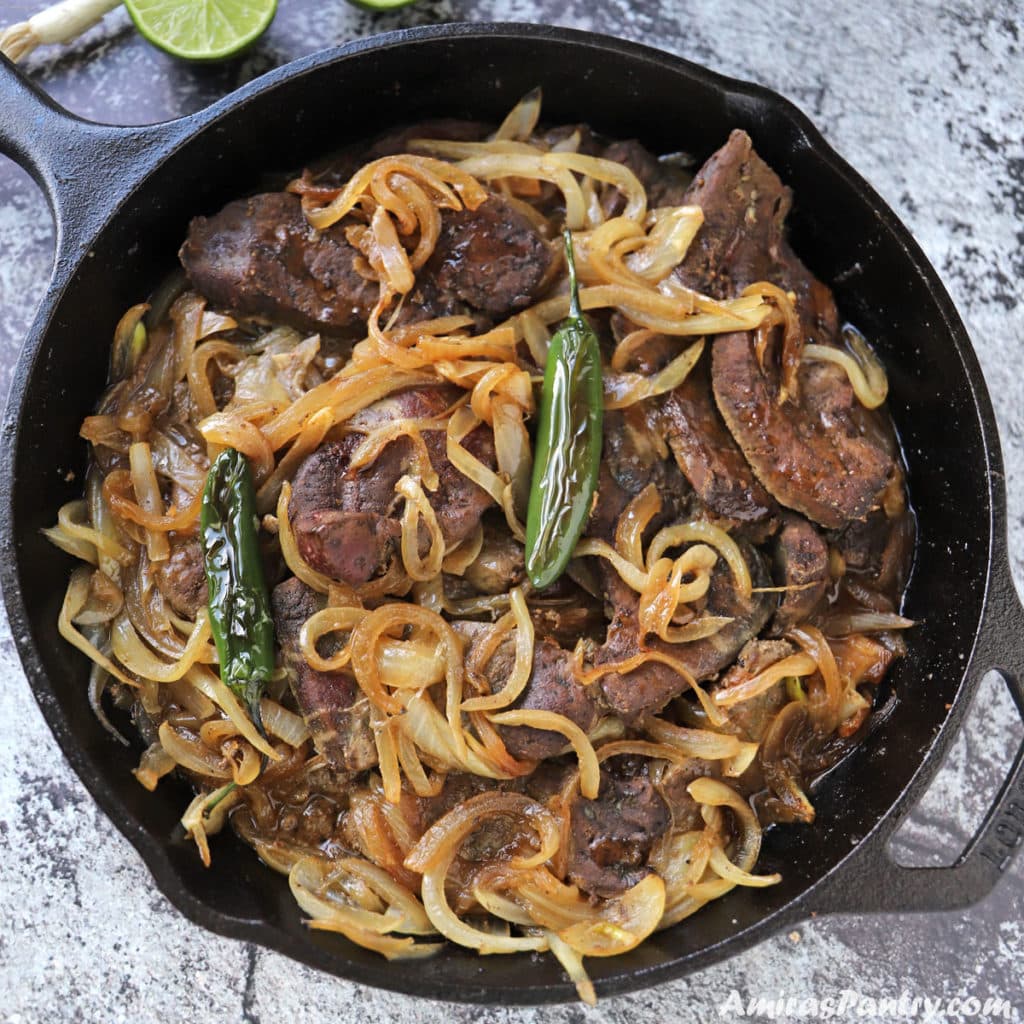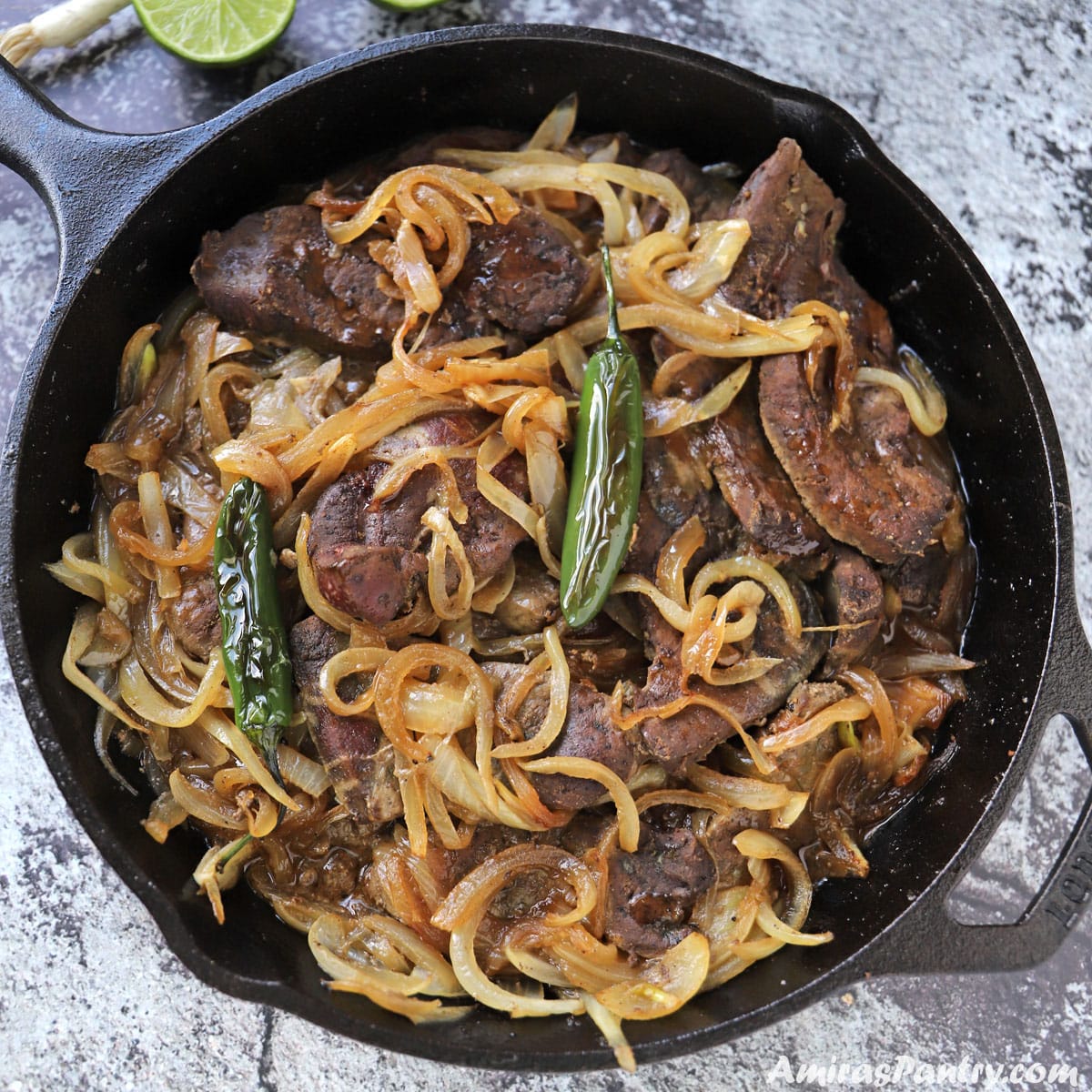 Beef Liver
I cannot believe I am saying this but I really liked liver when I was growing up!! Why this is a surprise? because if you have known me for a while now, you should be familiar that I did not like to eat at all when I was little. My mom suffered a lot to feed me anything but not with beef liver. Pasta, french fried and beef liver was my favorite dinner.
Organ meats are not eaten enough in the United States and they should be. If you are not familiar with eating liver make sure to check my guide here for how to start, buy and prepare liver.
Liver is so popular in the Middle East specially around Eid Al Adha . I've shared a recipe for saucy liver before and it is one of my husband's favorite. To tell you the truth I was brought up to a more rubbery texture for liver and I am ok with that I love liver whatever and however it will come out. But since I followed some tenderizing methods I even like it more.
My in laws liked this recipe so much and to my surprise, my little one enjoyed it and asked for more which really made me happy. Maybe he is following his mom's foot steps.
What you'll need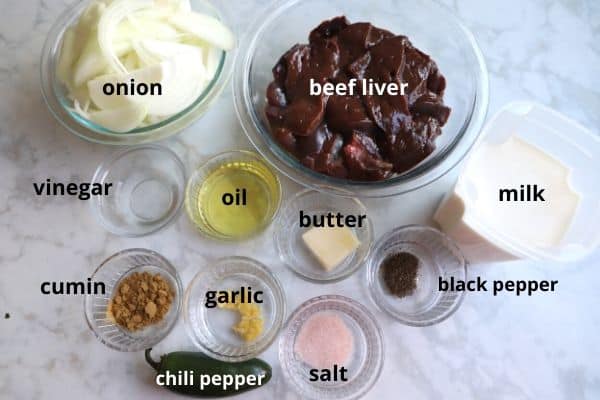 How to cook beef liver
Sometimes it feels like a struggle to get tender beef liver but let me show you what I've done and will tell you some helpful tips at the end.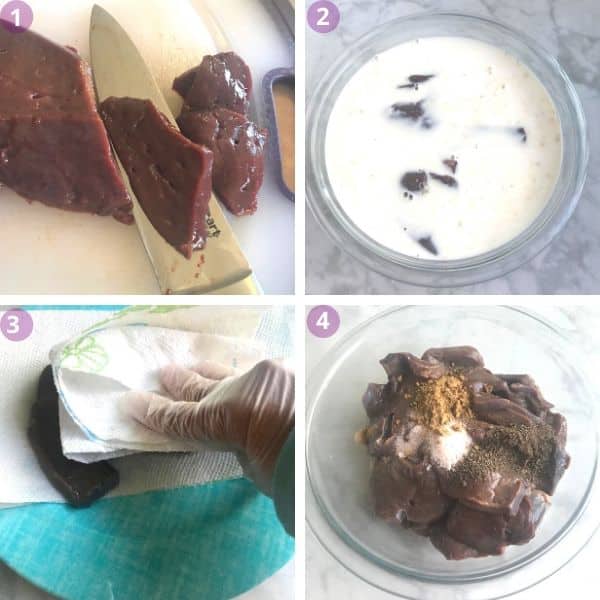 Cut the liver into thin strips, if you have holes with connective tissues in the middle try to cut around these holes.
Place the liver in a bowl, add vinegar and combine then pour milk over. Let it soak anywhere from 30 minutes to a whole day. I will explain that later.
Take the beef liver out and pat dry with paper towels.
Place back in the bowl and add all the spices and mix well to coat.
In a cast iron skillet, heat oil then saute garlic for 30 seconds or until fragrant.
Add the liver slices and sear for about 1 ½ minute per side. Work in batches until you are done with the liver. Set aside.
Add the remaining oil and butter then brown the onion slices.
Add the liver back then pour water/beef broth and continue cooking for 5 to 10 minutes until just before your liking. more on that too on the tips below.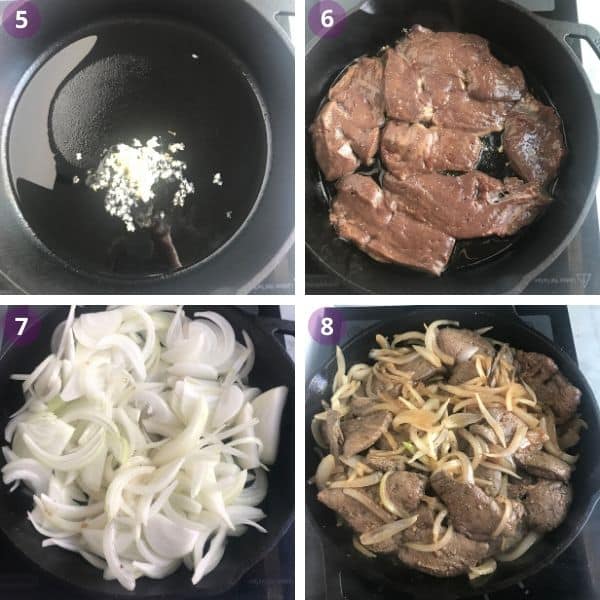 Tips for getting tender beef liver
There are a lot of advice out there to make cook tender beef liver. My favorite are:
Use white vinegar and milk mixture to soak the beef liver. I am used to the texture, taste and smell of the liver so I soak mine for only 30 minutes and sometimes less. If you are new, it is highly recommended to soak it for up to 24 hours or at least 2 hours. I have found that soaking liver for that long takes away a lot of the flavor for my liking.
Specially if you are serving this to old people or little ones and do not want them to spit it in your face, you need to cut off as much as possible from the connective tissues and membrane. My beef liver had some holes with connective tissues in them so I had to cut this totally off so it will not bother them while eating.
Regarding cooking time: It is recommended to cook liver quickly and to get it off the heat right before it is done to your liking because it continues to cook after that.
I highly recommend that you click through to this liver guide before you start making this recipe to get more information especially if you are new to liver cooking and eating.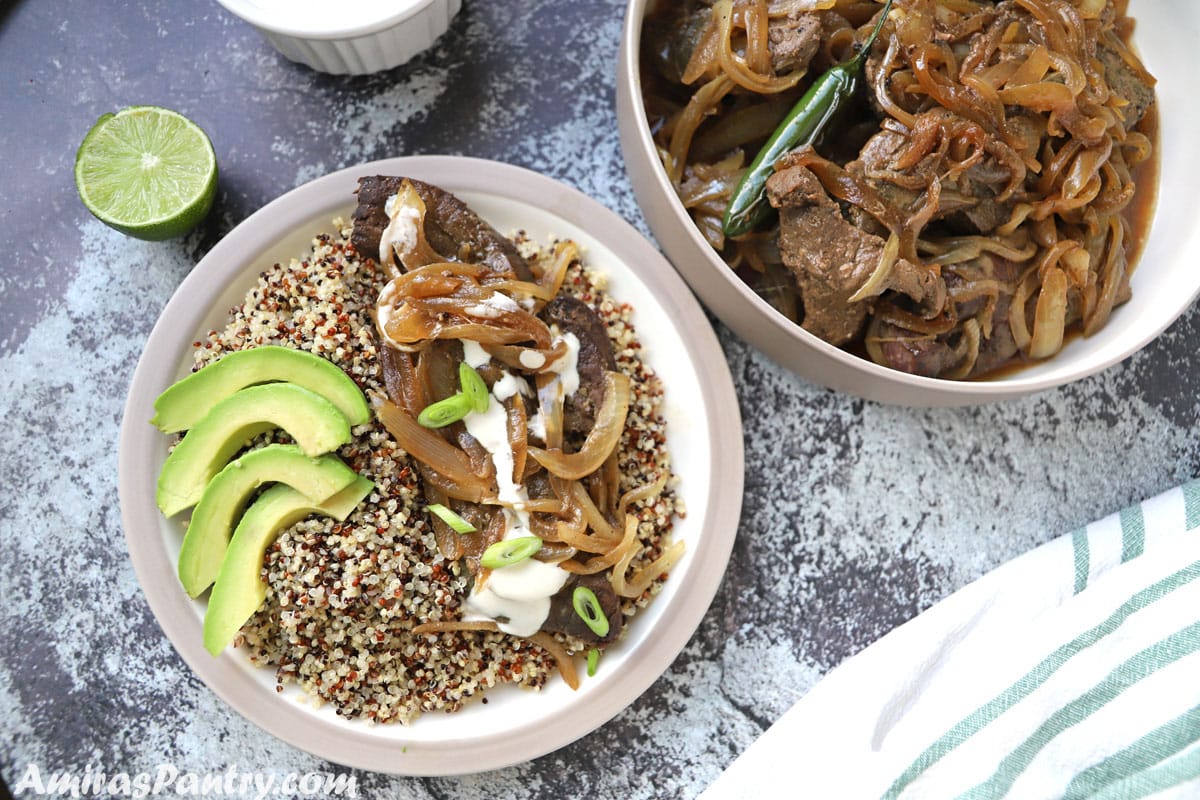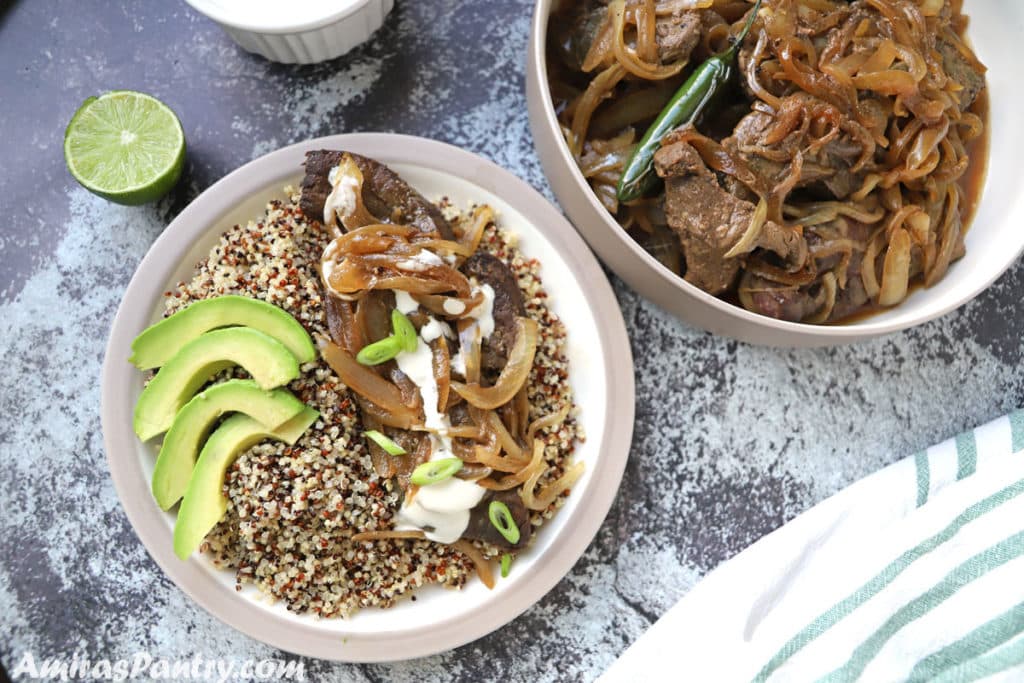 You might need
The following are affiliate links. We are a participant in the Amazon Services LLC Associates Program, an affiliate advertising program designed to provide a means for us to earn fees by linking to Amazon.com and affiliated sites.

I love this Lodge cast iron skillet and use it for almost everything. I will share a post soon on how to take care and season your cast iron skillet.
Beef Liver
If you like this recipe do not forget to give it a ⭐⭐⭐⭐⭐ star rating and attach a photo of your finished dish. It is always a pleasure of mine to see your photos and check your own take of the recipe. Thank you.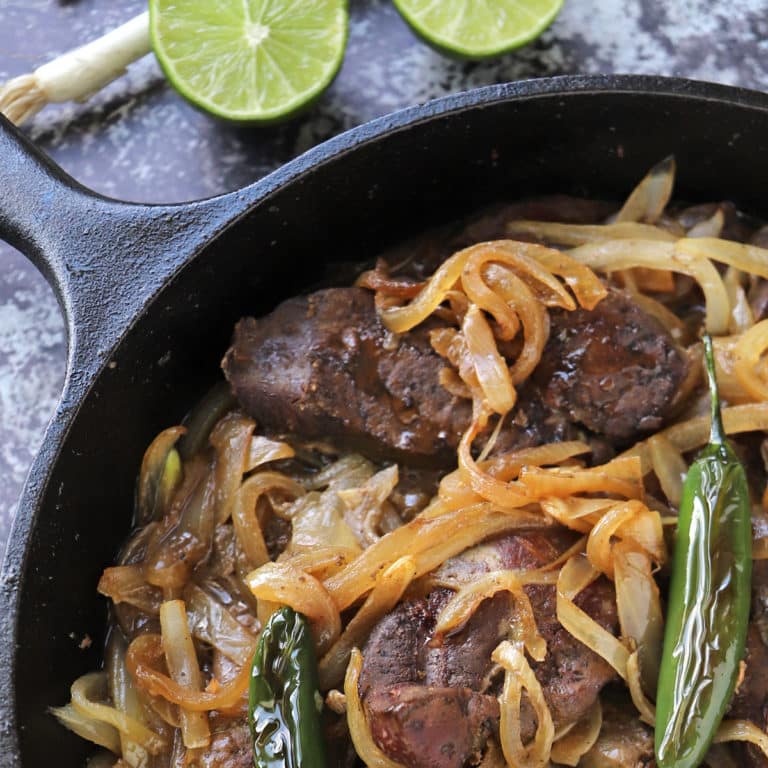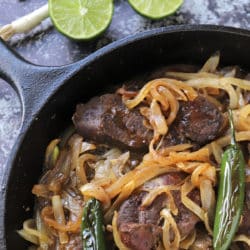 Beef Liver
Buttery onions with perfectly seasoned and fork tender beef liver ready in less than 30 minutes for an out of the norm dinner.
Print
Pin
Rate
Ingredients
For the liver soak:
2

pounds

beef liver

sliced into strips.

1

Tablespoon

white vinegar.

2

cups

milk.
Seasoning:
1

teaspoon

pink salt

or to taste, you can also use any salt you have.

1 ½

teaspoon

ground cumin.

¾

teaspoon

ground black pepper.
To cook liver:
4

Tablespoons

olive oil

divided.

2

Tablespoons

unsalted butter

3

garlic cloves

minced.

3

(600g) onions

sliced.

1

jalapeño or hot pepper if desired.

½

cup

water or beef broth.
Instructions
Place liver strips in a deep bowl, add vinegar and massage to mix well. Cover with milk and refrigerate for 30 minutes or up to 24 hours.

Remove liver from liquid and pat dry, discard the milk. Season with salt, pepper and cumin mixing well to cover.

In a large skillet or cast iron, add two tablespoons of oil then sauté garlic until fragrant for about 30 seconds.

Sear liver slices in batches for about 1 ½ minute on each side or until browned. Fry the Jalapeño if using.

Remove liver slices from skillet and set aside.

Add remaining oil and butter to the skillet then sauté onions for 5 minutes or until nicely browned.

Add liver slices back to the skillet and mix with onions.

Add water or beef broth and cook for 5-10 more minutes or until just done to your liking.

Add the jalapeño pepper back to the skillet and serve.
Nutrition
Calories:
418.7
kcal
|
Carbohydrates:
17
g
|
Protein:
41.4
g
|
Fat:
20.1
g
|
Saturated Fat:
5.9
g
|
Polyunsaturated Fat:
1.9
g
|
Monounsaturated Fat:
8.7
g
|
Cholesterol:
582.6
mg
|
Sodium:
168.1
mg
|
Potassium:
696.2
mg
|
Fiber:
1.9
g
|
Sugar:
4.2
g
Sign up and learn more about Mediterranean flavors