An easy and fresh fruit salad, naturally sweetened with vibrant fresh fruits. An excellent fuss free dish for potlucks or to end a delicious homemade meal.
Easy fruit salad recipe is fresh, simple and naturally sweetened. Refreshing, vibrant and colorful fruit salad that feeds a crowd and perfect for any occasion.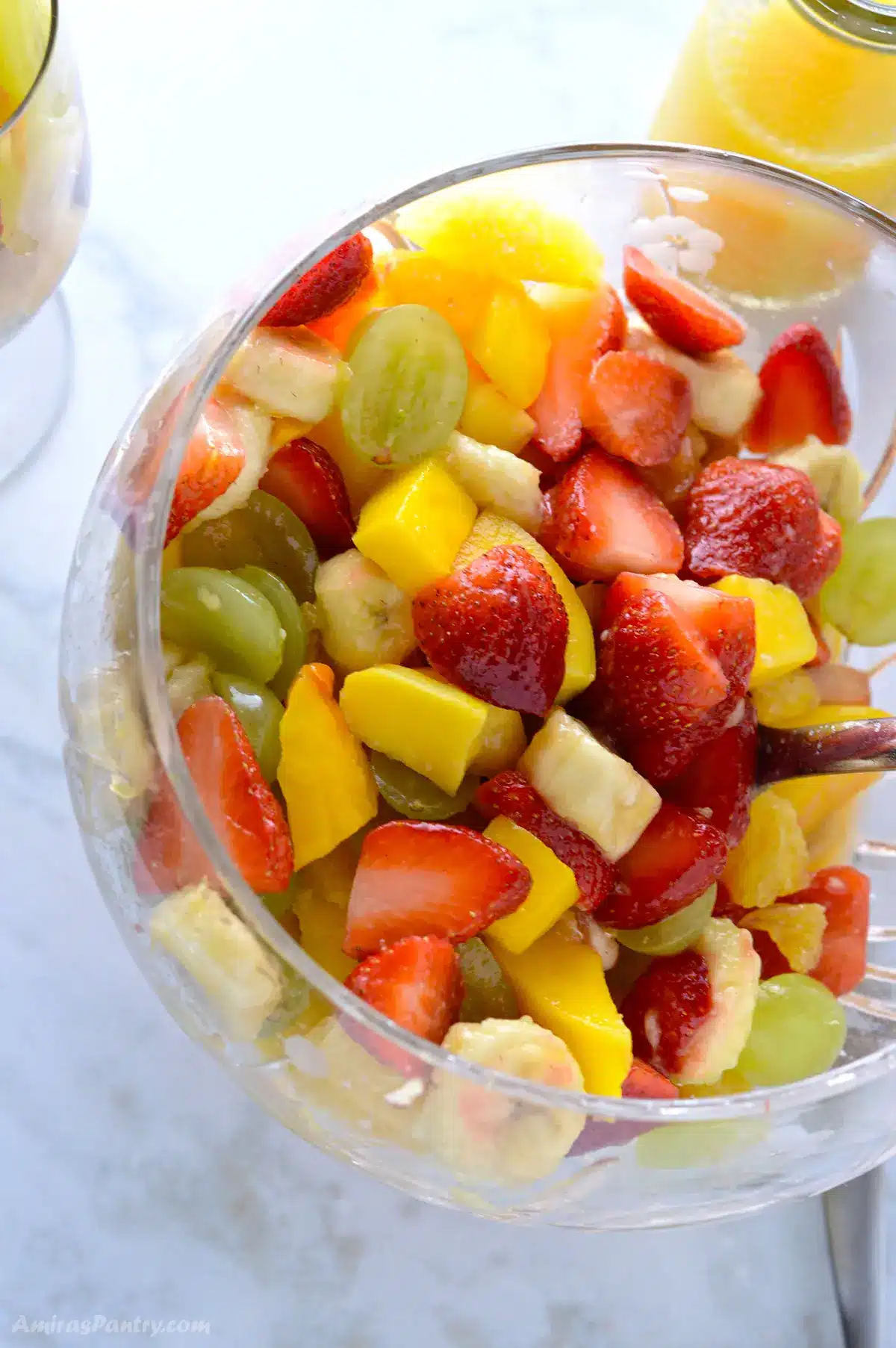 Jump to:
❤️ Why You'll Love It
Quick and simple way to create a colorful and delicious dish.
It's a delightful addition to any meal and an excellent way to enjoy the bounties of nature.
You can use just about any mixture of fruit that you like.
I love it when you take a fruit salad to a potluck or party people go wild over it. They can't help themselves! It is colorful and makes people feel they are doing good for their bodies and eating healthy. This one is special because it is also naturally sweetened with honey, a party favorite light dish. Best part is, it is an effortless recipe.
📝 Ingredients
Note: This is an overview of the ingredients. You'll find the full measurements and instructions in the recipe card (printable) at the bottom of the page.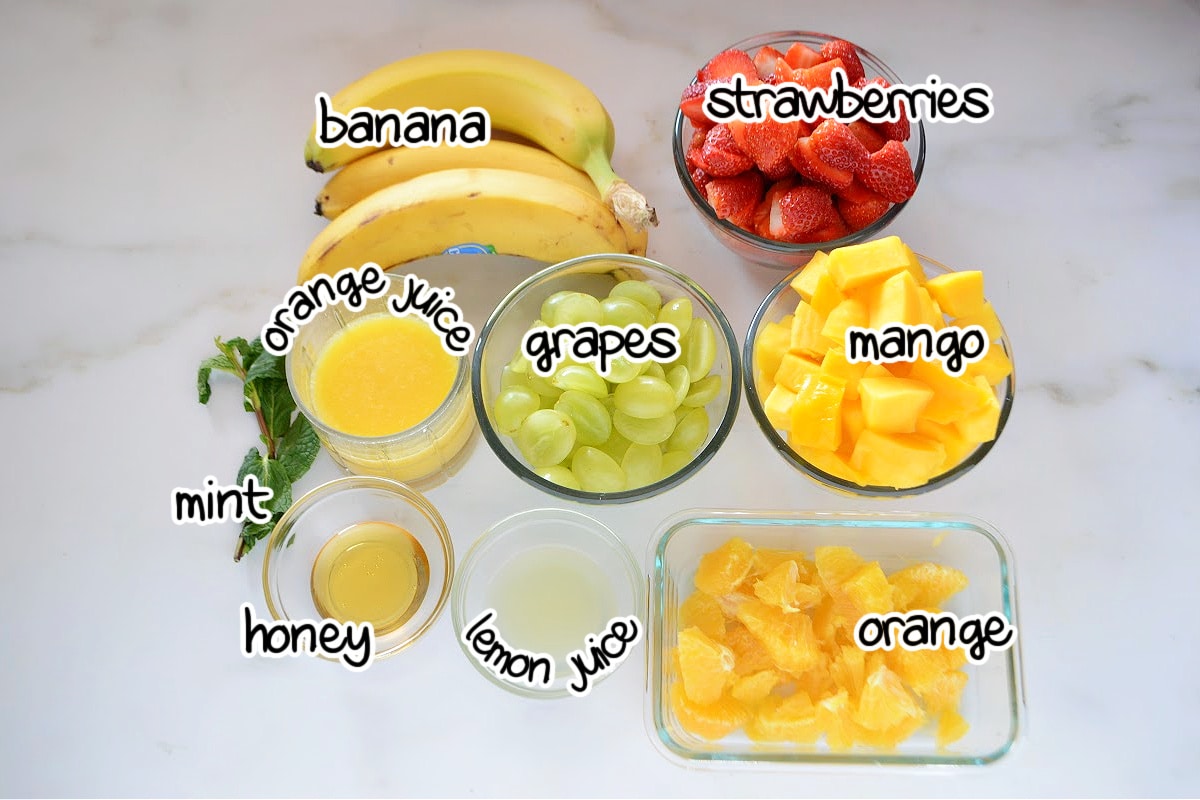 🥄 Instructions
Note: This is an overview of the instructions. The detailed instructions are in the recipe card below.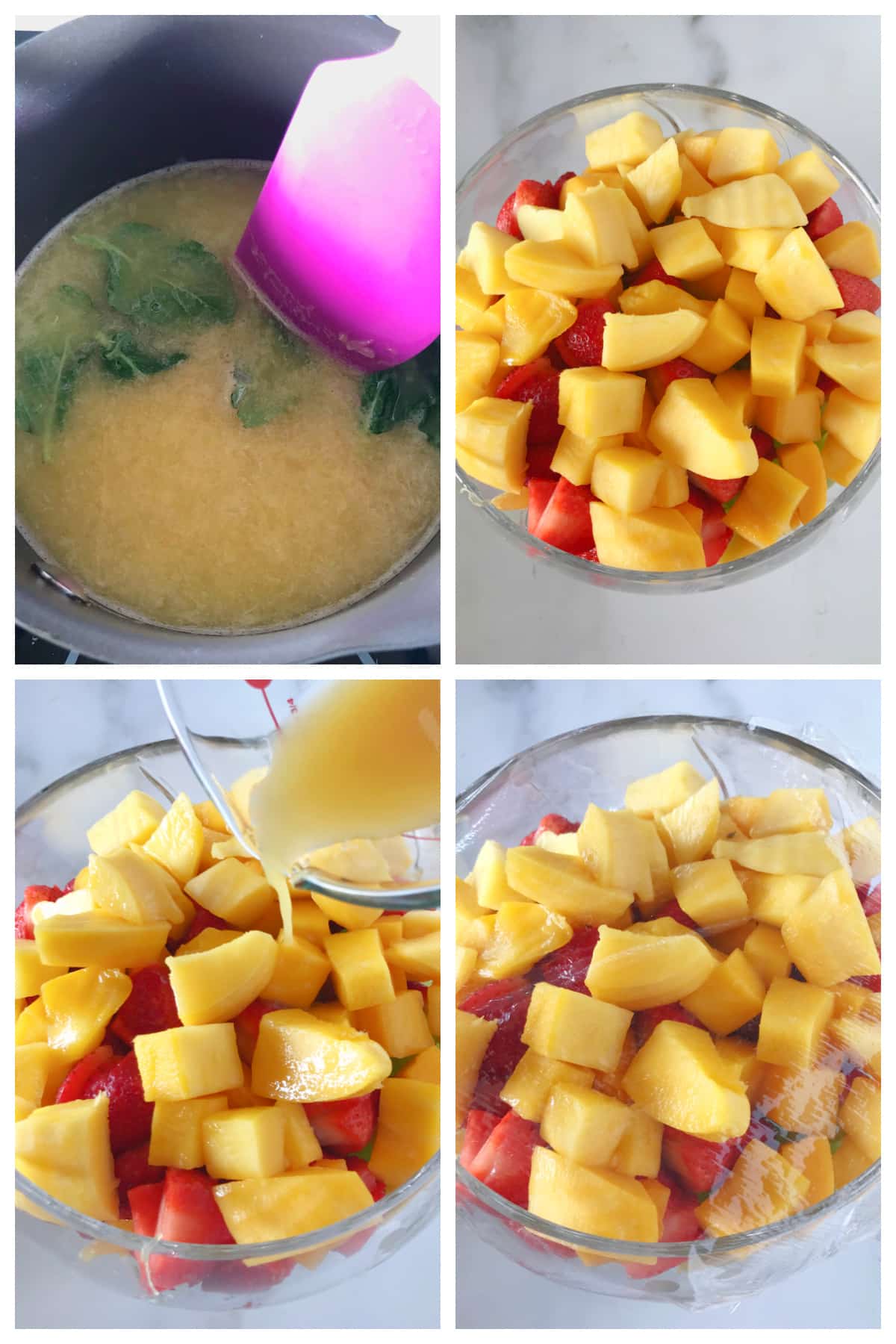 In a saucepan add sauce ingredients, bring to a boil then simmer for 2-3 minutes until sauce is infused with the mint. Remove from heat strain and let it cool down completely.
Gather, chop and prepare the fruits you are using.
Pour the sauce over.
Cover with plastic wrap and refrigerate until serving. Toss well and serve.
👍 Amira's Tips
Try to choose fruits that are equally ripe. It always feels weird to have pieces of fruits that are either too mushy or too crunchy.
You can infuse the dressing with any herb of your choice. If you do not like mint, use basil, rosemary, thyme, lemon zest... etc. You can also flavor the dressing with vanilla, orange blossom water or rose water.
If you do not have lemon you can use lime juice too.
I always like to serve mine with extra dressing on the side.
For a fancier look you may want to garnish top with whipped cream.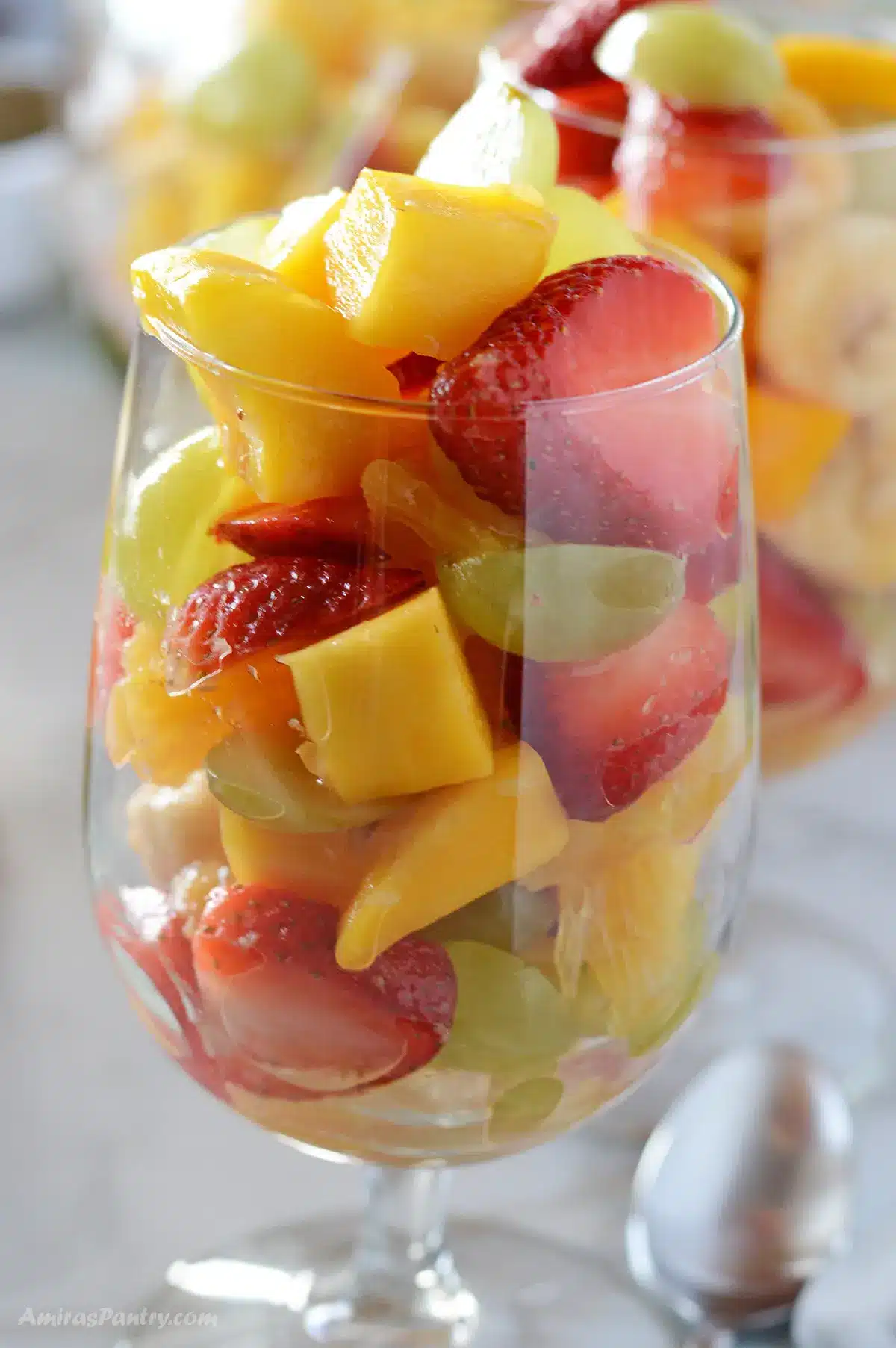 👩‍🍳 Variations
My mom's recipe was to sprinkle some sugar over strawberries and bananas with a squirt of lemon juice, keep it in the fridge for two hours then add any other fruits she would like to.
I've replaced the sugar in mama's recipe with honey added some orange juice along with lemon juice and flavored it with mint. This recipe is very versatile, use whatever fruits you have and you can also flavor the dressing with vanilla, thyme, rosemary or basil.
👩‍🏫 My Personal Experience
Fruit salad has been always a favorite for me since I was a little kid. When I was growing up, strawberries were the only berries we knew. Blueberries, blackberries and such were not common in Egypt back then and I believe still not that common. My mom is an avid fruit lover, so we would always have fruit salad at home even on the simplest form, bananas and strawberries.
In winter, my mom used to make a fruit salad using bananas, strawberries and oranges. In summer she would add mangoes and in some occasions diced apples as well. So this is my kind of fruit salad, luscious, sweet and so refreshing.
💬 FAQs
Which fruits go well together?
Well, here is a guide for seasonal produce to help you. For me I like luscious juicy fruits, strawberries, bananas and oranges are a must. It is up to you of course, some people do not like bananas as they might get soggy and awkward. See notes below regarding bananas.
How do you keep fruit salad fresh?
My two suggestions for you is to use lemon juice and don't cut the produce too small as fruits get mushy faster when then pieces are small.
How long will fruit salad Keep in refrigerator?
Usually fruit salads are good for 3-5 days refrigerated. I find this fruit salad good for 3 days after that the fruits lose their crispness and become bland.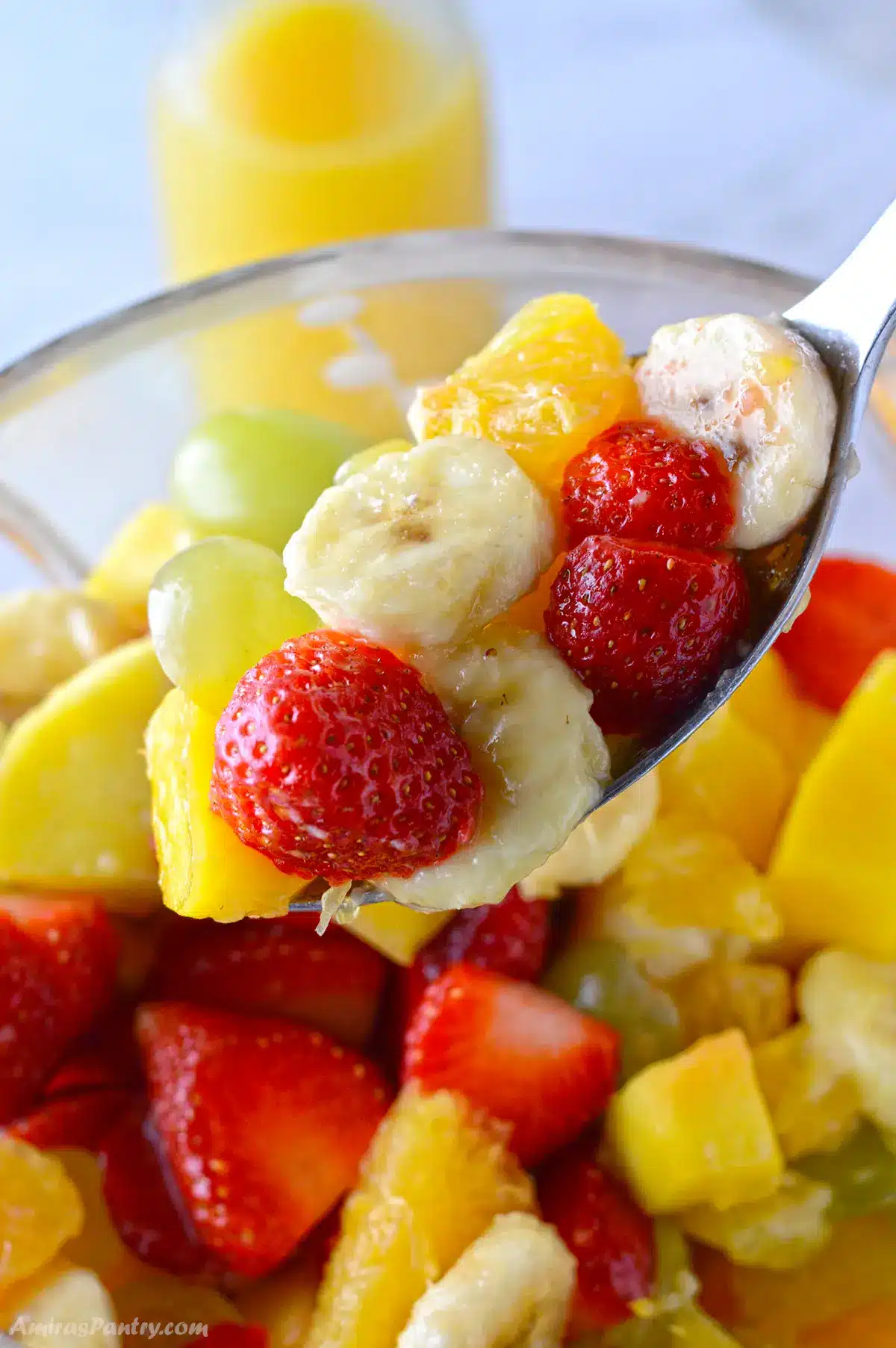 Related Recipes
For a more fancy look, top your fruit salad with this creamy fluffy Chantilly cream. It is easy to make and makes any fruit dessert better.
This raspberry danish has a buttery flaky base with a sweet and tangy raspberry lemon filling. Topped with fresh raspberries and dusted with powdered sugar these are an elegant dessert yet so simple to make.
Jello desserts are one of those things that everyone loves especially in parties and holidays, try this Jello mold recipe, so fun and easy to make.
More Fruit Recipes
If you're looking for a delightful way to incorporate fresh fruits into a delectable dish, look no further than this irresistible creamy fruit salad recipe.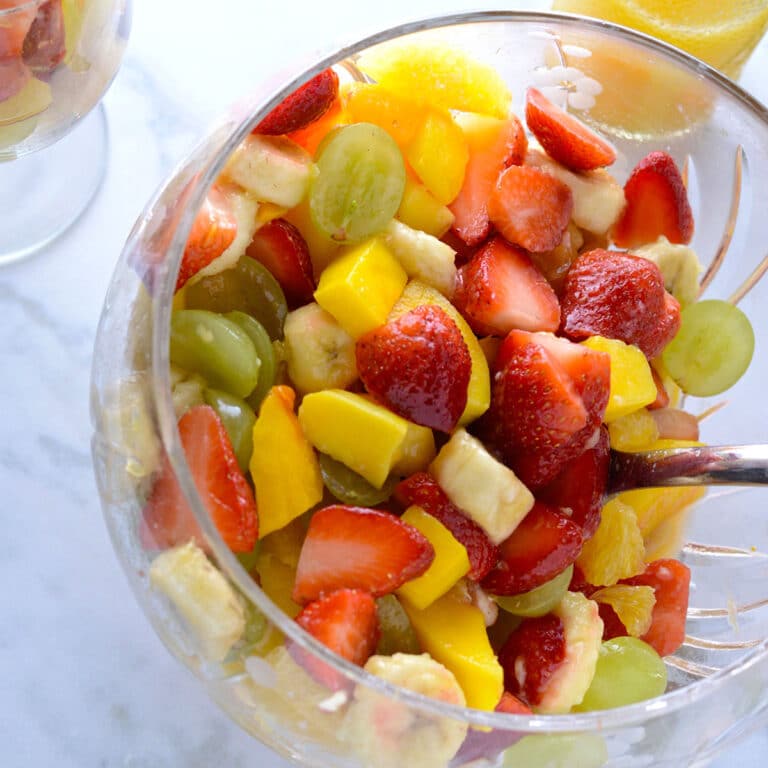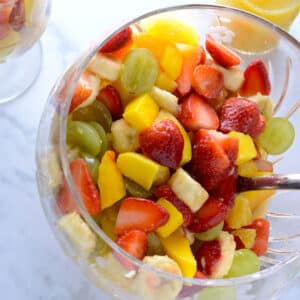 Easy Fruit Salad Recipe
An easy and fresh fruit salad, naturally sweetened with vibrant fresh fruits. An excellent fuss free dish for potlucks or to end a delicious homemade meal.
Print
Pin
Rate
Ingredients
3

Bananas

, about 1 pound

2

medium oranges

peeled and cut.

1

(16 oz/ 454g)

container Strawberries.

1

pound

diced mangos

2

cups

Grapes

, about 300g
For the sauce:
½

cup

orange juice

, about 120ml

2

Tablespoons

lemon juice

1-2

Tablespoons

honey

1

Tablespoons

mint leaves
Instructions
In a sauce pan over medium high heat, bring sauce ingredients to a boil, reduce heat and simmer for about 2-3 minutes until the sauce is infused by the mint leaves. Turn heat off and strain.Set aside to cool down.

In a deep bowl, layer the fruits making sure to put the banana slices at the bottom topped with oranges if using then the rest of your fruits in any given order. Note3

Pour the sauce over, cover and refrigerate for an hour.

Toss and serve with more sauce on the side if desired.
Notes
You can skip the honey altogether if your fruits are sweet enough. The mangoes I had was kind of sour but the rest of the fruits were sweet so I just used one Tablespoon of honey.
You can increase the mint leaves or use a different herb like basil if you would like to. Also you can flavor the sauce with vanilla, orange blossom water or rose water.
We love having a little bit tender- but not mushy- banana slices so I put them at the bottom so they will soak the sauce as this will flavor the sauce with banana meanwhile keeping the bananas from changing color. If you do not like tender banana slices and want them firm, then delay adding the banana slices until the very end and add just add when you are ready to serve.
Please check the nutrition disclaimer policy.
Nutrition
Calories:
175
kcal
|
Carbohydrates:
33
g
|
Protein:
7
g
|
Fat:
0.4
g
|
Saturated Fat:
0.1
g
|
Polyunsaturated Fat:
0.1
g
|
Monounsaturated Fat:
0.1
g
|
Sodium:
1
mg
|
Potassium:
283
mg
|
Fiber:
15
g
|
Sugar:
16
g
|
Vitamin A:
619
IU
|
Vitamin C:
41
mg
|
Calcium:
20
mg
|
Iron:
0.3
mg
Sign up and learn more about Mediterranean flavors
First published Jun 28, 2019 . Last updated July 6, 2023 with important tips, clear step by step instructions and readability.