Forget about instant pistachio pudding mix, try this easy Homemade Pistachio Pudding recipe. Rich, creamy and the flavor is so fresh, you'll never look back.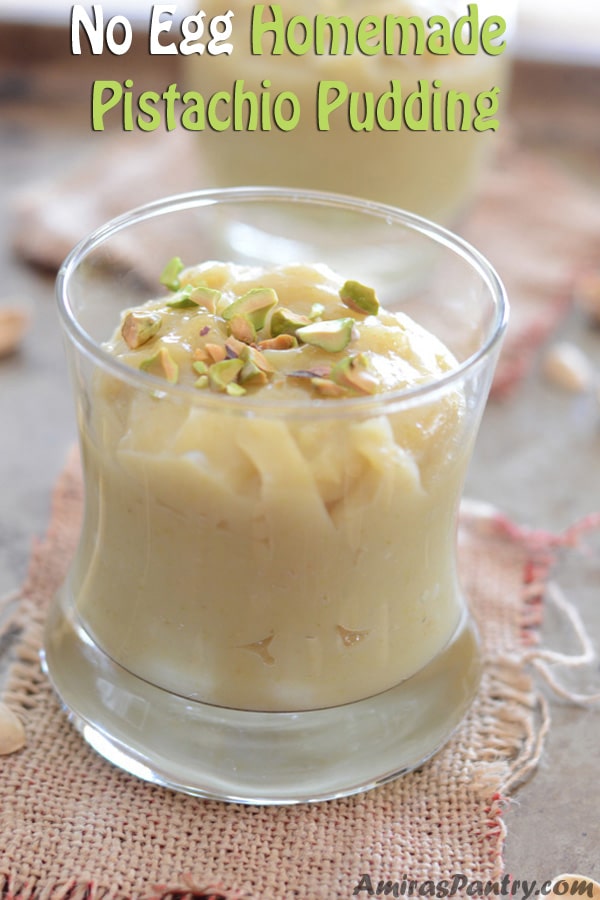 I am back, yaaaay. Don't get me wrong, I am not happy that I left my family and friends but I am happy that FINALLY I am really back. I've had a very bad - if not the worst at all- trip back to the states.
You see, my misery started the Saturday night when I convinced myself somehow that I will surely get enough sleep and REST in the longest plane - the one that crosses the ocean-so I stayed awake all night with my nieces and nephew, wanting to get as much as we can of good time together💔.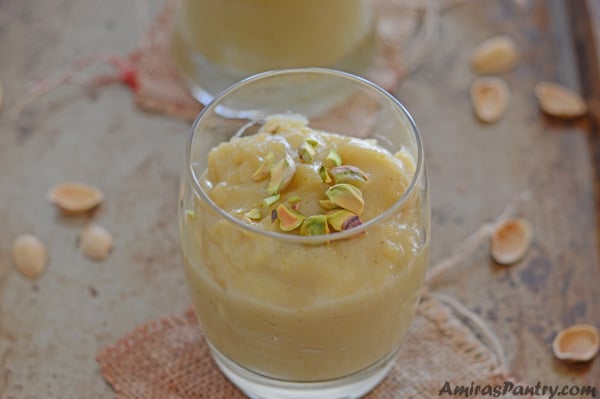 Then my sister and her husband dropped us at the airport, went to park their cars so they can come back to me. Unfortunately. it was very crowded and they could not come back in time so I had to go in without hugging my sister and saying goodbye💔.
After all these broken hearts, the plane took off 30 minutes late but we landed safely in Turkey 🇹🇷. We managed to get into the second plane which is the longest in terms of time as it also took off almost an hour late😲. Aaaaand guess what, I did sleep for like 15 minutes in the whole 9 and half hours!!!.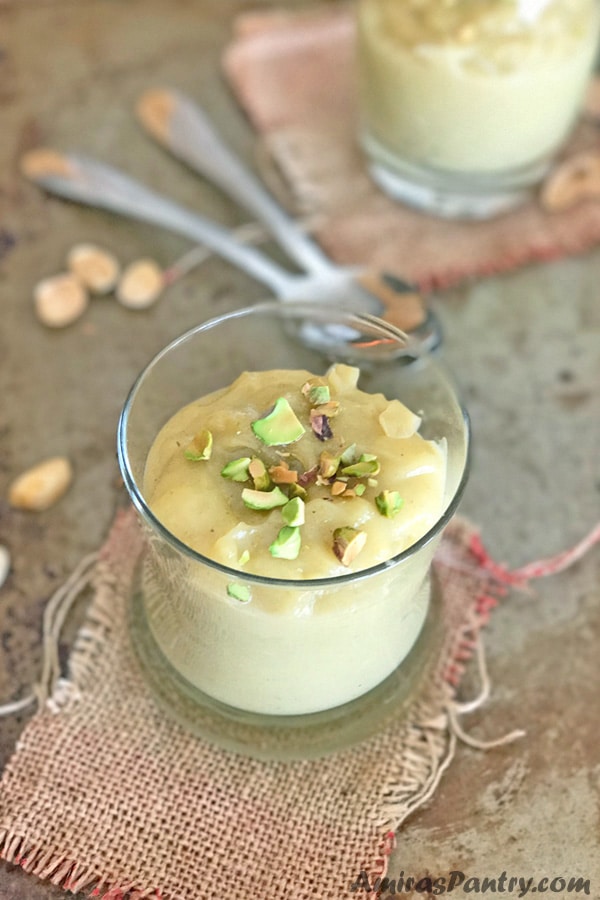 With a broken heart and a very broken back and neck we again landed in Toronto 🇨🇦. I managed to get to the US customs, waited and waited for my name to show up in that screen indicating I am good to go to my gate,but nothing showed up, only my kids names but not mine 😡. Then after asking, I discovered I was taken off of the list of passengers!! WHYYYY MEEEEEEEE?.. By then I've also developed a broken brain which could not process that.. what has been done is irrecoverable and there is no way I am boarding this plane ✈️. I spent almost 1 hour walking up and down, east to west in the airport trying to locate the Turkish airlines office so to ask what's next and by now I'ven developed a very tiring, killing pain in my leg that I felt I've developed a broken leg.
What really made me super angry is their customer service who insisted that it must be me and their plane was only 19 minutes late landing!! I shouted at the top of my lungs and was about to cry, with cranky kids and my whole body was aching and they still ask why I was taken off the list!! are you asking me? really!!
With a broken heart, a broken back, a broken foggy mind, a broken leg and a broken vocal cords, I dragged myself and my poor kiddos to a nearby hotel- that we were compensated for- only to sleep there for 5 hours and then back up running like crazy so we will not miss this flight as well. So imagine my happiness to see my hubby's sweet smile, that I did not even care that the bags - as expected- did not arrive. A horrible trip... really.
So, who's ready for a simple creamy dessert after this tiring story? A simple welcome home dessert that was easy, fresh and screams home sweet home 🏠. Let me show you how to make it.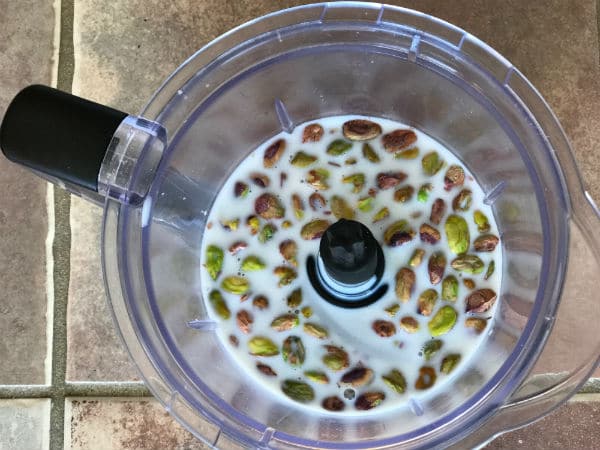 In your blender jar, soak the pistachios in milk for about 30 minutes, so as to make it easier to blend and get out all the goodness.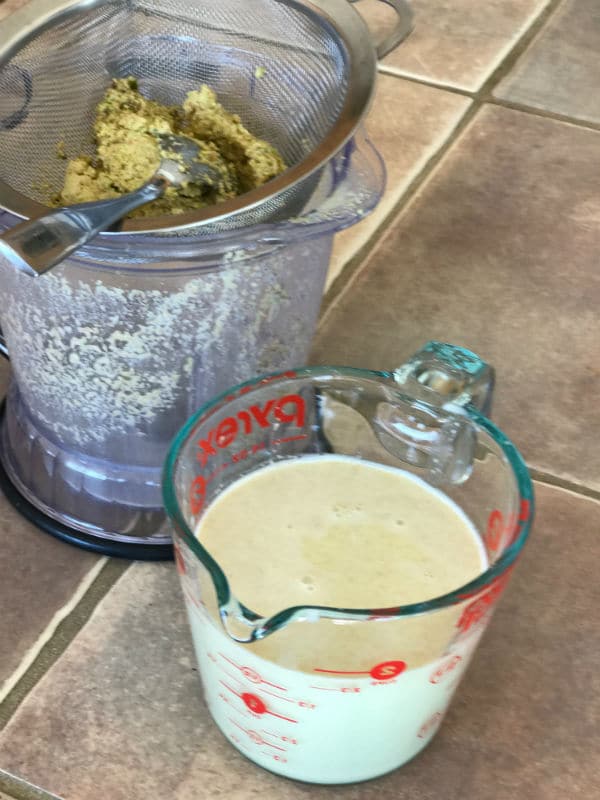 Strain the mixture well through a fine mesh or a cheese cloth.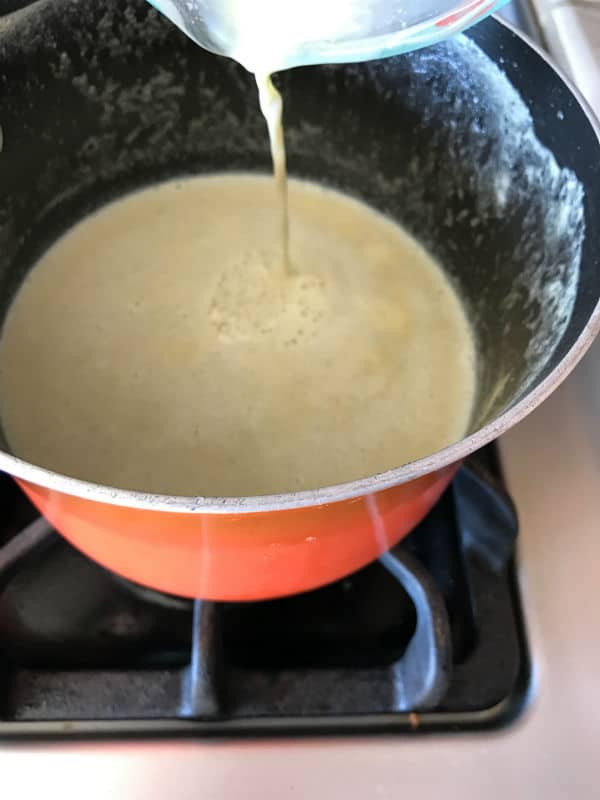 Heat the milk with sugar and then add the cornstarch, keep stirring until it thickens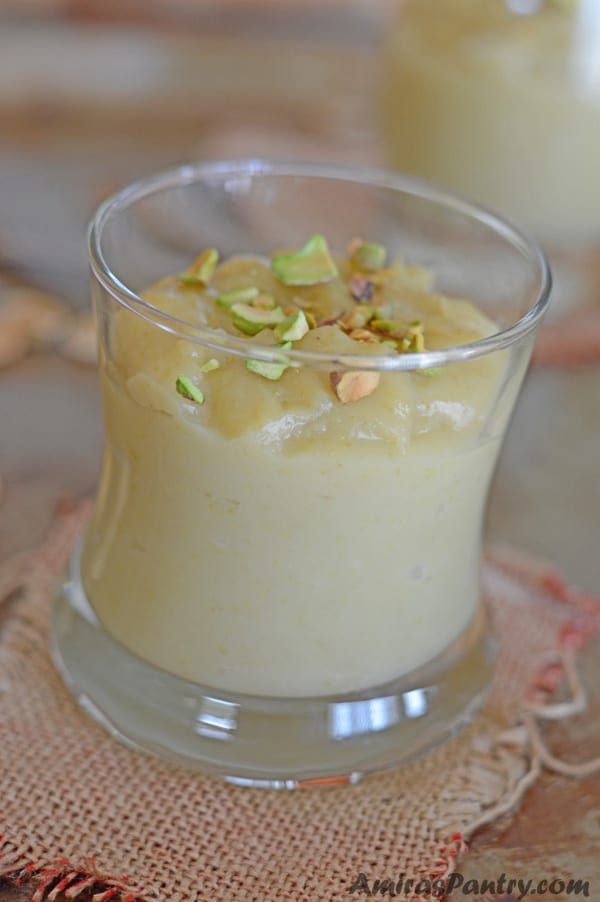 Pour into serving containers and serve. Warm, cold or room temperature. I dare you to find a place, time or a meal not improved by the presence of such simple sweet recipe. This pudding can be made 100% dairy free by substituting water for milk. It can be made as a quick after school snack for kiddos or as on the go snack. Very delicious and kid friendly.
I hope you'll like this simple welcome home recipe and please if you make this recipe, snap a pic and hashtag it #amiraspantry — I love to see your creations on Instagram, Facebook, Twitter!
Don't want to miss a recipe? Sign up for the FREE Amira's Pantry newsletter delivered to your inbox with lots of tips and surprises! And stay in touch with me on Facebook, Twitter, Pinterest, and Instagram for all the latest updates.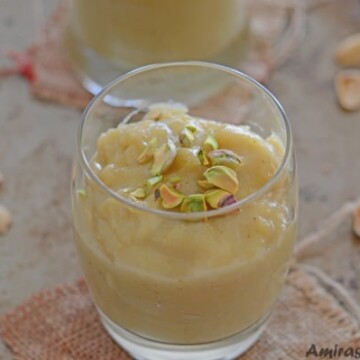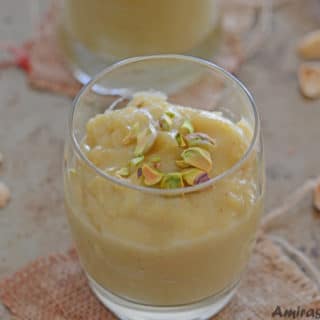 Pistachio pudding
Pistachio pudding from scratch made with simple ingredients and sweetened to your liking. An egg free dessert that tastes so fancy.
Print
Pin
Rate
Ingredients
2

cups

milk

1

cup

raw unsalted pistachios

4

Tablespoon

cornstarch

1/2- 3/4

cup

granulated sugar

1

teaspoon

vanilla extract
Instructions
In your blender, soak pistachios in milk for 30 minutes.

Blend on high for 1-2 minutes.

Pour milk through a fine mesh strainer or a cheese cloth to separate pulp from milk.

In a heavy saucepan, pour all the milk except for 1/4 cup and heat.

Stir in sugar until completely dissolved then add vanilla extract.

In a cup mix the cornstarch and the remaining 1/4 cup of milk.

When there are no lumps, pour the cornstarch mixture over the warm milk in the saucepan.

Keep stirring until the mixture gets bubbly and thick, remove from heat.

Pour pudding into individual serving bowls, cover with plastic wrap and chill until ready to serve.

Garnish with more pistachios and serve.
Notes
You can use almond extract in place of the vanilla extract for extra nutty flavor.
Make pistachio pudding dairy-free by using coconut milk or water in place of cow's milk.
Variations
Top pistachio pudding a dollop of fresh Chantilly cream.
Add layers of your favorite crushed nuts or cookies in between the pudding.
Storage
Leftover pistachio pudding can be wrapped with plastic wrap and kept in the refrigerator for up to 3-4 days.
Nutrition
Calories:
234
kcal
|
Carbohydrates:
51
g
|
Protein:
3
g
|
Fat:
3
g
|
Saturated Fat:
2
g
|
Polyunsaturated Fat:
1
g
|
Monounsaturated Fat:
1
g
|
Cholesterol:
10
mg
|
Sodium:
32
mg
|
Potassium:
126
mg
|
Fiber:
1
g
|
Sugar:
46
g
|
Vitamin A:
134
IU
|
Calcium:
102
mg
|
Iron:
1
mg
Sign up and learn more about Mediterranean flavors
You might also like: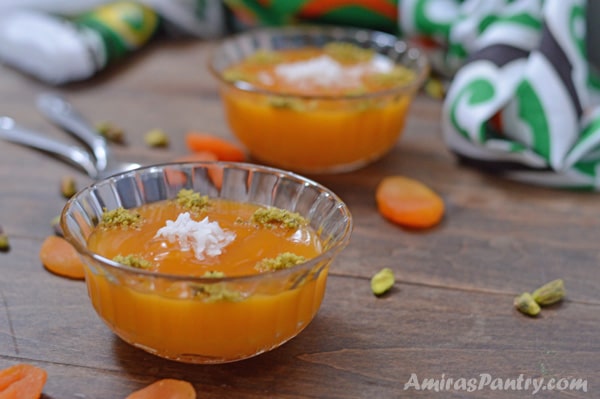 Qamar Al deen (Apricot) pudding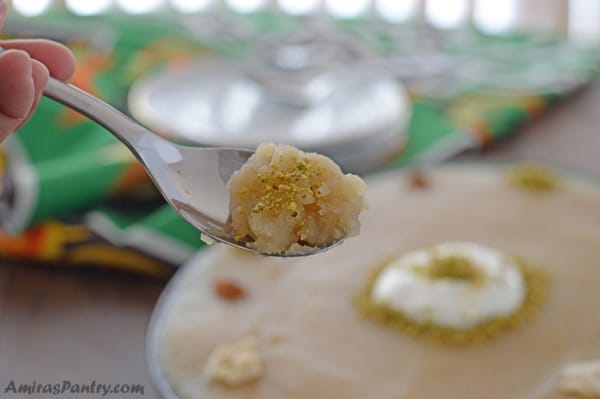 Ma'mouneyah- semolina pudding