Best fruit trifle recipe. Layers of tropical fruits, cream and cake. Sweet, juicy and oh so delicious. The best way to welcome summer is to make this trifle.
First Published: May 2017 Last Updated: July 2019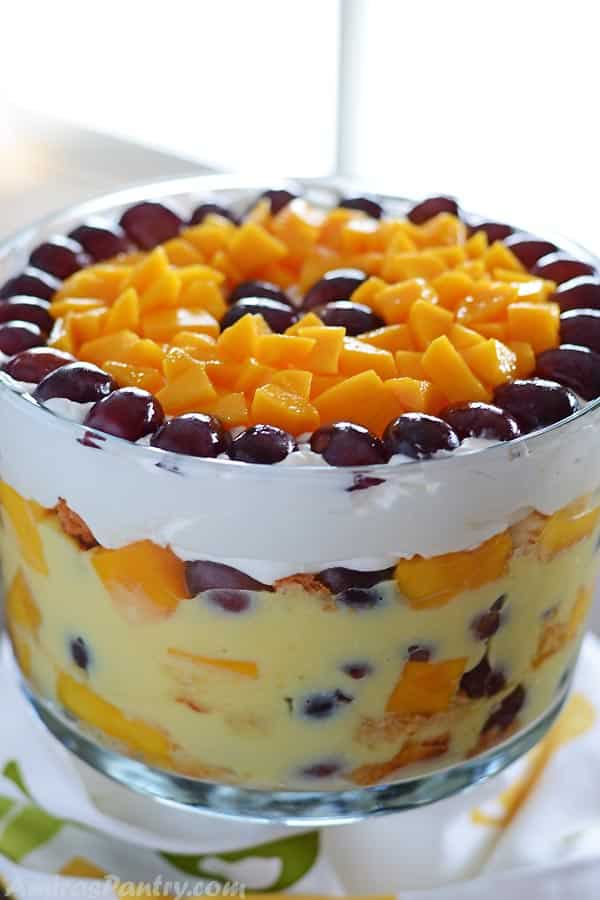 Fruit Trifle
Cubed cake pieces soaked in hot custard and mango juice, making it more like a bread pudding , luscious and fruity. Topped with tropical fruits and finally covered in a tangy fluffy whipping cream.
Summer is finally here, we are still getting some cold days, but it is not as freezing as the dreaded Winter days. It is the fun season of grilling, beach, sunny days, lots of sunscreen and for sure a trifle.
My husband kept nagging me, since we started this marriage journey together, to make his auntie's trifle bowl. In my past life, which was everything before I came to America and have to cook real food, I barely stepped into the kitchen. I did not have interest whatsoever in the kitchen except maybe to eat 😃. Obviously, back in Egypt ,there was noway I would even try to make his auntie's famous trifle.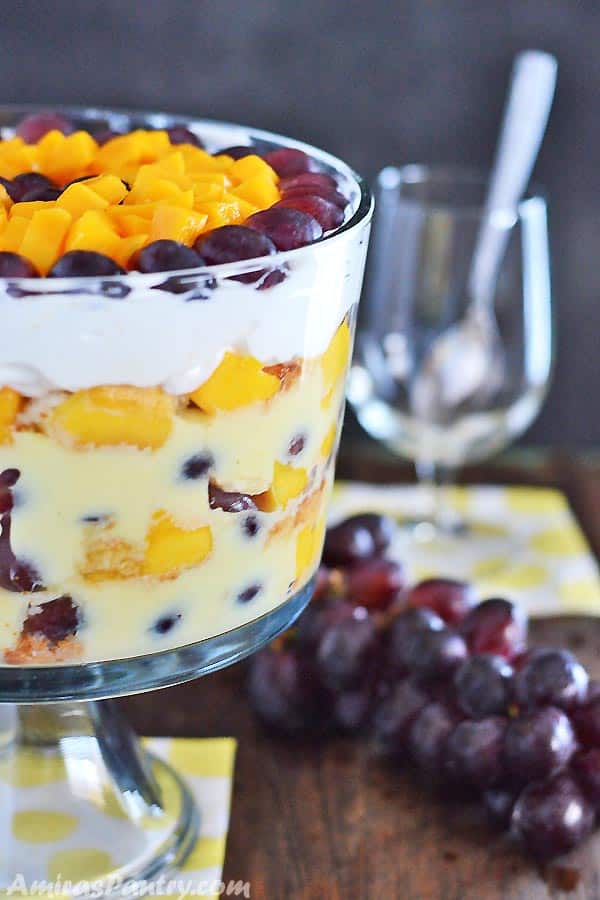 After coming here, he craved this trifle even more, on every single occasion, birthdays, Eid, anniversaries, beginning of a season or end of a season!!. Finally, I decided to help the poor man, I searched up and down and came up with the perfect trifle recipe. Made a surprise for him, and when he took his first bite, and I was standing on my toes next to him, he said " nope, that's not it" 😳. It was an "OK trifle", but this was not what he was looking for.
During our last visit to Egypt, I asked his auntie and she said, the only secret to it is using mango juice along with the fruit combination. She uses grapes, mangoes ( lots of mangoes) and bananas. She said this is the perfect combination of fruits, and she is right you do not need any other flavor to mess up these heavenly match of fruits. I finally did it and he loved it so I would like to share it with all of you.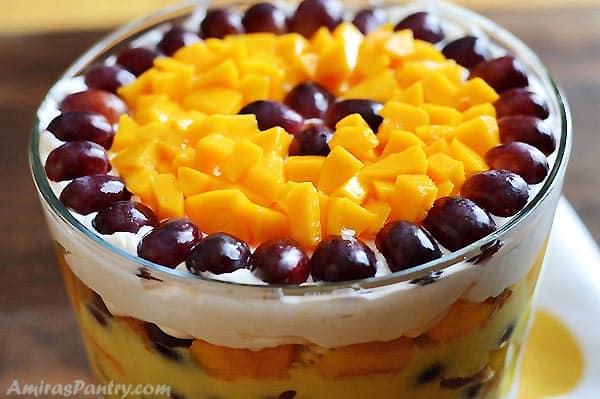 How to make fruit trifle
A very luscious fruit trifle that will wow your guests.. So without further ado, let's see how to make this.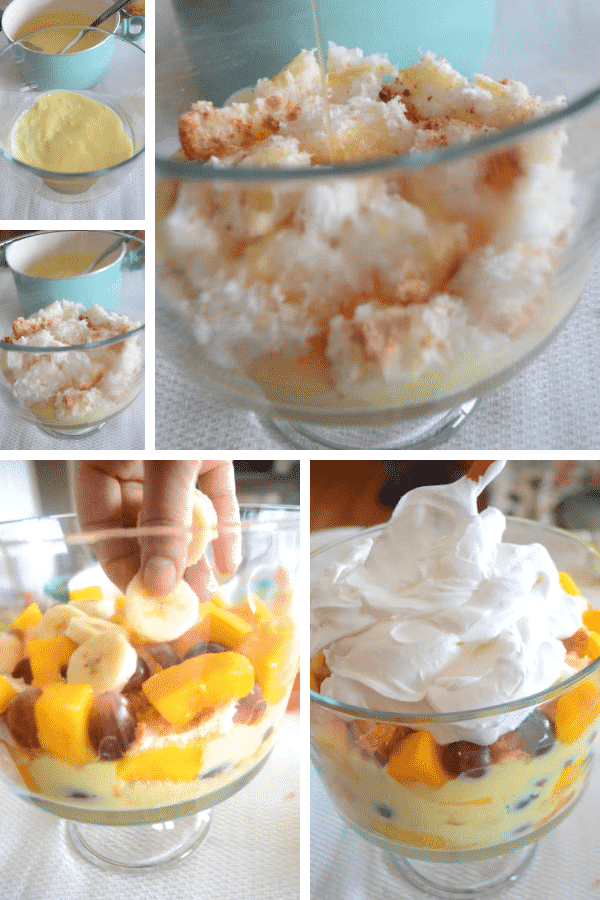 You'll need your fruits and cake ready and cut into chunks.
Then prepare the custard as you normally do or according to package directions. I've used store bought vanilla custard and we need the one that needs to be cooked. Forget about the no cook pudding as we need our custard hot.
While the custard is hot, start layering the ingredients as we need to put the hot custard and cake pieces together to help cake soak the custard.
Use a good quality mango juice, use one that really tastes like mango not orange not peach. I got mine from the international market here.
And of course later our beautifully cut fruits along the way.
Now top all these goodies with a tangy whipped cream that is a mix of whipped cream and Greek yogurt.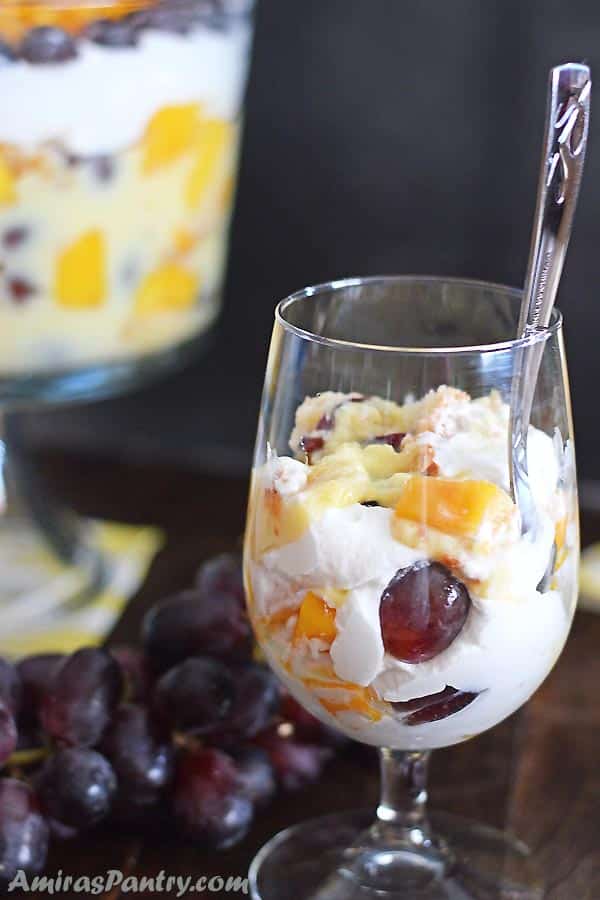 Love mango✅, banana✅ and grapes✅, you gotta make this easy no bake dessert.
A fantastic recipe for making any occasion special...beautiful to look at and even better to eat. You will get raves. Use any flavor of pudding you like to up your game with this dessert. You might want to use coconut pudding or sprinkle with some toasted coconut flakes to give it a more tropical kick.
Fruit trifle notes
Make this trifle dish super easy by using store bought angle or pound cake and also consider using ready made whipped cream. This will make the dish take about 5 minutes to put together.
Refrigerate for a couple of hours before serving. This is an important step and really doubles the irresistibility factor of this dish.
Make the trifle in a trifle dish or you can make single serve trifle in tall wine glasses.
You can make a piña colada version by using coconut pudding with pineapple chunks. It might be a good idea to use mangoes as well but omit grapes and bananas.
I am used to trifles with savoiardi biscuits. So I like it more that way, my next option was pound cake. I've made it here with angle cake but as this seemed to be more common. Still liked the savoiardi and pound cakes more.
Other fruit desserts on the blog
You may need
The following are affiliate links. We are a participant in the Amazon Services LLC Associates Program, an affiliate advertising program designed to provide a means for us to earn fees by linking to Amazon.com and affiliated sites.

Love serving your trifle the British way? Try layering your ingredients in this anchor trifle dish very suitable for any trifle you make.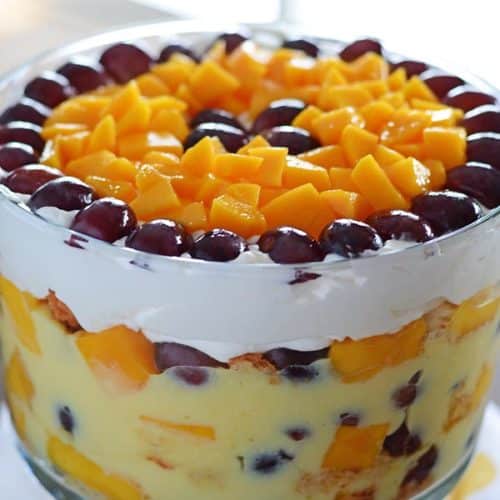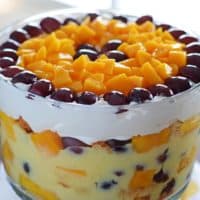 Tropical Trifle
Best fruit trifle recipe. Layers of tropical fruits, cream and cake. Sweet, juicy and oh so delicious. The best way to welcome summer is to make this trifle.

Print
Pin
Rate
Ingredients
1

9" pound cake or angle cake.

4 1/2 - 5

cups

prepared custard*

1

cup

mango juice.

2

cups

cut mangos

, more for garnishing.

1

lb

grapes

, halved, more for garnishing.

3

large bananas.

1

cup

heavy whipping cream.

1

cup

reduced fat greek yogurt.

2

Tablespoon

sugar.

2

teaspoon

vanilla extract.
Instructions
Prepare and cut the fruits,cut the cake into 1 inch cubes.

Prepare the custard as directed on the package.

In the bottom of a deep serving bowl, add about 1 cup of the hot custard mix, top with 1/3 of the cake pieces and pour 1/3 cup of the mango juice over the cake pieces.

Top with 1/3 of mango, grapes and bananas. You might wanna go a little decorative around the edges.

Repeat layering custard, cakes, juice then fruits until all ingredients are used.**

Prepare the whipping cream, by beating whipping cream, sugar and vanilla then fold in the yogurt until very well combined.

Pour the whipping cream on top and level.

Garnish with any leftover fruits.

Refrigerate for a couple of hour to let the cake soak up the mango juice.

Serve cold and enjoy!!
Notes
* You can also use 1 (3 oz) cook&serve vanilla pudding.
** it is very important to keep the custard hot, so if it got cold while you are layering you might wanna reheat it gently on stovetop or in the microwave.
Nutrition Facts
Tropical Trifle
Amount Per Serving
Calories 284.7
Calories from Fat 122
% Daily Value*
Fat 13.5g21%
Cholesterol 65.4mg22%
Sodium 135.4mg6%
Potassium 223.5mg6%
Carbohydrates 40.3g13%
Protein 2.5g5%
Vitamin A 1280IU26%
Vitamin C 34.2mg41%
Calcium 42mg4%
Iron 0.5mg3%
* Percent Daily Values are based on a 2000 calorie diet.
Nutrition
Calories:
284.7
kcal
|
Carbohydrates:
40.3
g
|
Protein:
2.5
g
|
Fat:
13.5
g
|
Saturated Fat:
7.7
g
|
Polyunsaturated Fat:
0.3
g
|
Monounsaturated Fat:
2.1
g
|
Cholesterol:
65.4
mg
|
Sodium:
135.4
mg
|
Potassium:
223.5
mg
|
Sugar:
28.8
g
|
Vitamin A:
1280
IU
|
Vitamin C:
34.2
mg
|
Calcium:
42
mg
|
Iron:
0.5
mg
Sign up and learn more about Mediterranean flavors