A perfect easy Asian dinner/lunch that everyone will enjoy.
A classic Japanese fried noodles with a sauce that everybody will fall for. This is an easy vegetarian Yakisoba recipe.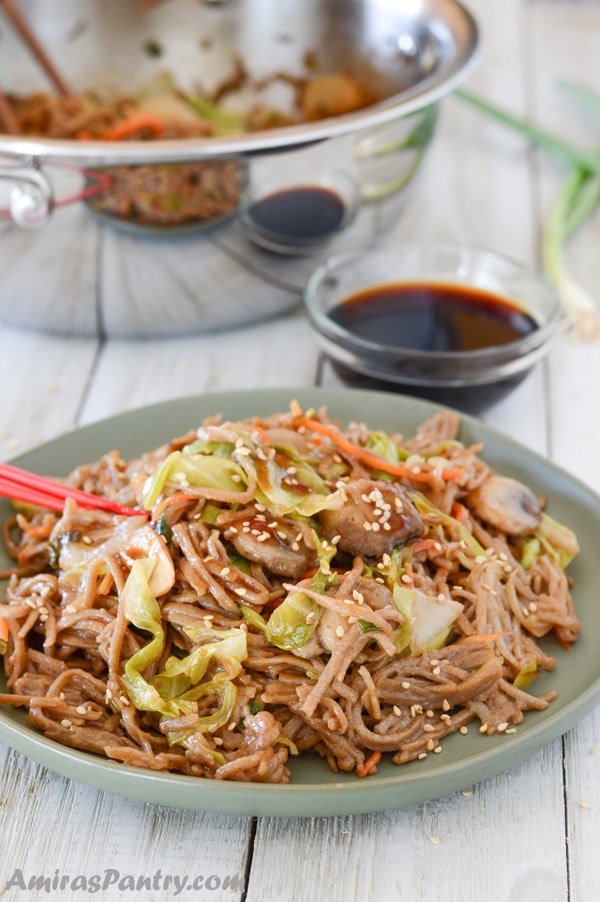 I love Asian food, drama, languages and I love Yakisoba . I've always wondered how to make Yakisoba? But actually never dared to make it as I did not want to mess with its authenticity up.
I've never had Japanese street Yakisoba before. I've seen it in drama only and wondered how would it be like to get Yakisoba from a street vendor who would bring steaming bowls to your home on his motorcycle🛵.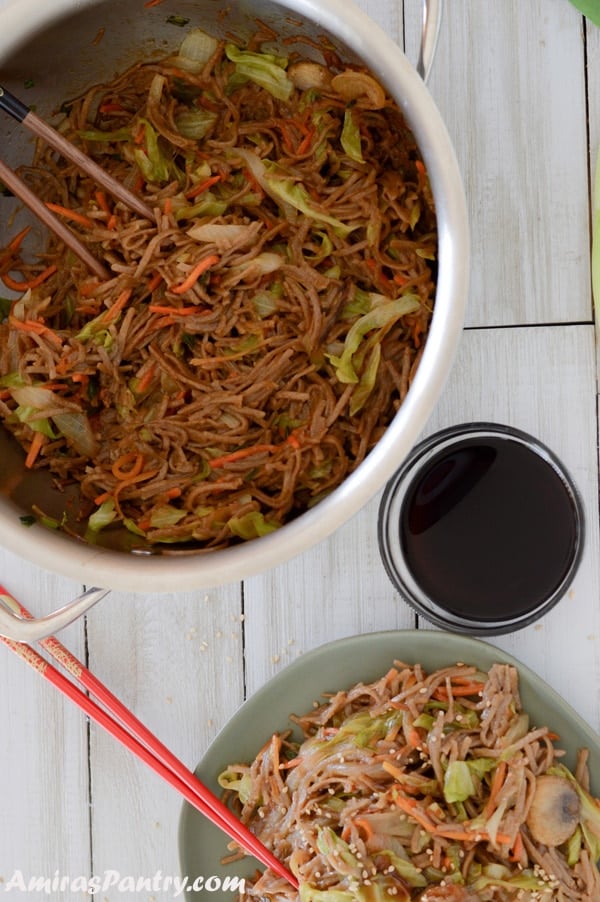 When I was in Egypt, me and hubby used to splurge in this one and only Chinese restaurant in Maadi. I used to eat their orange duck dish, which I deeply liked. The duck meat was so tender and the sauce was crazy good.
Now I guess there are a ton of other Asian restaurants in Egypt though, I haven't been to one since 10 or 11 years!. But, their Asian cooking was different from the one here in the US, I believe and as it was fairly new to the Egyptian market, they have customized the spices and sauces to appeal to the Egyptians.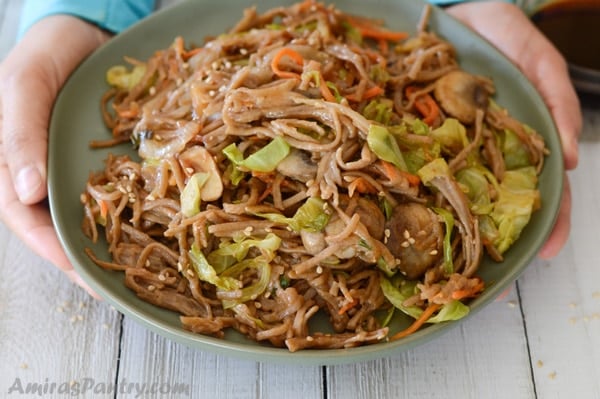 We've had a arctic week or should I say 10 days in February. Temperatures went very low, no sun rays at all and kids were frozen even when we pumped the heater up. This kind of weather is still, and I think will always be, new to me and I guess I will never get used to it.
On these nights, I love hiding under layer and layers of covers starting 7:00PM. Was studying science with one of my kids, when we reached the "Hibernation" definition. When my kid all of a sudden blurted out that we should hibernate in winter like bears, an idea that I totally support :), we started a nice conversation.
One said it would be very dangerous, as heart beats slows down and this might kill us. Another said, we might try changing the genes in winter and get it back in Summer. We ended up that one of them will invent a shot, like a flue shot, which he will be calling the hibernation shot.
Until, he invent this shot, I will tend to make quick and easy recipe is such cold days. Like this Yakisoba noodles that we are a huge fan of. I used to buy these packets of frozen Yakisoba from Costco, but as I told you last time, when you try making your own favorite dishes, buying it from the stores is no longer fun at all.
So let's dive in,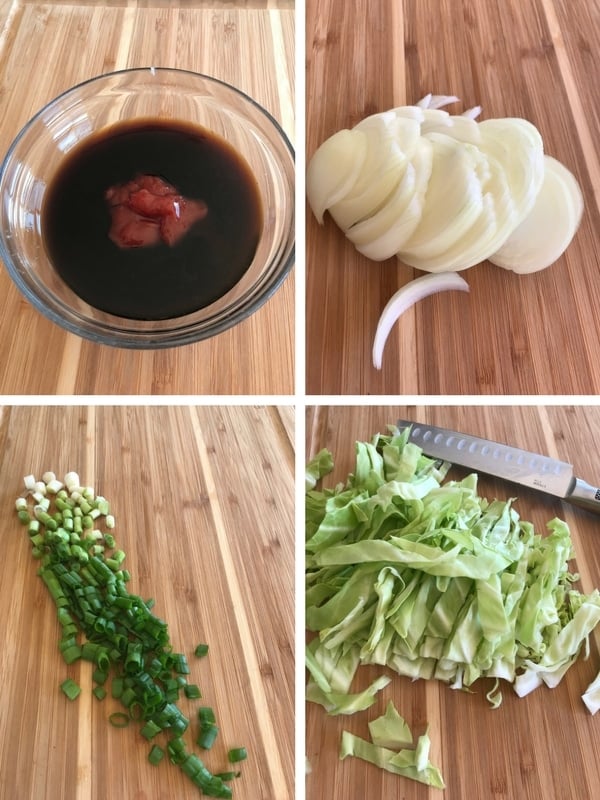 We'll make a homemade Yakisoba sauce version with ingredients that are there in your pantry/ fridge, so easy and tasty. Prepare veggies by slicing onions, green onions, cabbage, carrots and mushrooms.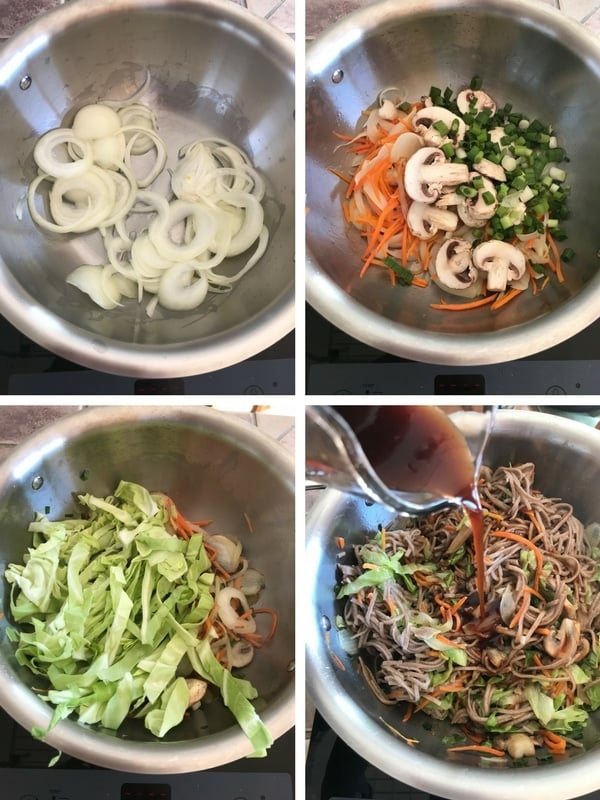 In a skillet, heat oil on medium-high and saute onions and carrots until tender. Add the rest of the veggies and cook until everything is tender. Add the noodles, yakisoba sauce, reduce heat to low and mix everything well. Serve hot with extra sauce on the side.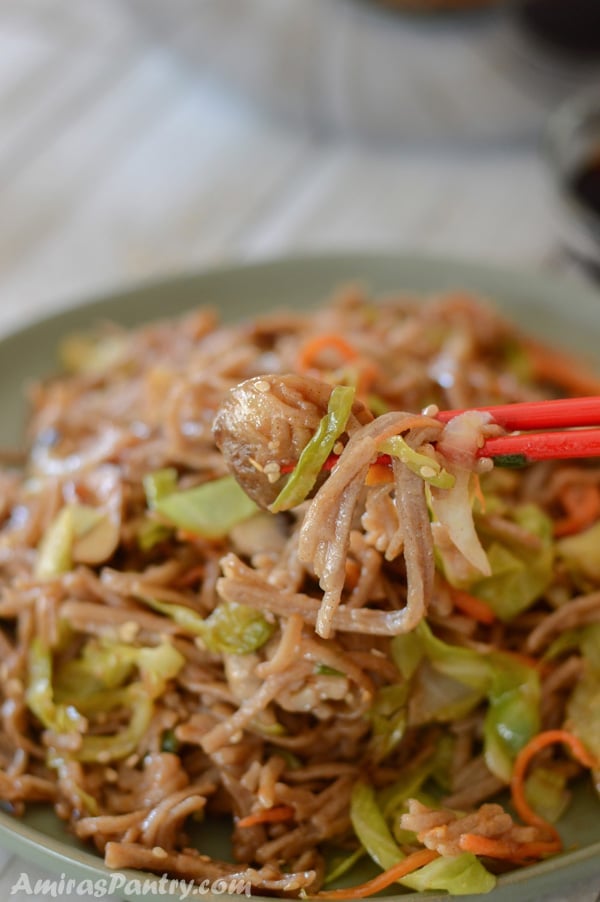 Yakisoba is very easy to make, and comes handy in days when you feel drained and have no time to spend in the kitchen. You can make it easier by using chopped coleslaw mix of carrots and cabbage. If you cannot find soba noodles in your area, use any noodles you can find, I've even seen people using plain spaghetti/linguini.
Having made this meal several times and intending to make it several hundred more, I can tell you its 5 stars all the way. Change things up a bit by using, chicken, beef or even some bacon, easy and delicious each time.
Related Recipes
Instant Pot Chicken Fried Rice is a quick one pot dinner that you'll pit on repeat. An Asian inspired dinner with tender chicken, a blend of vegetables, rice and scrambled egg that is both satisfying and delicious.
I hope you'll like this recipe and please if you make this recipe, snap a pic and hashtag it #amiraspantry — I love to see your creations on Instagram, Facebook, Twitter!
Don't want to miss a recipe? Sign up for the FREE Amira's Pantry newsletter delivered to your inbox with lots of tips and surprises! And stay in touch with me on Facebook, Twitter, Pinterest, and Instagram for all the latest updates.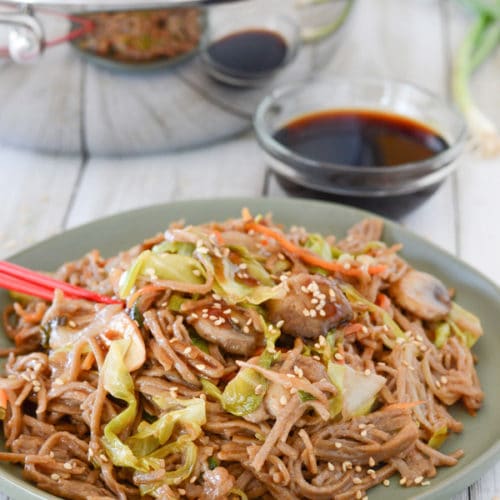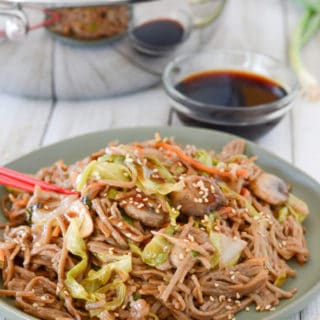 Yakisoba
A perfect easy Asian dinner/lunch that everyone will enjoy.
Print
Pin
Rate
Ingredients
12

ounces

Chinese wheat noodles *.

3

Tablespoons

vegetable oil.

1

onion

thinly sliced.

1

cup

grated carrots.

2

cups

sliced cabbage leaves.

4

green onions.

4

oz

sliced mushrooms.

Yakisoba Sauce:

2

teaspoons

granulated sugar.

2

teaspoons

soy sauce.

4

teaspoons

oyster sauce.

4

teaspoons

ketchup.

4

Tablespoons

Worcestershire sauce.
Instructions
In a medium bowl, whisk all the sauce ingredients together and set aside.

Cook noodles in water according to package directions or until just tender. Drain and rinse with cold water.

In a large wok or skillet over medium high heat, add oil and cook onions until tender, about 2 minutes.

Add carrots and cook for another 2-3 minutes until carrots are tender.

Add mushrooms, cabbages and green onions and cook altogether for another 3 minutes.

Add the noodles to the pan , lower the heat to medium.

Add yakisoba sauce, mix everything together and cook for another minute or so until everything is well combined.**

Serve hot with more sauce on the side.
Notes
* You may also use udon noodles. I've seen people even use linguini pasta instead. ** Add Yakisoba sauce depending on your favorite taste and the amount of ingredients you are using. Personally I've added almost all the sauce I've made as I like mine saucy.
*** You can use broccoli, snap peas, edamame, chestnuts or any veggies you like in the amount you like. You can also use any sort of meat along like cubes chicken, beef, pork, turkey….etc.
Sources: Adapted from Nami
Nutrition
Calories:
355.3
kcal
|
Carbohydrates:
12.7
g
|
Protein:
7.6
g
|
Fat:
9.8
g
|
Vitamin A:
3460
IU
Sign up and learn more about Mediterranean flavors
Nutrition Facts
Yakisoba
Amount Per Serving
Calories 355.3
Calories from Fat 88
% Daily Value*
Fat 9.8g15%
Carbohydrates 12.7g4%
Protein 7.6g15%
Vitamin A 3460IU69%
* Percent Daily Values are based on a 2000 calorie diet.