Egyptian Musakaa is primarily consists of layers of deep fried eggplant rings with minced meat. Some people like adding fried potato to the eggplant as well, topping it with golden bechamel sauce. If you like eggplants you'll truly love this dish.


I would like to thank all of you for your support and deep love that you've surrounded me with during this hard time of grief. You are all such wonderful friends and a true blessing. My good friend Henna encouraged me to keep doing what my dad taught me, and you know what? he loved to cook so much and oh boy, he was a just the perfect taster, who can easily detect what is missing in a recipe. I love you,my mentor, and for sure will miss your beautiful smile forever.

This handsome man above was obsessed with eggplant recipes , specially the Egyptian Musakaa, he could not stand a week without Musakaa, but he had developed a weak heart as he got older, so I was doing my homework trying to reach a healthier recipe for his beloved dish.
This month's challenge in MENA cooking was Egyptian recipes and I was the host. Although I was planning to make the original Musakaa first then try my hands in some healthier variations, to honor my papa I've decided to go ahead and make this one.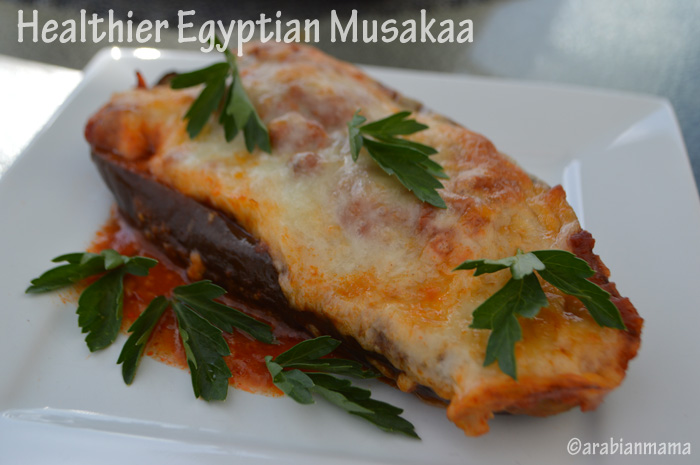 In this recipe I skipped frying the eggplants, making it in a boat like shape filled it with ground meat which was previously browned with onions. Skipped bechamel sauce and potato and was satisfied with only tomato sauce. Another tip that I know he would not like 🙂 was to reduce salt as much as I could.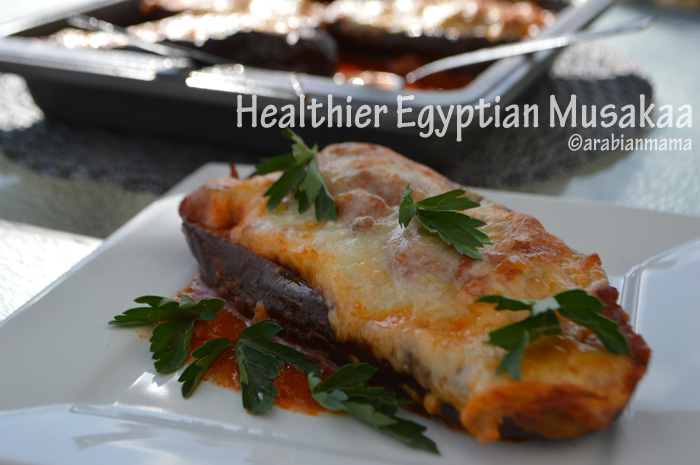 I've used low fat mozzarella cheese to top the eggplant boats but you can use any of your favorite cheese or skip this step all together.
I would like to thank all the sweet members of MENA Club for putting up with me and the difficult time I've been through.
Here is a short video on how to prepare this dish. I hope you'll enjoy it.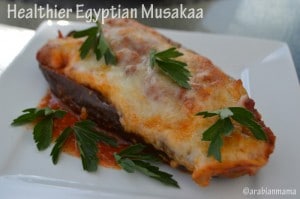 Healthier Egyptian Musakaa
2014-10-21 08:23:25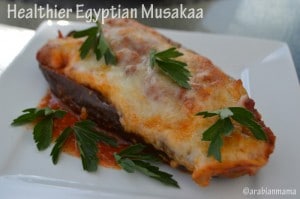 This is a healthier variation of the traditional Egyptian Musakaa , without all the deep frying and the added calories.
Ingredients
2 or more eggplants- depending on the number of people.
1 pound ground beef.
1 onion diced.
1 16oz can tomato sauce.
2 cups of shredded cheese- I used low fat mozzarella.
salt/pepper.
Instructions
Saute the onion in olive oil then add the meat, salt, pepper and half the tomato sauce.
While the meat is cooking, cut the eggplants lengthwise in half.
With the back of a spoon, core the eggplant halves to the desired thickness.
Do not make it too think just make sure to take the seeds out.
Stuff the eggplants with the meat mixture and put in your oven dish.
Pour the remaining half of the tomato sauce over your stuffed eggplants.
Put in a 350F preheated oven for 25 minutes or until almost done.
Take it out and sprinkle with the cheese, stick it again in the oven until the cheese is melted and golden brown.
Notes
Serve with white rice or your favorite choice of pita bread.
Amira's Pantry https://amiraspantry.com/