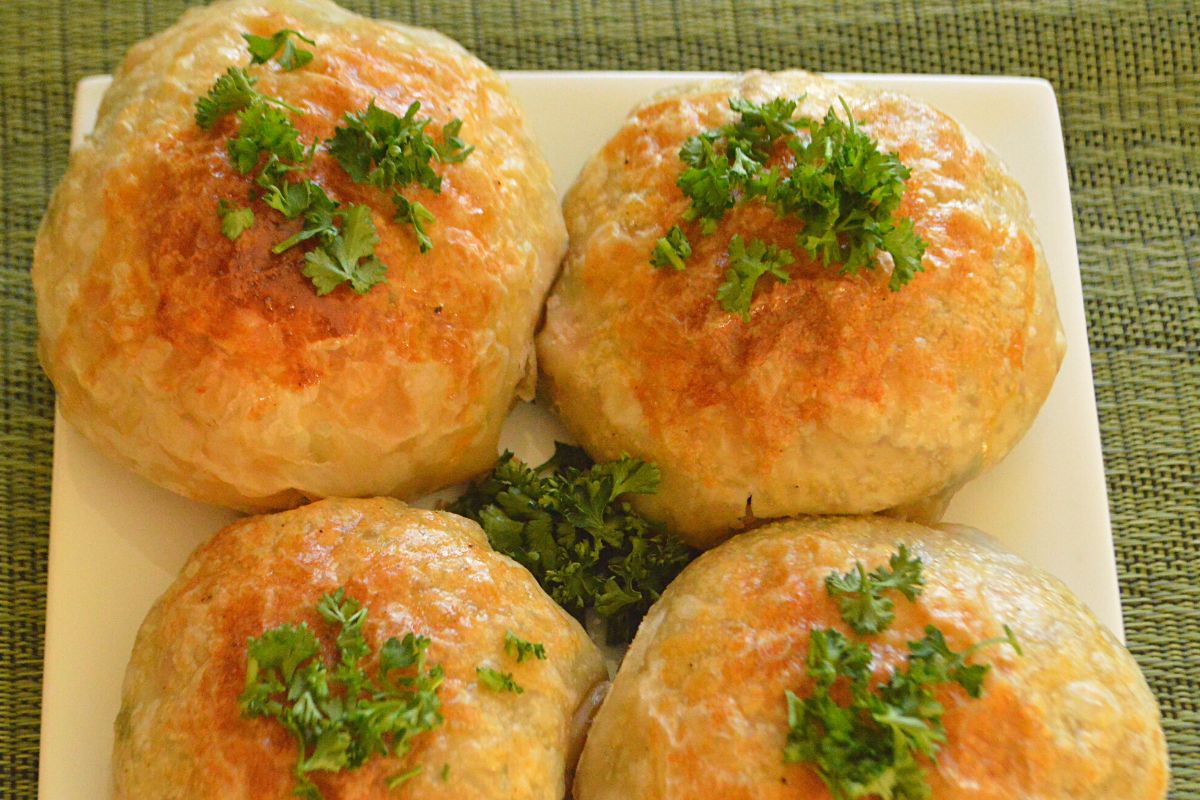 Oozy is a very popular dish in the Levant area, that is Syria,Jordan and Palestine. It is usually made in wedding celebrations, gatherings, Ramadan and also Eid. Oozy is basically rice, vegetables, and ground meat wrapped in a pastry sheet. Today I am going to make a chicken version wrapped in puff pastry that I've learned from a very dear Syrian friend.
You'll need:
3 cups of basmati rice.

3 Tbs of olive oil.

1 pound of boneless,skinless chicken breast, cubed.

1 large onion, diced.

1 medium red bell pepper,diced.

1 medium green bell pepper, diced.

1 medium yellow bell pepper, diced.

2 carrots, about 1 cup, diced.

Salt and pepper to your taste.

1 Tbs of 7 spices.

2 Tbs of unsalted butter.

½ cup of chopped parsley.

¼ cup of roasted pine nuts or almonds.

A packet of puff pastry or spring rolls sheets.
In a pan heat the olive oil, add the diced chicken, stir for about 4 minutes or until the meat is completely white. Add the diced onion and keep stirring for another couple of minutes. Add the diced bell peppers and carrots, then add the salt, black pepper and the 7 spices. Lower the heat until the chicken is done.
In a separate pan cook the rice until it is done but firm, try reducing the suggested amount of water a little bit. When it is done, let it cool then add to the previous chicken mixture. Mix well then add the parsley and the pine nuts.
Take a small bowl, line it with a piece of the puff pastry stretching it in all directions , fill with the previously prepared chicken mixture, then fold the sides up and carefully transfer it to an oven safe dish.
Repeat until the whole patch is done. Brush the surface with an egg beaten with a dash of black pepper.
Bake in a preheated oven of 350F until golden brown. Took me about 35 minutes.
Garnish top with chopped parsley/nuts.
Related Recipes
This chicken and yellow rice recipe is easy to prepare and tastes great. It's perfect for dinner parties or family gatherings.
Little smokies pigs in a blanket are the perfect beefy meaty and buttery flaky combination for a quick snack or party appetizer. Make them extra special with different toppings.