This is my best oven baked fried chicken so far.
Crunchy, succulent, juicy and oh so buttery, you'll never imagine that this recipe only have 2 Tbs of butter. This is it, finally, my bestest oven fried chicken breast recipe.
Are you entertaining this Sunday 🏈? or may be going to a party and you need to take a good dish with you? Here is the recipe for you, easy to make, crunchy and feels so good in your mouth. After doing many research and trying - what seemed to be like- hundreds of oven baked fried chicken recipes, this is it, the best ever oven baked friend chicken breast.
A couple of weeks ago I saw this post from Jen : The best baked fried chicken through a post from Liz about Health recipes, and oh boy I fell in love with the recipe and the photos of crunchy chicken tenders. So I decided to give it a go.
Chicken came out tender and juicy but, were not as crunchy as I wanted them to be, besides they had some little white spots - from the flour- that hubby did not like- although I did not mind them at all. But their taste was so heavenly with these 3 tablespoons of butter she mentioned.
Then I stumbled upon this recipe from Ree, I experimented with it a couple of times, the texture was super but I did not like the taste, Jen's recipe was waaaay better, and I did not like the fact that Ree's ones are fried. Then I had this idea - light bulb- of combining both recipes, and tweaking the flavors a bit to suit our family and here it came, out of the oven, golden,crunchy and perfect, the thing I've been looking for for years.
So thanks Jen and Ree 👏 for inspiring me to make this delicious, golden tenders and making my dream of having a real fried chicken but without the excess oil come true.
This is perfect for the upcoming game day with your favorite dip or may be you want to try our latest the toomeyah dip .
Related Recipes
The copycat Big Mac Sauce recipe is everything you love about the iconic Mcdonalds Big Mac but in a jar. This is absolutely one you'll want to save not just for your burgers but as a delicious dip with these tenders..
I'll leave you now with my newest discovery in the food world, I hope you'll give it a try and I do hope you'll like it as much as we did .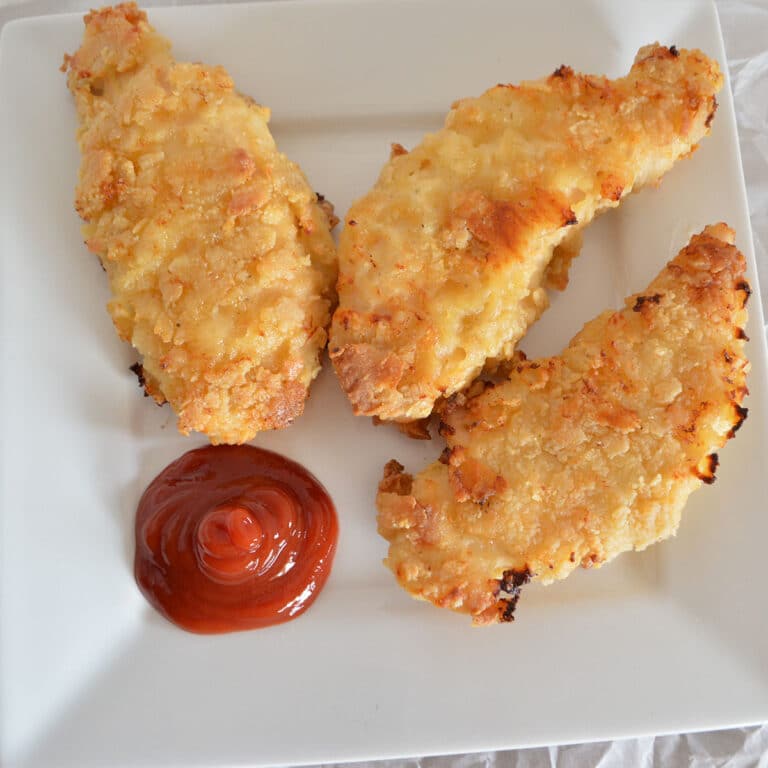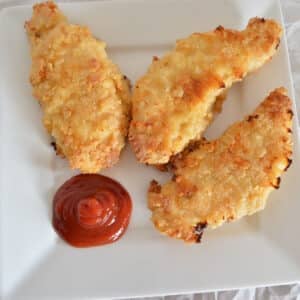 Ingredients
10

chicken tenders

1 ½

cups

buttermilk- make your own by using 1 tablespoon of white vinegar per 1 cup of regular milk.

2 ½

cups

flour.

⅓

cups

cornmeal.

2

tablespoons

butter.

2

tablespoons

oil.
Spice Mixture
1

tablespoon

salt.

1

teaspoon

pepper.

1

teaspoon

paprika.

2

teaspoons

cardamom powder.

2

teaspoons

garlic powder.
Instructions
Mix Spices together, take just 1 tablespoon of the spice mixture and add it to 1 cup of buttermilk.

Rinse the chicken, and soak overnight -in your fridge - in the buttermilk.

When you are ready to cook, pre-heat your oven to 400F.

Microwave butter and oil until butter is melted, spread half the butter mixture on a baking sheet lined with parchment paper.

Mix, flour, cornmeal and the remaining of the spices very well in a bowl.

Using a fork, gradually mix the remaining buttermilk into the flour until there are little lumps throughout. You might need more flour or more buttermilk to get decent amount of lumps.

Coat chicken tenders with the flour mixture pressing with your fingers to adhere the lumps nicely and evenly to your chicken pieces.

Arrange chicken on the buttered baking sheet, with a spoon, or a brush, brush the remaining butter and oil mixture on the top side of the chicken.

Bake until it reaches the desired color and crispness, turning once halfway, mine took 30 minutes total.

Serve and Enjoy!
Sign up and learn more about Mediterranean flavors