Nothing beats watching your favorite sports with family and friends while munching on hot wings and snacks. Get inspired and throw the best super bowl party at home or a tailgating party on the road with these easy delicious game day appetizers.
There are options for dips, wings, sliders and of course crockpot favorites. Gather your family to watch the big game and enjoy one or all of these easy to make game day recipes.
Jump to:
1- Baked BBQ Wings
Baked BBQ Wings: Game day isn't complete without a pile of wings. These baked bbq chicken wings are crispy and everyone will be wanting more.
2- Air Fryer Frozen Wings
Air Fryer Frozen Wings: Grab a bag of your favorite frozen chicken wings and toss them in your Air fryer. You'll be surprised how utterly delicious and tender they are in every bite. This recipe shows you how!
3- BBQ Meatballs
Meatballs with grape jelly and bbq sauce: This is the easiest meatball appetizer you'll ever make. Get out your crockpot and 3 ingredients. Sweet, tangy and oh so delicious in every bite!
4- Lil Smokies with Crescent Rolls
Lil smokies pigs in a blankets: What's better than bacon wrapped lil smokies made easy right in your crockpot? Only 4 ingredients too! Always a hit for any game day appetizer.
5- Stuffed Mini Peppers
Stuffed Mini Peppers: Cream cheese sausage stuffed mini peppers are a mouthwatering delicious appetizer. Tender sweet peppers with a flavorful cream cheese sausage mixture taste most amazing when they come out of the oven.
6- BBQ Chicken Sliders
BBQ Chicken Sliders: Hawaiian rolls loaded with shredded chicken, onions and bbq sauce. An appetizer all will be craving.
7- Buffalo Chicken Sliders
Buffalo Chicken Sliders sliders: One hand buffalo chicken sliders are a delicious idea for your next potluck or game day appetizer. Sandwiches loaded with flavorful chicken in a spicy creamy sauce. This one will go fast!
8- Crispy Buffalo Cauliflower
Crispy Buffalo Cauliflower: A healthier alternative to chicken wings. Crispy buffalo cauliflower bites are smothered in buffalo sauce and baked in your oven for a favorite game day recipe.
9- Keto Roll Ups
Salami Roll ups: A low carb appetizer for your next game day. Salami roll ups are easy to make with salami, cream cheese with herbs.
10- Air Fryer Quesadilla recipe
Air fryer quesadillas are filling, healthy, and easy to make! The best part is you only need simple ingredients that you may already have on hand.
11- Spanakopita Puffs
Spanakopita woth puff pastry: Easy Spanakopita puffs are herb spinach filling in buttery flaky puff pastry. This is one of our favorite game day appetizers.
12- Buffalo Chicken Dip
This is the easiest buffalo chicken dip you can ever make. Creamy, cheesy and loaded with chicken and buffalo sauce for the ultimate game day dip!
13- Guacamole
Guacamole: Simple, no tomato needed in this homemade guacamole. Chunky and great with chips or veggies.
14- Pizza Rolls
Air Fryer Pizza Rolls: An easy and quick pizza rolls recipe made with just 4 ingredients and within minutes you have the best homemade pizza rolls.
15- Smoked Queso Dip
Smoked Queso Dip: An easy creamy spicy cheese dip! Smoked queso dip only takes 5-minutes to prep and come out full of flavor, bold and smoky.
16- Potato Balls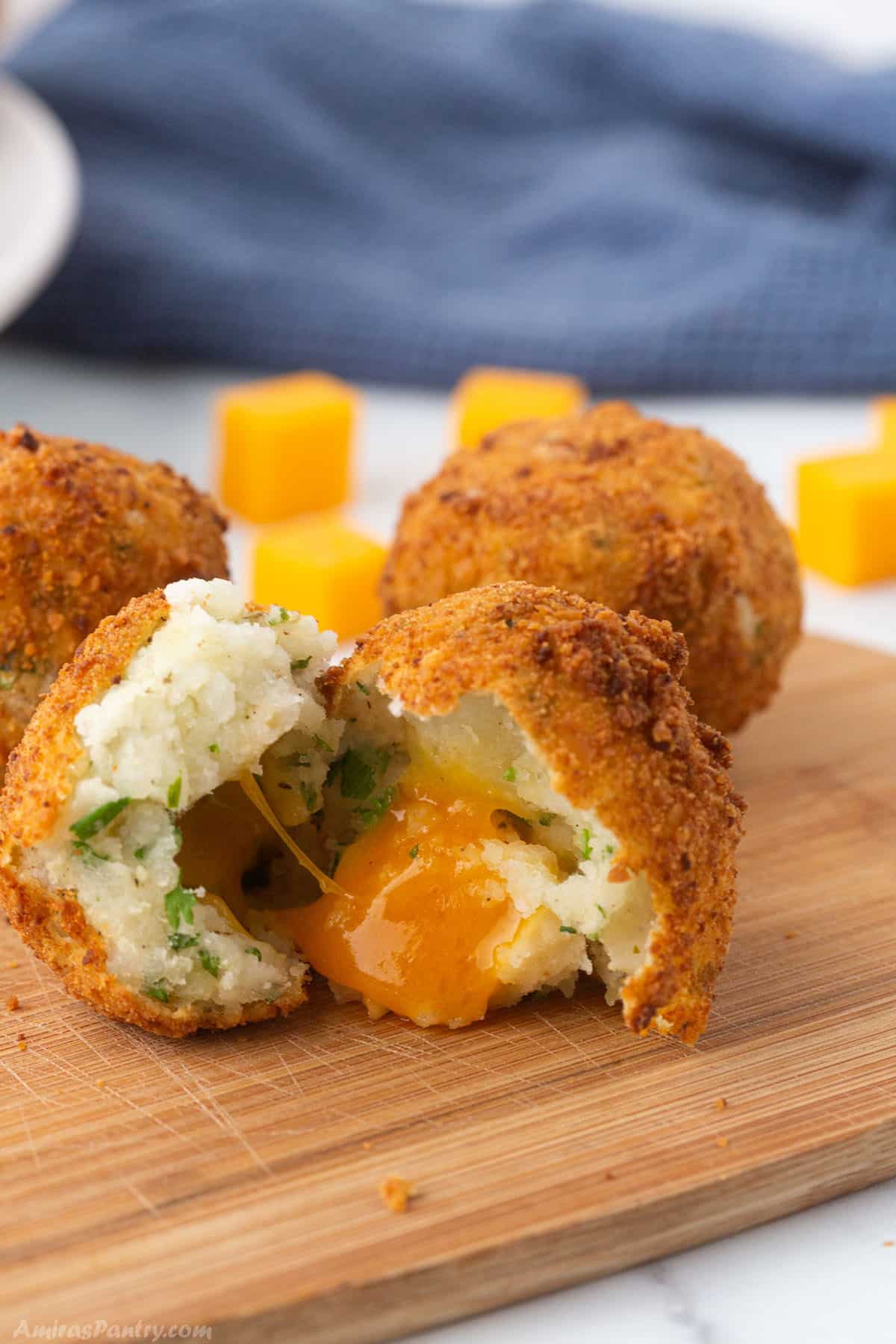 Potato Cheese Balls: Bite sized potato cheese balls are mashed potato balls oozing with melted cheese in every bite. A tasty make ahead appetizer.
17- Spinach Artichoke Dip
Hot Spinach Artichoke Dip : A blend of spinach and artichoke hearts baked in a cheese base for a delicious gluten-free dip that is also low carb and keto-friendly.
18- Air Fryer Baked Potatoes
Air Fryer Baked Potatoes: Crispy on the outside and fluffy on the inside. The seasoned sour cream makes this baked potato recipe extra delicious!
19- Spicy Deviled Eggs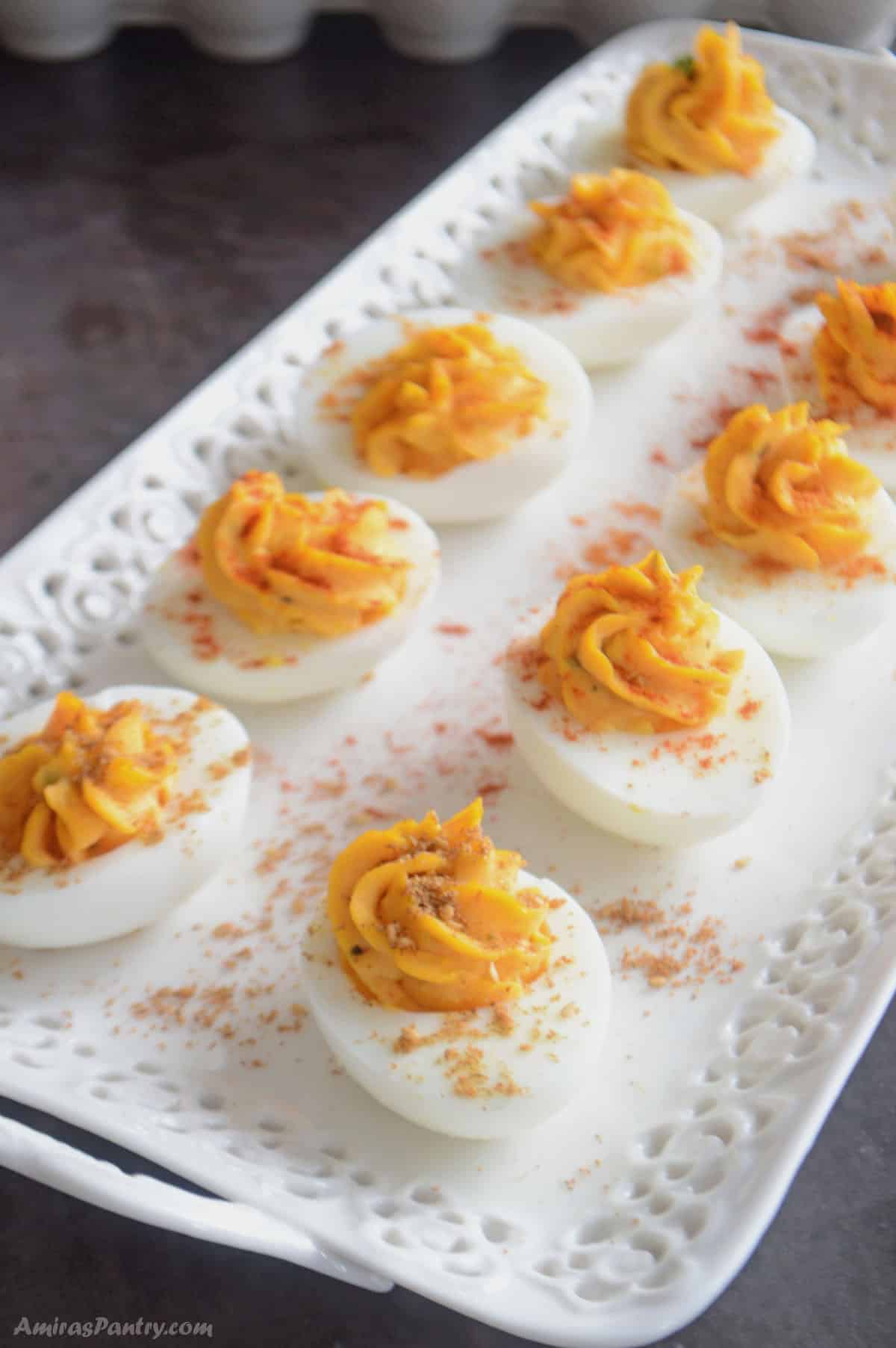 Deviled Eggs: This classic appetizer is always a hit especially with a spicy Moroccan twist. Make them ahead of time and keep in your fridge until ready to serve.
20- Keto Blue Cheese Dip
Keto Blue Cheese Dressing: Delightfully creamy, versatile, and oh so delicious! Discover how to make ridiculously quick and easy homemade keto blue cheese dressing in under five minutes!
21- Bruschetta Pizza
Easy Bruschetta Pizza: This Pizza has a flaky yet crunchy crust and then topped with fresh ingredients to give you all the flavor of your favorite classic Italian appetizer.
22- Easy Samosa
Samosa: A popularMiddle Eastern appetizer using tortillas and a variety of fillings. Stuff samosa with ground beef, chicken or cheese.
23- Tzatziki Sauce
Tzatziki Sauce: Make this Middle Eastern Greek gyro sauce to go with really anything. Tzatziki is refreshing, cream and tangy tasting.
24- Slow Cooker Biscuits & Gravy
Crockpot Biscuit and Gravy: This is a fantastic recipe that works great with homemade or store-bought biscuits. If you've ever wondered what you could make for an easy tailgating breakfast this is the answer.
25- Homemade Pimento Cheese Dip
Pimento Cheese Dip: savory creamy, cheesy goodness with a kick of spice that seems so decadent yet with lighter ingredients. A classic Southern dip that can be enjoyed on crackers, veggies, and sandwiches.
26- Air Fryer Zucchini Fries
Air Fryer Zucchini Fries: Get out your air fryer and make this easy side dish recipe because you're going to love how crispy these Zucchini Fries are!
27- Middle Eastern Hummus
Hummus: This authentic Middle Easter hummus recipe is best when made at home in your food processor. Creamy and way better than store bought!
28- Goat Cheese Appetizer
Goat Cheese Appetizer: Encrusted with chopped dried cranberries, your favorite nut and the fresh herbs of your choice, this goat cheese appetizer is a winner! Plus, you can customize it any way you like.
29- Sweet and Spicy Almonds
Sweet and Spicy Almonds: An all-time favorite, perfect to have in bowls with cold beverages. These crunchy little nuts are totally addicting and are easy to make too.
30- Shortbread Thumbprint Cookies
Shortbread Thumbprint Cookies: a sweet bite of deliciousness that can be dressed up especially for the competing teams.By changing the colors of the sprinkles, these buttery treats can match the colors of your favorite team.
31- Caramel Apple Popcorn
Caramel Apple Popcorn: makes a deliciously crispy, crunchy snack perfect for movie nights, parties, and when you're wanting a sweet snack.
Whether you're tailgating or hosting your own game day party, there's no reason to break the bank on gourmet appetizers. These easy-to-make recipes are crowed pleaser, flavorful and won't break your wallet.