Sambusa or Samosas are triangular shaped pastry filled with spicy vegetables or meat mixture. Very popular through the Middle East, India and many other countries. Here is an easy samosa recipe that will take just 15 minutes to prep.
Samosa is one of the most popular and elegant appetizers -specially in Ramadan- in the Arab world, Pakistan and India. In Egypt we buy Samosa or Sambosa wrappera and fill them with various types of fillings. Samosa wrappers are very thin, long sheets of dough close to the egg rolls and shaped like triangles and then deep fried.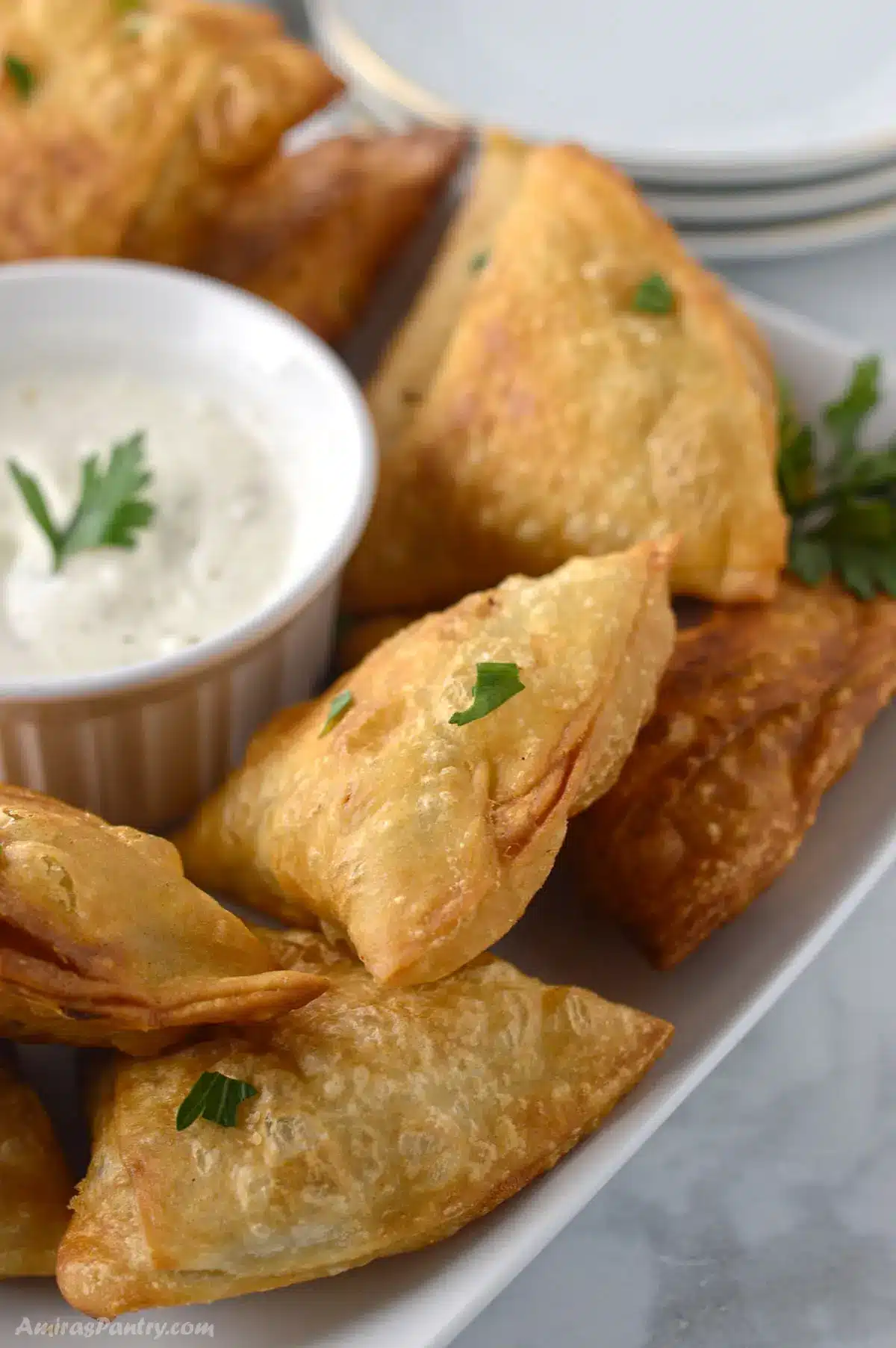 ❤️ Why You'll Want to Make It
Easy samosa recipe without the need to make your own dough.
It's a crowd-pleaser, everyone will love this delicious triangles.
It's versatile, you can fill those with whatever you like with different meat or vegetarian.
📝 Ingredients
Note: This is an overview of the ingredients. You'll find the full measurements and instructions in the recipe card (printable) at the bottom of the page.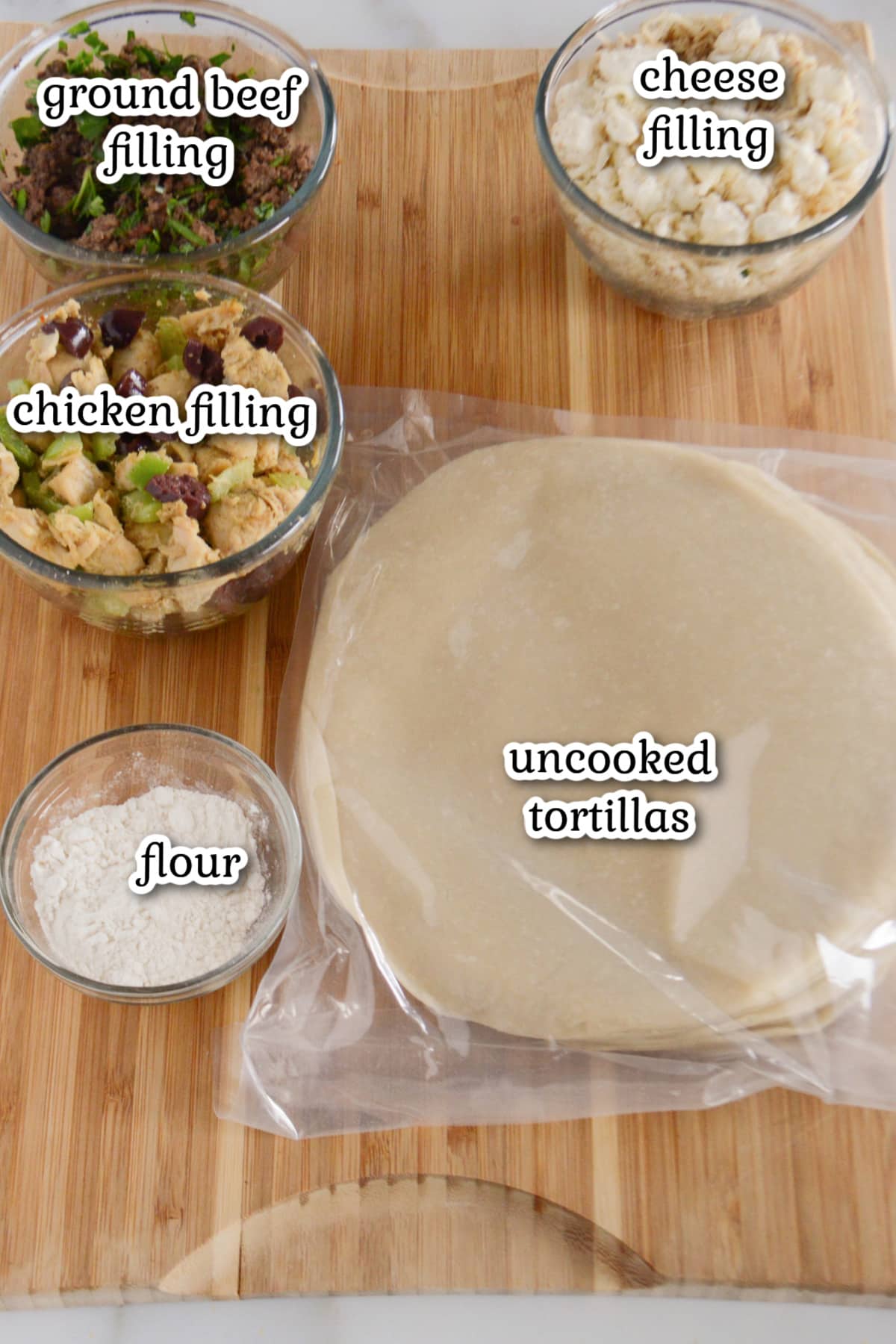 📋 Ingredient Notes
Uncooked tortillas, or samosa sheets if you can get a hold of it or just make your own dough if you prefer to.
Ground beef filling: ground beef, onion, parsley and some spices.
Chicken filling: here I've used chicken breasts cut into cubes, onion, black olives, green pepper and spices.
Cheese mix: feta, mozzarella and parmesan cheese mixed with za'atar or dry mint.
Flour : mixed with water to make a gluing paste to seal the samosa.
I've never managed to get the Samosa dough in Colorado, some people suggested using phyllo dough, egg rolls or puff pastry and others make their own sambusa dough. Homemade samosa dough is great but requires some patience and time, two things I do not currently have in our busy home.
Being in Egypt specially during Ramadan, is a great opportunity to fill up my tummy with this scrumptious appetizer. But guess what? I do not have to wait for a whole year to have it. One of my friends told me to just use the uncooked tortillas as a great substitute for the traditional long sambusa sheets we buy in Egypt.
It worked like a charm and my kids just love it. I've stuffed it with all sorts of stuffings and here I will show you 3 of them but do not let that stop you. Stuff them however you like, make the traditional Indian potato stuffing or stuff with cream cheese and green onions, pizza topping anyone? seriously the sky's the limit here. The most common kind is the one filled with seasoned ground beef, but you can fill it with cheese mix, chicken, veggies and dates as they do so in Saudi Arabia.
🥄 Instructions
Note: This is an overview of the instructions. The detailed instructions are in the recipe card below.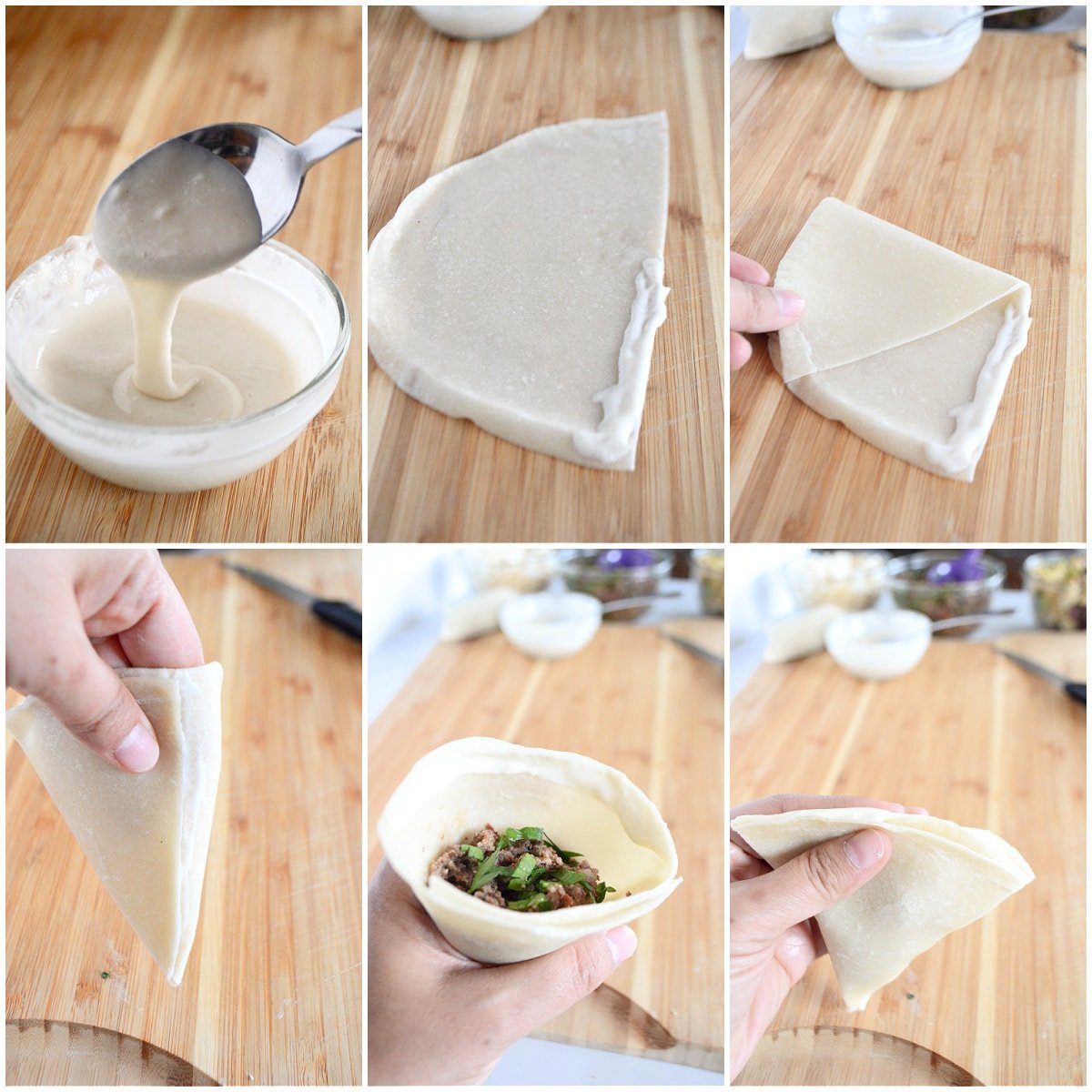 Make the flour paste this is done to help seal the edges so it will not open during frying. Just mix water and flour until you get a mixture of the consistency above.
Cut tortilla in half place one half on the table and with your finger smear half or all of the straight part of the tortilla with the flour mix.
Fold the tortilla to make a cone shape as directed in images 3 and 4 pressing tightly on the edges to seal.
Now add about two tablespoons of your filling to the pocket and smear the rounded edge with more flour paste.
Press tightly to seal the opening as shown in image 6.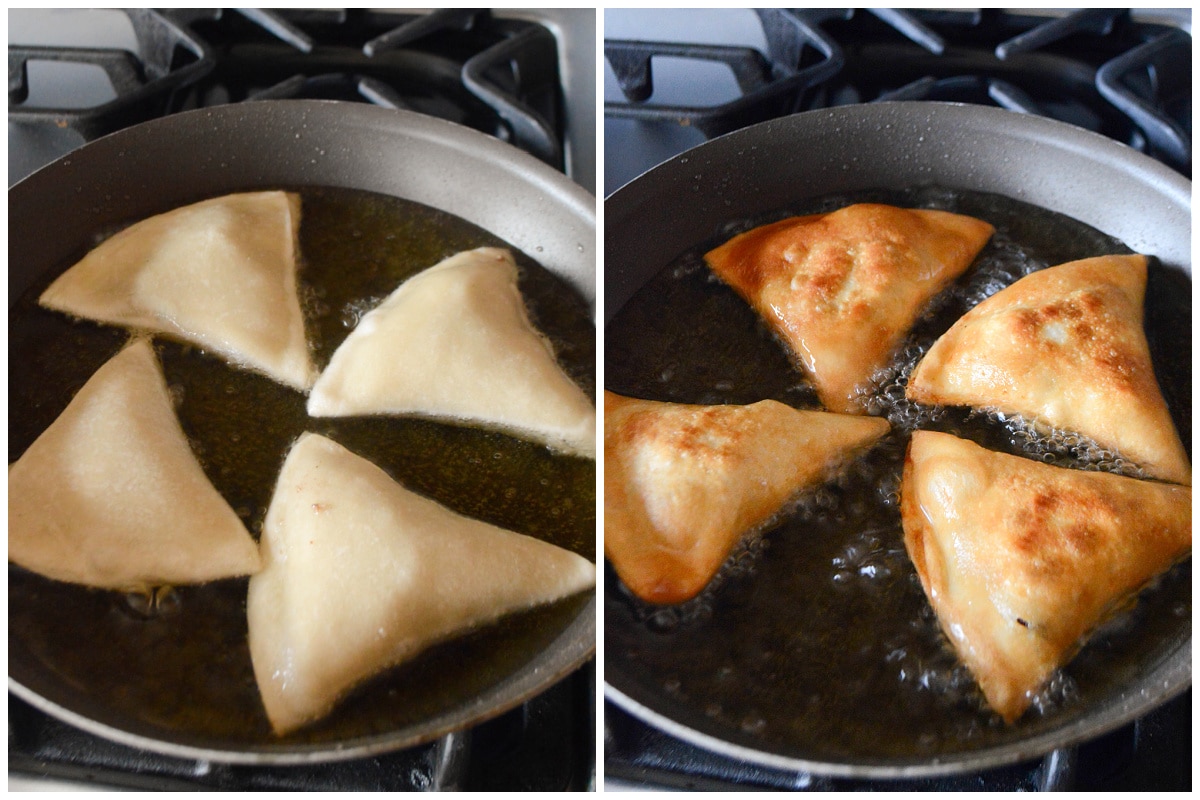 Heat oil in a frying pan, use this method here to test if the oil is ready or not.
Fry on both sides until golden brown.
👍 Amira's Tips
Do not over stuff the sambusa, I know it is tempting but over stuffing makes it hard to seal and it usually opens up while frying.
After frying, transfer the sambusas to a paper-towel-lined plate to absorb excess oil.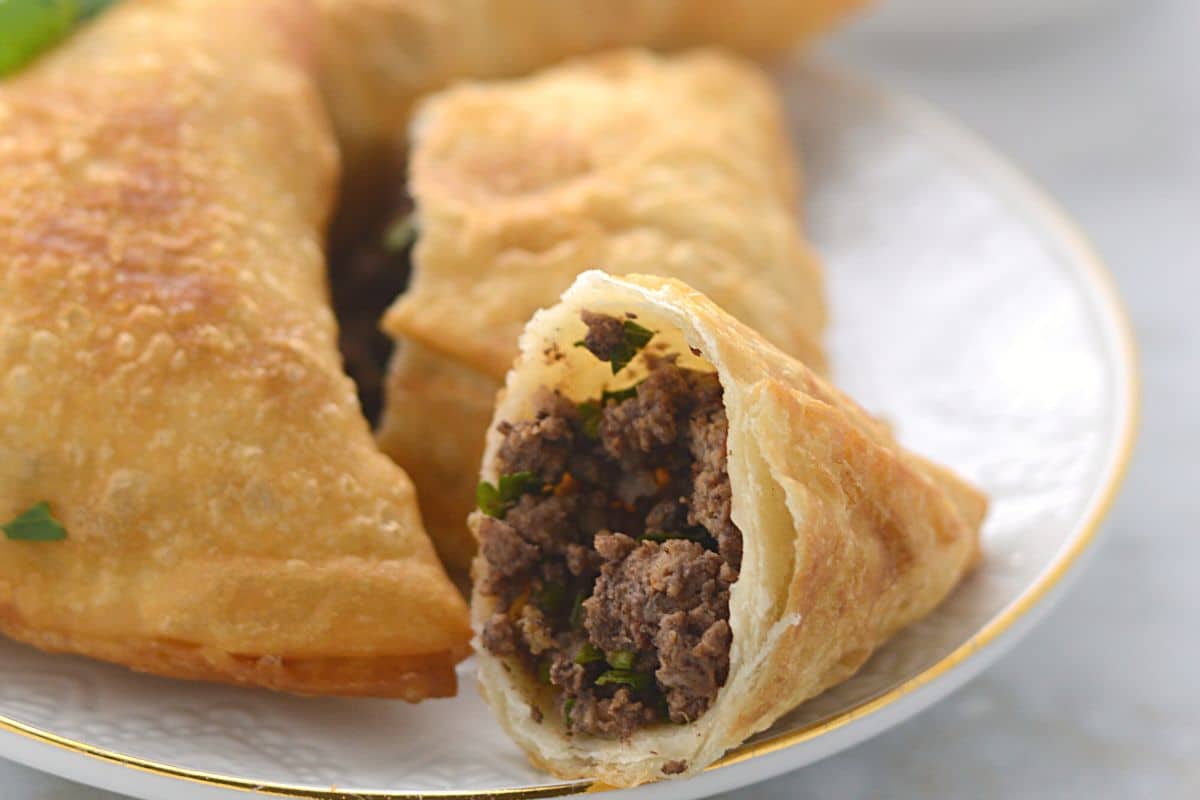 👩‍🍳 Variations
Make taco samosa by seasoning your ground beef with taco seasoning.
Although ground beef is the more common chicken samosa has its audience as well. Get creative and use any chicken filling you like or use the one I provided below.
I also like filling them with a cheese mix.
Use pie filling for a sweet pie filled samosas.
Make lentil sambusa by cooking lentils and adding them to sauteed onion and garlic the spice to your liking.
Use gluten free spring roll wrappers to make gluten free samosa.
Air fryer samosa are great option if you do not like to fry them. Spray samosas with cooking oil and air fry on 350F for 3-4 minutes each side until golden brown and crisp. You can also make baked samosa.
🧺 Storage
Fried samosas can be refrigerated for up to 3-4 days. To reheat crisp them up again in the oven or an air fryer
Samosas are great for make ahead too. Stuff and fold, then place on a baking sheet lined with parchment paper. Freeze until firm then place frozen samosas in a freezer bag. Do not thaw, fry from frozen.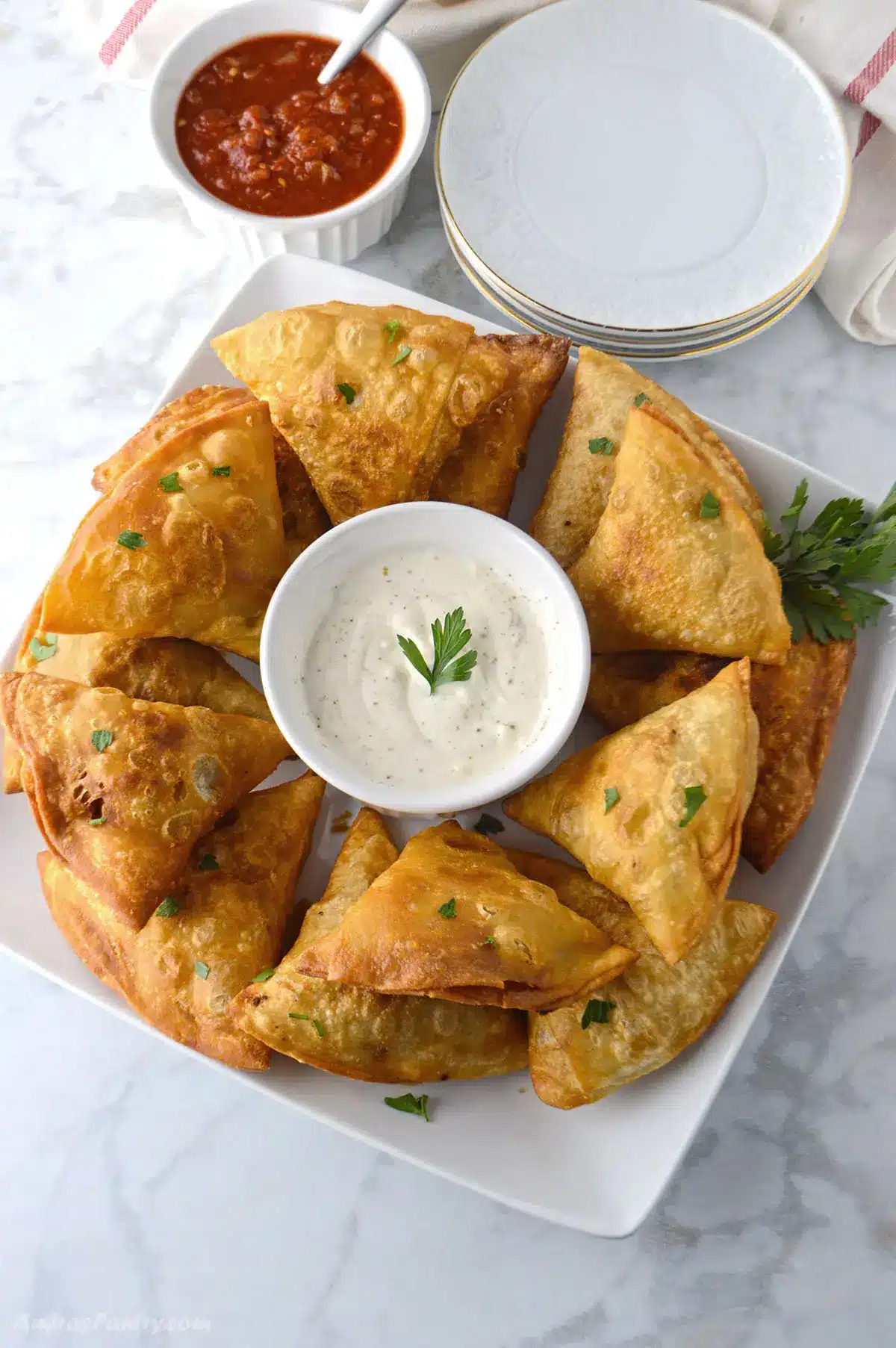 💬 FAQs
How to reheat samosa?
Although it is possible to reheat samosa in the microwave it is not my favorite way as it does not crisp up at all. Better reheat in a 350F oven or air fryer until crisped up nicely 3-5 minutes depending on your oven or air fryer. You can also lightly oil a skillet and cook on medium on both sides until crispy and heated thoroughly.
Can Samosas be made in advance?
Yes, and this is actually the beauty of it. I love making samosas and freeze them. They come very handy when there is no food for dinner or as a snack after school for the kids. They are also a very good idea for gatherings and parties during any time of the year. Fill then freeze them individually and store in a zip lock bag or container. When ready to consume, take them out and fry immediately, no need to thaw. They keep up in the freezer very well, I would say up to three months.
What is the difference between samosa and smabusa?
Samosa, sambusa or sambosa are all terms used interchangeably. Sambusa or sometime sambosak too are used more in the Middle east. Indian samosa is usually vegetarian and filled with spice potato and vegetables mix and served with samosa sauce. Ground beef stuffed sambosa is more common in the Middle east and usually not served with a sauce.
👩‍🏫 My Personal Experience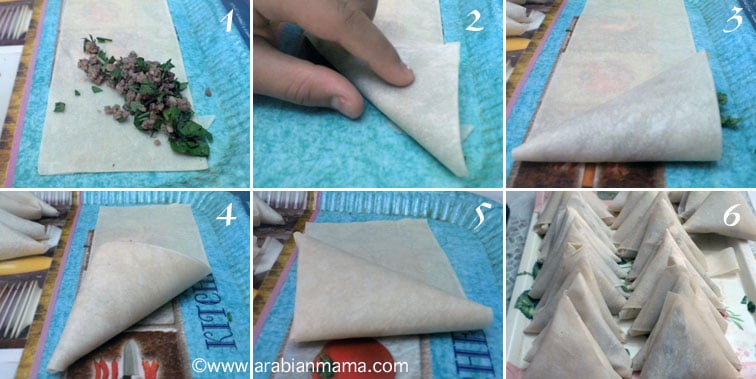 The above image shows you how to wrap samosa using the long strips of samosa dough that is widely available in the Middle East specially in Ramadan. Take a sheet of the dough fill it with 1Tbs of the meat mixture and fold in a triangle as shown above.
📣 Related Recipes
If you like this recipe do not forget to give it a ⭐⭐⭐⭐⭐ star rating and attach a photo of your finished dish. It is always a pleasure of mine to see your photos and check your own take of the recipe. Thank you.
What's new? Check out Amira's Pantry Store on Amazon where you'll find all kinds of nostalgic goodness! Thanks so much for being a part of Amira's Pantry!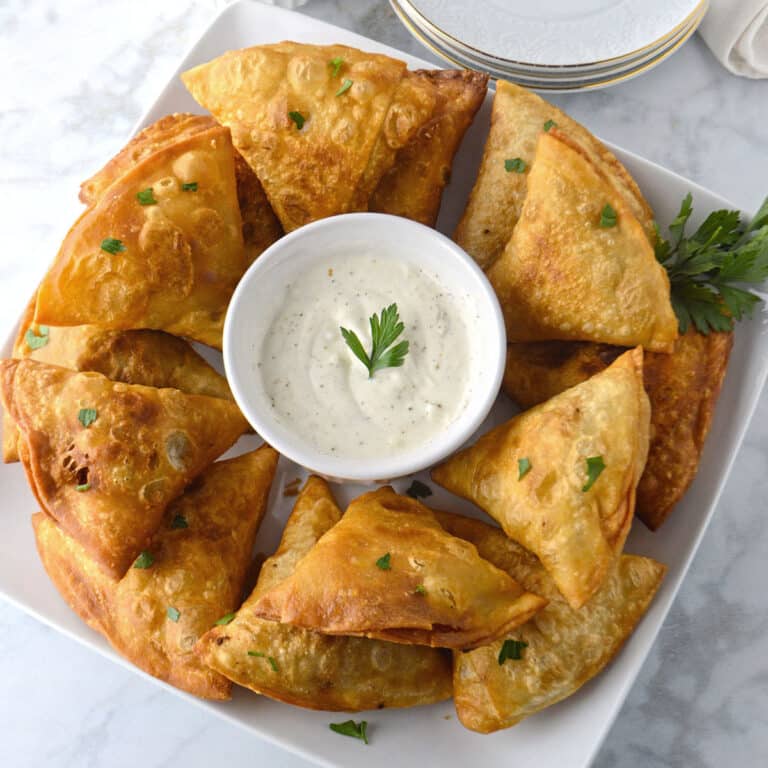 Sambusa (Easy Samosa Recipe)
Sambusa or Samosas are triangular shaped pastry filled with spicy vegetables or meat mixture. Very popular through the Middle East, India and many other countries. Here is an easy samosa recipe that will take just 15 minutes to prep.
Print
Pin
Rate
Ingredients
Ground beef filling:
1

Tablespoon

oil.

½

pound

(250g) ground beef.

1

small onion

finely chopped.

Salt and pepper to taste.

1

Tablespoon

tomato paste.

3

Tablespoons

fresh parsley

chopped.
Chicken filling:
½

pound

(250g) chicken breast

cut into small cubes.

2

Tablespoons

oil.

1

garlic clove.

Salt and pepper to taste.

½

medium green bell pepper

cubed.

⅓

cup

black olives.
Cheese Mix filling:
¼

pound

(125g) feta cheese.

¼

pound

(125g) mozzarella cheese.

2

Tablespoons

(30g) Parmesan cheese.

1

Tablespoon

Za'atar or dry mint.
For the sealant:
2

Tablespoons

flour.

2 ½

Tablespoons

water.

Oil for frying
Instructions
Prepare the ground beef filling:
In a skillet heat oil then sauté onion until fragrant then add ground beef and break to brown well.

Add tomato paste, spices and parsley, mixing everything well to combine.

Set aside.
Prepare the chicken filling:
In a skillet add oil then sauté garlic for 30 seconds, add chicken and cook until almost done.

Add spices, green bell pepper and cook for a couple of minute. Turn heat off, mix in the olives.
Prepare cheese filling:
In a large enough bowl, combine all ingredients well.
Make the sealant mixture:
In a small bowl combine flour and water to make a paste.
To wrap the samosas:
Cut each tortillas in two equal parts. With your finger brush the straight line of the tortilla half with the sealant paste.

Fold it into a cone shaped pressing the edges to seal.

Take about 2 tablespoons of the filling and stuff it in.

Now with your finger again brush the open part of the cone with the flour paste and press to seal completely. Set aside until you are done with the rest of the samosas. Note1
Frying:
Heat about 1-2 inches of oil in a frying pan. Note2 .

Add samosas to the pan and fry until golden brown turning it on the other side midway.

Take samosas out on a paper bowl line plate .

Samosa is better served hot so it can be crunchy. Note3
Notes
Note1: You can freeze samosas at this point. When ready to use fry immediately there is no need to thaw.
Note2: Test if the oil is ready using the wooden stick method I showed you in kibbeh recipe.
Note3: leftovers keep well for up to 4 days in the refrigerator and more frozen. Heat them in the oven for a couple of minutes, do not microwave.
For more tips and variations please check the post above.
Nutrition in the table below is for the ground beef filled samosas.

Nutrition for Chicken Samosas:

Calories 151.4
Total Fat

8.1 g

Cholesterol 16.3 mg

Sodium 400.6 mg

Potassium

15.5 mg

Total Carbohydrate

12.1 g

Dietary Fiber

0.6 g

Sugars

0.8 g

Protein

7.4 g
Nutrition for Cheese Samosas:

Calories

170.2

Total Fat

9.5 g

Cholesterol

26.9 mg

Sodium

412.3 mg

Potassium

13.7 mg

Total Carbohydrate

11.9 g

Dietary Fiber

0.5 g

Sugars

1.2 g

Protein

7.8 g

Please check the nutrition disclaimer policy.
Nutrition
Calories:
182
kcal
|
Carbohydrates:
13.3
g
|
Protein:
7.1
g
|
Fat:
10.9
g
|
Cholesterol:
26.6
mg
|
Sodium:
307.7
mg
|
Potassium:
135.9
mg
|
Fiber:
1
g
|
Sugar:
1.7
g
|
Vitamin A:
3.2
IU
|
Vitamin C:
6.2
mg
|
Calcium:
0.9
mg
|
Iron:
6.2
mg
Sign up and learn more about Mediterranean flavors
First published July 1, 2013 . Last updated March 16, 2023 with important tips, clear step by step instructions and readability.