Sambosak is one of the most popular and elegant appetizers -specially in Ramadan- in the Arab world, Pakistan and India. In Egypt we buy Sambosak ready dough and fill it with various types of stuffing. Sambosak is a very thin, long sheets of dough close to the eggroll's dough and shaped like triangles and then deep fried.
I've never managed to get the Sambosak dough in Colorado, some people suggested using the phyllo dough, eggrolls or puff pastry and others even have their own recipe for making the dough but until now I was not lucky to substitute the dough I buy when I am in Egypt.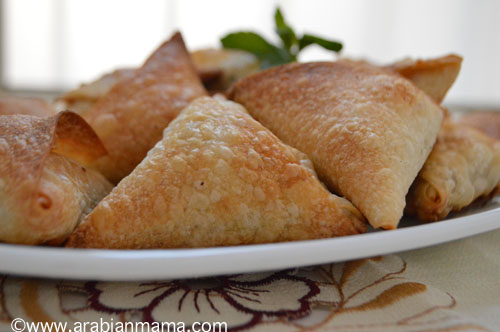 Being in Egypt specially during Ramadan, is a great opportunity to fill up my tummy with this scrumptious appetizer. The most common kind is the one filled with browned minced meat, but you can fill it with cheese mixes, chicken, veggies and dates as they do so in Saudi Arabia. So let's start
You will need:
A package of Sambousak dough- or any substitute if you chose to.

1 pound of ground beef.

1 large onion diced.

1 c of chopped parsley- optional.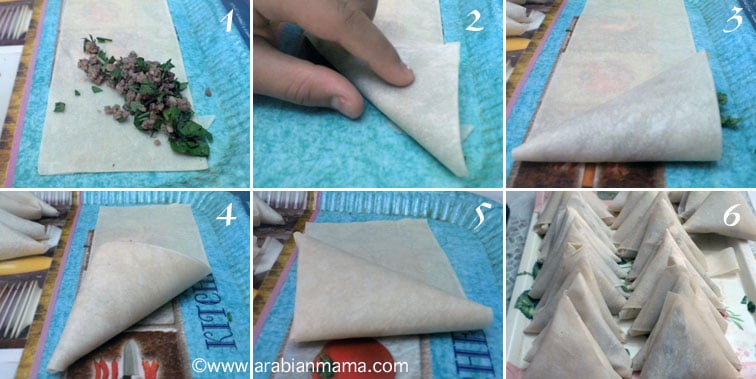 We start by preparing the minced meat by browning the onion in 3Tbs of olive oil then add the meat and season, add the parley and stir until it is done. Let it cool.
Take a sheet of the dough fill it with 1Tbs of the meat mixture and fold in a triangle as shown above.
At this point you can freeze the sambousak until you need it. If you want to make it then you simply deep fry them.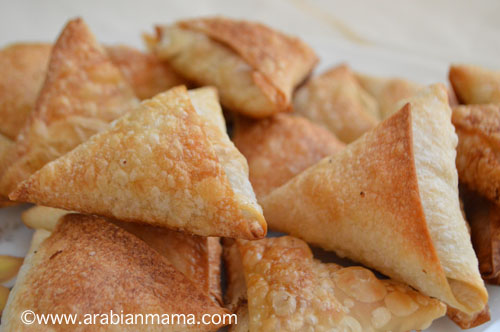 For health issues that we are currently facing, we decided to brush them in oil and stick them in a 350F pre heated oven until they are golden crispy.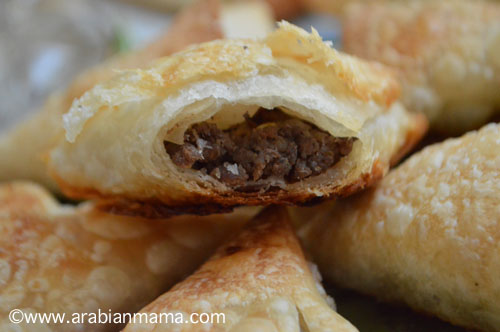 They are super delicious and crunchy.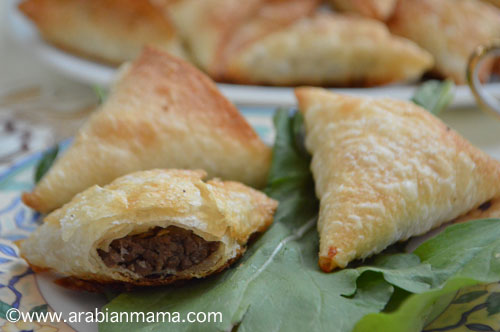 For me I like eating sambosak with soup and/or refreshers as a starter in our iftar – which is the first meal in Ramadan.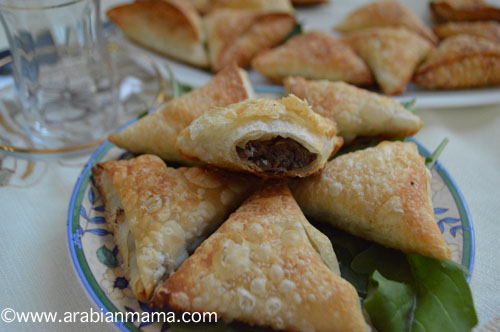 Have you ever tried Sambosak before? what is your favorite filling? How do you like to eat them?