Crunchy baked samosas, healthier and mess-free alternative to the deep-fried ones. These baked samosas are stuffed with creamy shrimp and dill filling which makes it great hot or cold. Or you can stuff it as we do in the traditional samosas with a variety of fillings.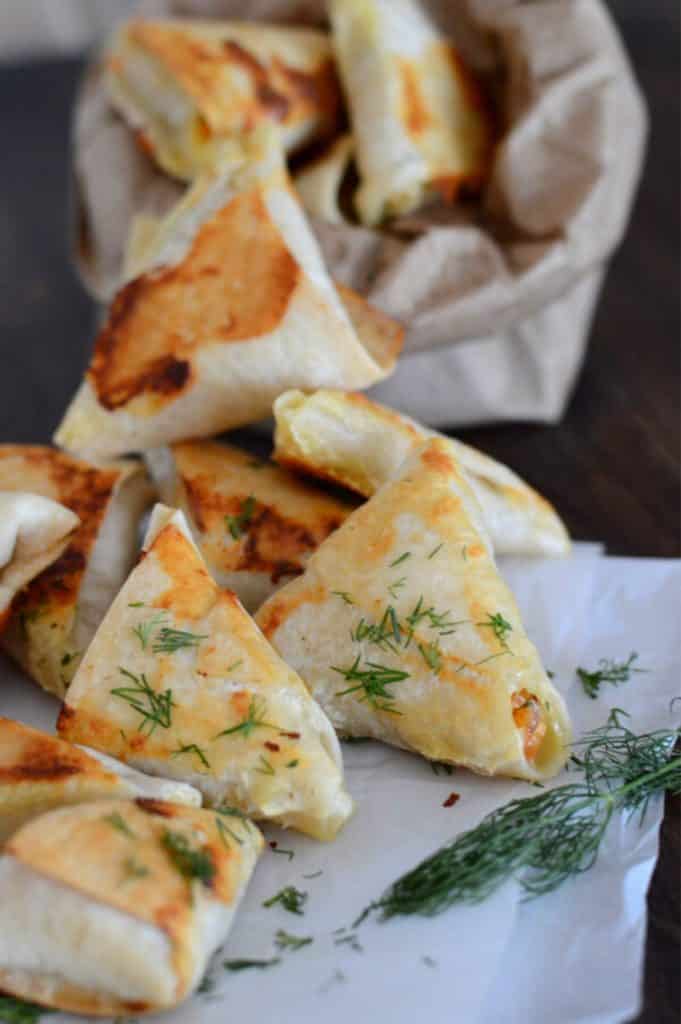 Baked Samosas
Since we came here to the USA, I've never had a decent samosa, or at least one that is like those I've had before in Egypt. I searched the internet but all that I ended up with, was making samosas that pretty much looked and tasted like fatayer. About three months ago, one of my friends made this amazing samosas that replicated exactly what I had and used to have back in Egypt.
Samosas are a staple appetizers on my mom's Iftar table during the holy month of Ramadan so imagine how I felt all those years :(. When I saw what my friend brought to a gathering my eyes were filled with love, joy, and curiosity at the same time 😍 . I asked my friend and she told me she kept nagging a colleague from India until she told her that she uses uncooked tortillas as a wrapper!!!!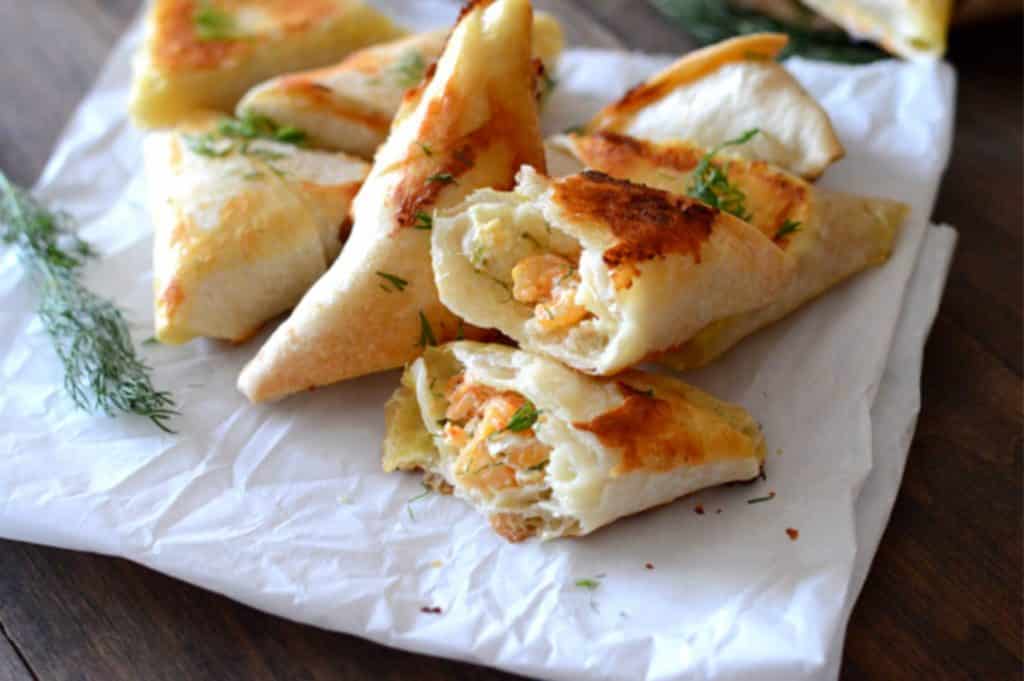 The idea was so new to me as I have never heard of using uncooked tortillas for samosas, but it definitely made sense. Uncooked tortillas look so much like the samosa wrappers that are sold in Egypt, it was always there under my nose the whole time 😳 !!
I have to tell you it was hard to figure out how to cut rounded tortillas to make samosas but it took me a couple of failed trials until it was completely doable. I've used a mixture of flour and water to seal the tortillas so the filling doesn't spill out and it worked like magic.
I've never had baked samosas before, until last year when I was in Egypt and watched my mom giving up her usual fried samosas and making baked ones. She said it was still delicious and that she could have the fried ones a couple of times during Ramadan, but the rest of the days better to make it baked.
To tell you the truth I liked the baked ones specially with this unusual filling. I'm used to enjoying samosas filled with ground beef and rarely with cheese or chicken. This time I've filled mine with a delicious dill, cream cheese and shrimps filling. It was heavenly good. The filling came off of some of them – were not sealed properly- but still they tasted fantastic. I've tested this recipe in many occasions and I assure you everybody liked it.
I hope you will enjoy making this easy baked shrimp samosa recipe.Thank you so much for reading, and till next time …. Enjoy!!
Baked shrimp and dill samosa
Ingredients
1

cup

cream cheese.

4

Tablespoons

dill

chopped.

2

Tablespoons

yellow mustard.

salt and pepper to taste.

1

lb

small cooked shrimps

peeled.

About 15 uncooked tortillas.
Gluing mixture
2

Tablespoons

of flour and just enough water to make a paste.
Instructions
In a bowl, add the first 4 ingredients.

Mix well, you may need to add a Tablespoon of water or milk to mix easily.

Add the shrimps, and combine well.

Cut the tortillas into 3 equal parts.

Take one part.

And fold the edge as shown below to make a cone.

Seal with some of the gluing mixture, then fill the cone with the filling, make sure you do not overfill it.

Fold the other part over and seal with more of the flour and water mixture.

Place in a well oiled baking sheet, seam side down and brush the top with more oil.

Bake in a 400F preheated oven until golden and crispy- will take about 15 minutes, be sure to turn them over halfway through.

Let it cool down and serve.

Enjoy!!
Sign up and learn more about Mediterranean flavors