Crispy oven wings, super tasty , smoky, healthy and sweet but not too sweet. Honey barbecue chicken wings is the super bowl wing recipes that you'll need. A real crowdpleaser, a perfect game day appetizer.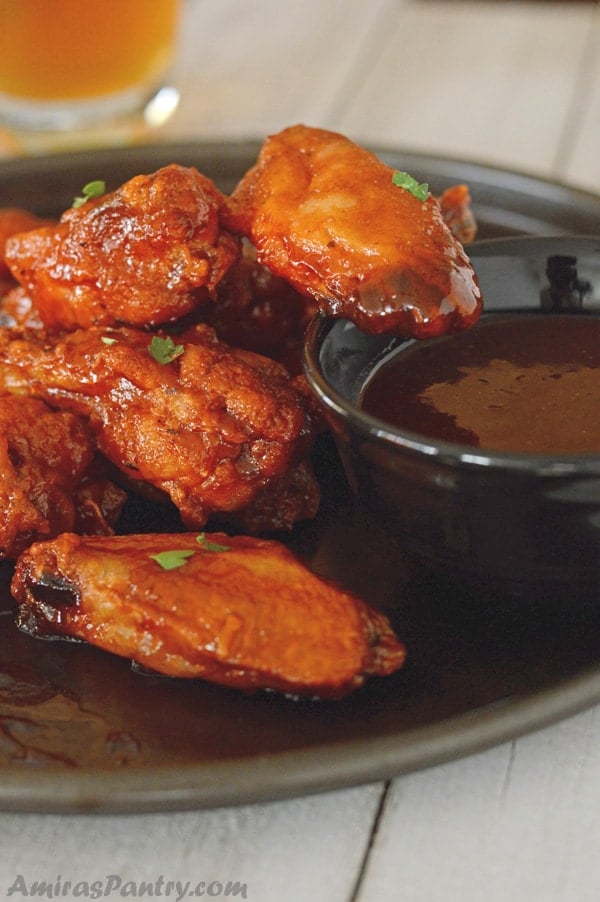 You won't need a deep fryer to make them extra crispy. These are very good on their own or dipped in this sweet bbq sauce. Add some hot sauce to the mixture to spice them up a bit. These finger-licking wings will definitely wake up your taste buds!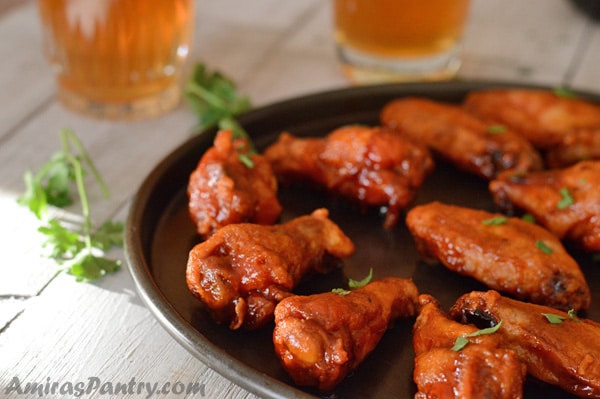 10, or probably now, 11 year go, if someone had told me that I'll be eating chicken wings AND FEED THEM TO MY CHILDREN, I would have said that's crazy. Not just crazy it is disgusting🤢!!.
All my past life, that is before stepping in the US, my mom had told us that chicken wings should be discarded. No body, that I know of , in Egypt eats a whole plate of chicken wings. If someone bought chicken wings in Egypt, she/he probably was planning to feed stray dogs 🐶. So why do you think Egyptians, or at least my mom and her mom and her mom …., do not like chicken wings and think they are unhealthy?
This is because many industrial chicken raisers inject chicken in their poor wings with hormones to make them grow bigger. Hence it is believed that wings are the part of the chicken where all toxins reside. Is this true? I have no idea. The only objection I could find relies on how fatty they are because of all the skin, fat , sauces, blue cheese dipping and of course …. deep frying.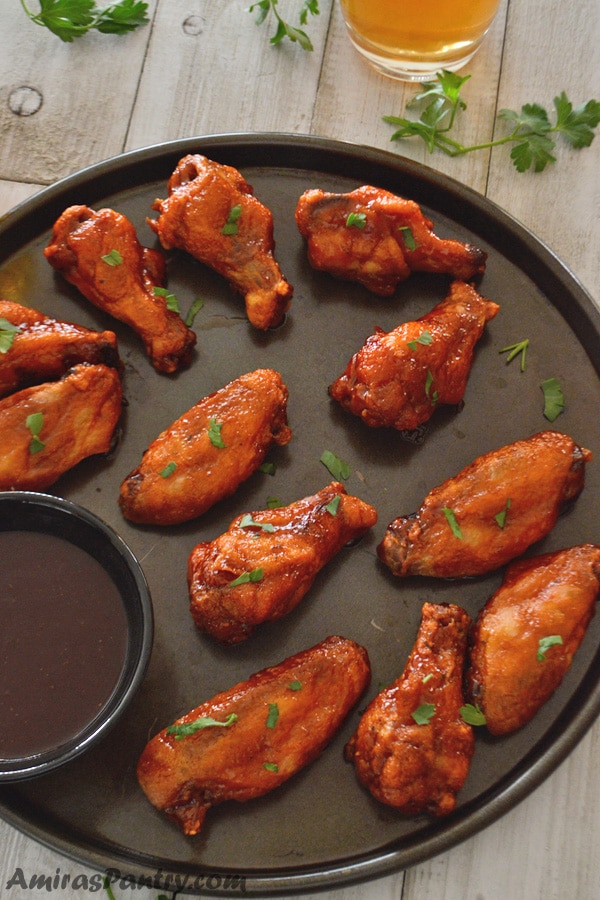 So imagine my surprise when I first saw a whole family size plate of chicken wings and how I was surprised to realize that the price per pound is actually much higher than chicken breasts or thigh!!. I asked what is this for, to end up with more questions. Some of the replies was "oh they are very popular appetizer especially in the super bowl.",
Hmm, so what exactly is a super bowl?! 🤔 . Yesss, I felt like an alien 👽.
So, if you have an Egyptian friend, and I think any Middle Eastern, who just came from Egypt, DO NOT feed them chicken wings unless you know they are open minded and willing to try new things. This will leave a bad impression and they will think you are feeding them leftovers hehehehehe.
Do not say I didn't warn you 🤷.
OK, let's check how to get them crispy and saucy and everything delicious .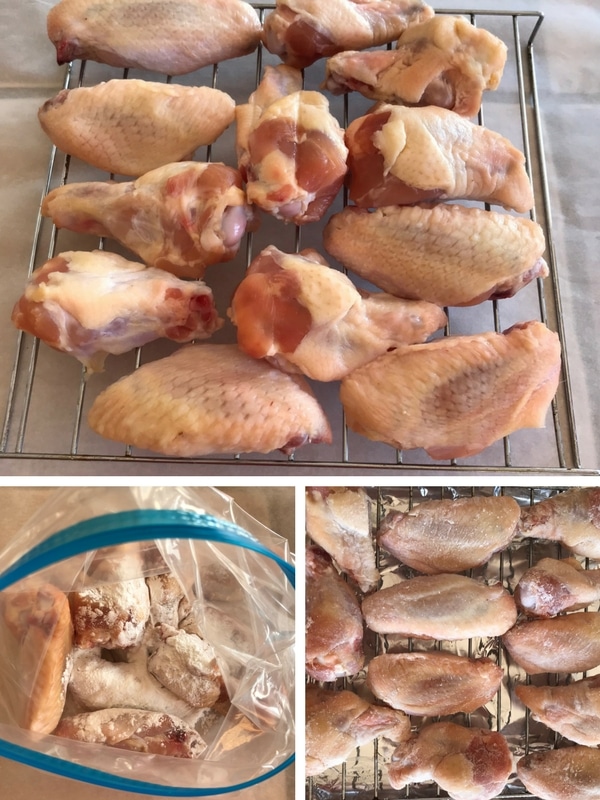 We'll start by drying the wings' skin. After washing them, you pat them dry and then dry them in the fridge for a couple of hours and preferably overnight. This technique will result in a very crispy skin without a drop of oil. Then in a ziplock combine the wings, baking powder and slat, shake well to cover evenly. This way of cooking wings was inspired by Nagi's post which was in turn inspired from Cook's Illustrated.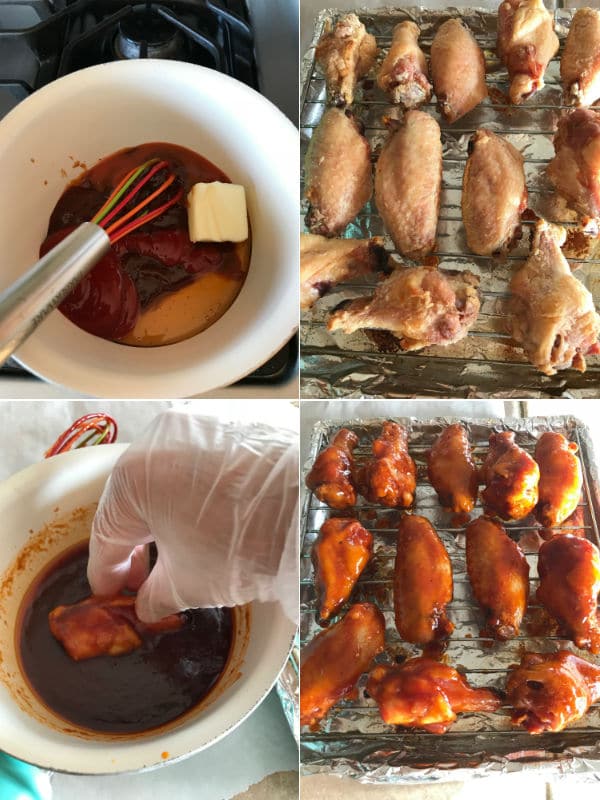 Bake wings in the oven until it gets crispy and light brown. While they are baking make the sauce by combining sauce ingredients well and simmer on low flame for about 13 minutes. Take the wings out and dip them in the sauce, return to oven for an extra 3 minutes.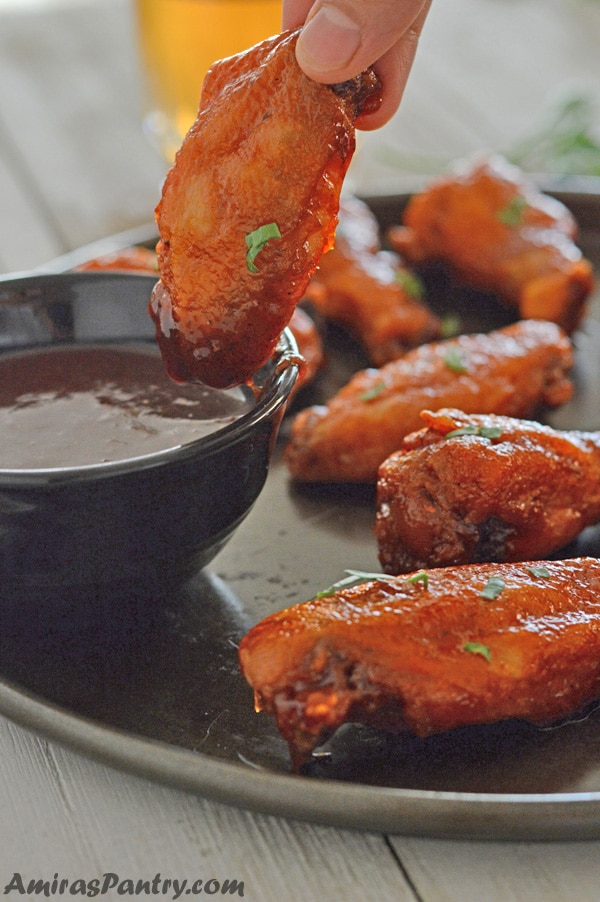 Beautifully crispy baked, saucy, smoked and hot with a little sweetness. My kids devoured these wings in a matter of minutes and I got just a taste of the one wing that my husband managed to get his hands on :). I hope my mom will forgive me for this recipe, I am sorry mama but these are really delicious. I hope that I will convince my mom to taste these one day, I am sure she will be hooked.
I hope you'll like this recipe and please if you make this recipe, snap a pic and hashtag it #amiraspantry — I love to see your creations on Instagram, Facebook, Twitter!
Don't want to miss a recipe? Sign up for the FREE Amira's Pantry newsletter delivered to your inbox with lots of tips and surprises! And stay in touch with me on Facebook, Twitter, Pinterest, and Instagram for all the latest updates.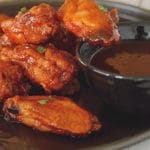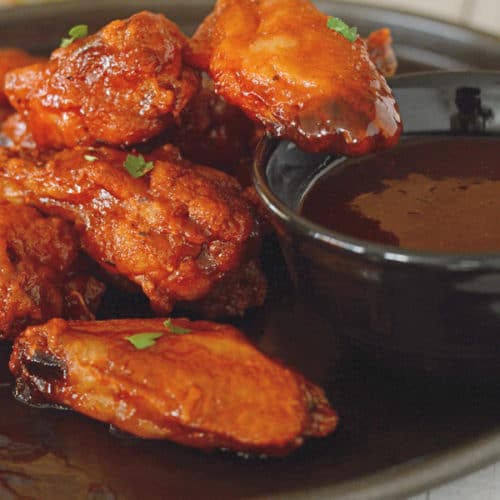 Bbq Baked Chicken Wings
Smoky, crispy sweet baked chicken wings. The perfect appetizer for any occasion.
Ingredients
For the crispy chicken:
2

lb

chicken wings

about 12 pieces.

1

teaspoon

salt.

1

Tablespoon

baking powder.*
For the sauce:
1/2

cup

barbecue sauce.

2

Tablespoons

cup honey.

2

Tablespoons

ketchup.

1

Tablespoon

hot sauce. **

2

Tablespoons

butter.
Instructions
Prepare wings:
Wash chicken wings throughly and pat dry with kitchen towel. Lay them on a rack on a rimmed baking sheet and place in the fridge for few hours, preferably overnight.***
Baking the wings:
Preheat oven to 275F. Place two oven shelves one in the lower quarter and another on the upper quarter of your oven.

Place wings in a one gallon ziplock with baking powder and salt, Shake to cover wings evenly and make sure no thick clumps of baking powder forms.

Line the baking sheet with aluminum foil, and spray your rack with oil.

Arrange wings on the rack skin side up. Place the rack in the baking sheet.

Put the baking sheet on an oven shelf placed in the lower quarter of your oven and bake for 30.minutes.

Move the wings to the upper shelf and increase temperature to 425F.

Bake for another 35-45 minutes or until the wings are crispy and lightly browned.

While the wings are baking make the sauce:

Simmer everything on lowest flame in a small saucepan for about 15 minutes.

When wings are done, carefully dip them in sauce and place them back on the rack.

Pop them again in the oven for 2-3 minutes.

Serve immediately with your favorite dipping sauce or plain.
Recipe Notes
* Make sure to use baking powder not baking soda. ** Adding hot sauce is optional so add to your liking. *** If you do not have time for that then make sure to dry the wings as possible as you can. Spread them on kitchen towel and pat dry well all around.
May I suggest