Qatayef are stuffed Arabic pancakes, fried to perfection then dunked in simple syrup. Crunchy, sweet and so satisfying.

Total time
1
hour
30
minutes
Qatayef is a staple dessert in the Middle East especially during the holy month of Ramadan. These stuffed and fried pancakes are the darling on dessert table.
Qatayef / Atayef or Katayef is an iconic Middle Eastern treat, made from pancakes stuffed with nuts and golden fried then dunked is thick simple syrup. Crunchy sweet and oh boy so satisfying dessert.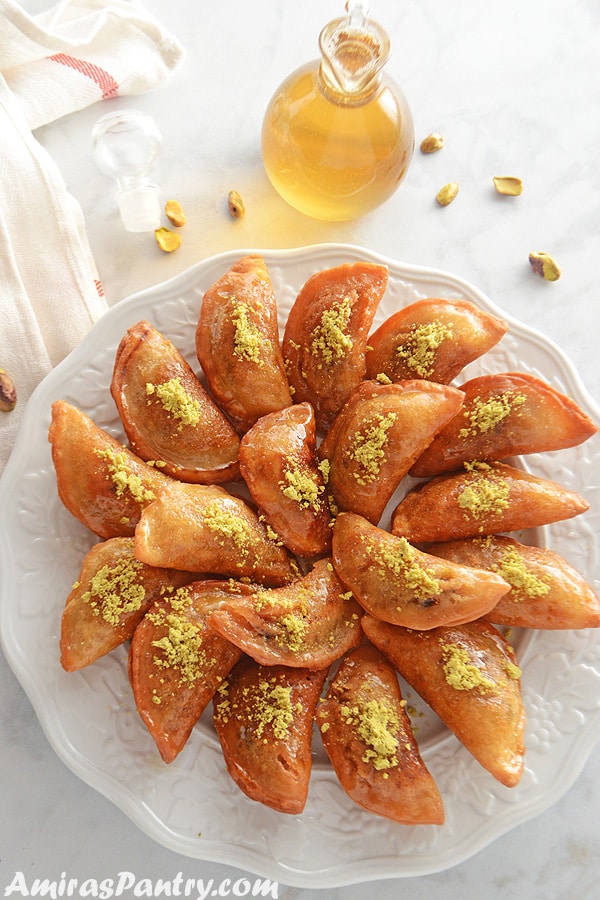 Qatayef
Qatayef is the star dessert in Egypt during the month of Ramadan. It is also the easiest to make. You see, pastry shops make them ready for you to get, stuff and fry to your own liking so half of the work is done for you. or should I say most of the work. Katayef is easy to make and requires few ingredients that is most probably there in your pantry. The point is how to get the perfect batter every time.
I used to make really nice qatayef but after a lot of trying .. this is it for sure and I do not think I would modify this recipe any better. It is seriously very delicious and all my friends like it to the max and said it is the best.
My kids never like qatayef, I guess because they appreciated nuts before. This time when I made it they went crazy, especially the two older kids. My youngest still ate the dough and discarded the nuts!!!.
Qatayef is really very versatile. You can make them sweet or savory. My favorite savory stuffing is with feta cheese and mint, you can also stuff them with browned minced meat. Or may be stuff them with cream and left them as is without frying like this Qatayef Asafiri recipe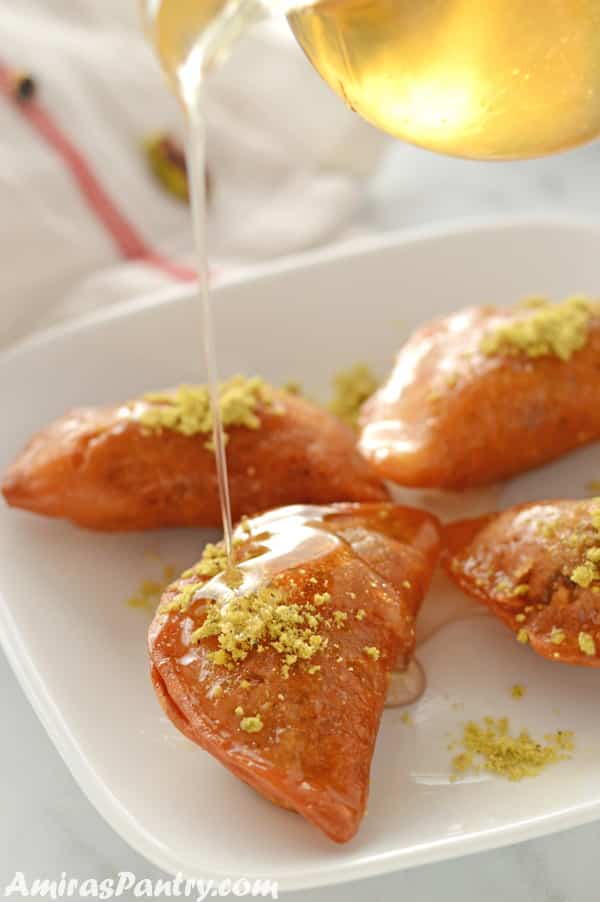 Qatayef Recipe FAQS
How to get the perfect Qatayef batter?
The most tricky part in making Qatayef is the batter itself. Too thick, and you'll have thick pancakes that will tear apart while folding. Too thin, and it will not bubble to perfection. Although this recipe is the best I have ever made and I have experimented with many flour types, your flour might be different. So make the batter, let it rest and bubble, then before cooking deflate with a whisk and check the consistency, it should be thinner than pancake batter. If you are not sure, try one or two before going for the whole thing, if you feel the batter is thick and moving slowly out of your ladle then add warm water by 1 tablespoon at a time, whisk and try again. It is a learning curve so you need to be patient.
What temperature to cook qatayef pancakes on?
Another crucial point in making qatayef. Too hot and it will burn. Not enough heat and it will be pale and you'll stay forever waiting for it to cook. This also needs experimenting, you can start with the temperature you usually cook your pancakes on. I find the best temperature is between 285F to 320F, mine was 295F.
Can I freeze Qatayef and for how long?
Many say you can freeze Qatayef before stuffing them, I haven't had luck doing that. I like to stuff then then lay them on a baking sheet in single layer, freeze for a couple of hours then put them in a zip lock in the freezer. They will stay for up to 6 weeks and I can even say longer but this is just for safety and freshness. Worth noting that, I freeze nuts stuffed qatayef and ground beef stuffed qatayef but haven't tried the ones with cream or feta cheese.
How to make Qatayef crunchy the longest?
Eventually qatayef gets soft as the syrup makes them soft, that's why I like freezing and frying them on the spot so we do not have many leftovers. Here are some points to consider:
1- Frying: I like frying mine to a darker shade of golden brown, the longer you fry then the crunchier they will become. If you want a soft one then do not fry for long.
2- Thick Syrup: you have to make thick syrup, I have tried many time to make them in thinner one but they turned soft quickly and never as crunchy.
3- 2 Minutes or less in the syrup: I've times mine, when I leave them for like 5-6 minutes in the syrup after they are out of the frying pan, they turn crunchy quicker than if I leave them for just 2 minutes.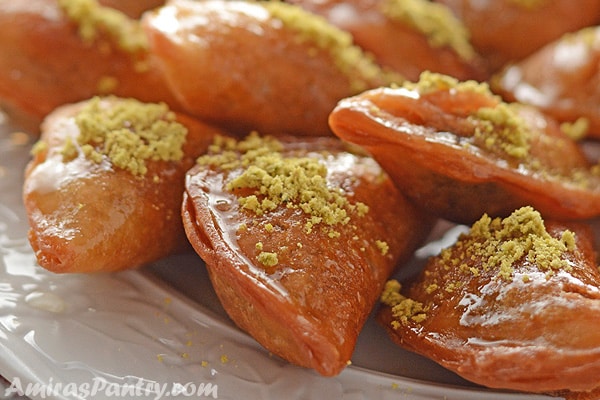 Qatayef Recipe : step by step
Qatayef Ingredients
Qatayef batter ingredients are basically flour, yeast, sugar, water, dry milk, baking powder and a dash of salt
Qatayef Stuffing
The most common stuffing is a combination of nuts, whatever you like and whatever you have in your pantry.

Start the batter
Combine all the batter ingredients in a deep bowl, cover and let it rise and bubble for like 30 minutes. Please note, a recent tip from mom is to make this in your blender and this worked like a charm much better than a whisk.

Cook the batter
Scoop the batter on a non-stick skillet or a hot griddle. You'll notice bubbles forming on the surface. Once the surface is no longer wet this means it id one. Do not flip them. Place on a flat surface, do not stack them up until they have cooled down to room temperature., and cover with a clean kitchen towel until you are done with the whole batch.
Stuff
When you are done and the pancakes have cooled down, stuff your pancakes with you filling and press ends to seal.
Freezing option
When you are done, you can lay them on a flat surface and freeze. Fry without thawing afterward when you are ready to consume.
Frying
Heat oil in a frying pan and fry the qatayef to your perfection. I like mine crunchy so I fry them to dark golden brown color.
Dunk in Syrup
Take the fried qatayef out of the oil, place on a paper towel for just 15 seconds then dunk them in the simple syrup. We want them to be placed in the syrup while they are still hot. Toss to cover then take them out leaving them to drip the excess syrup.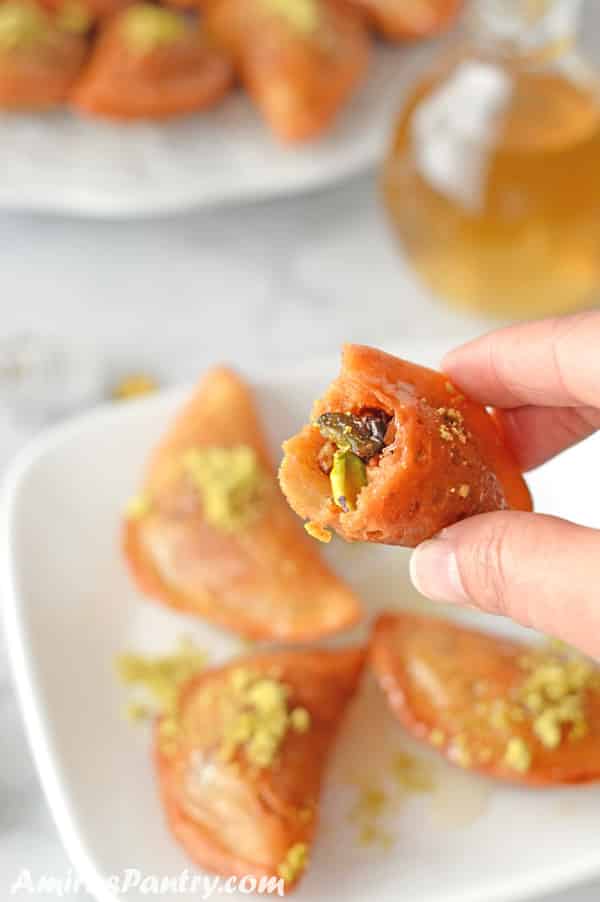 Related Recipes
Tulumba is a popular street food throughout the Middle east. Tulumba pastries are fried to golden brown and dunked in cold syrup for an out-of-this-world crunchy yet so fluffy on-inside sweet fritters.
I hope you'll like this recipe and please if you make this recipe, snap a pic and hashtag it #amiraspantry — I love to see your creations on Instagram, Facebook, Twitter!
Don't want to miss a recipe? Sign up for the FREE Amira's Pantry newsletter delivered to your inbox with lots of tips and surprises! And stay in touch with me on Facebook, Twitter, Pinterest, and Instagram for all the latest updates.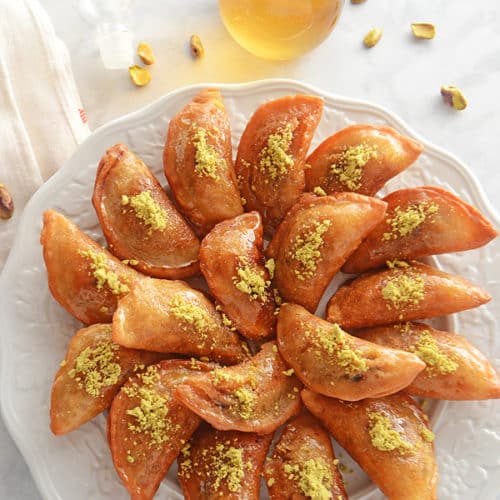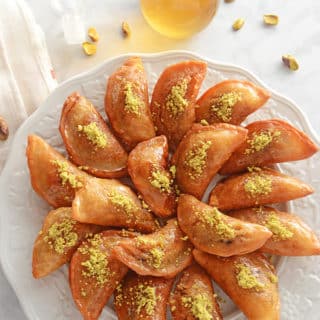 Qatayef Recipe
Qatayef are stuffed Arabic pancakes, fried to perfection then dunked in simple syrup. Crunchy, sweet and so satisfying.

Print
Pin
Rate
Ingredients
Qatayef batter:
2

cups

(240 g) all purpose flour.

1

teaspoon

(3g) dry yeast.

1

Tablespoon

(14g) sugar.

½

teaspoon

(1g) baking powder.

1

Tablespoon

(6g) dry powdered milk.

A pinch of salt.

1 ¾

(420 mL) cups of warm water.

Oil for deep frying.
Thick simple syrup:
2

cups

(400 g) sugar.

1

(240 mL) cup water.

¼

cup

(60 mL) honey

1

teaspoon

lemon juice.

A dash of vanilla powder or ½ teaspoon vanilla extract.

Filling: nut mixture of your choice

used about two cups mixed nuts and raisins.
Instructions
Make the syrup:
In a sauce pan over medium heat, add syrup ingredients, stir a little then let it boil.

When it boils, reduce heat and simmer for 10-15 minutes.

Turn heat off and let it cool down to room temperature, it will thicken as it cools down.
Make the batter:
In a deep bowl, combine first 6 ingredients, add water and mix well. (Note1)


Cover and let it set for 30 minutes.

Stir the batter a bit to check consistency if it is too thick then add a tablespoon of water. Batter should be thinner than pancake and not lumpy. (Note2)

Cook the pancakes:
Heat a griddle or a pan and scoop about 2 Tablespoons of the batter.

The batter will bubble at the surface and cooks, do not flip

When the surface is longer wet remove and it is golden brown, remove from heat. (Note3)

Arrange qatayef bubble side up on a baking sheet and cover with a towel. Set aside until you are finished with the rest of the batter.

Continue until you finish all the batter.
Fill the pancakes:
Hold the pancakes bubble side up, fill with little over a teaspoon of the nut mixture. Do not overfill as it will not close or tear and crack.

Fold pancakes in half and pinch the sides to firmly close. (Note4).
Frying the pancakes:
Heat oil for deep frying over medium heat.

For a crispy golden qatayef, fry for like 3 minutes on each side until they are dark golden brown. If you want a softer qatayef, fry them until they are just light golden brown.

Take them out of oil place on a paper towel for 5-15 seconds then quickly dip them in the cooled syrup while they are still hot. Toss to cover with syrup.

Take qatayef out and let them drip in a colander. The more you leave qatayef in the syrup, the more syrup it will soak and then it will become softer.
Notes
Note1:  a recent tip from mom is to make this in your blender and this worked like a charm much better than a whisk.
Note2: most probably you'll need to add from 1 to 1 ½ Tablespoon of warm water to the batter to make it thinner. I've tried with many flour brands and it always end this way.
Note3: It is somehow hard when you first make Qatayef to figure out the right temperature for you. Too hot and it will be burnt, too low it will be pale and takes forever to cook. Over the years my observation is go for the range from 285F to 320F. I had t experiment with a couple before I figured out the right temperature. Mine was a notch less than 300F something like 295F.
Note4: You can at this point freeze stuffed pancakes on a parchment lined baking sheet for a couple of hours then place them in a ziplock and keep in the freezer. Fry directly from frozen, there is no need to thaw. This makes Qatayef a very convenient make ahead dessert. It keeps for about 6 weeks in the freezer.
Please check the nutrition disclaimer policy.
Nutrition
Calories:
140
kcal
|
Carbohydrates:
29
g
|
Protein:
2.1
g
|
Fat:
2.5
g
|
Sodium:
11.5
mg
|
Fiber:
1
g
|
Sugar:
19.1
g
|
Vitamin A:
10
IU
|
Vitamin C:
0.4
mg
|
Calcium:
18
mg
|
Iron:
0.8
mg
Sign up and learn more about Mediterranean flavors
Time to show you off!!